Jsme zpátky z Kuby a nezbývá, než přiznat, že jsme si ji opravdu zamilovali. Snažili jsme se mít co nejméně očekávání, co nejméně předpokladů, jak by měl ostrov vypadat, přistupovat k němu s respektem pro to, že je tak odlišný od všeho, co známe, a myslím, že se nám to povedlo. Možná to je důvod, proč se Kuba rozhodla ukázat nám svou přátelskou, barevnou a šťastnou tvář.
Máme spousty zážitků, fotek a vzpomínek, o které se chceme podělit, třeba v nich najdete chuť objevit si ostrov sami pro sebe.
We're back from Cuba and we must admit that we fell in love with the country. We tried to expect as little as possible, go with our minds open and try to understand how the life on an island can be such a trip down memory lane. And that might be the reason Cuba decided to show us its kind, colourful and happy side. We are full of memories now and it might be quite overwhelming if we tried to share them all at once, although we were there for only 10 days, so let's break our favourite memories from Havana down.
Ubytování zamluvte předem / Book accomodation in advance
Na Kubu jsme přiletěli večer a přistáním v Havaně pro nás začalo setkání s kubánskou kulturou. Byli jsme opravdu vděční, že Armando, u kterého jsme měli zamluvené ubytování, za námi slíbil poslat svého syna, protože díky Miguelovi čekajícímu s cedulkou, jsme v 11 večer nemuseli shánět taxíka. Mluví velmi dobře anglicky, takže jsme se hned zeptali na nejdůležitější info ještě před příjezdem do naší casa particular. Bydleli jsme v Casa Armando y Mercy a nemohli jsme si vybrat lépe. Měli jsme sami pro sebe malý, ale prostorný a čistý apartmánek, kam nám Armando (který také mluví anglicky) se svou ženou přišli každé ráno udělat snídani, a všichni byli tak neskutečně milí a ochotní nám se vším pomoci, že už jsme se nemohli dočkat, až vyrazíme ven, poznávat Havanu víc.
Jestli se na Kubu budeme mít možnost ještě někdy podívat, určitě se k Armandovi vrátíme a vám doporučujeme to stejné!
We arrived in Cuba in the evening and we were very glad Armando's son Miguel was able to pick us up so we didn't have to look for a taxi at 11pm. He has a very good English so we had the chance to learn something about Havana even before we entered our casa particular. We booked the Armando y Mercy casa through AirBnB and we immediately fell in love with it. It has the cutest balcony, it's clean and spacious and Armando and his wife are the best. The warm welcome followed by a delicious breakfast in the morning (which is ready for you anytime you want - just say it in the evening) made us excited to explore Havana.
Armando also speaks good English and he was happy to help whenever we had some questions or needed advice. We had some great chats with Miguel and if we have the chance to visit Cuba again one day, we're definitely staying here!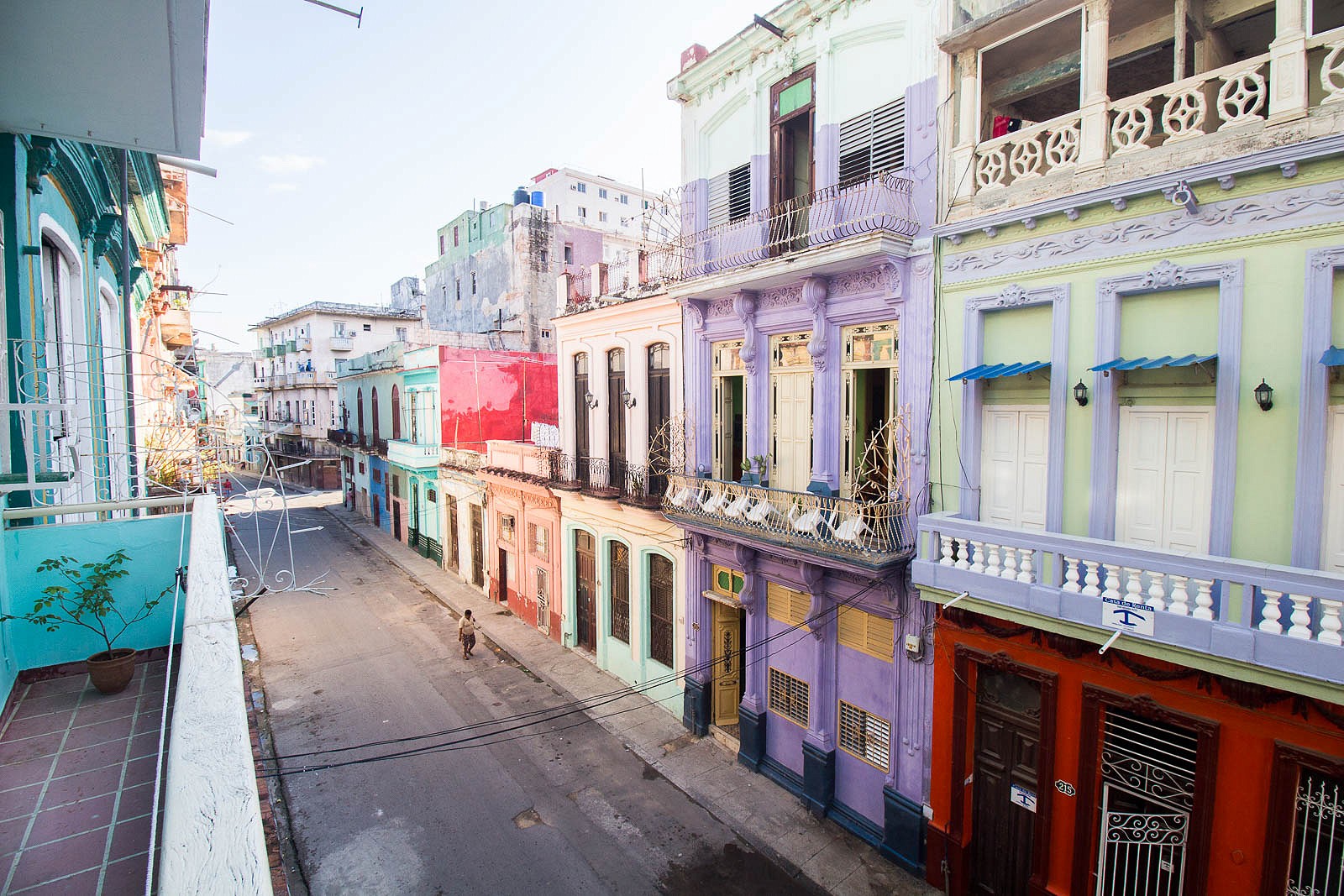 2. Užijte si západ slunce ze střechy hotelu Saratoga / Watch the sunset from the roof of hotel Saratoga

Z hotelu Saratoga je pravděpodobně úplně nejlepší výhled na Capitol a okolní ulice, které brázdí všudypřítomné veterány. Pokud jsem přijdete v podvečer, mezi šestou a sedmou hodinou, můžete si výhled užít téměř úplně sami, jakmile se přiblíží západ slunce, začne se rooftop bar pomalu plnit. Dali jsme si tu Daiquiri a Mojita (obojí se štědrou porcí rumu) za 5 CUC, což byla férová cena za servis a výhled, i když běžně na Kubě stojí drinky i 2 CUC.
Probably the best view of the Capitol and the streets full of vintage cars is from this hotel. If you get here around 6 pm or 7 pm, there are not that many people so you get to walk around and take as many pictures from the rooftop, as you like, and watch the sunset. We had a few Daiquiris and Mojitos, each for 5 CUC, which is (at least for us) a fair price to pay for drinks with a view like that.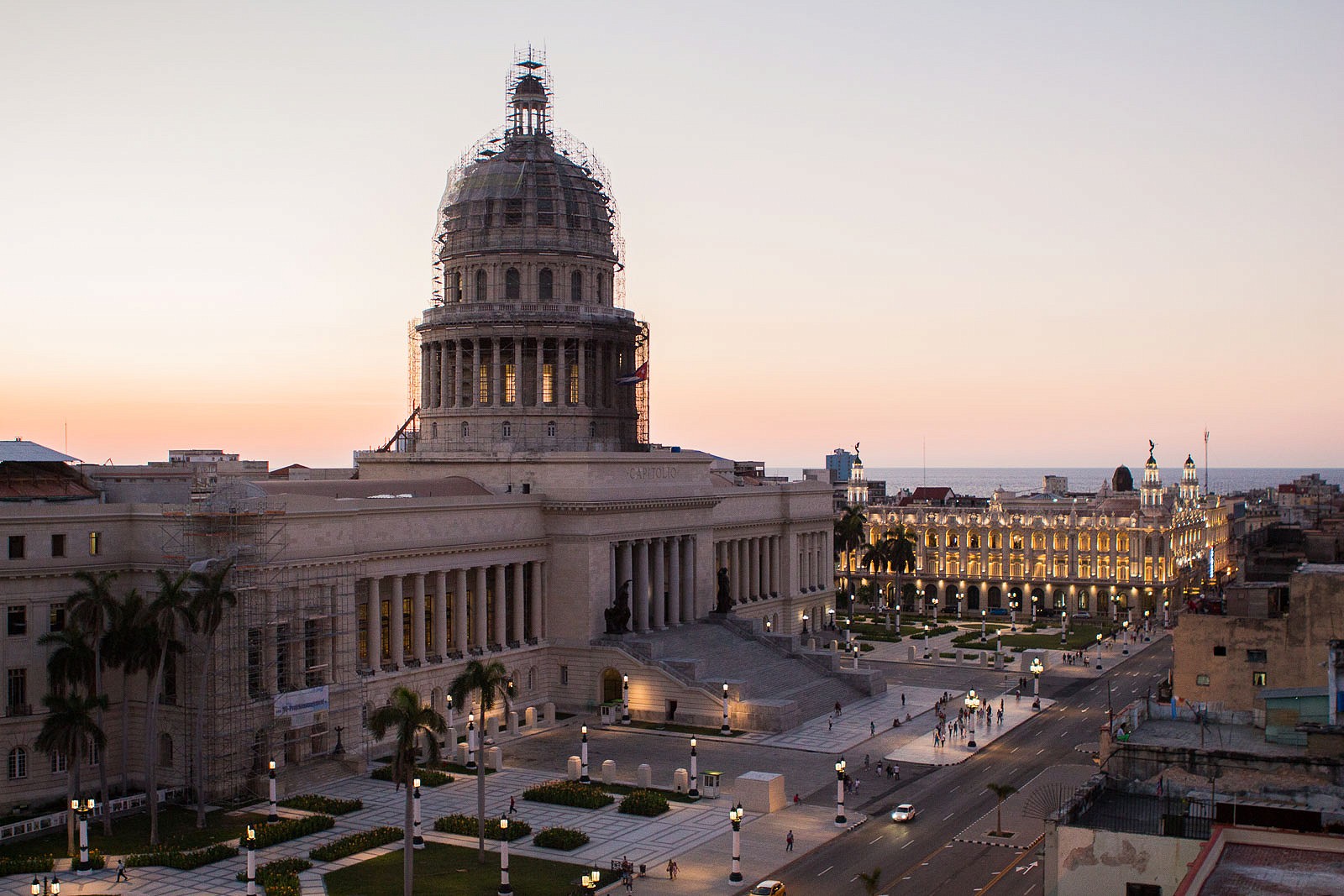 3. Vyberte si prohlídku s průvodcem / Take a guided tour
Jestli v Havaně máte jen pár dní, prohlídka s průvodcem je skvělá investice. My jsme si zamluvili jednu přes AirBnb s Jorgem a jeho kamarádkou Vitrolou (nesmíme zapomenout i na pana řidiče, který nám na jedné zastávce koupil churros ke svačině) a nemohli jsme si vybrat lepší. Projeli a navštívili jsme spoustu míst, na která bychom se jinak nepodívali, zjistili jsme něco o kubánské historii, Kubáncích a dostali odpovědi na spoustu otázek, které nás po týdnu na Kubě napadaly. Celá prohlídka trvala přes tři hodiny a určitě je to úplně jiný zážitek, když k řidiči máte i průvodce, bez něj je cesta po Havaně poloviční zážitek.
If you don't have much time in Havana, it's a good idea to take a guided tour. We booked one with Jorge and his friend Vitrola through AirBnB and we were very happy we did. We managed to see many different parts of Havana we would never visit otherwise, we learned a lot about Cuban history and people and it was time and money well spent. It took more than three hours to see everything and I dare to say it's a different experience if you have both a driver and a guide than just a driver. V was ready to answer all our questions anytime and our kind driver bought us churros at one stop - could a tour get any better than that? I doubt it.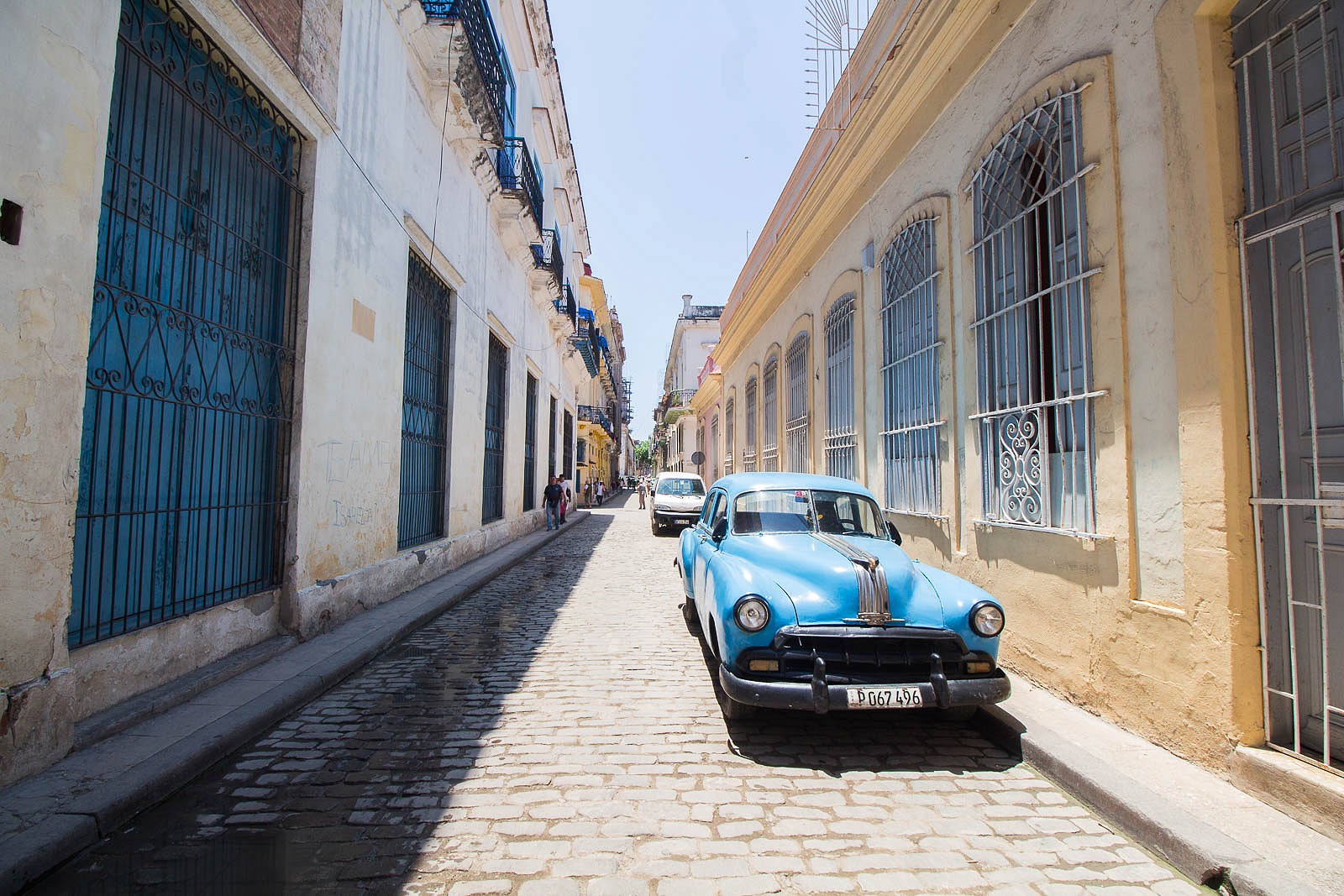 4. Ztraťte se ve staré Havaně / Get lost in La Habana Vijeja
Habana Vijeja je prostě jen jedna a všechno je tu jedinečné. Je barevná, má svou atmosféru, kapela hraje na každém kroku a rum teče proudem… některé domy jsou zrekonstruované, některé ne, ale ta nedokonalost je jedním z důvodů její jedinečnosti. My jsme se tu cítili naprosto bezpečně, nebojte se v uličkách trochu ztratit a vydat se o pár bloků dál od těch nejznámějších míst. V kapse stačí mít mapy stažené offline nebo vytištěné a vždycky trefíte zpátky, nám se nejvíc osvědčily maps.me. A kdyby ne, pokaždé je v blízkosti někdo, kdo rád poradí.
Old Havana is a very special place. It's colourful, it has a unique vibe, there's a band on every corner… some houses are renovated, some are not but that's what makes it beautiful. We felt very safe in the city so don't be afraid to get a bit lost. If you have offline maps on your phone or a printed guide in your hand, you'll always find a way - or the locals will be happy to help.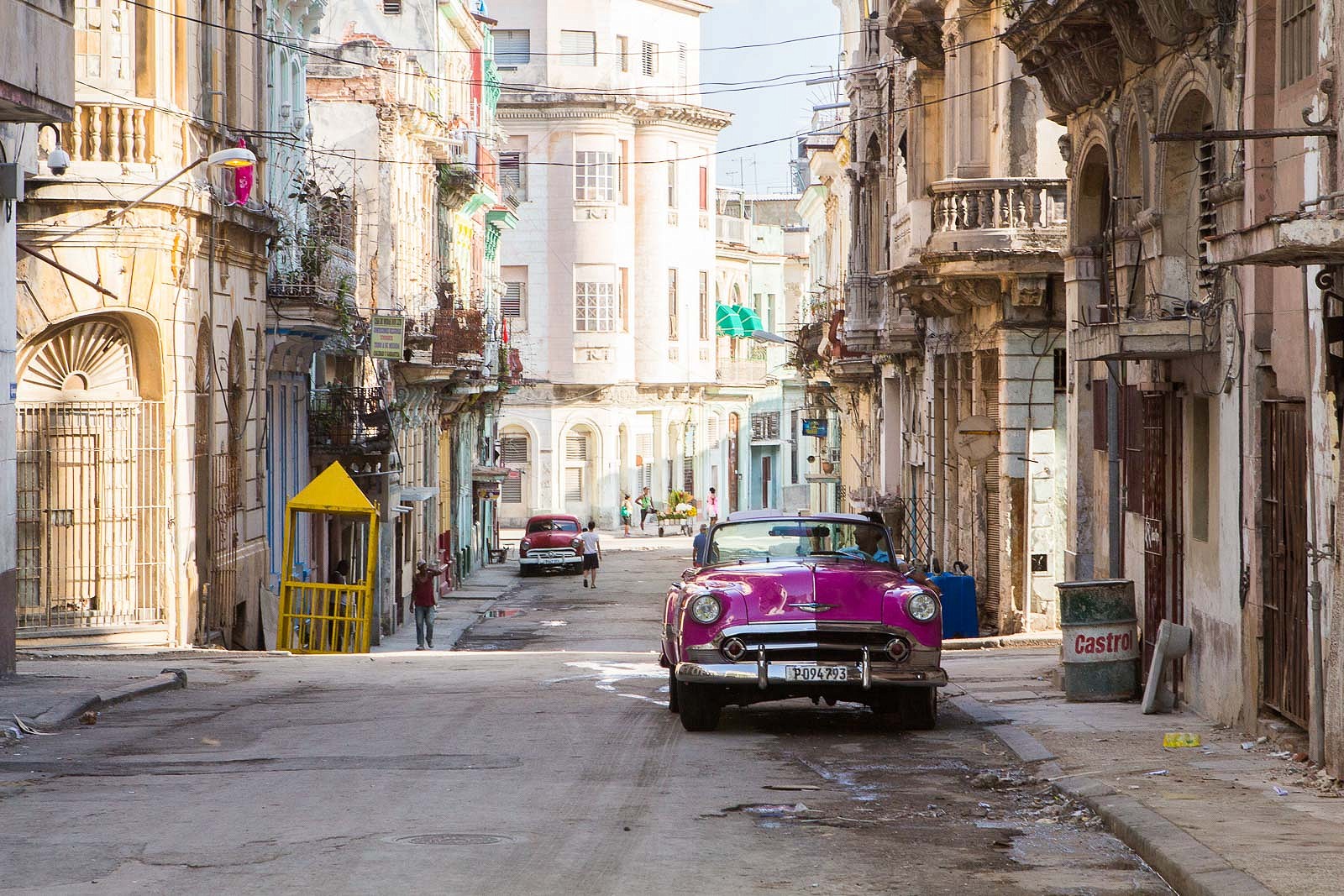 5. Rum a doutníky kupujte v oficiálních obchodech / Buy rum and cigars in the official shops

Oficiální obchody je snadné poznat - všechny používají stejné písmo, stejné cenovky, na kterých jsou podobné ceny a ty nejzajímavější najdete v průvodci. Triky, jak prodat neoriginální a drahé pití i cigarety jednoduše prokouknete, když si o Kubě něco přečtete a použijete selský rozum. Nechat se přesvědčit na ulici někým, koho jste nikdy neviděli, že má pro vás v místním obchodě to nejlepší zboží i cenu, by byla školácká chyba a zrovna na Kubě je lepší podřídit se systému. Pokud domů chcete dovézt dobré suvenýry, nakupte na oficiálních místech (a co nestihnete, se vždycky dá pořídit na letišti).
The official shops are easy to spot - they use the same font, the same price tags with approximately the same prices and the best ones are written in your guide. The tricks used by people who want to sell you non-original rum or cigars are very easy to recognise when you read a few things about Cuba and use your common sense. It's quite simple, if you get convinced by somebody in the street that you've never seen before, that he/she knows the best shop with the best prices (and today is the only day you can buy it), that's just really obvious you're making a mistake. Especially in Cuba, it's best to obey the system and if you want to bring home good, original souvenirs, buy them in the official shops (and if you don't have enough time, you can always buy it at the airport).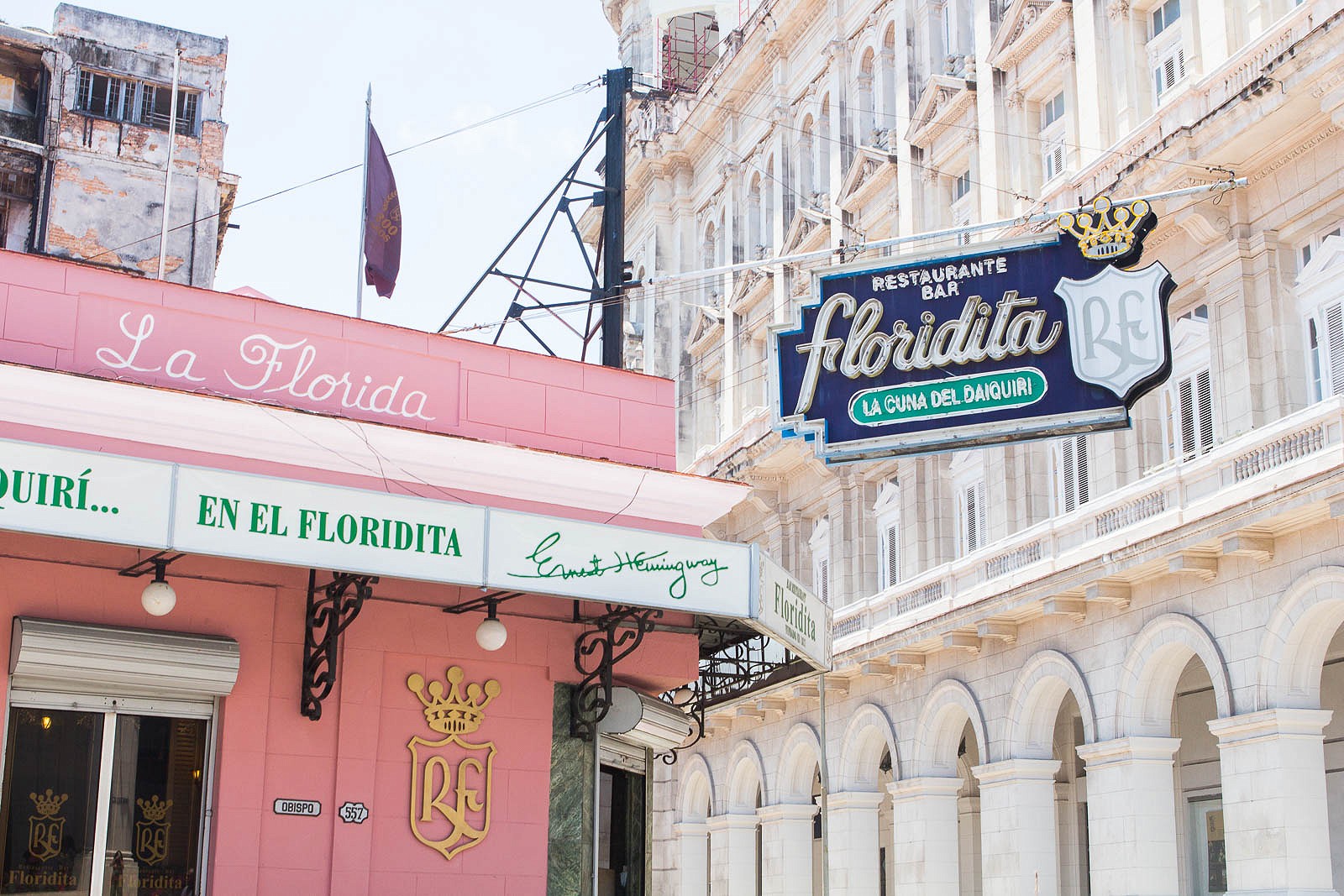 6. Buďte opatrní, ne vystrašení / Be careful but don't be scared
Seznamy triků, na které můžete jako turista narazit, jsou na internetu téměř nekonečné. My jsme se ale kromě pouličních nabízečů rumu a doutníků, kteří, nutno podotknout, nebyli nikdy neodbytní a odmítání i odchody proběhly pokaždé slušně, vůbec nesetkali. Možná jsme měli štěstí, rozhodně se ale nemusíte bát, že na vás za každým rohem čeká turistická past. Buďte zodpovědní, ověřte si informace v průvodci a užijte si cestu!
The list of tricks you can experience as a tourist can be neverending if you search on the internet. We really didn't meet anyone using them, except the guys in the streets offering rum and cigars and it's fair to say they were never insistent and turning down their offer was always polite. Maybe we were lucky but you definitely don't need to worry there's a tourist trap waiting at every corner. Be responsible, check the information in your guide and enjoy your trip!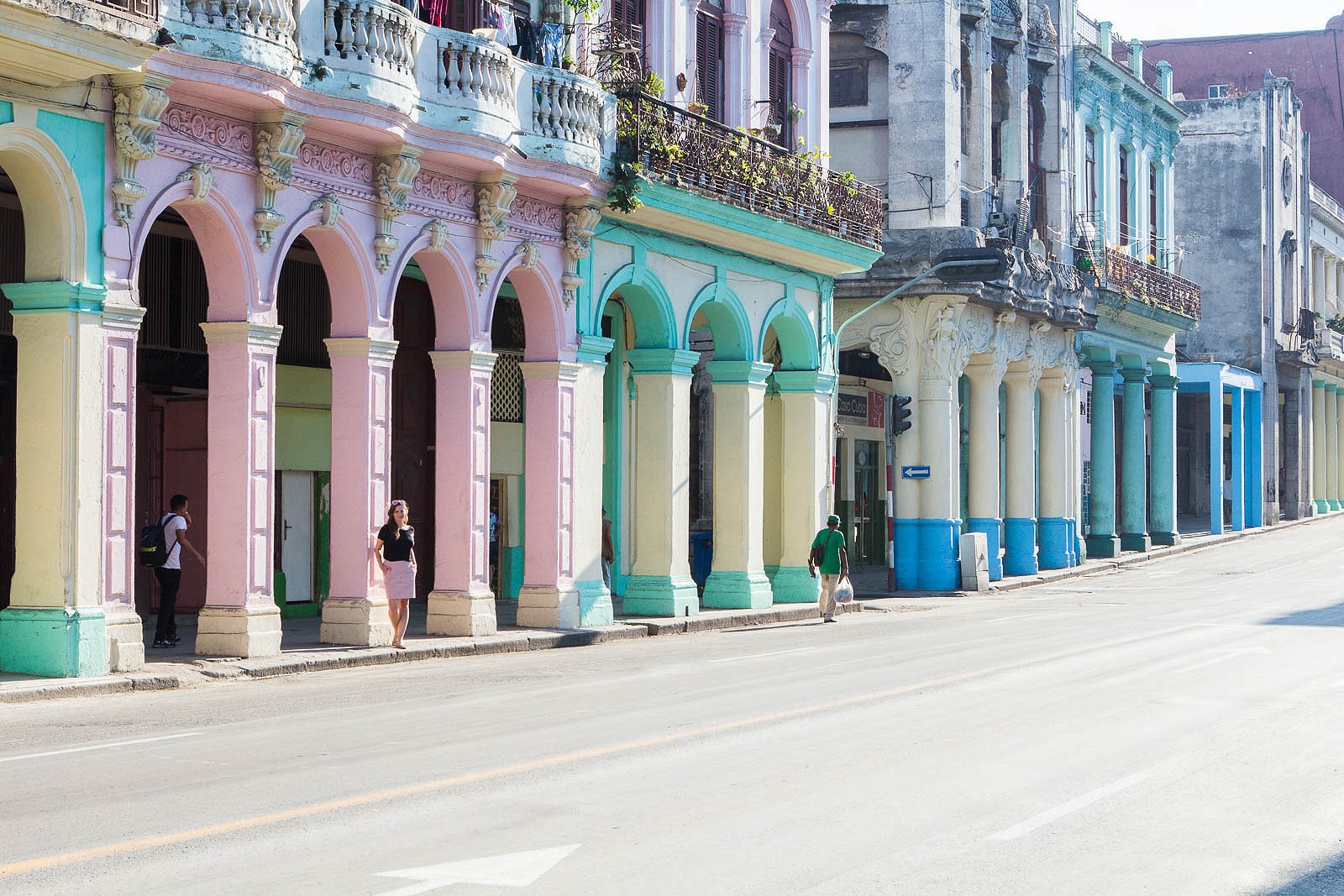 Já jdu psát článek o nádherném, kopcovitém Vinalesu a mezi tím mi napište. Byli jste na Kubě? Chystáte se? Co si o ní myslíte vy? :)
Well, I'll keep writing, next stop is the beautiful Vinales valley! But before that, tell me - have you been to Cuba? Are you planning to go? What do you think of this unique country? :)