48 Hours in Edinburgh
Co jsme za dva dny v Edinburghu stihli navštívit, kde se nám nejvíc líbilo a kam určitě musíte taky! Spoiler alert - na závěr čekejte dávku informací pro fanoušky Harryho Pottera, to jsem si nemohla odpustit :D.

Nejraději chodíme všude pěšky, což samozřejmě sice trvá delší dobu, než se přesunovat autobusem, ale zase to je skvělá možnost, jak poznat město co nejvíc. Skotské hlavní město má rozhodně co nabídnout, takže to určitě není můj finální seznam všech edinburských pokladů, alespoň mám ale víc důvodů se zase vrátit (samozřejmě ten hlavní je, že je to opravdu krásné město).
I finally had a chance to write down all the places we visited in Edinburgh, which ones we loved and where you have to go as well. Spoiler alert - the end of this post is dedicated to all the Harry Potter fans out there :D.
We prefer to walk everywhere which takes more time than if we probably traveled by bus (but you get to see more of the city). There are so many interesting sights in the Scottish capital that it would take much more time to explore them all, which means, this definitely wasn't my last visit because I have at least a few reasons to come back (besides the obvious one - this city is beautiful). Here is what we were up to during our stay.
The Royal Mile
Pokud jste už v Edinburghu byli nebo o něm někde četli, určitě vás nepřekvapí, když řeknu, že The Royal Mile je naprostá nutnost. Ulice začíná u Edinburgh Castle a vede až k Holyrood House a "Mile" v názvu opravdu vyjadřuje vzdálenost, takže počítejte s procházkou minimálně míli dlouhou :). Právě proto, že je tak vyhlášená, musíte ale počítat se zástupy turistů. Můj tip je vrátit se zpět později večer, když už jsou obchody se suvenýry zavřené, atmosféru si užijete mnohem víc.
This is an obvious one and if you've read some articles about Edinburgh you won't be surprised when I say this is the must. The street goes from the Edinburgh Castle to the Holyrood House and I'd suggest coming back later in the evening when there are not that many tourists around.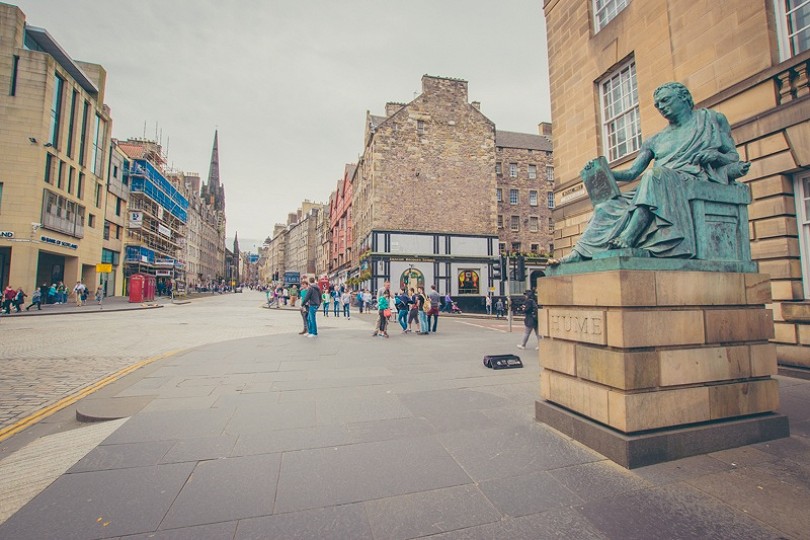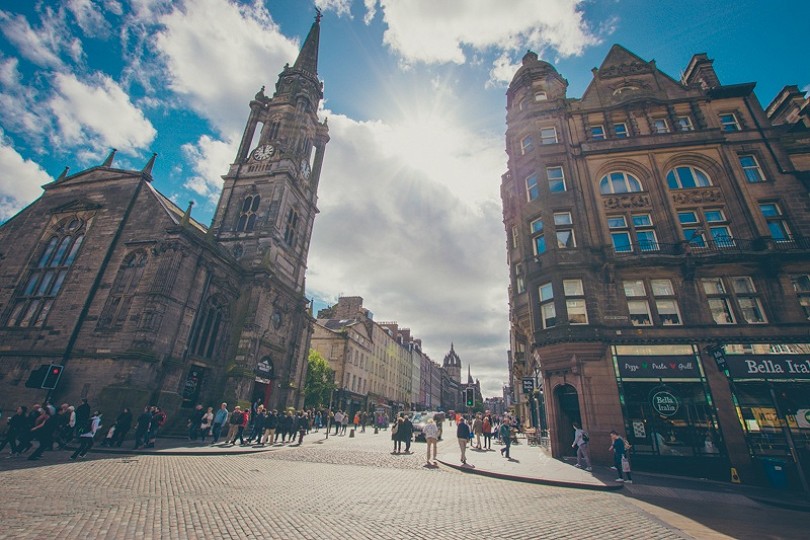 Edinburgh Castle
Hrad se opravdu majestátně tyčí nad zbytkem města a bez něj by Edinbrugh nebyl Edinburghem. Slyšeli jsme chválu i na interiéry hradu, ale protože vstupné stojí £15 (cca 500,- Kč), stačilo nám podívat se na něj zvenčí. Pokud ale máte možnost, určitě bych se dovnitř podívat šla a pak mi dejte vědět, jaké to tam je!
Let's start with saying that it is really impressive and the city wouldn't be the same without its castle. Many people say it's equally impressive inside but considering the entry costs £15 per person, seeing it from the outside was a more budget-friendly option. However, if you have the time and you're not on a budget, I'm sure you can't go wrong with going inside. Let me know if you liked it!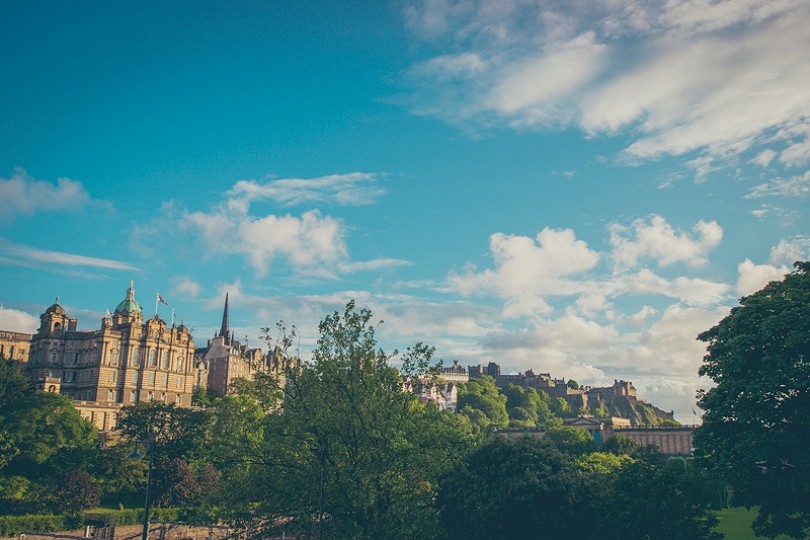 Scottish National Gallery
Pokud vás zajímá umění, Scottish National Gallery se spoustou impresionistických a renesančních děl byste neměli vynechat. Obdivováním umění se v Edinburghu rozhodně dá nějaká chvíle strávit, jen o kousek dál je i galerie moderního umění.
If you're into art, you'll appreciate the Scottish National Gallery with exhibitions focused on impressionism, renaissance and more. The Scottish National Gallery of Modern Art is also very close so you can spend as much time admiring art, as you like.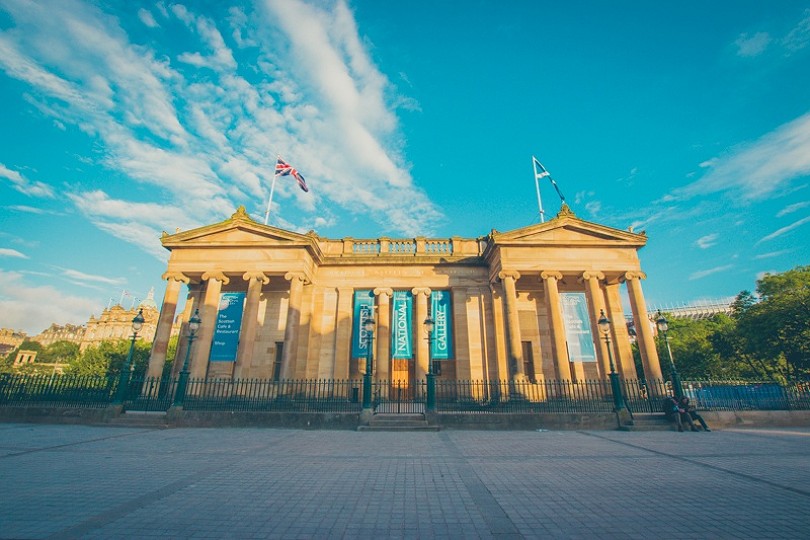 Princess Street Gardens
Kde jinde si dát poobědovou siestu než v parku? Navíc, když je odtud bezkonkurenční výhled na hrad. Parky v centru měst mě nepřestávají fascinovat. Působí jako oázy klidu ve chvíli, kdy do nich vejdete z uspěchané ulice, ať je to v New Yorku, v Londýně nebo v Edinburghu.
A great place to chill after lunch and admire the view of the castle. I'm always fascinated by how peaceful the parks and gardens can be even when they are in the middle of the city centre. The greenery really calms down all the rush.
Scott Monument
Největším památníkem na světě věnovaným spisovateli je památník Sira Waltera Scotta v Edinburghu. Je opravdu dominantní, 61.11 metrů vysoký, s vyhlídkou, na kterou se dostanete po zdolání cca 250 schodů, ale kam jsme my bohužel nestihli vyjít. Takže to je jedna z věcí v seznamu "na příště", protože ten výhled musí určitě stát za to.
A monument to Sir Walter Scott is the largest monument to a writer in the world and let me tell you, it's huge! It's 61.11 meters high (I do my research) and there are viewing platforms on the top but we unfortunately didn't have a chance to go up. So that's on my list for the next visit, I think the view from the top must be amazing.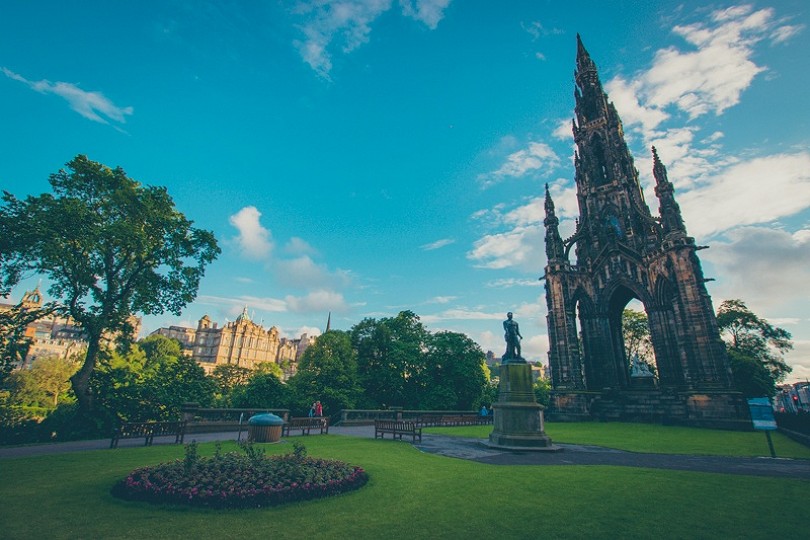 National Museum of Scotland
Rozhodně jedno z nejlepších muzeí, ve kterých jsem kdy byla. A nepřeháním, do interiéru jsme se zamilovali, hned jak jsme přišli. Otevřený prostor propojuje všechny expozice, líbila se nám především výstava se zvířaty, a prostor skvěle "obydlený" exponáty. Dobrá muzea, to je moje, a tohle určitě stojí za návštěvu! Navíc, vstup je zdarma, takže žádné výmluvy, běžte dovnitř :).
This is one of the best museums I've ever been to. No kidding, we loved it from the moment we entered. The open space makes all the exhibitions somehow connected and I especially liked how they use the fact that you can see three floors down (or up) to the advantage of the exhibitions. I really like a good museum and this one deserves to be visited! The entry is free as well so no excuses, go inside :).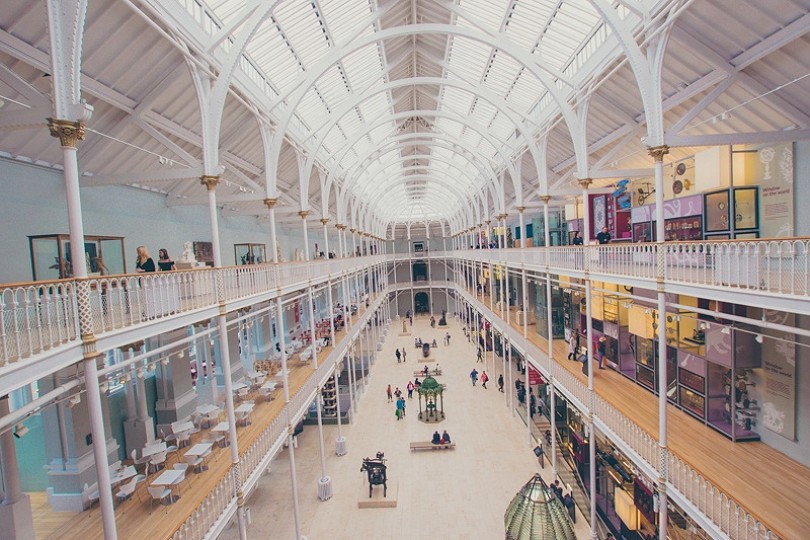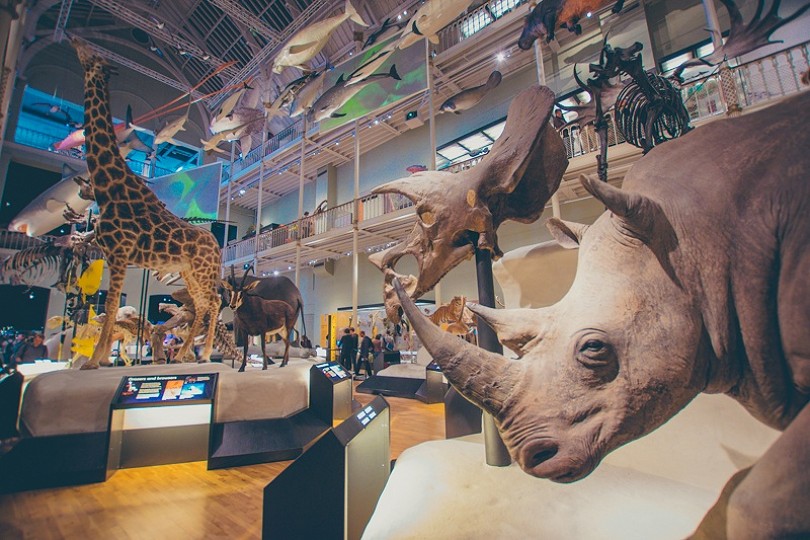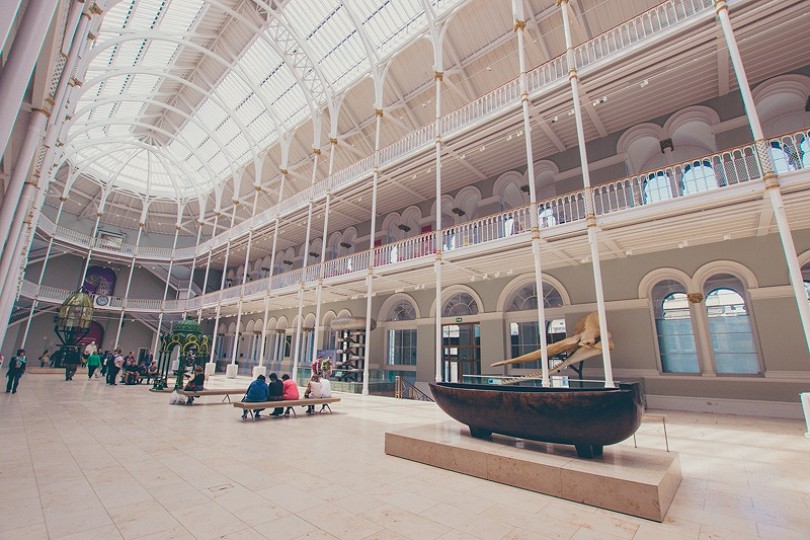 Dean Village
Delší procházkou z centra se dostanete do Dean Village, kde to vypadá jako v rakouské vesničce, ne jako v centru hlavního města. A co jsem si stačila všimnout, díky své fotogeničnosti je to patrně jedno nejinstagramovanějších míst v Edinburghu.
It's a 15 - 20 minute walk from the city centre and it's a really cute area with houses that will make you immediately feel like you're in Austria. I bet this is one of the most instagrammed places in Edinburgh.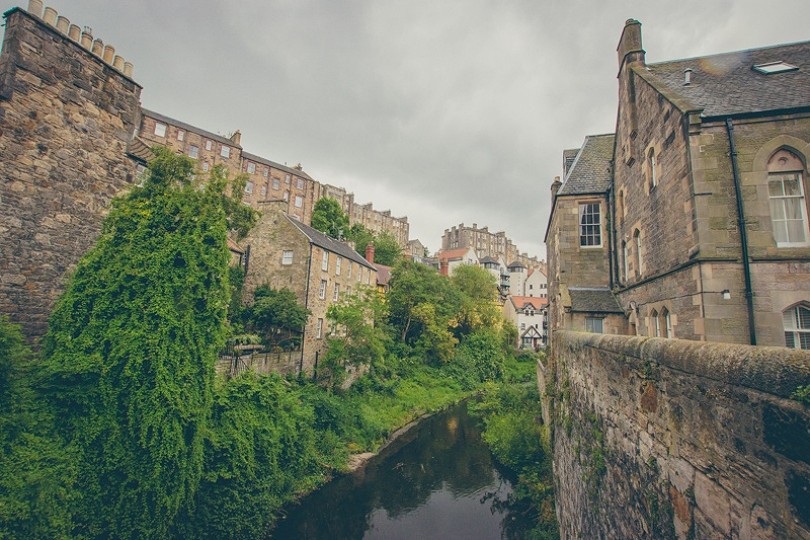 Calton Hill
Výhled na celé historické centrum se vám naskytne na Calton Hill. Není to takový takový výšlap, jak se zdá. Až nás překvapilo, jak rychle jsme sem došli. Pohled na Edinburgh, který se vám naskytne, je snad na každé druhé pohlednici :). My měli zrovna štěstí na krásné počasí, takže jsme si užili výhledů dosytosti a takhle naživo se mu žádná pohlednice nevyrovná.
This is the hill you need to climb (it's not that high actually so don't worry, you can make it) in order to get probably the best view of Edinburgh (or at least the one you see in the pictures every time you google Edinburgh). We were lucky enough to get there when the weather was nice and the view truly is much better in real life :).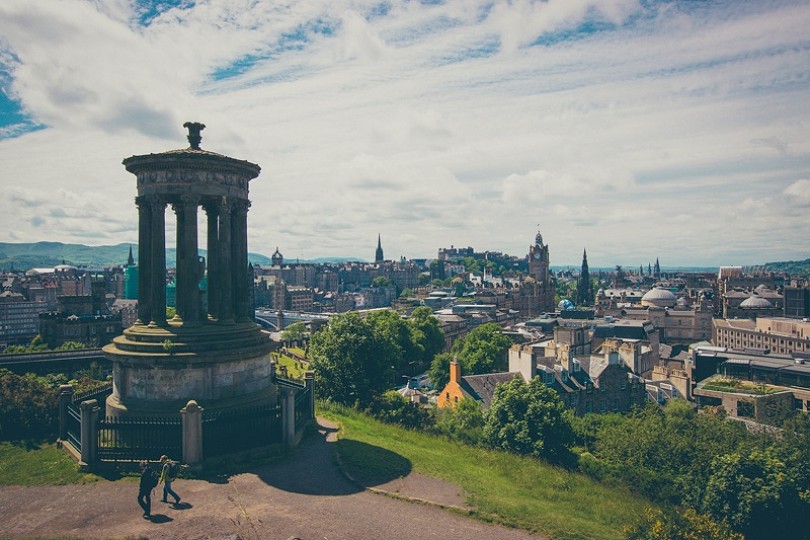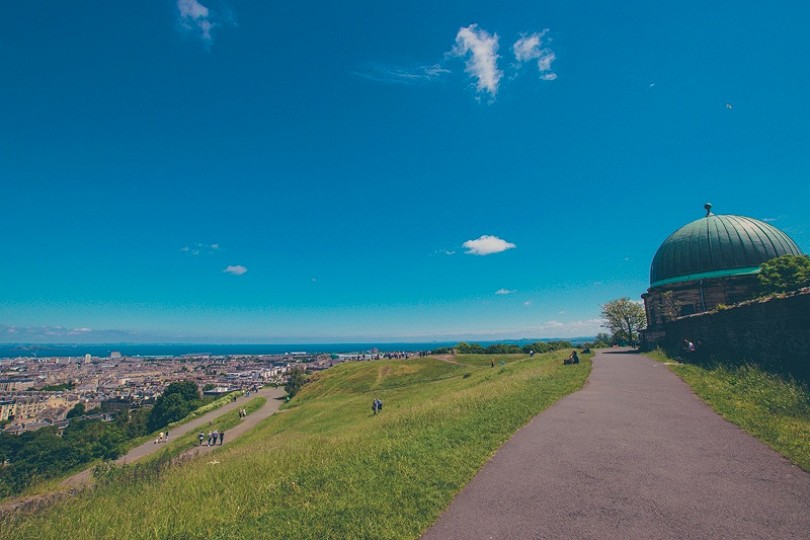 Greyfriars Bobby Memorial
Příběh o pejskovi, který měl svého páníčka tak rád, že po jeho smrti hlídal jeho hrob, dokud sám neumřel, zapůsobí snad na každého. Socha pejska Bobbyho je jednou z nejpopulárnějších soch ve městě. Říká se, že když mu pohladíte nos, budete mít štěstí, ale nepodařilo se mi najít žádný zdroj, který by potvrzoval, že to funguje, haha :).
I když - možná na tom něco bude, protože my jsme na něj narazili náhodou, když jsme ho šli hledat někam jinam, takže patrně jsme štěstí měli :D.
Show me somebody who won't be touched by a story about man's most loyal friend who guarded his owner's grave until he died. Right, there are not many, so this obviously makes Bobby's statue a very popular spot amongst visitors. Many people rub his nose for good luck but I didn't find any source confirming it is actually true :). However we did find the statue by a coincidence when we thought we will have to go somewhere else to look for it. So I guess we were a bit lucky :D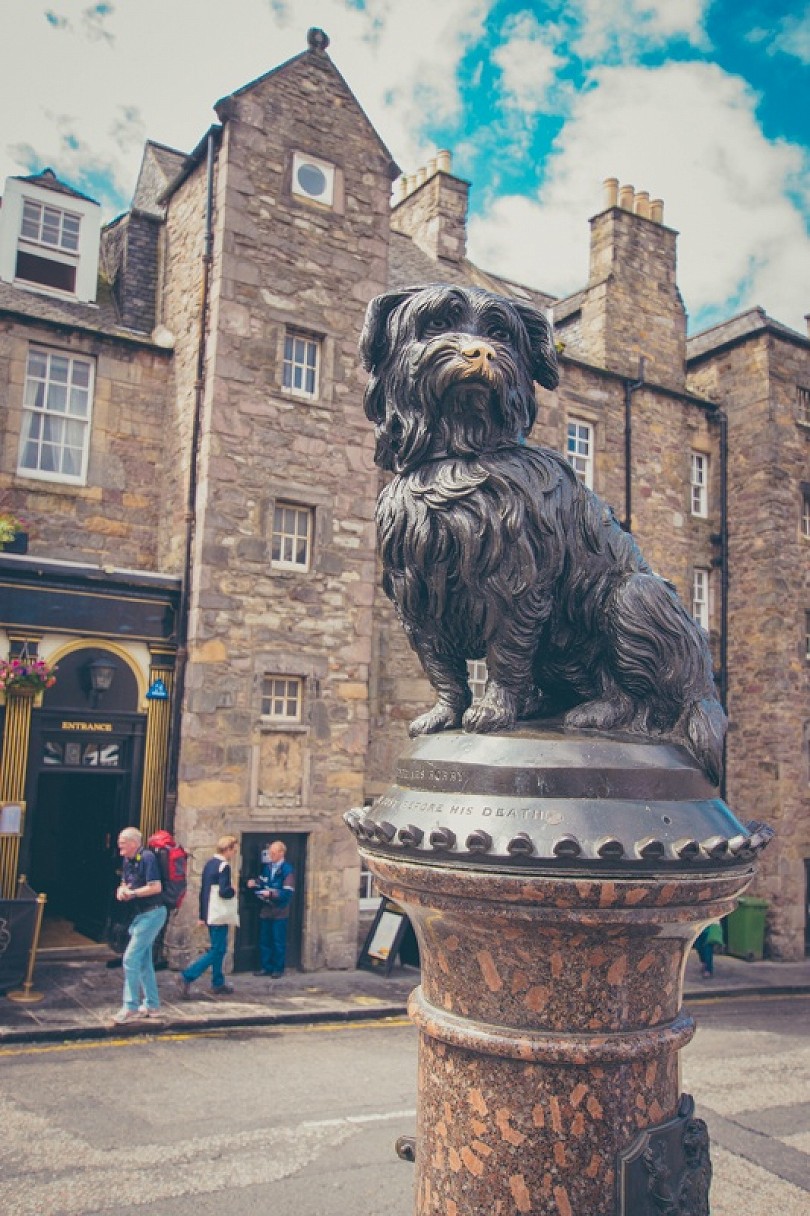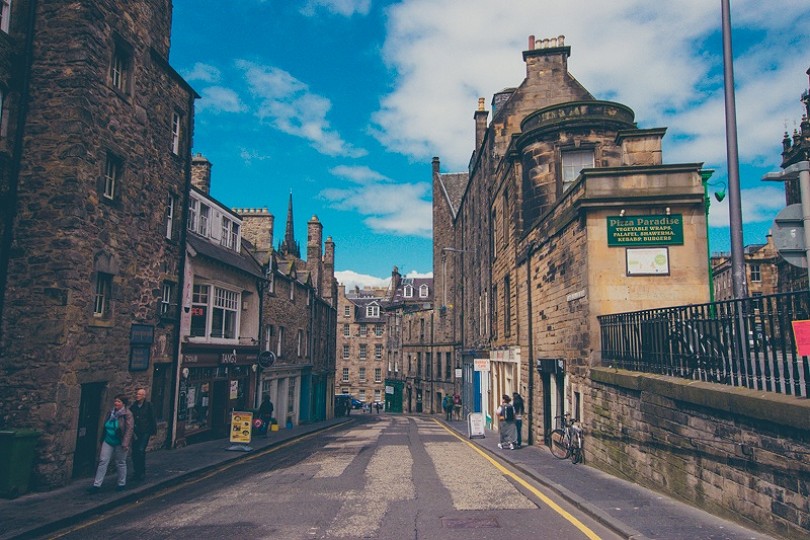 The Real Mary King's Close
O "podzemním městě" Real Mary King's Close jsem četla, když jsme plánovali, kam se v Edinburghu vydat. Prohlídka byla skvělá. Trvala hodinu, průvodce nám povídal o osudech lidí, kteří v těchto domech, které jsou nyní pod zemí, kdysi žili, a objasnil záhadu, proč vlastně toto "podzemní město" vzniklo. Když chtěli v 18. století postavit nové City Chambers, potřebovali vytvořit na kopci, na kterém se centrum Edinburghu nachází, rovnou plochu. V sousedících ulicích zbourali několik pater domů, aby nahoře vznikla rovina, na které postavili základy, a na nich vystavěli nové budovy.
Pokud máte, stejně jako my, omezený rozpočet a dvakrát zvažujete, za které vstupné dát peníze (vstupy v Edinburghu nejsou nejlevnější), sem musíte. Není to žádná rádoby "strašidelná" prohlídka, ale opravdu zajímavě podaná fakta a poutavě vyprávěný příběh, o kterém jsem do té doby neměla ani tušení.
I've read about this place when I was trying to decide where to go while we're in Edinburgh. However I didn't expect it to be soooo good! During this hour-long tour you'll get to see the 17th century houses that have remained literally frozen in time after new houses were built on top of these streets after they built the new City Chambers on top of them in the 18th century. We honestly loved the tour and I can't recommend it enough. If you're on a budget as well and you're thinking what's worth the money (Edinburgh's attractions are quite expensive), you have to go here! A big plus, at least for me, was also that it's not a "ghost" tour or anything like that but a rather interesting introduction to a part of Edinburgh's history I had no idea about prior to the visit.
photo: edinburghspotlight.com
Elephant House
Jasně, že každý správný fanoušek Harryho Pottera se musí k Elephant House podívat. Je to TA kavárna, ve které J. K. Rowling sepisovala Harryho příběhy, což ji dost proslavilo (jak kavárnu, tak J. K. Rowling) a udělalo z ní kavárnu permanentně obsazenou. Pokaždé, když jsme šli okolo, čekali lidé na volný stůl. My nasáli atmosféru jen od vchodu, protože se nám uvnitř zase tolik nelíbilo, to ale vůbec nevadí, hlavně že se tady líbilo Rowlingové a máme Harryho Pottera.
Every fan of Harry Potter has to check this place out. This is the café where J. K. Rowling wrote her first Harry Potter books which makes it very famous (there were people waiting for a table every time we walked past) and I wanted to visit it really bad. However we ended up not having a coffee there because we (unfortunately) didn't like the place as much (doesn't really matter, I'm still happy she liked it there and that we have Harry Potter in our lives now).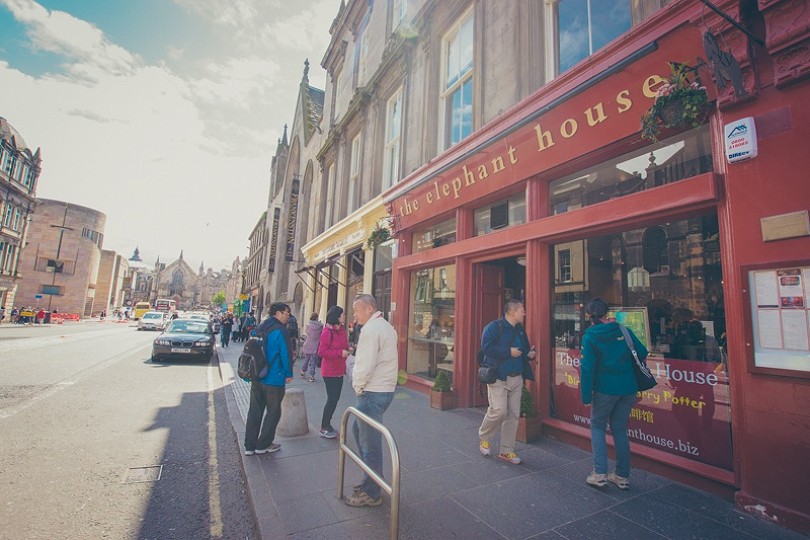 Victoria Street and Candlemaker Row
Kousek od Elephant House se dolů z kopce zatáčí Victoria Street, která byla inspirací pro Příčnou ulici (pro neznalce Harryho Pottera je to ulice z Harryho Pottera), nám ale i sousední Candlemaker Row připadala jako vystřižená z kouzelnického světa. Projděte si je obě a dejte mi vědět, ve které jste potkali Harryho :).
Again, this is the area for Harry Potter fans. It's near the Elephant House where you will find the Victoria Street, a real life Diagon Alley, however we think the Candlemaker Row looks like it's straight from the world of magic as well. I would suggest you have a look at both of them and let me know where you've met with Harry :).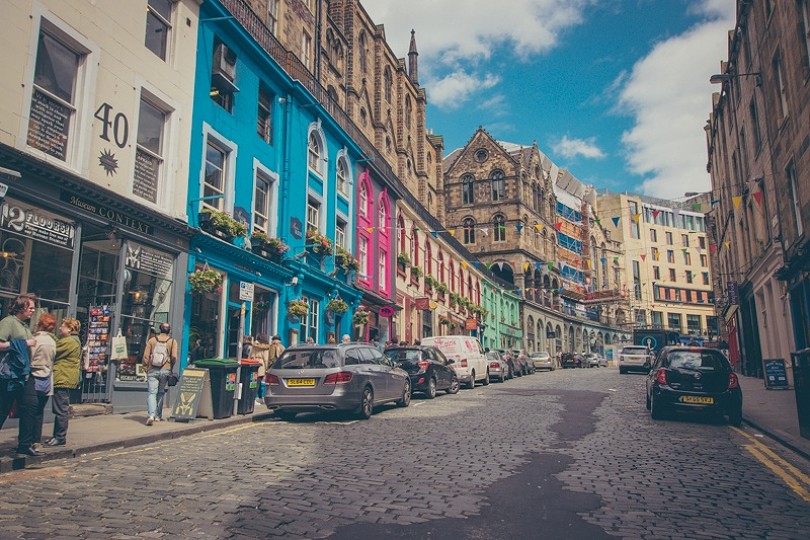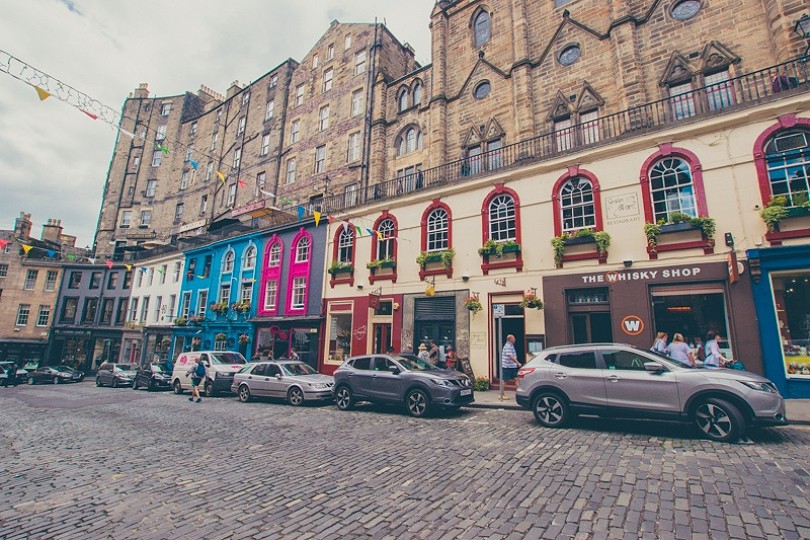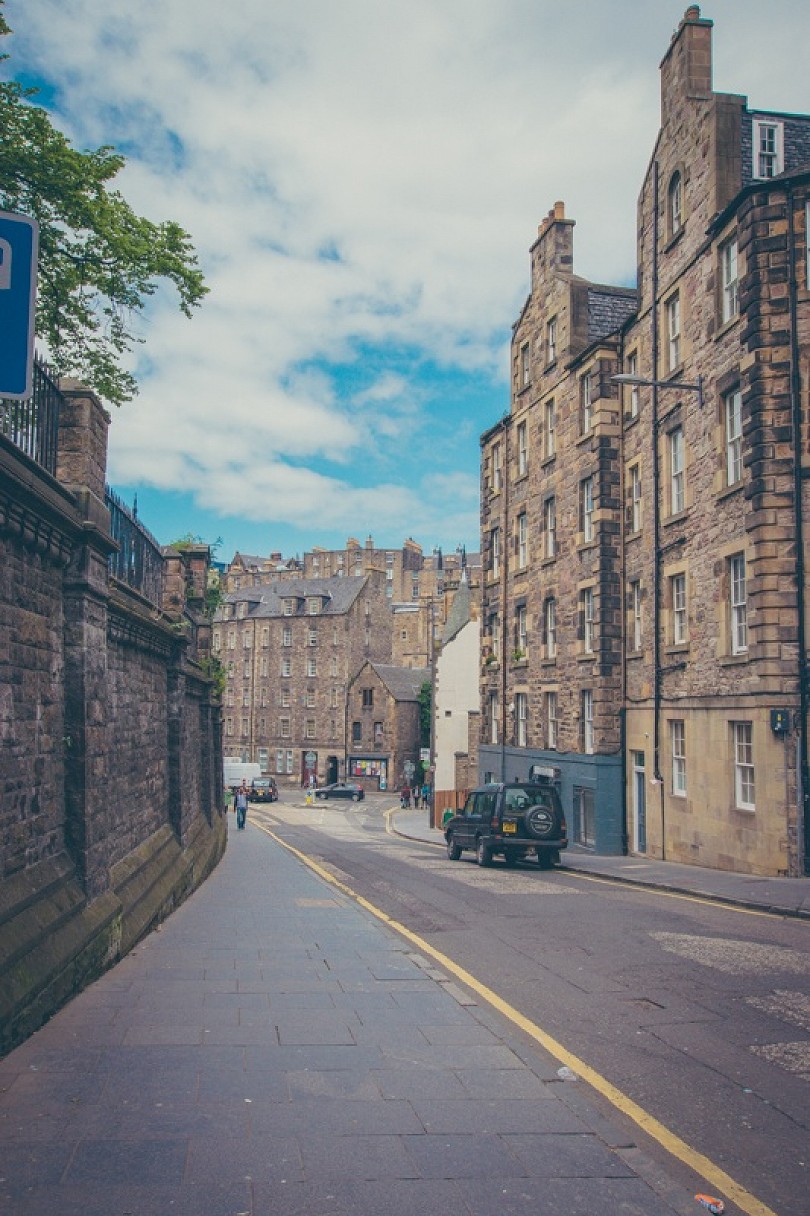 Jestli jste dočetli až sem, mám pro vás ještě mapu, ve které najdete vyznačená všechna místa, která určitě stojí za návštěvu. Snad se vám s ní bude v Edinburghu lépe orientovat :). Byli jste v Edinburghu? Chystáte se? Jaká jsou vaše nejoblíbenější místa?
If you've managed to read this far, I have a map for you as well, where you'll find all my favourite spots. Hopefuly it will be easier to find your way around Edinburgh with it :). Have you been to Edinburgh? Planning to go? Let me know what your favourite spots are!
---