The sunniest island of Croatia is the home to excellent wine, lavender fields that together with pine trees create the distinctive smell of the island wherever you go, ancient towns on the shore and in the hills.

Last year it was voted one of the top five European islands by the readers of Conde Nast Traveller.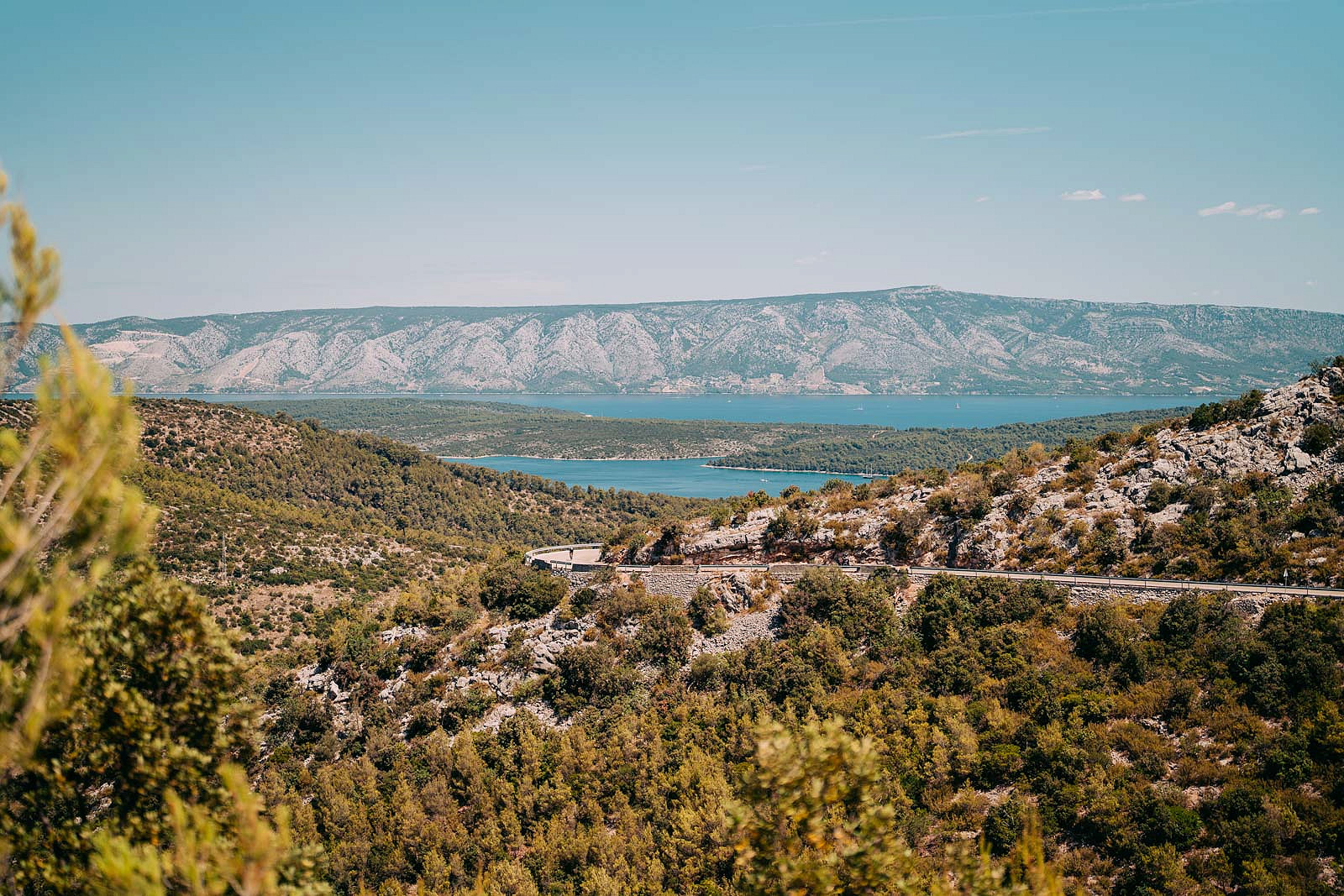 How to get to Hvar Island
You will have to go by ferry or a boat, there is no other way obviously. During the summer season there are ferries from Drvenik (to Sucuraj harbour on the south side of the island), catamarans from Split to Hvar town or ferries from Split to Stari Grad. All of them are operated by Jadrolinija and you will find the timetable and prices on their website. Just check the date carefully, the timetable changes throughout the year.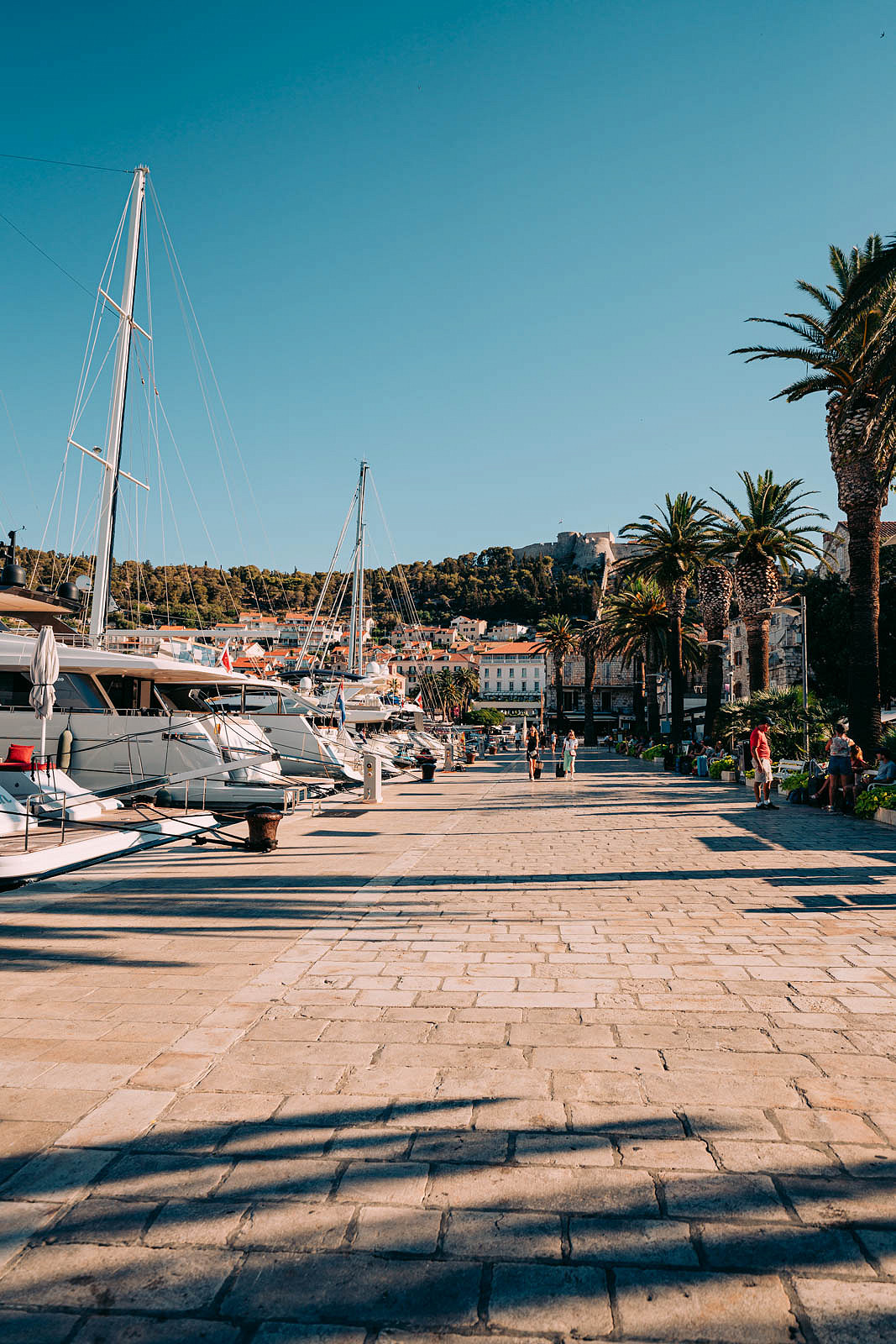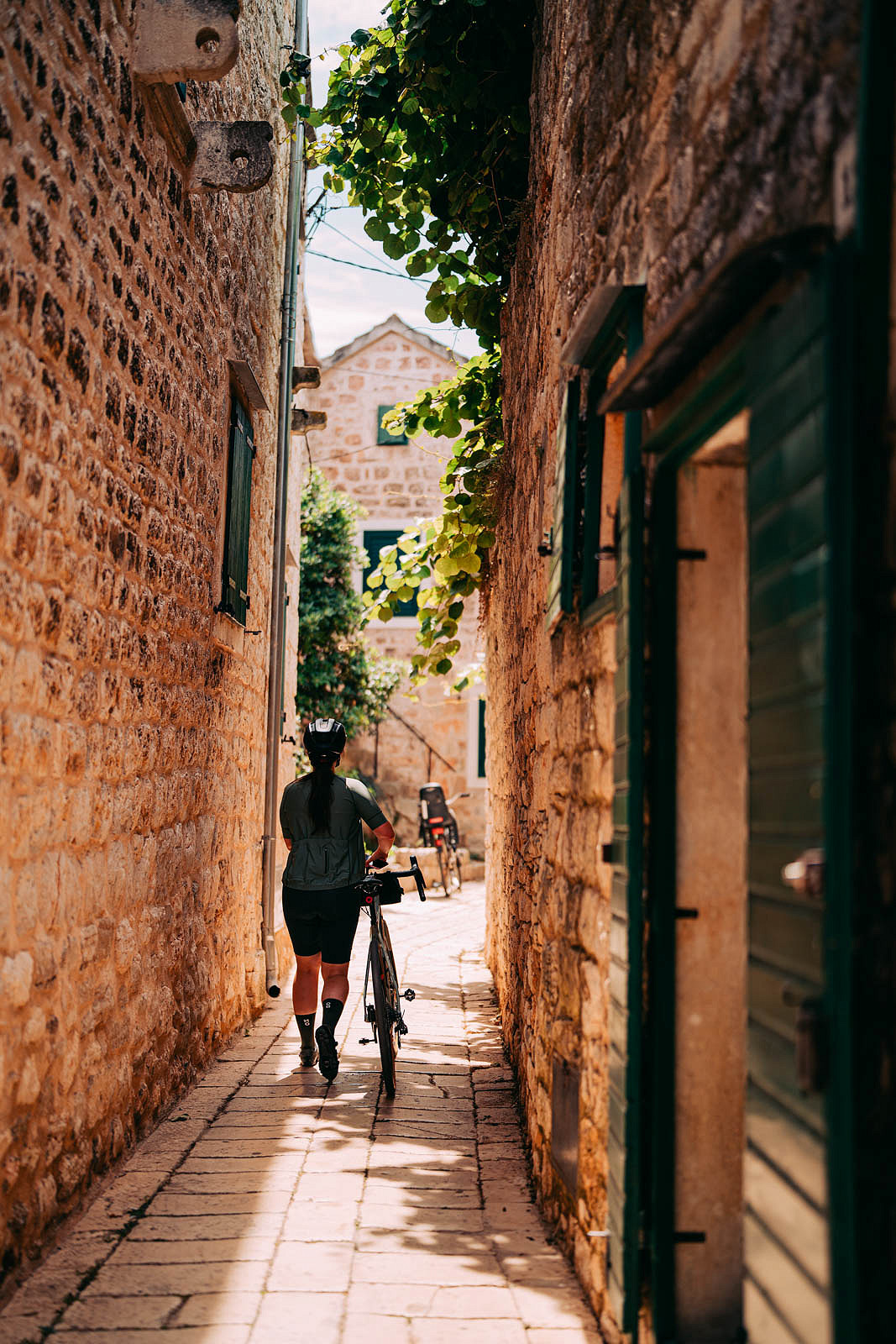 If you plan to go to Hvar from Drvenik during the main season, make sure to arrive at least 45 minutes before the departure to the harbour. The ferry can take on approx. 25 cars and you can't book a specific time so you have to be there in advance. On our way from Drvenik we could all board but on the way back there were cars that didn't get on the ferry and had to wait for an hour and a half for the next one.

We don't have any experience with getting to Hvar island from Split but it will probably be quite similar.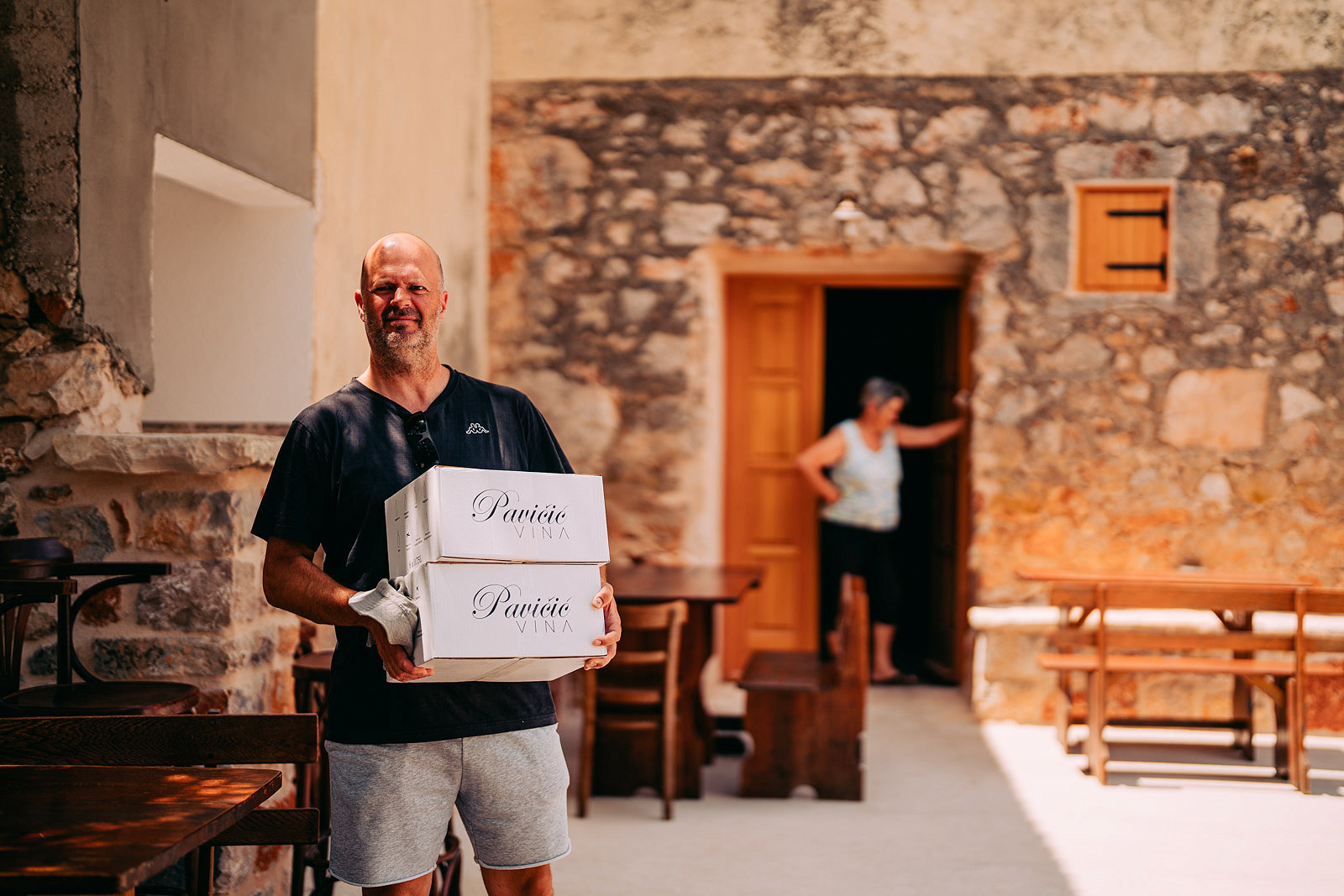 If you have the chance, take a car or your bikes with you or rent a scooter or a car here to see more of the island. But ideally take a car, so that you can take all the good wine with you! Trust me, you will not like the idea of leaving Hvar empty handed after tasting the wine here.

Where to stay in Hvar
In the evening, Hvar town is the most vibrant town on the island and we would recommend choosing a place near the town centre so you can walk to the restaurants for dinner or drinks.

Definitely check out the Airbnb place we stayed in right under the city walls (and when I say under the walls, I mean it, the city walls are the walls of their garden). You can also park your car there, it is a beautiful apartment for 4 people and the only thing to keep in mind is that the air conditioning is only available in the kitchen / living room area, not in the bedrooms, but we kept the windows open and it was just fine.
If you want to enjoy the evenings in villages where there is no rush, head a bit further. We would choose something near a winery so you have a program for the evening.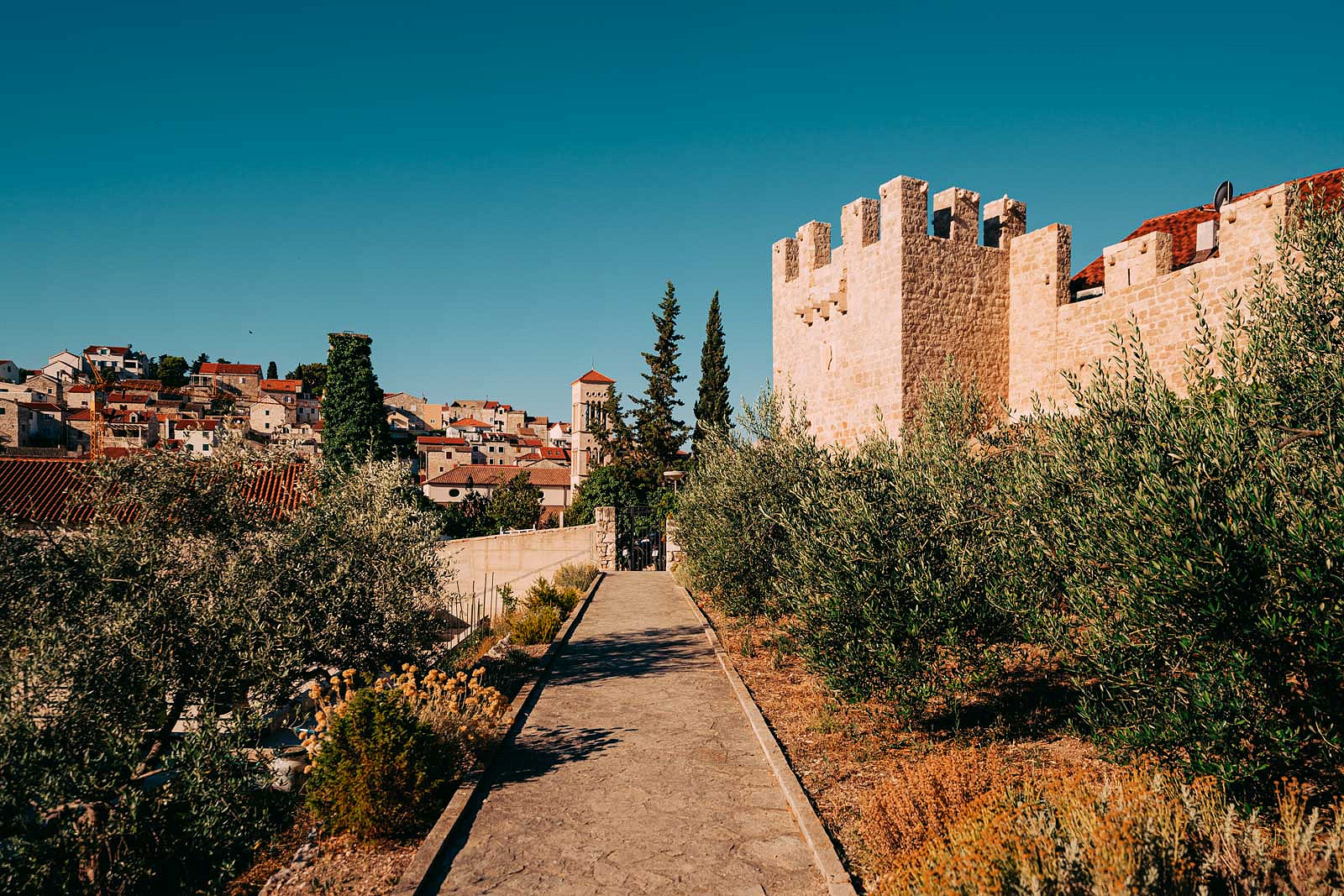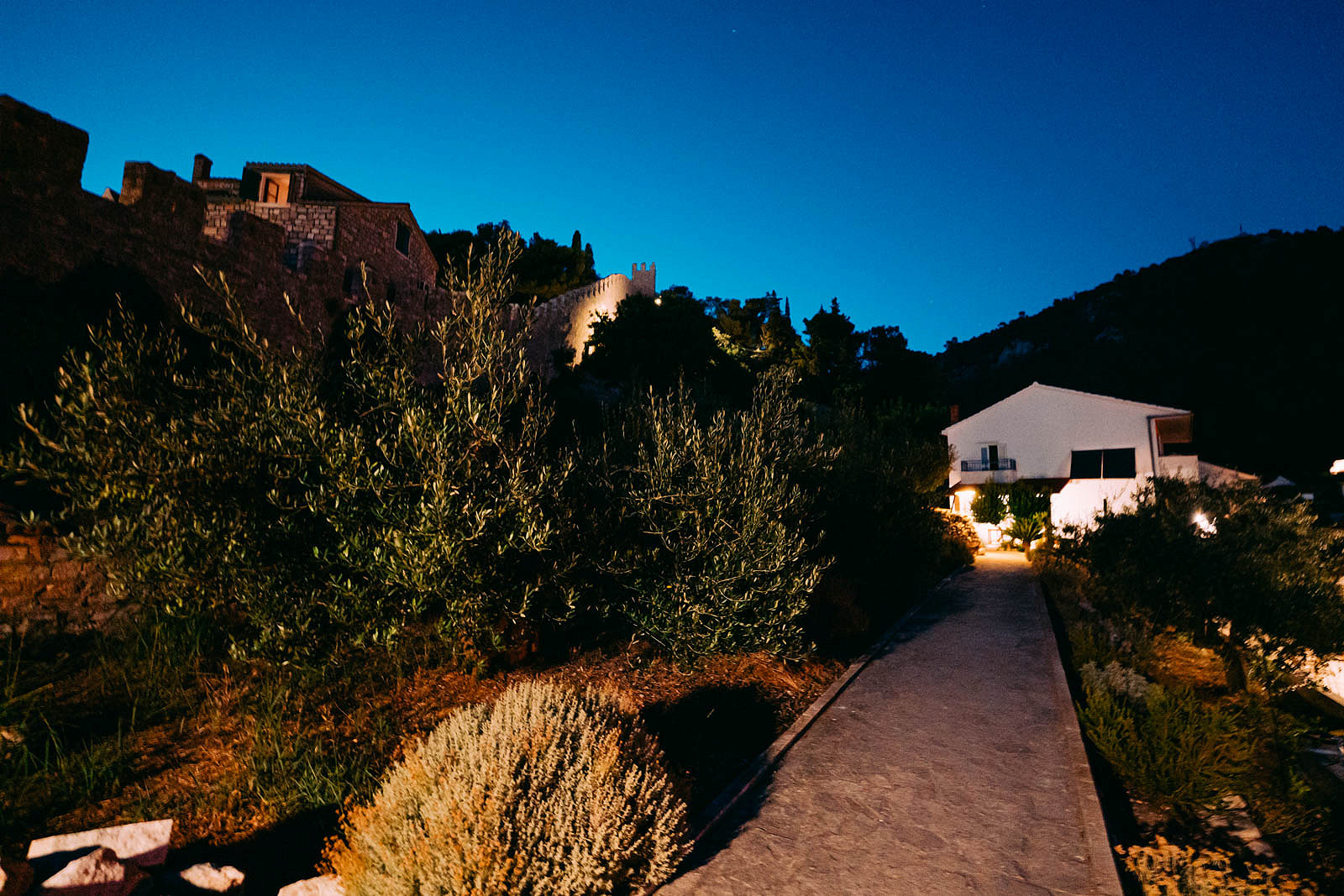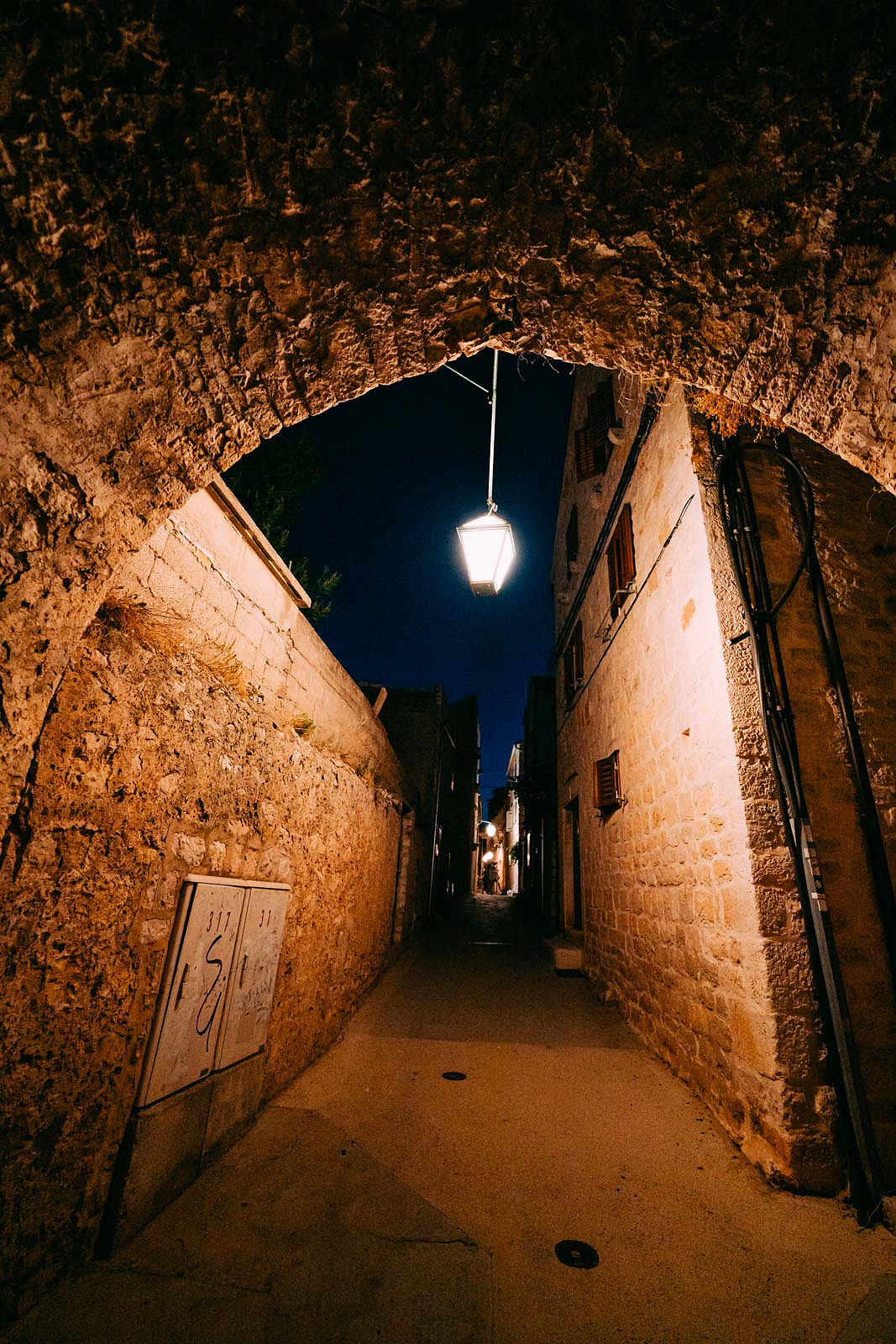 What to see on Hvar Island | Place you shouldn't miss

Hvar
The port in Hvar is probably the busiest place on the island. It is right next to the St. Stephen's square which is supposedly the largest square in Dalmatia, and is overlooked by St. Stephen's cathedral.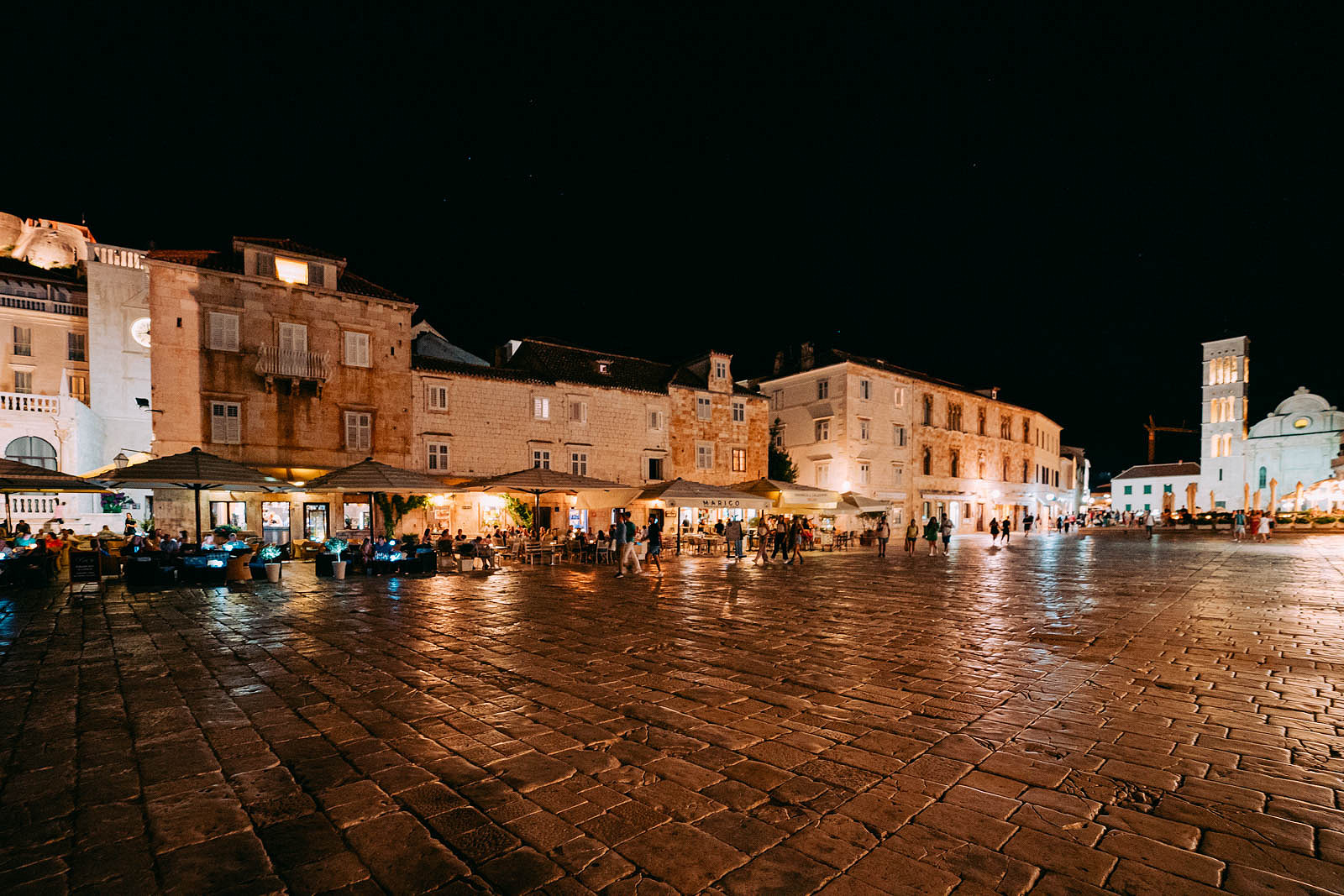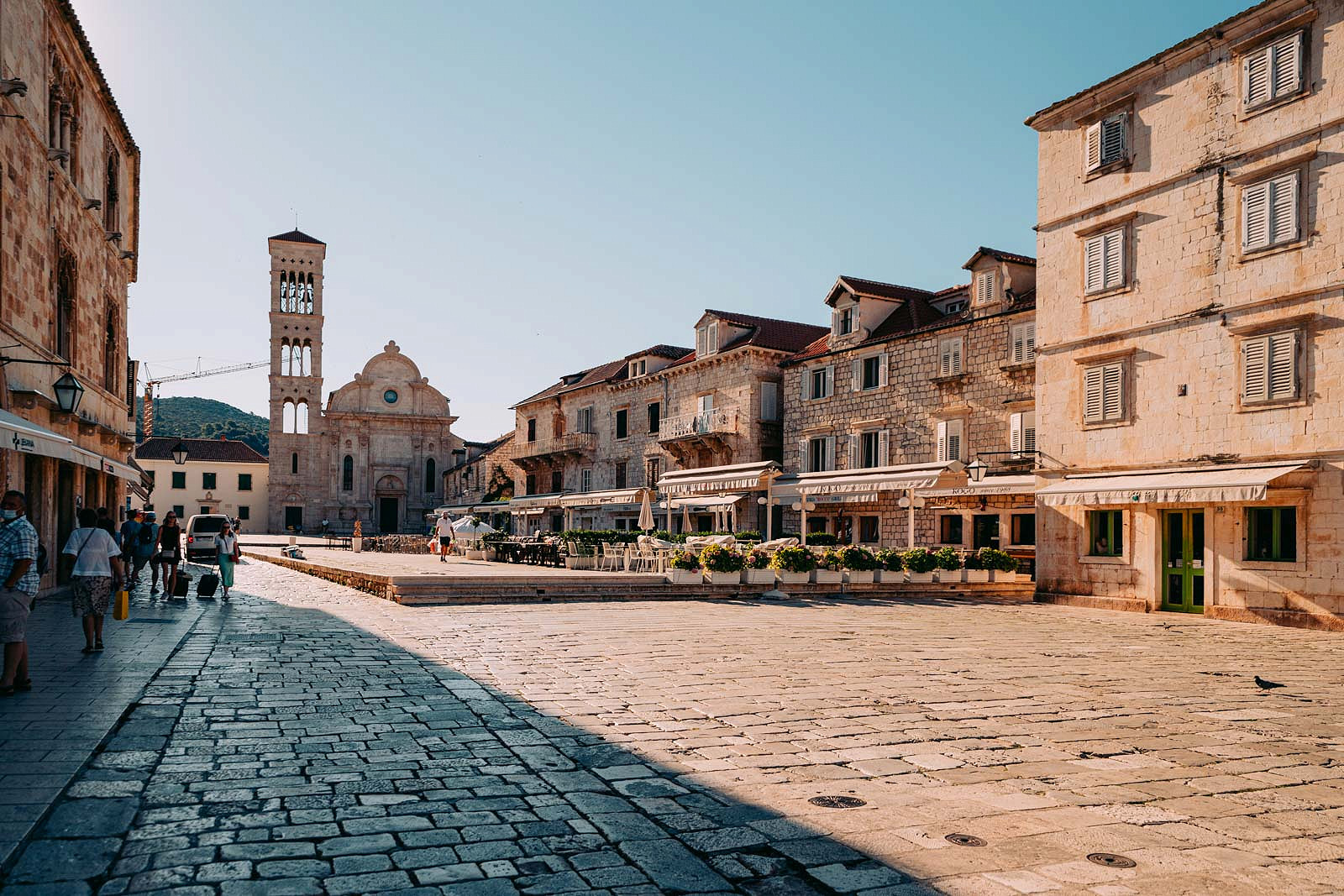 Wander around the harbour along the coast on the paved promenade, passing by the cafes and restaurants. And get lost in the centre on the way back. Hvar is a small town with a historical centre just big enough for aimless wandering, during which you will find an ice-cream here, a good coffee around the corner and an interesting shop on another street without having to consult your route with a map.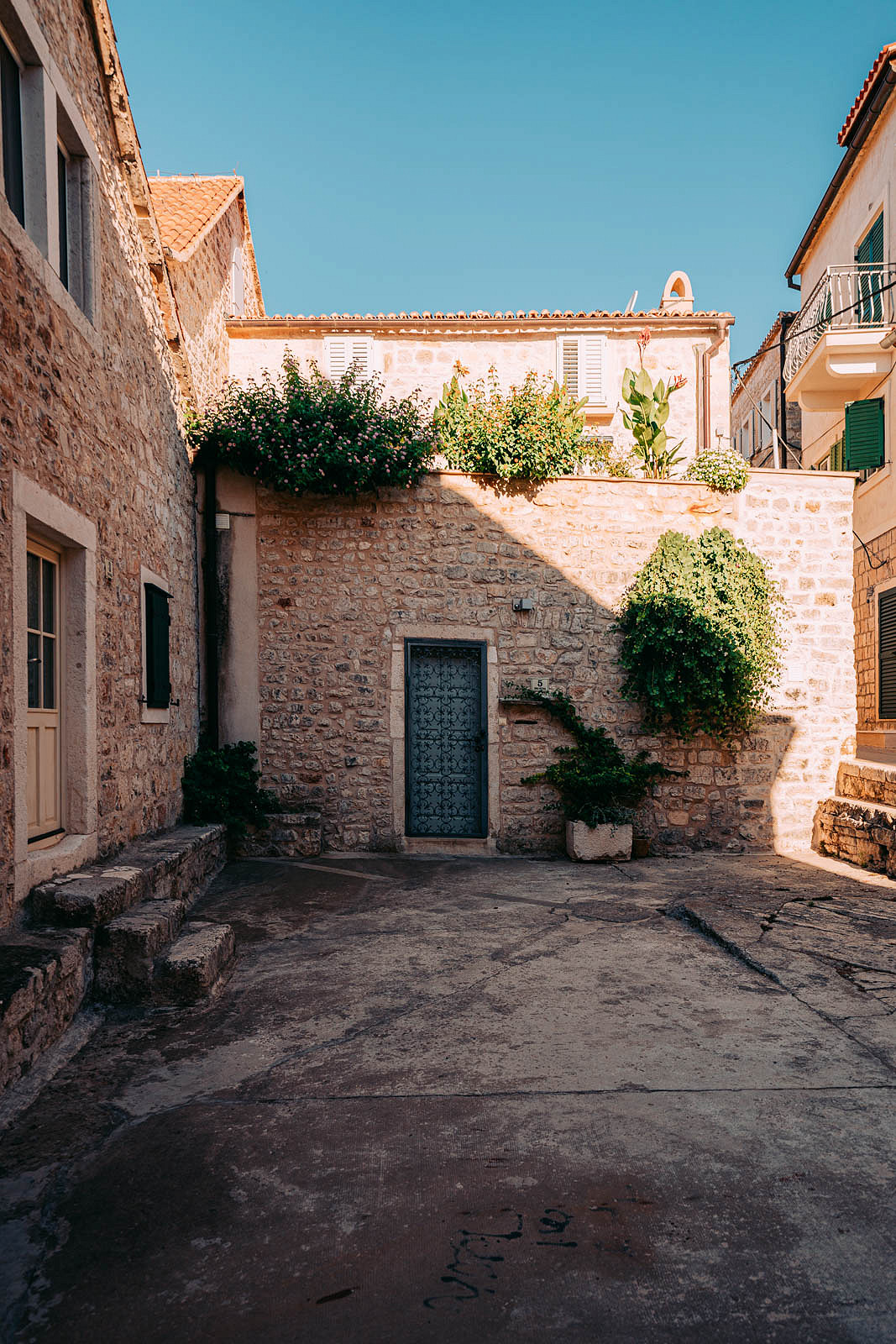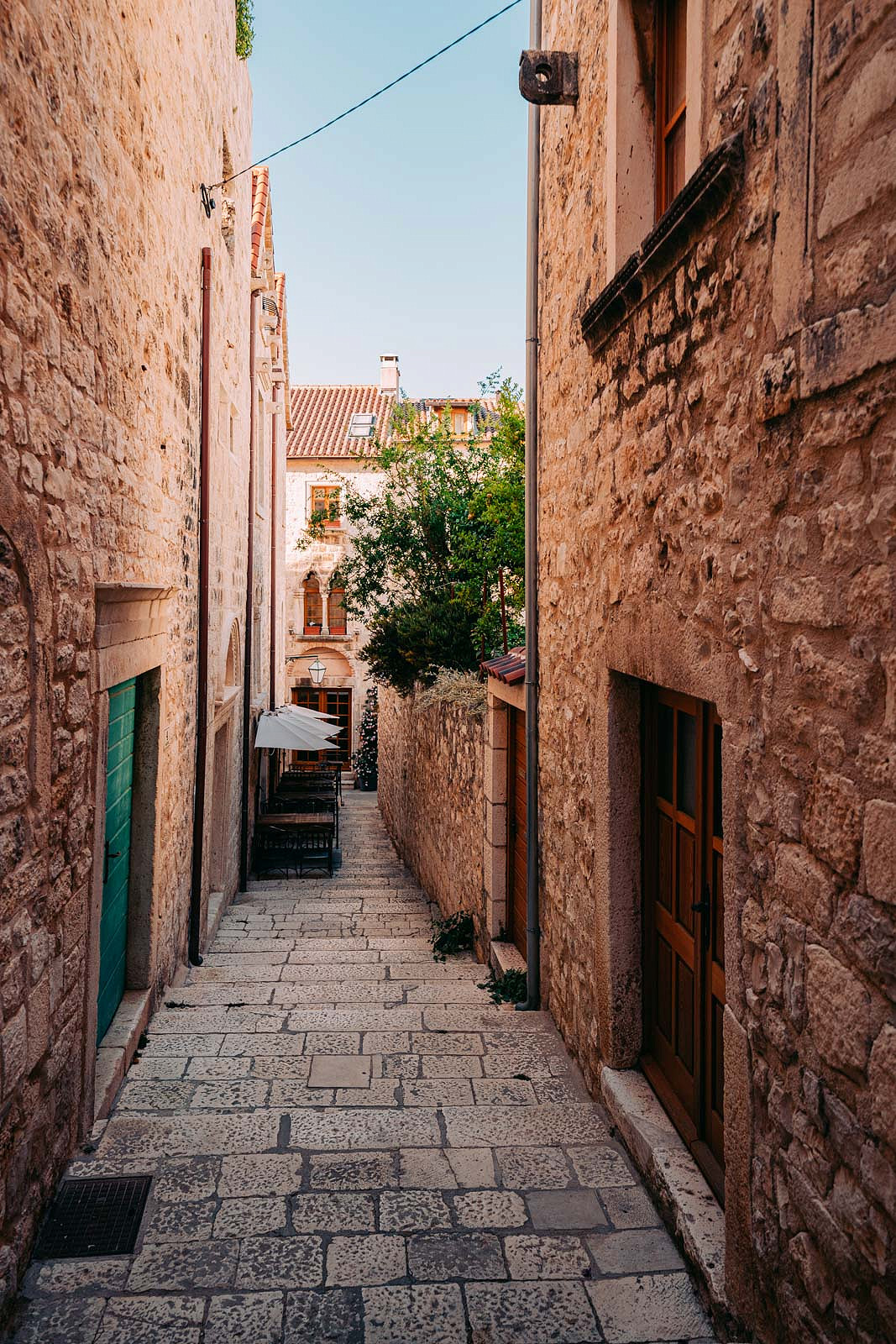 Above the city you can see the Fortica Fortress (that is the Italian name, you can find it as Spanjola Fortress in Croatian), which acquired its present form in the 16th century but the first fortifications were built here during the 1st century BC. You can climb the hill from the city centre or drive to the fortress by car.

The entry is 40 kunas but even without it you can just enjoy the view of the harbour from here.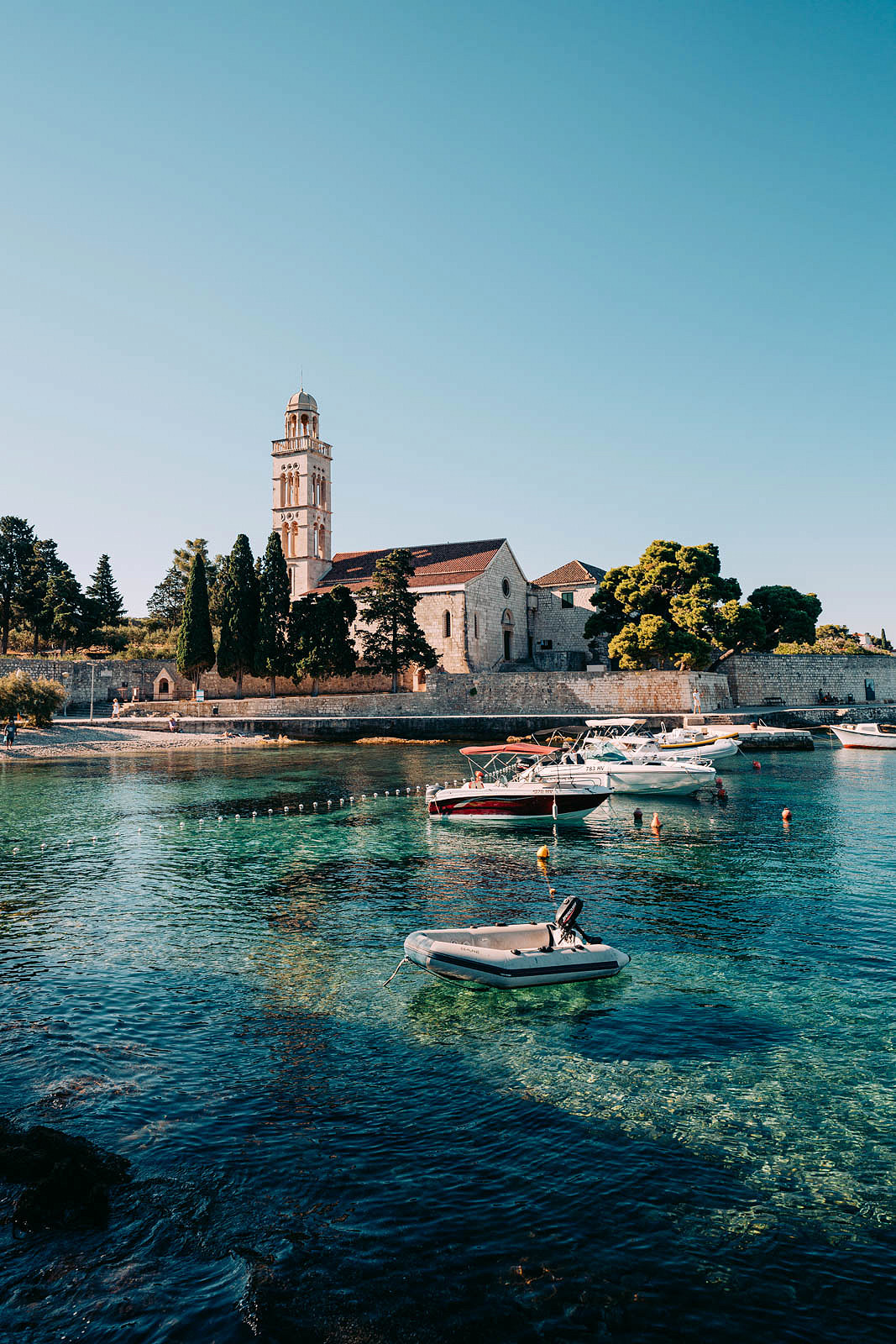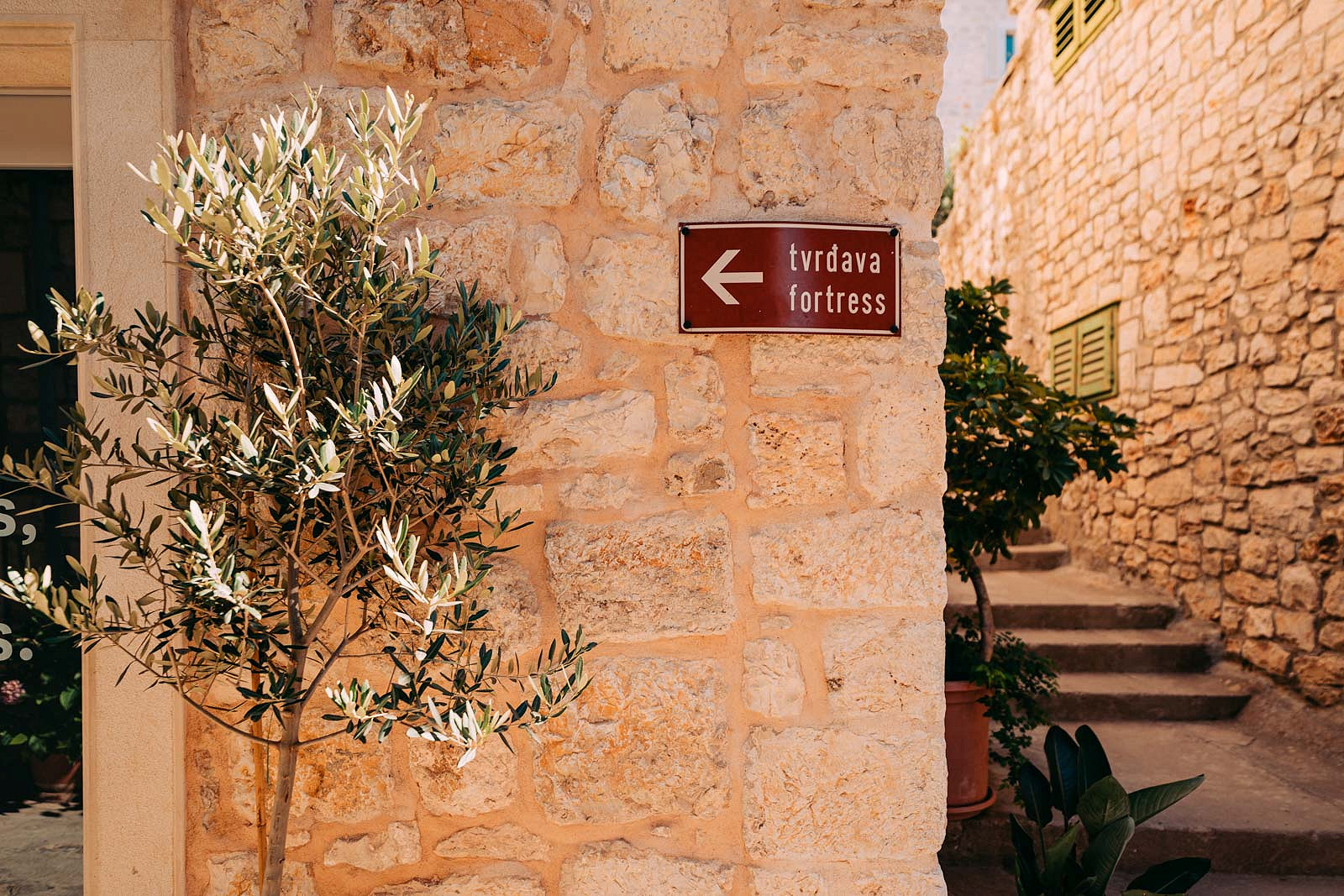 Brusje
To get to the other side of the hill you can choose from two routes from Hvar. The main road will take you across the top through a tunnel and it's a shorter and faster way to get to Stari Grad. The other one, an older route, winds uphill to Brusje and then slowly leads you to the other side of the hill.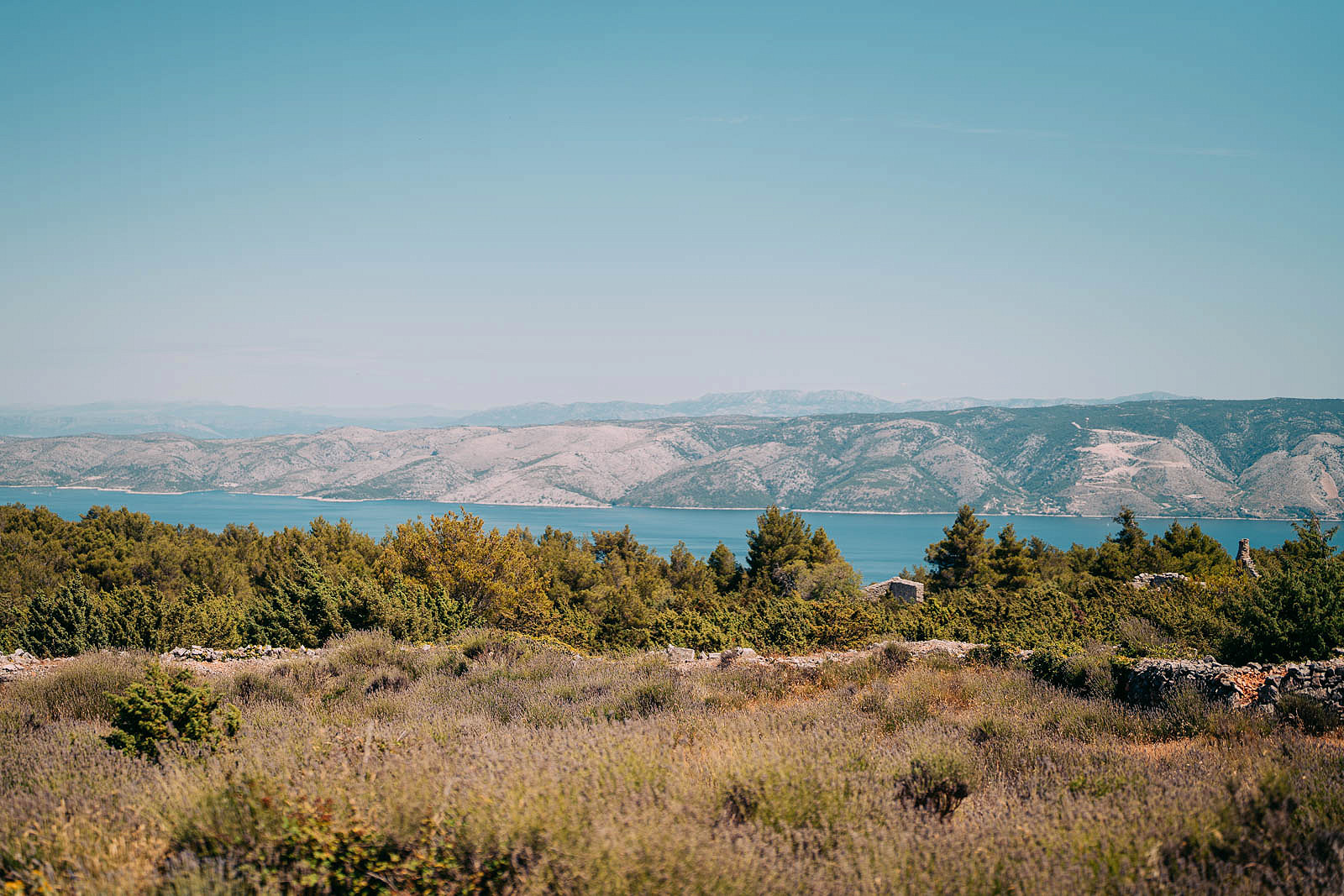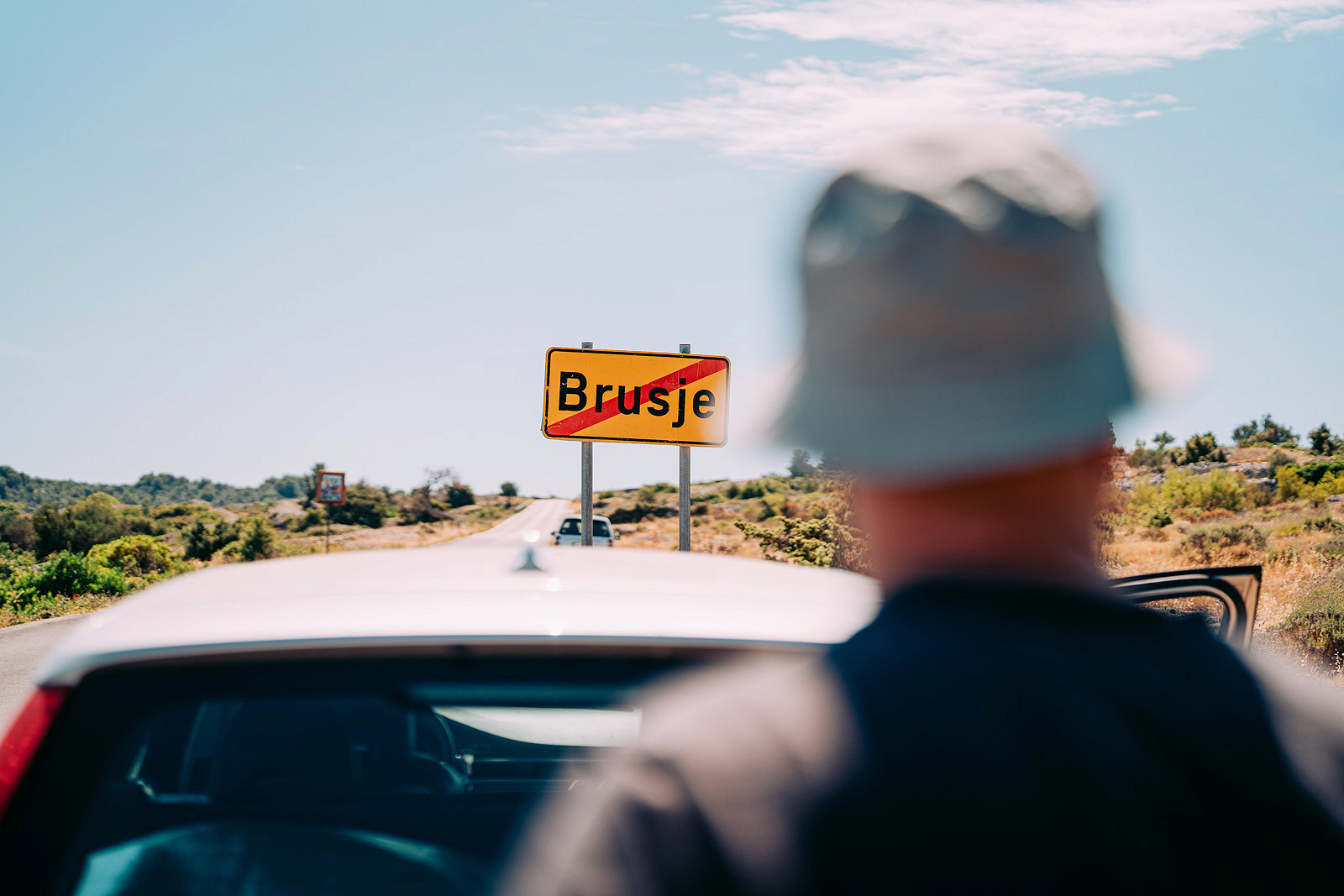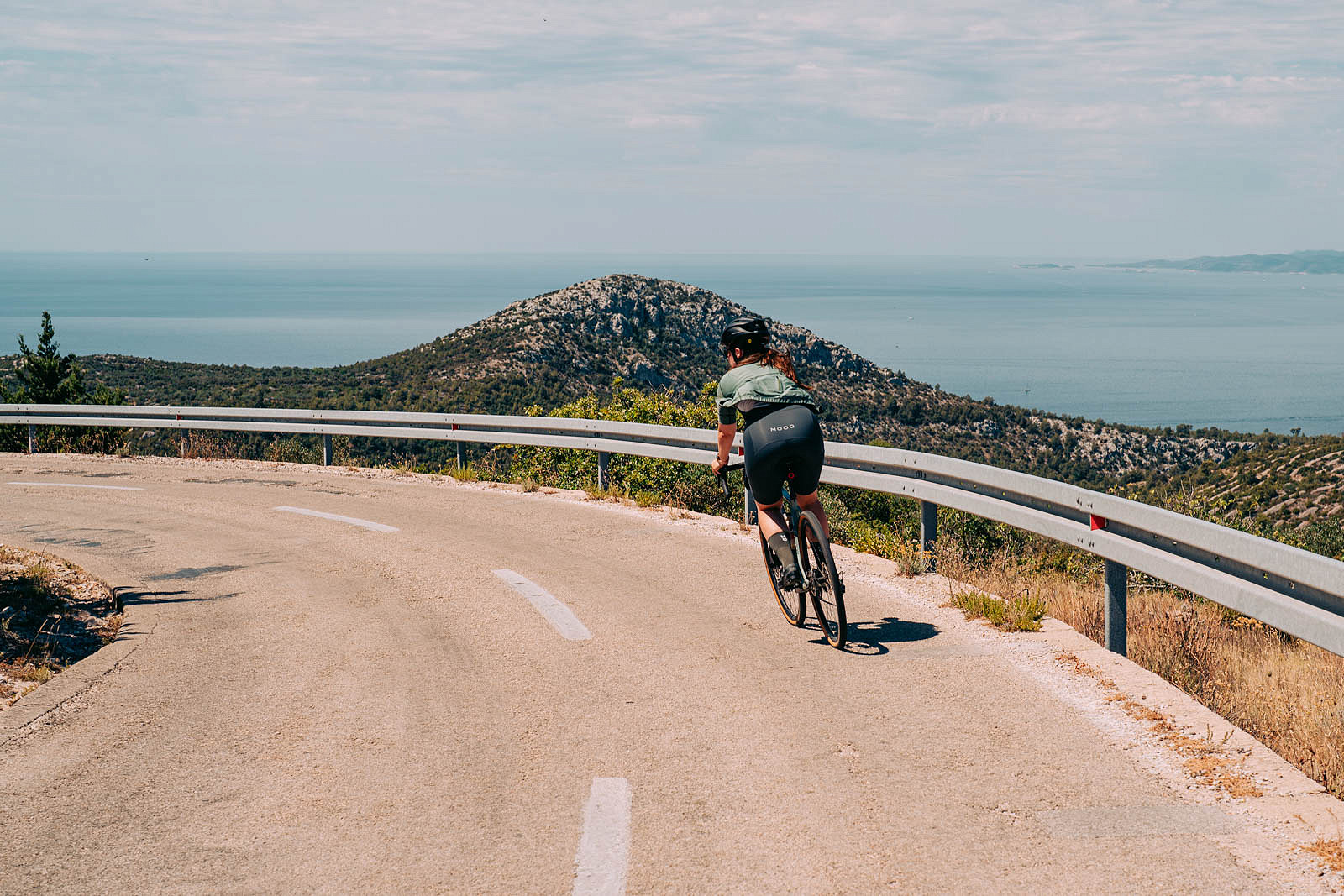 There is not much to do in Brusje, a few shops and one coffee shop but you should go here mostly for the amazing views. Lavender fields line the road and a you will want to stop along the way to enjoy the views. We started our bike trip in Brusje and we were honestly fascinated the whole way. So just choose your mean of transport and go! The only downside of the road from Hvar to Brusje is the landfill. We were quite happy that we could drive past it in a car, so if you want to check out the Hvar - Stari Grad route, we would suggest you start in Stari Grad and descent to Hvar to get past the landfill faster.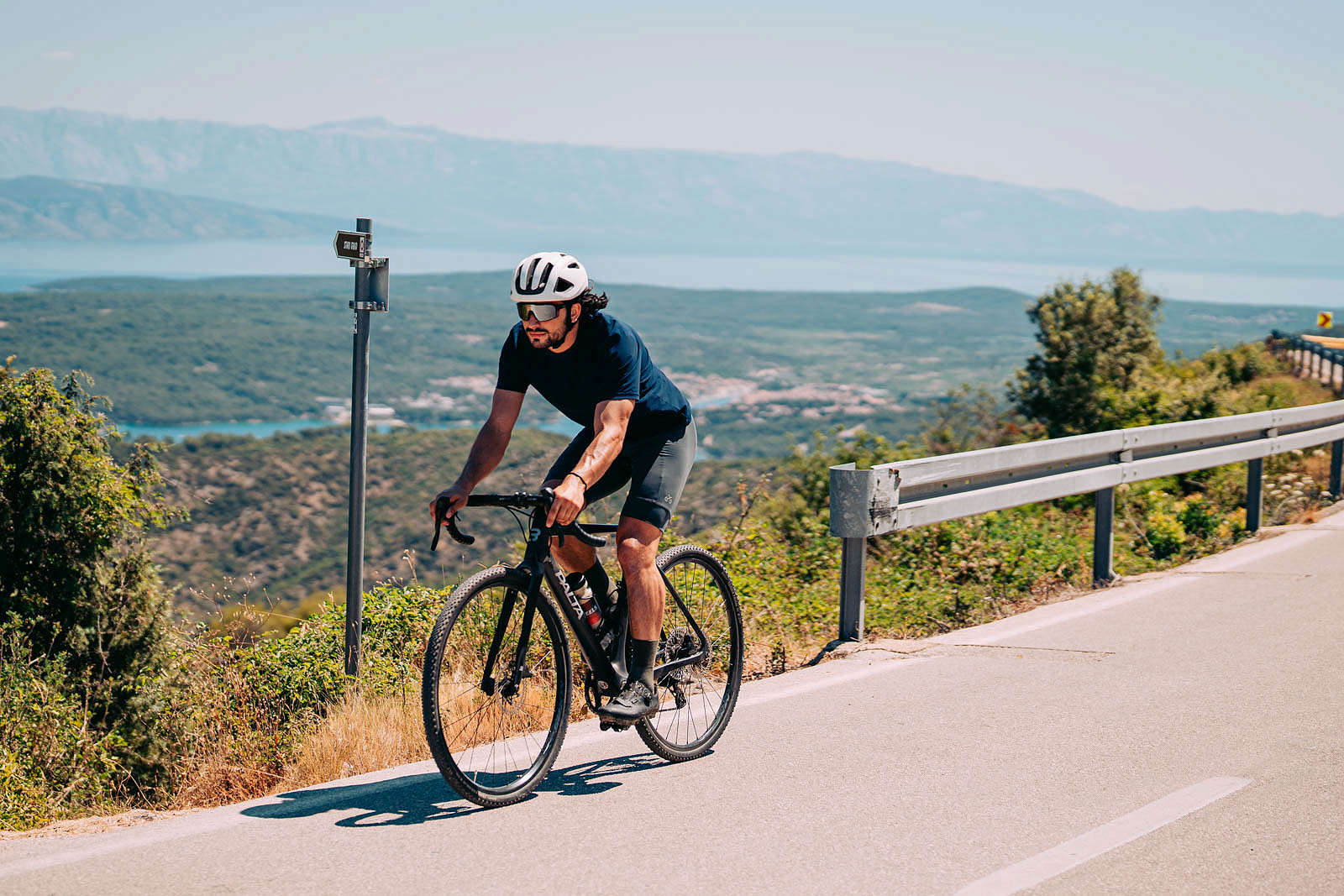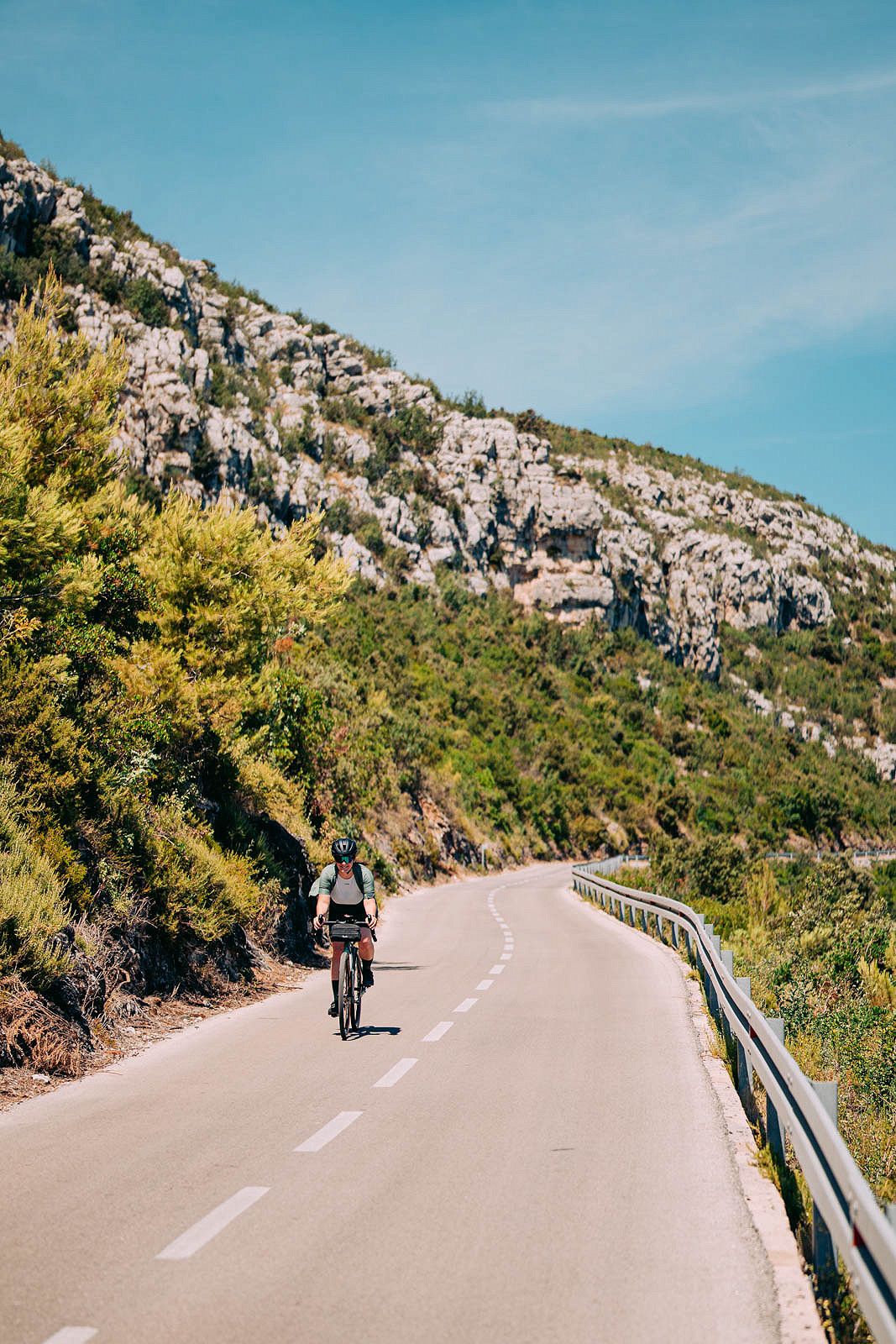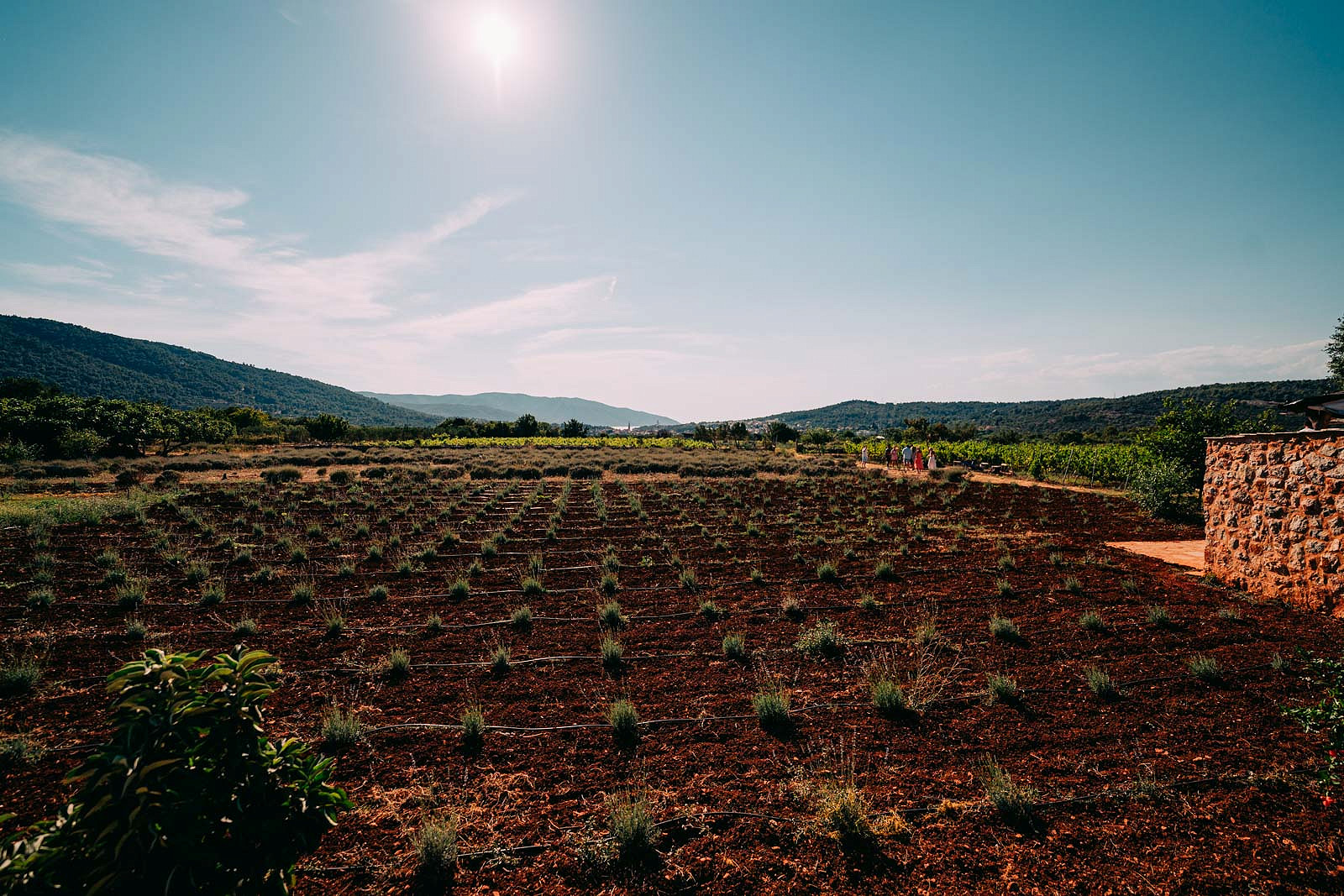 Stari Grad
Stari Grad is a smaller town than Hvar but equally popular. It is part of the UNESCO World Heritage and it is probably the oldest inhabited place on the island. There are not as many good beaches as there are on other parts of the island but make sure to stop here and wander along the streets that run in different directions from the small fishing port between the old houses.

We stopped for a coffee with nice view of the sea on our way from Brusje and it was a good place to have a break.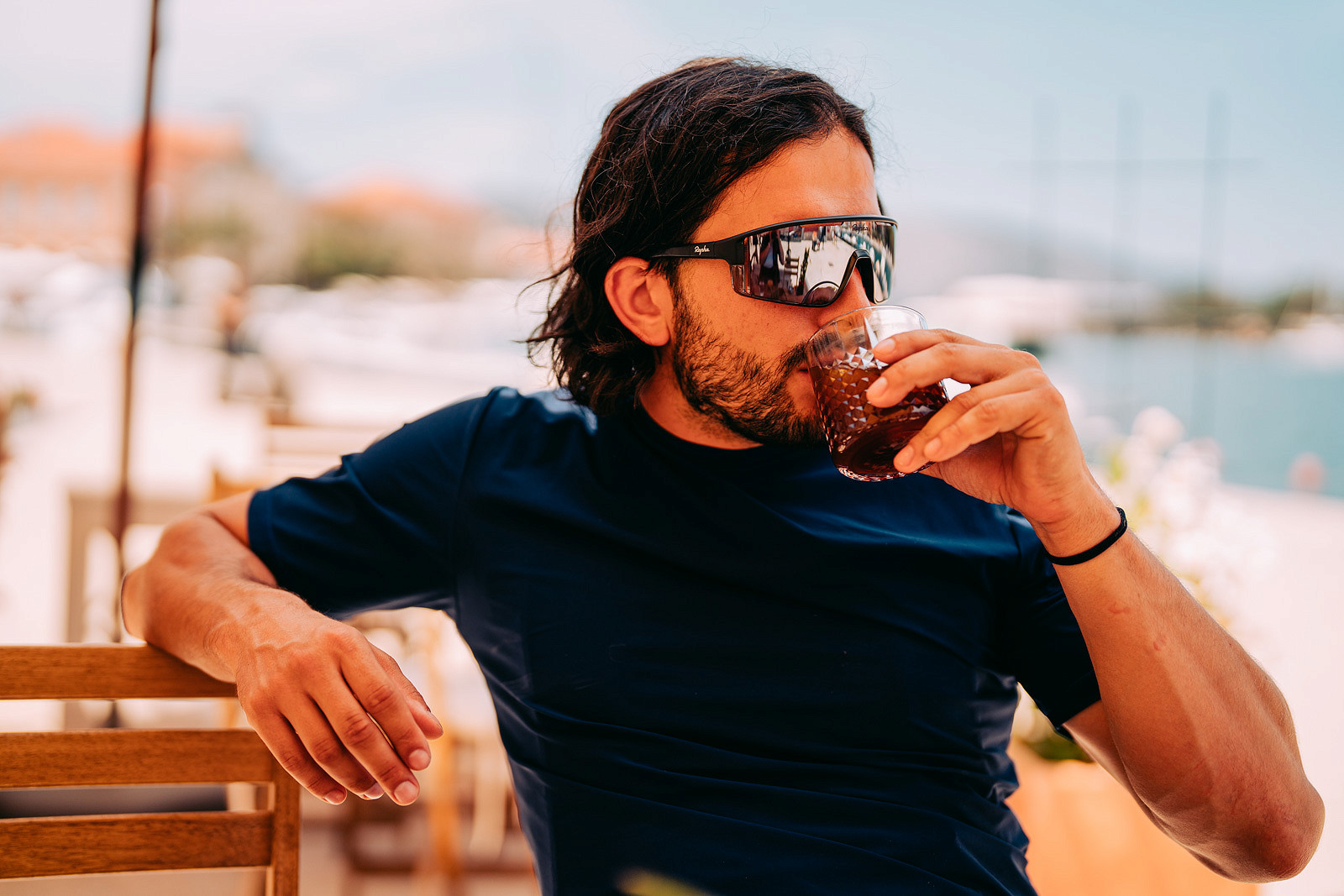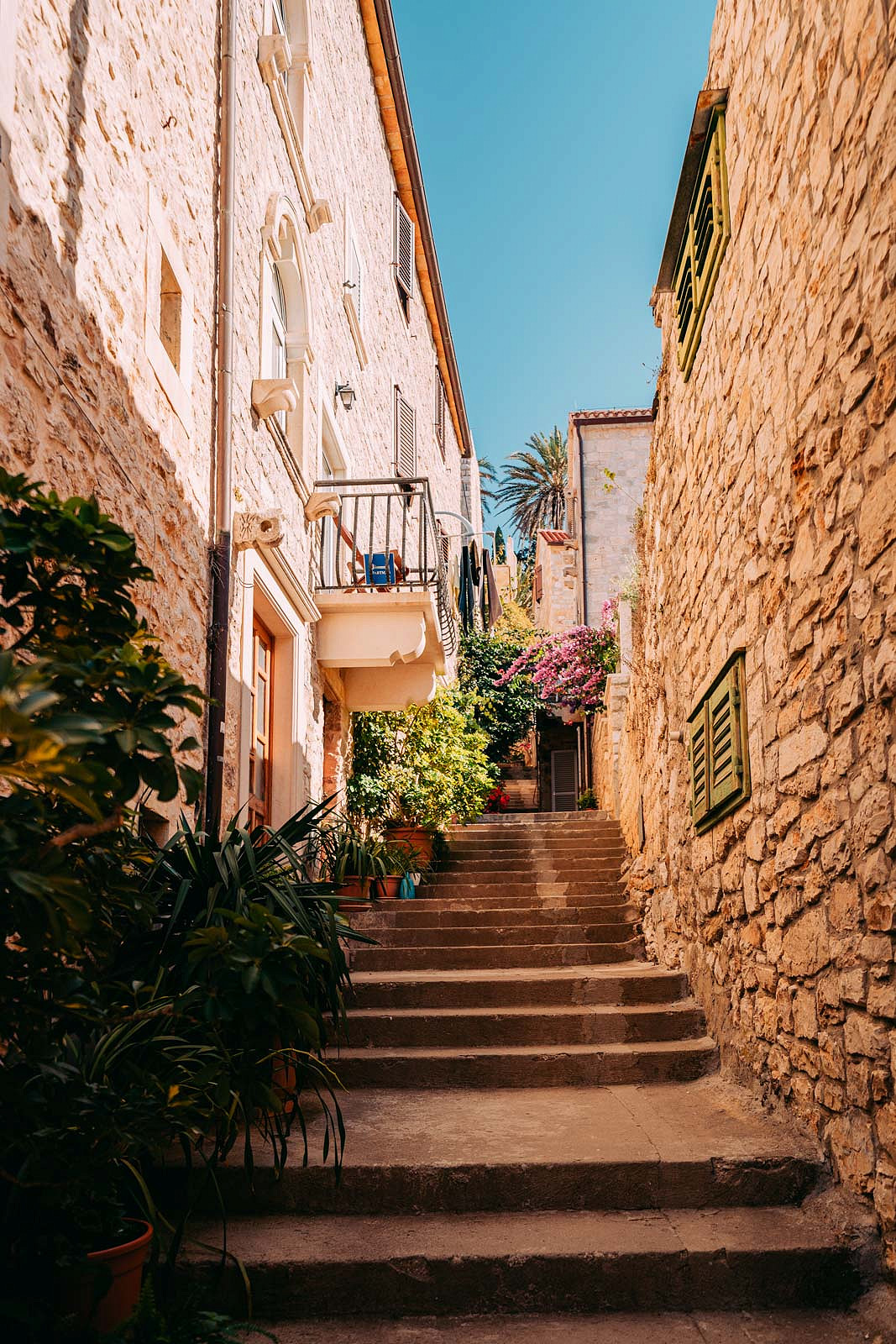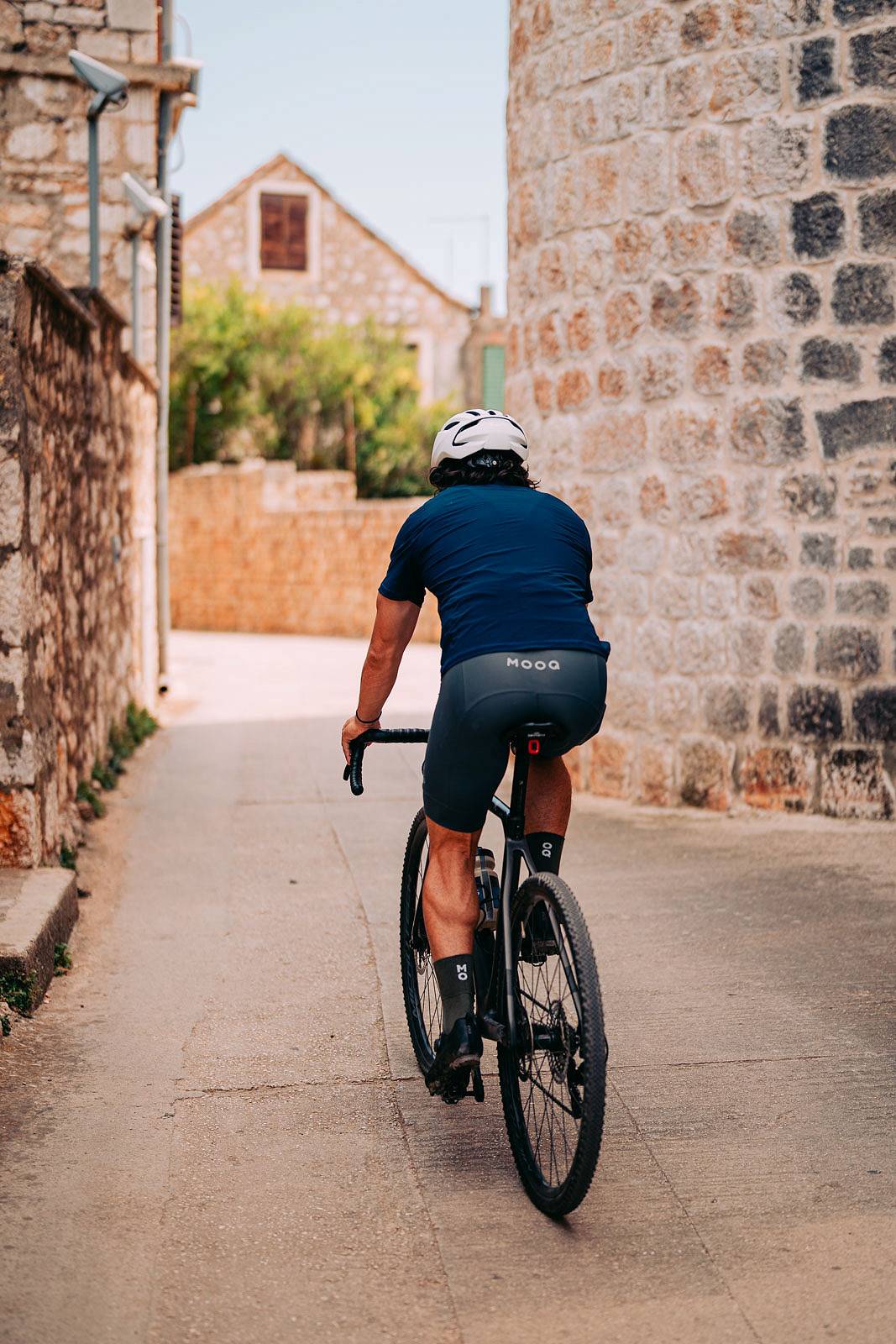 Jelsa
Compared to Hvar, Jelsa can look like a sleepy town but skipping it would be a mistake. The surroundings of the harbour are calm, with restaurants and bars inviting you to sit down and relax. You can also go a bit further from the harbour to find some wineries and wine tastings of local wines. From the capital of wine eof this island, as some guides nickname Jelsa, there are routes along the coast and it would be a shame not to take advantage of them. Just choose a direction and find a beach to spend a sunny afternoon there, before you have to head back to catch your ferry.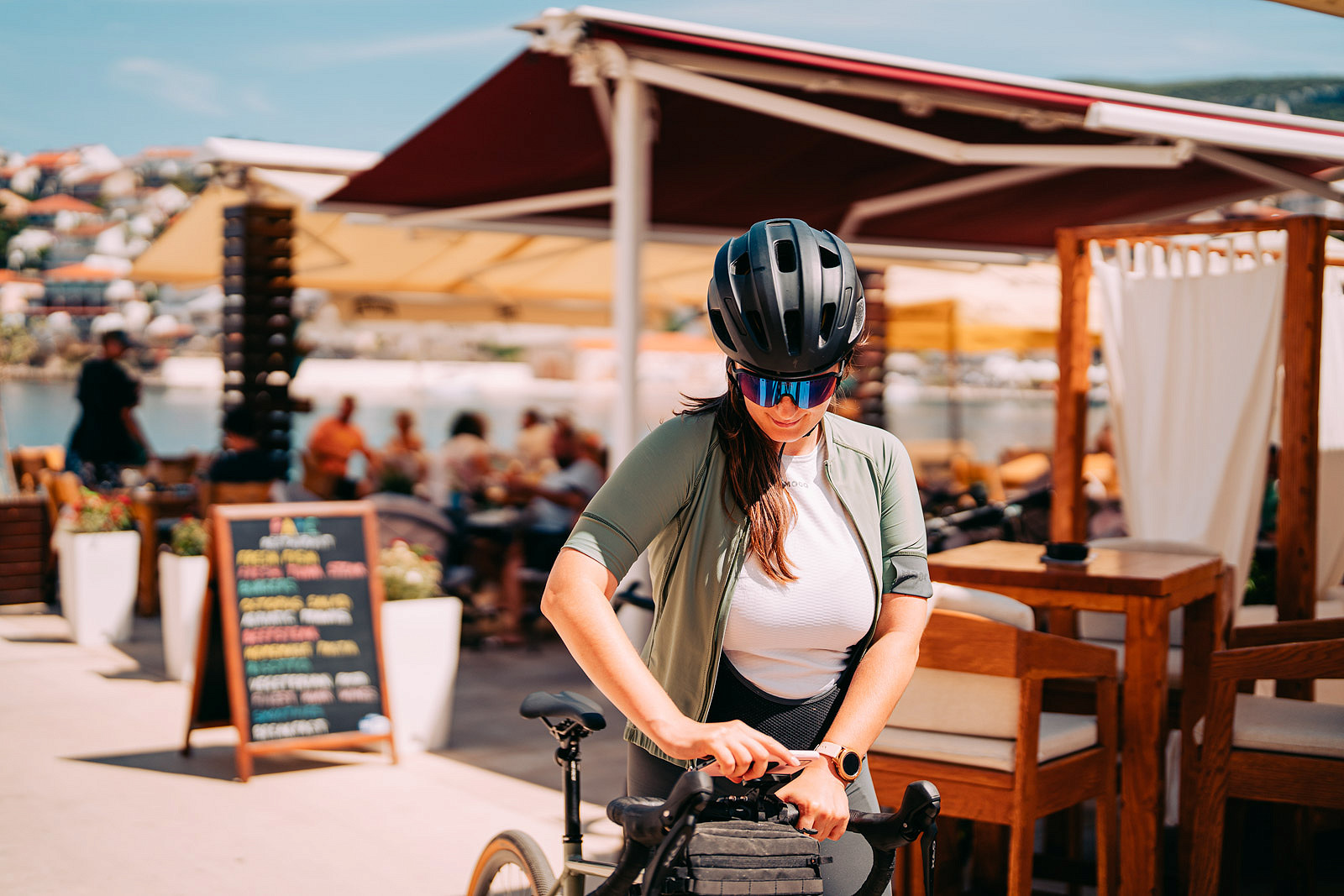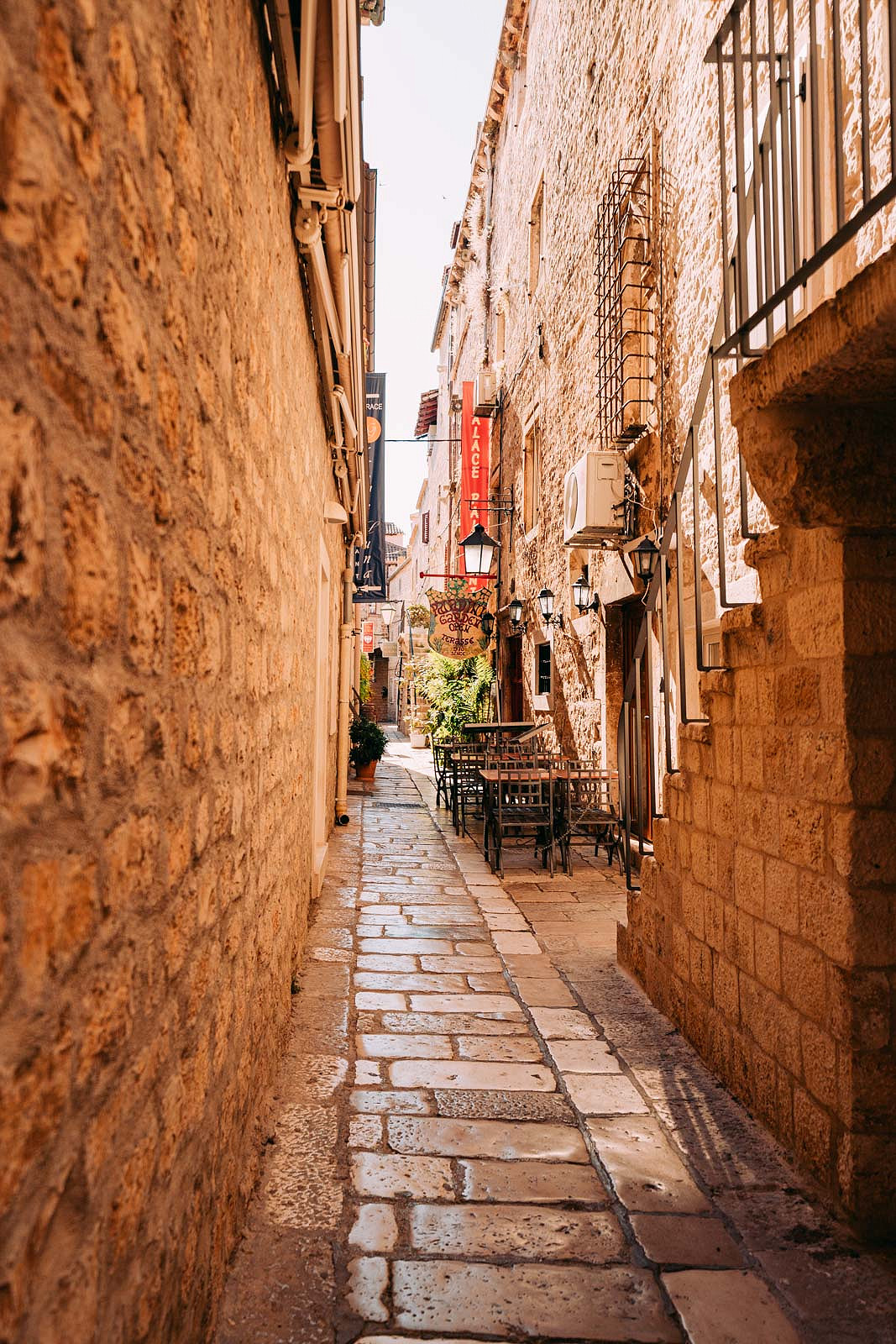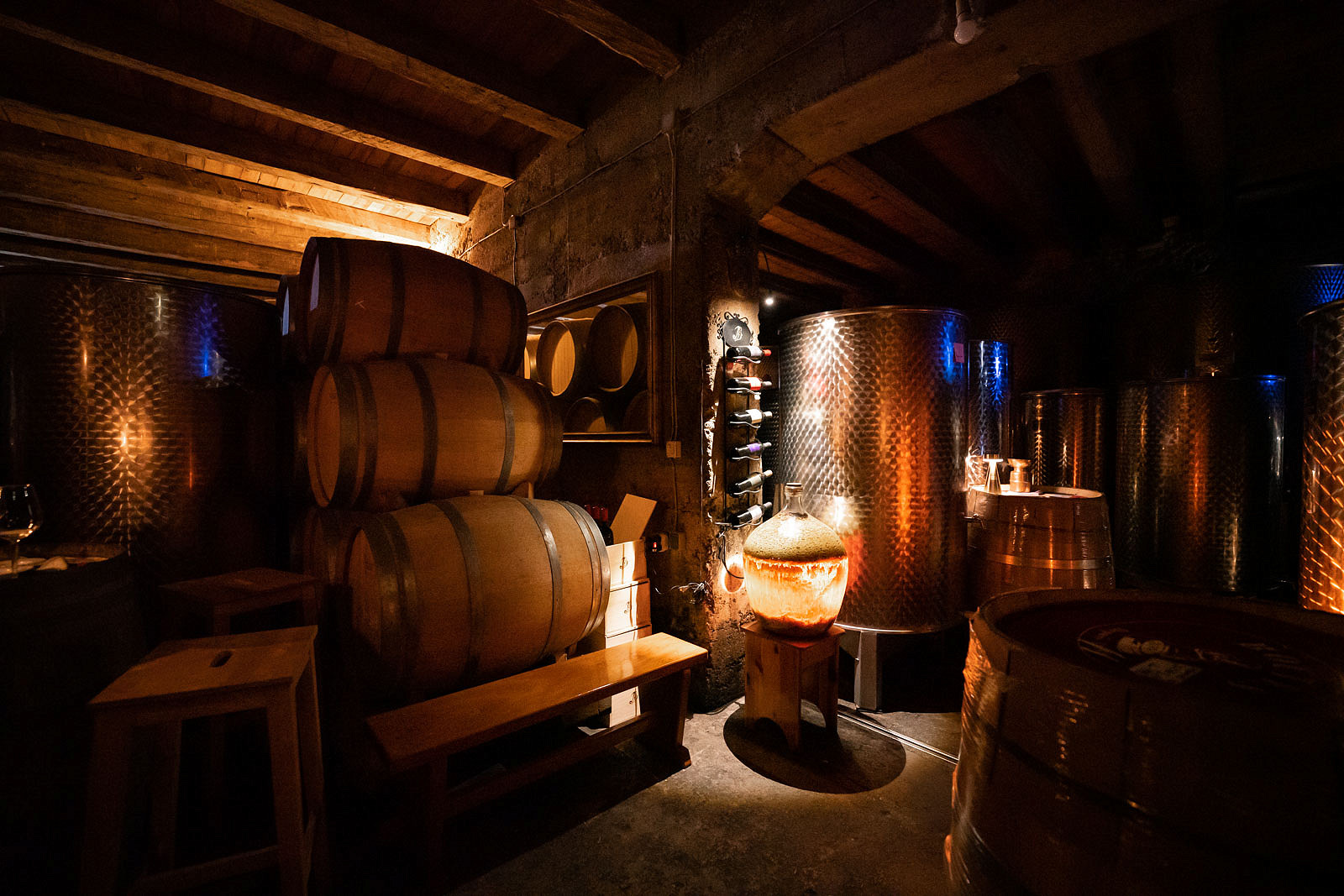 Wine tasting on Hvar Island
The history of wine dates back to the 4th century BC here on Hvar island, when it was brought here by the Greeks and wine is as important as ever.

You can book a wine tour and travel the wineries with a guide or you can plan a wine tour yourself. It's not difficult at all but it is good to have a driver with you who may not be such a big fan of wine and who is okay with tasting mostly the olive oil and the food during the tastings.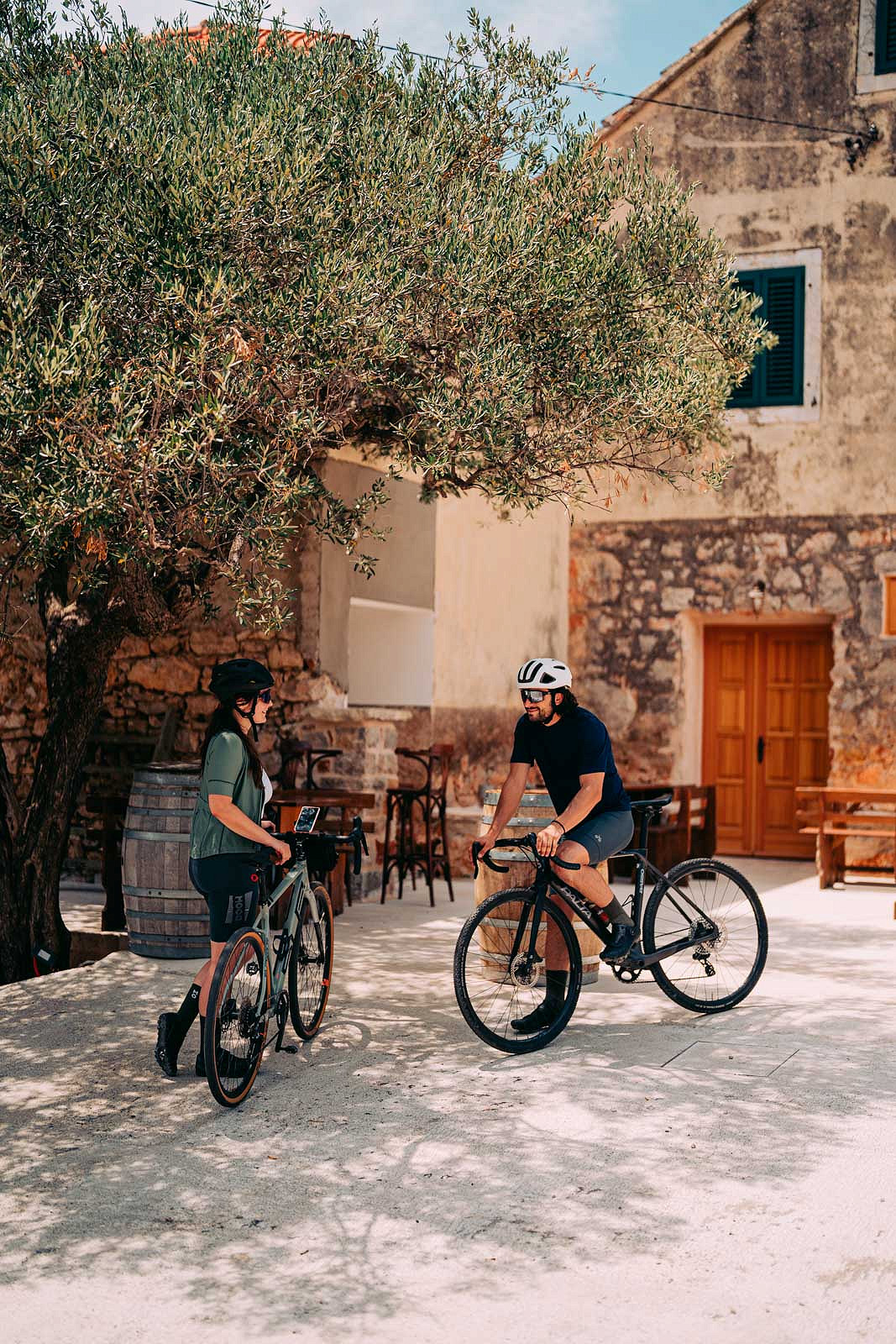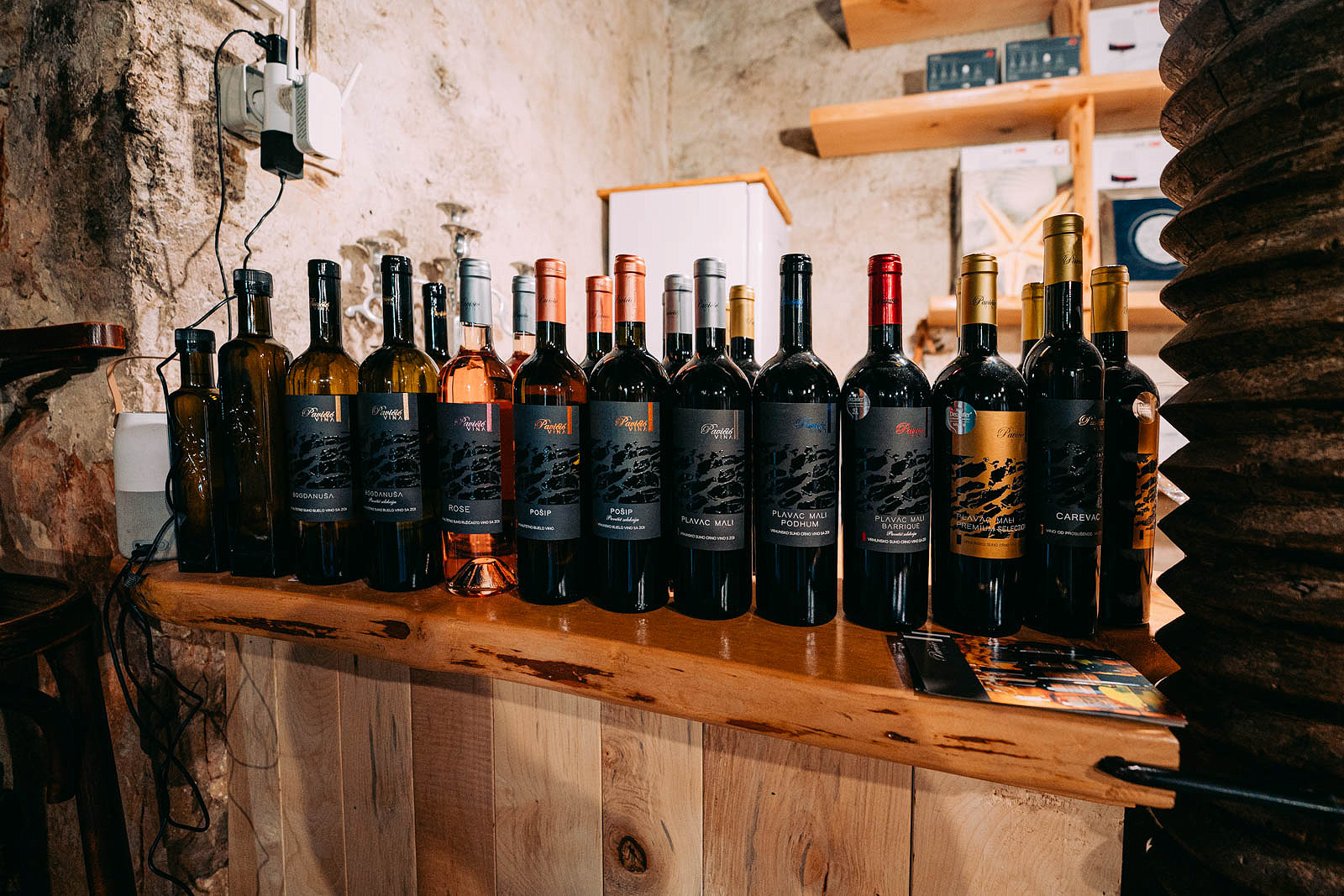 Duboković Winery
Duboković Winery is in Jelsa and it is a very ordinary looking house from the outside, without a big sign or anything that would suggest this is a winery but trust the maps and stop here. You will find an entrance to the cellar on the right side of the house, under the stairs and it's either open or there is a phone number written on the door. It is ideal to call and plan a little bit ahead, especially for a bigger group. An hour long wine tasting costs 150 kunas per person and the wines are accompanied by a selection of their olive oil and a baguette.

They focus on natural wines from varieties that are typical for Hvar and the wine tasting is a very nice experience in the pleasant coolness of their wine cellar and with a story accompanying each wine you taste.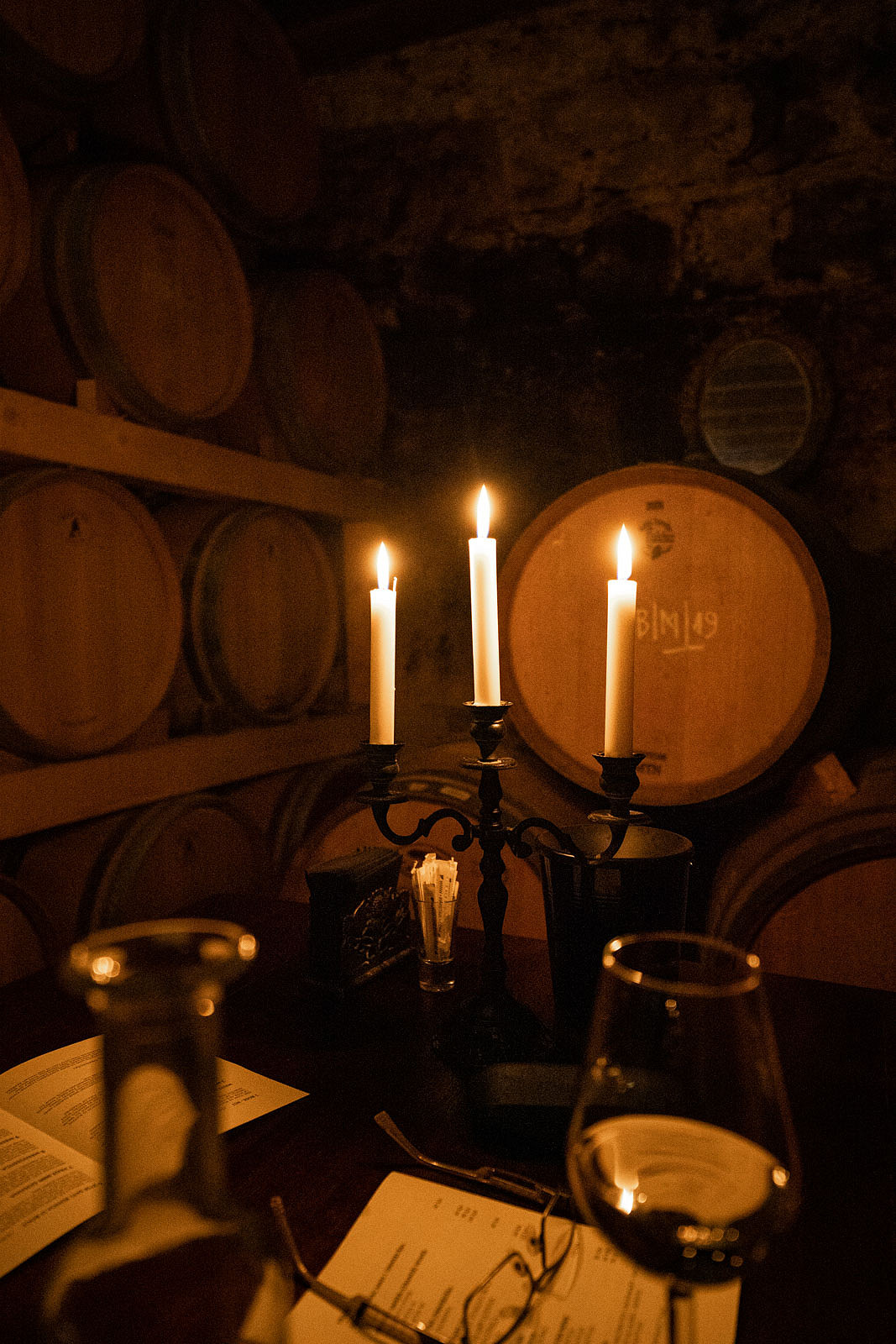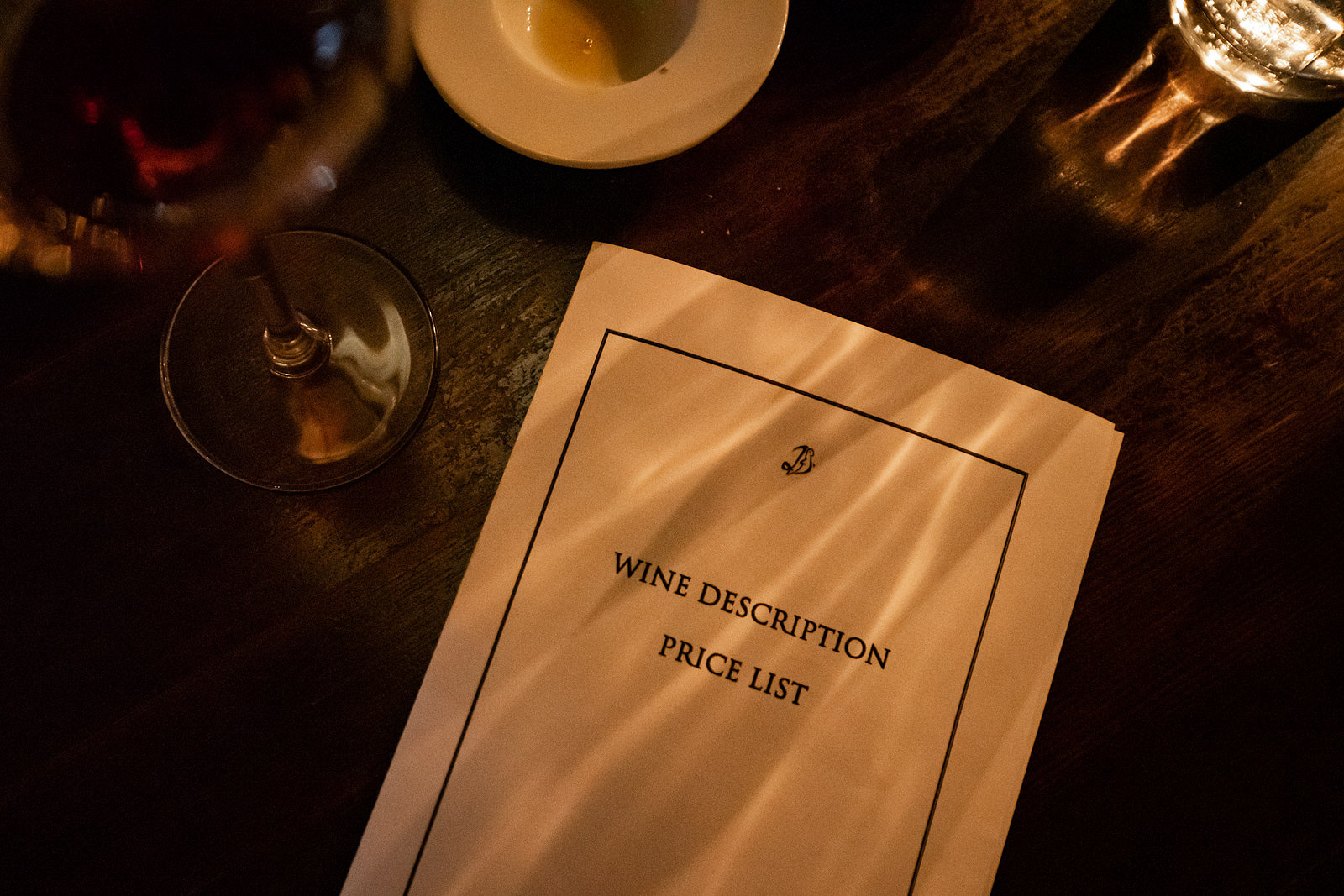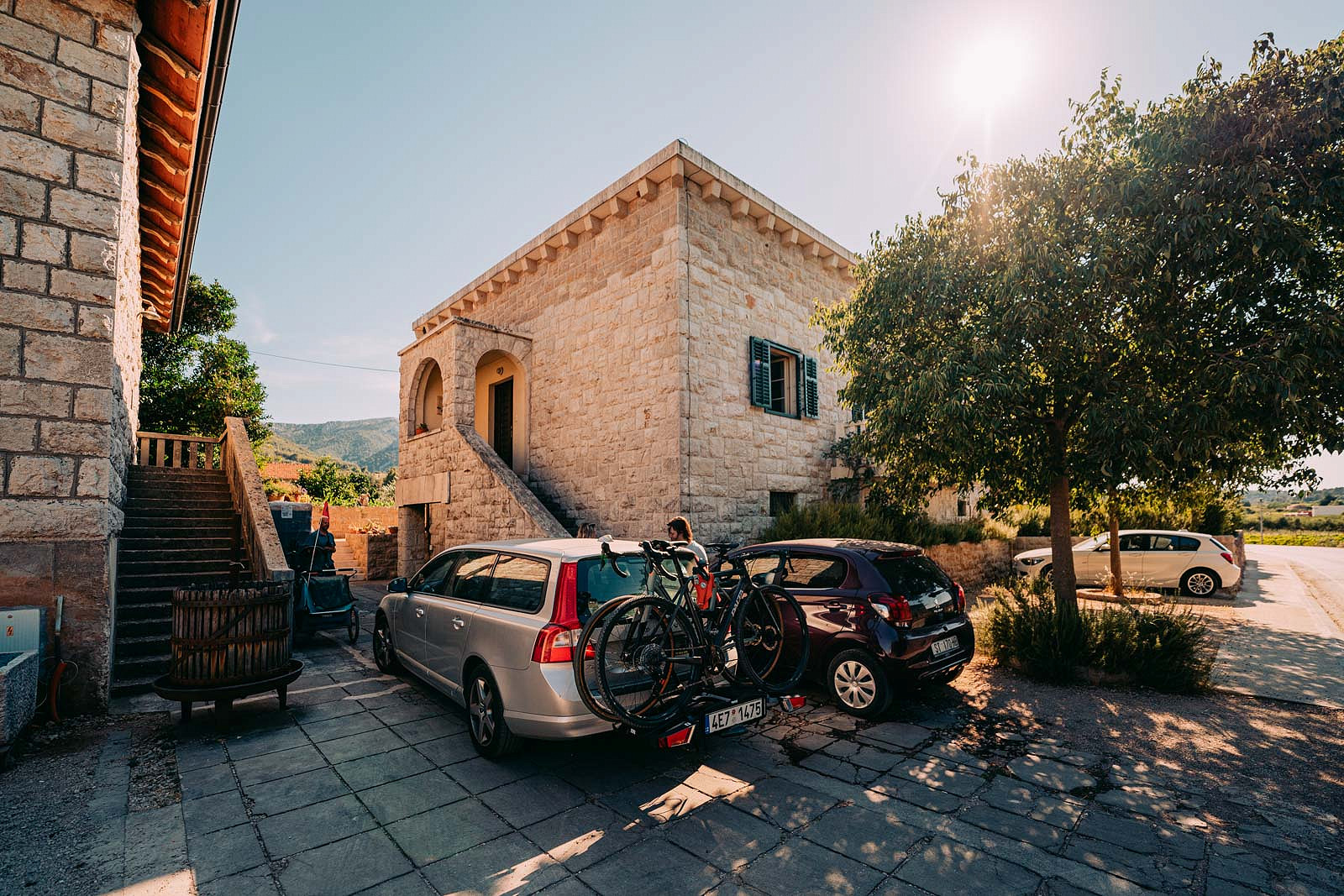 Vína Pavičić
From Jelsa we went to Vrbanje, a small village, to Pavičic winery. This fairly new winery has been established by two brothers who offer wine stasting on their porch only for two years now and we spent a large part of the afternoon here. The tasting costs 120 kunas per person including some food (their excellent olive oil and great cheese).
We were warmly welcomed by one of the brothers, we had the opportunity to taste great wines and ended up writing a list of bottles we would like to take home with us so that they can prepare it for the next day.
Something to keep in mind is you can only pay cash in the wineries, so stop at an ATM before you go to a tasting!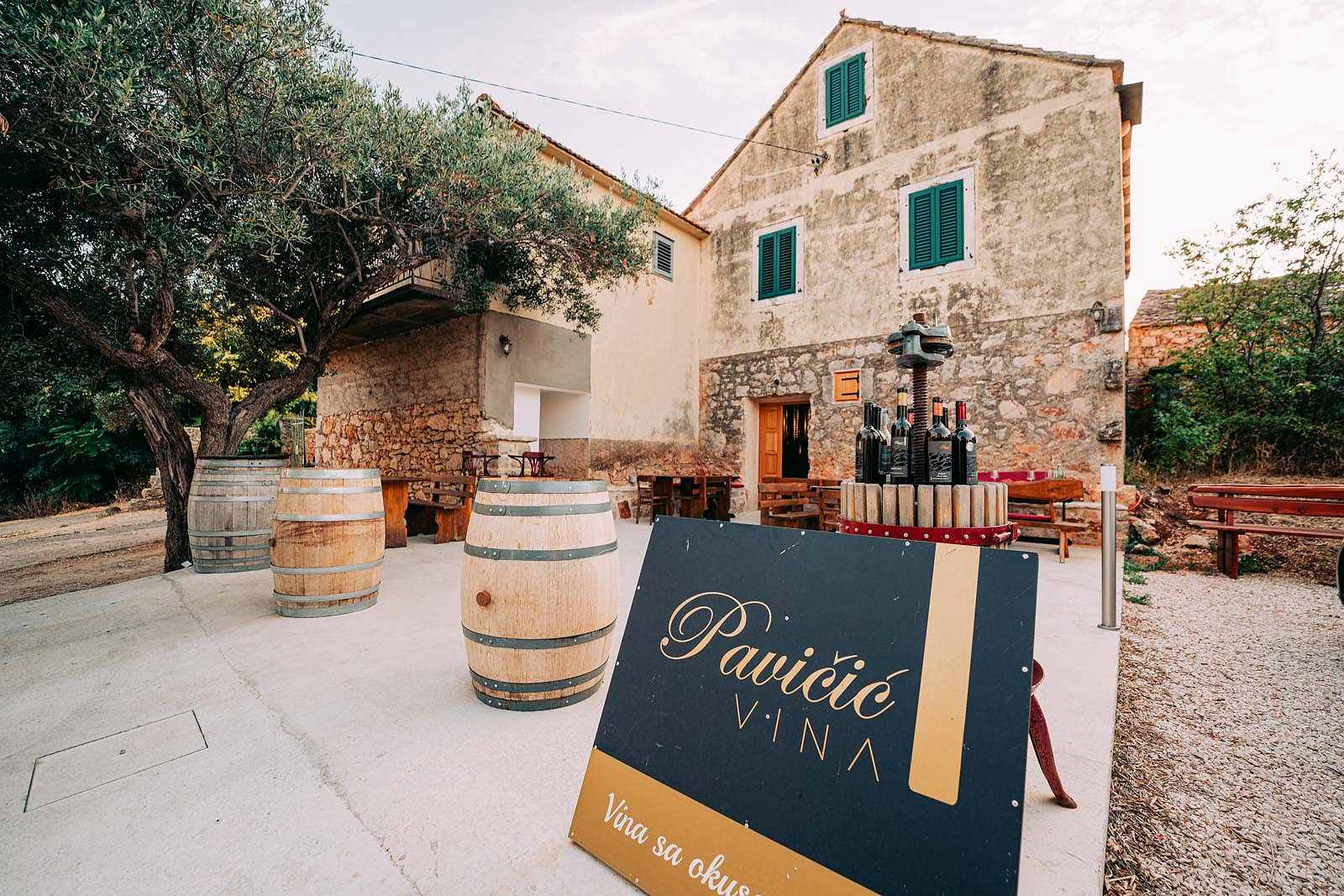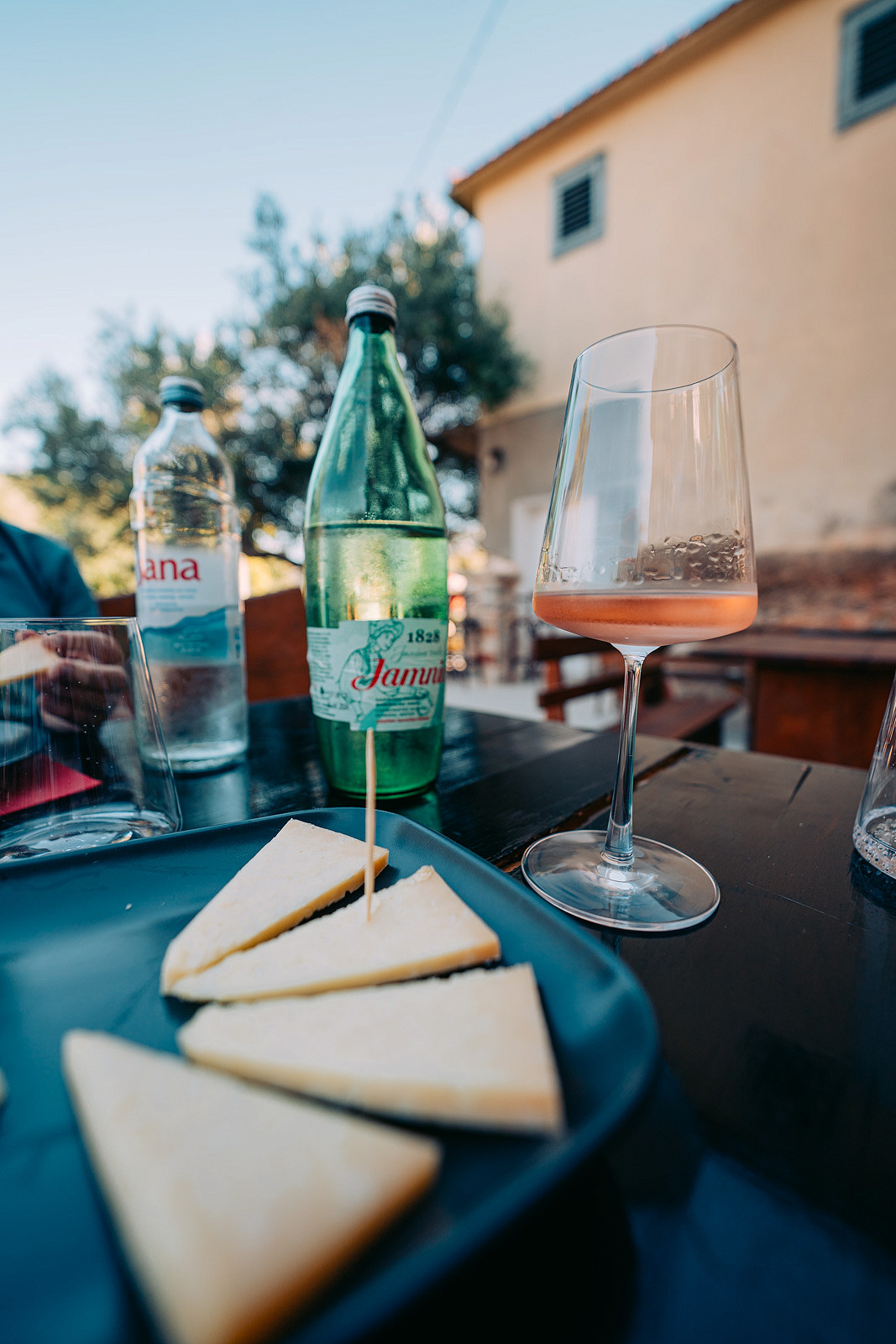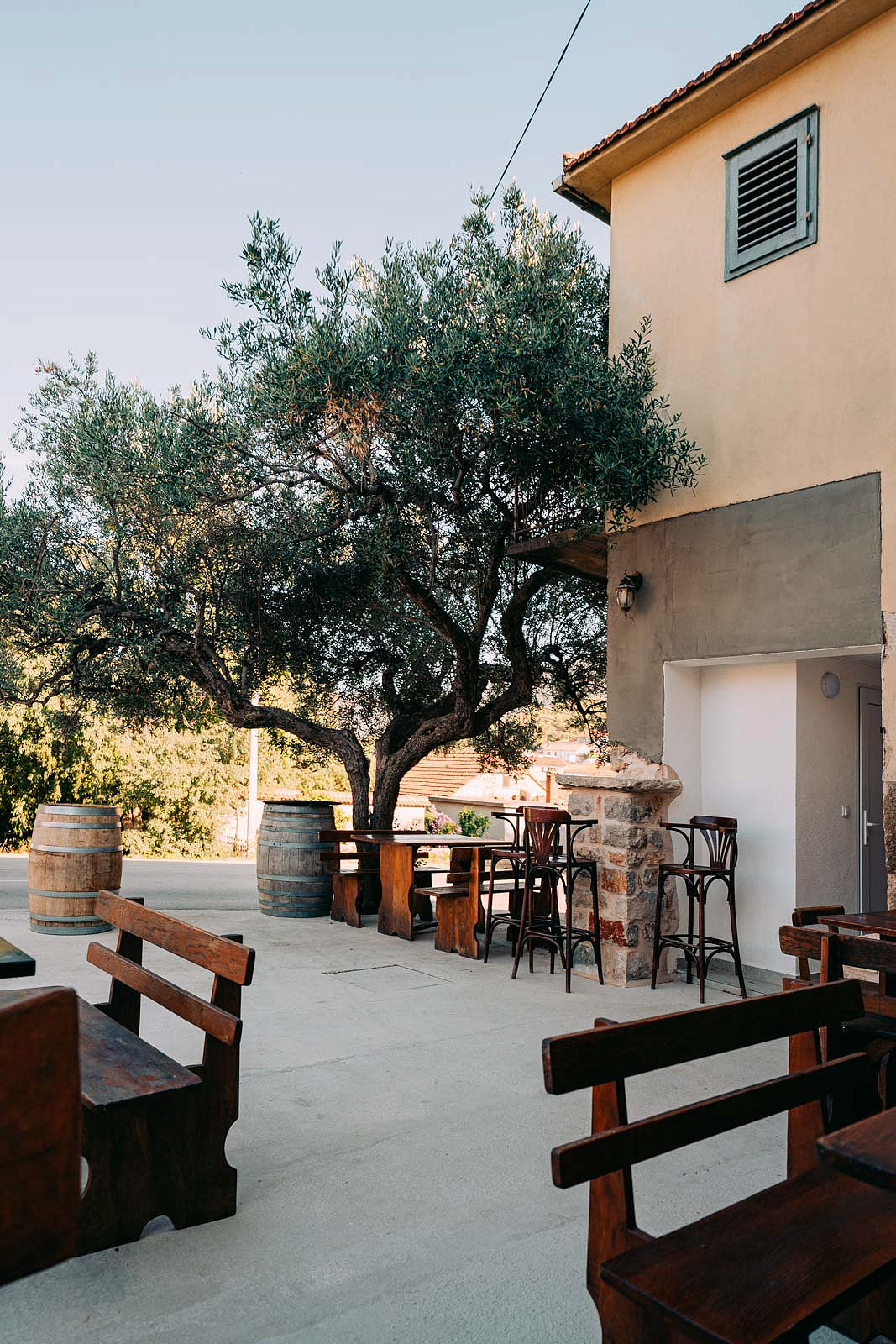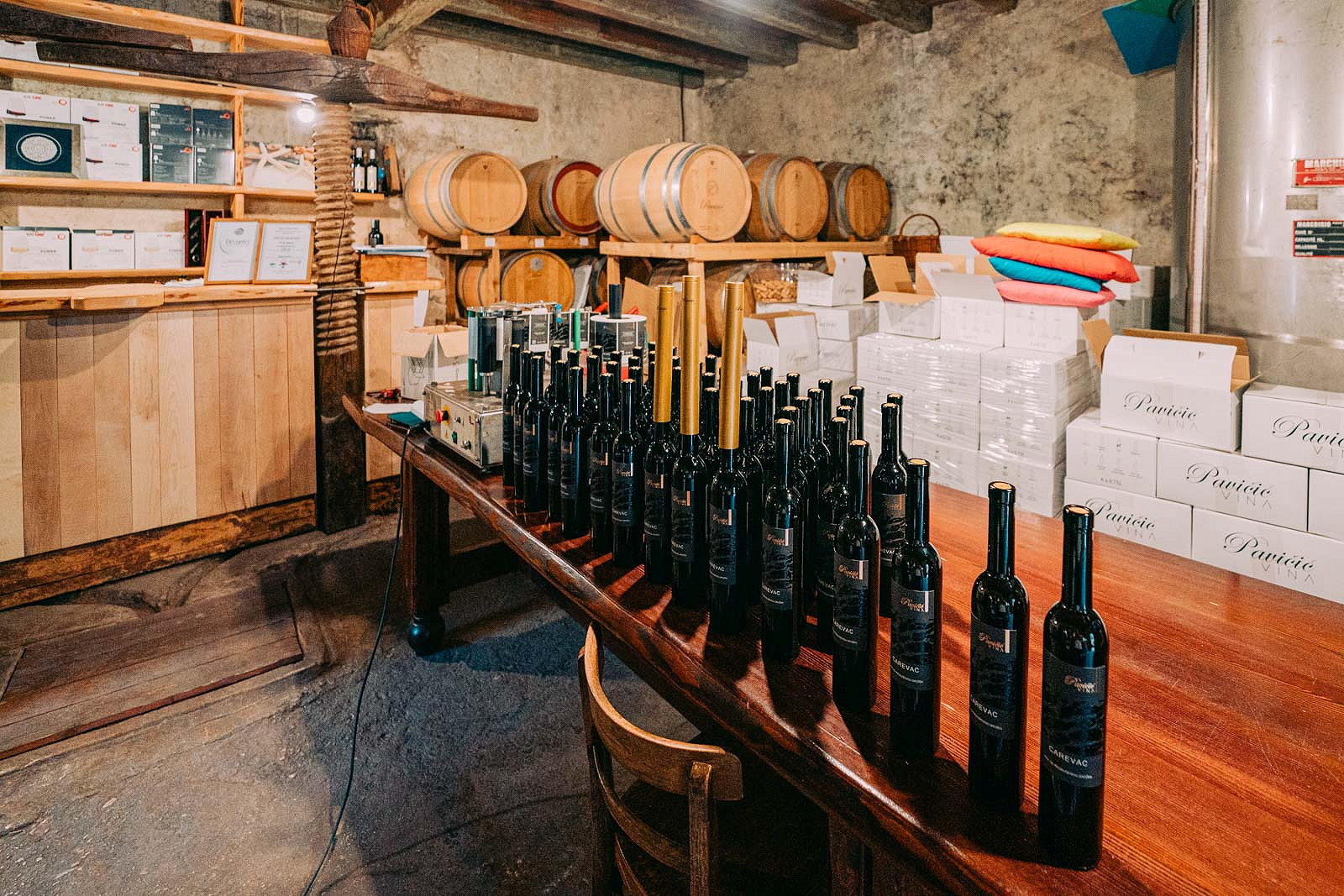 Other wineries we heard good things about but didn't have a chance to visit ourselves, are Zlatan Otok, Andro Tomič, Ivo Carić, Juraj Vujnovic, or Vinarija Braća Plančić. This winery is in the same village as Vina Pavičić actually, just two streets away. You can find the telephone numbers and addresses of all of them on visithvar.hr.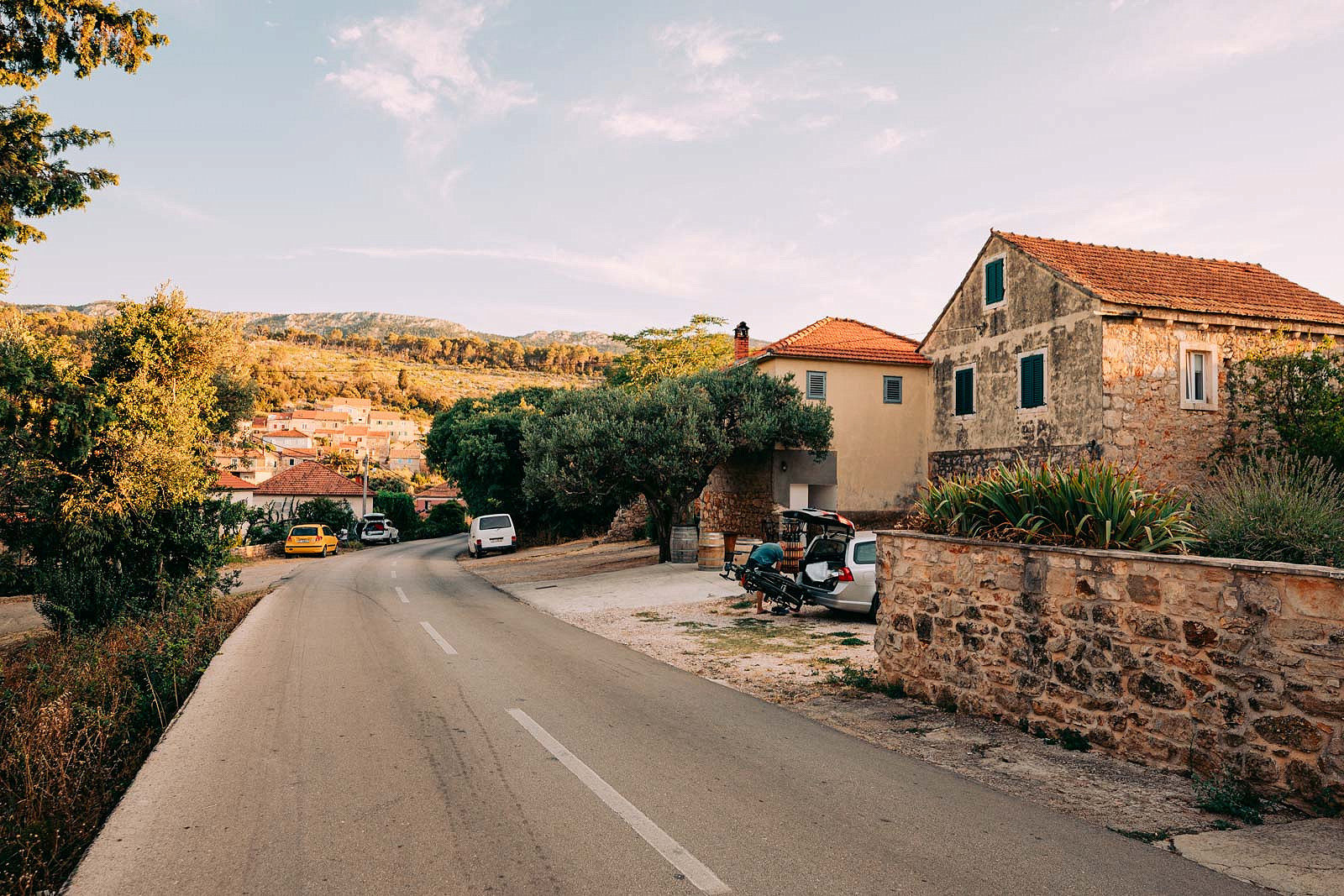 Where to eat in Hvar and on Hvar Island
Junior
A fish restaurant right in the historical centre of Hvar with good service and absolutely amazing fish and seafood. We recommend the tuna steak and drunken octopus the most, it doesn't only have a funny name, it is a good meal. Just keep in mind it is quite a busy restaurant so either book a table or be prepared to wait for a bit. We were offered to wait on steps to a church opposite the restaurant while we choose our meals and have drinks and it all worked out great.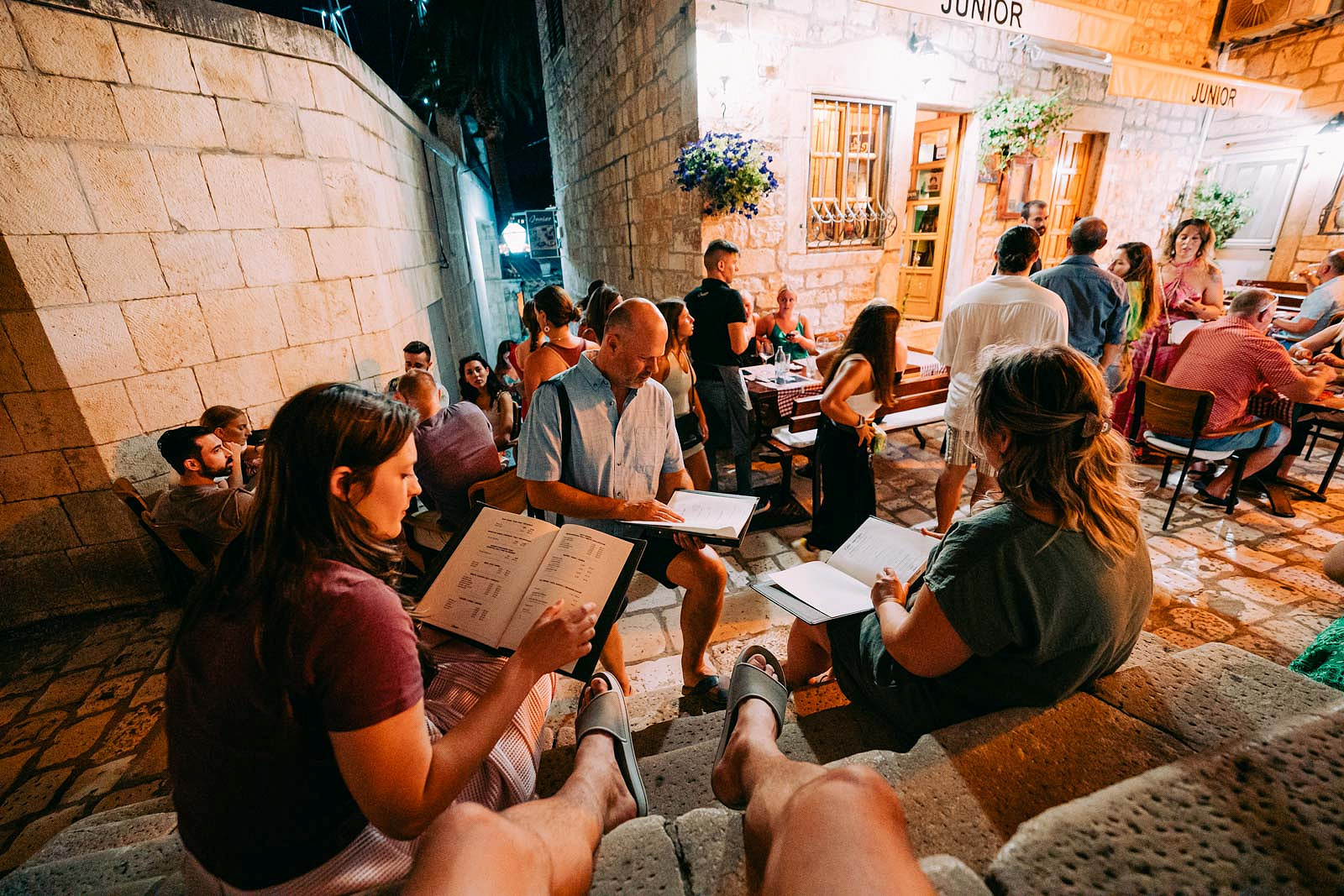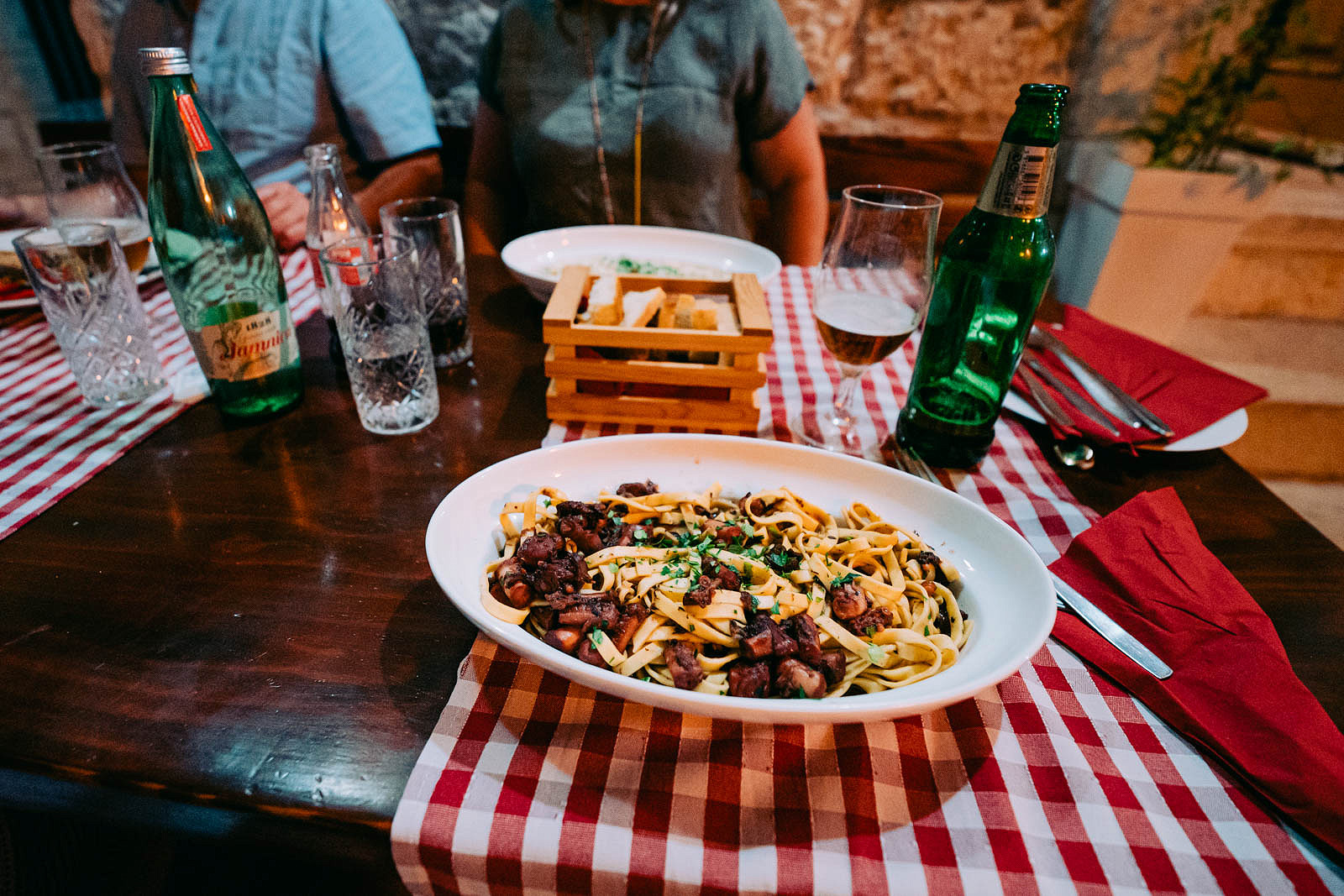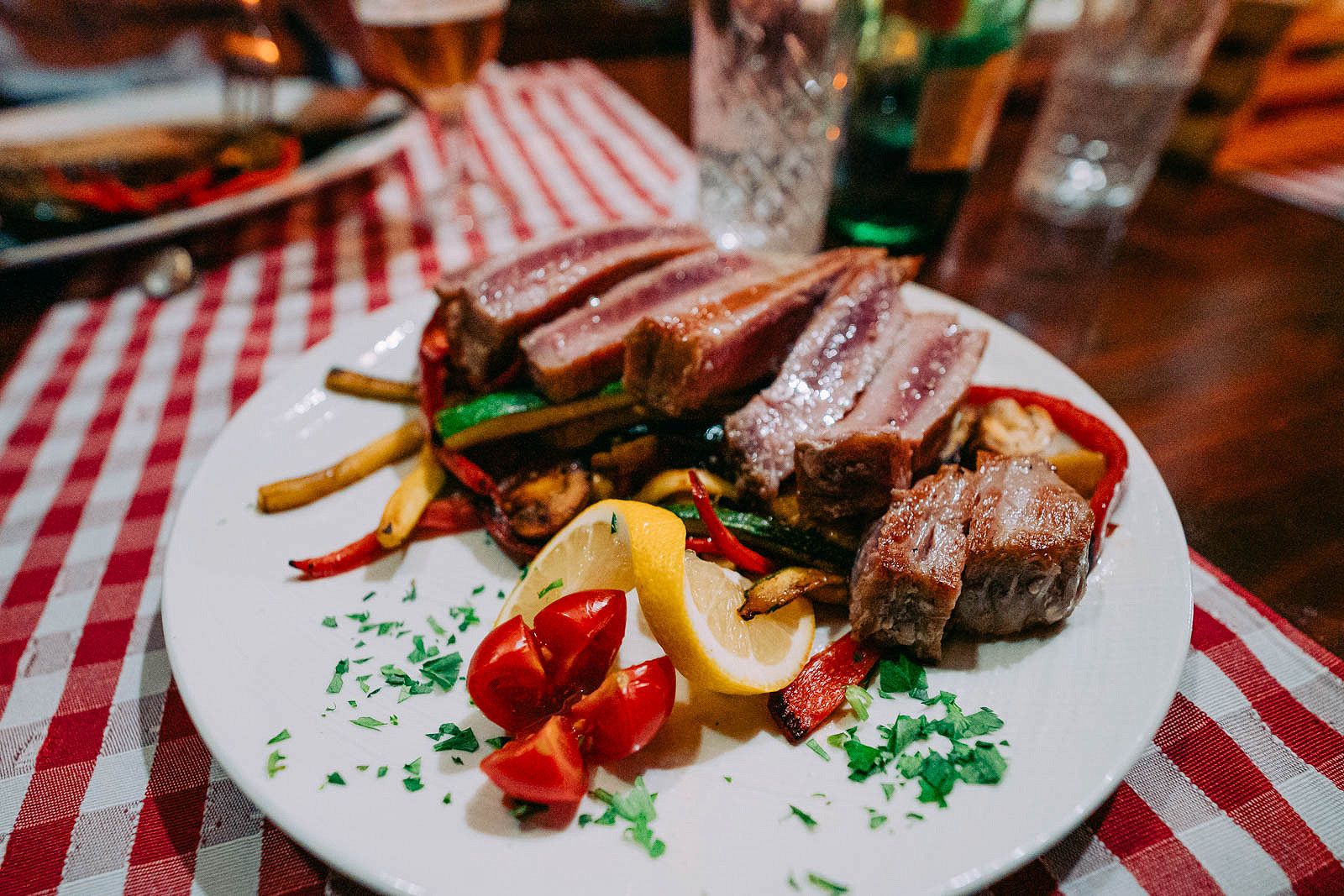 Pizzeria Pappe
Pizzeria right in the harbour in Jelsa. A good place to sit, relax, with great service and views of the harbour. Pizza was delicious and not expensive at all, especially considering the location.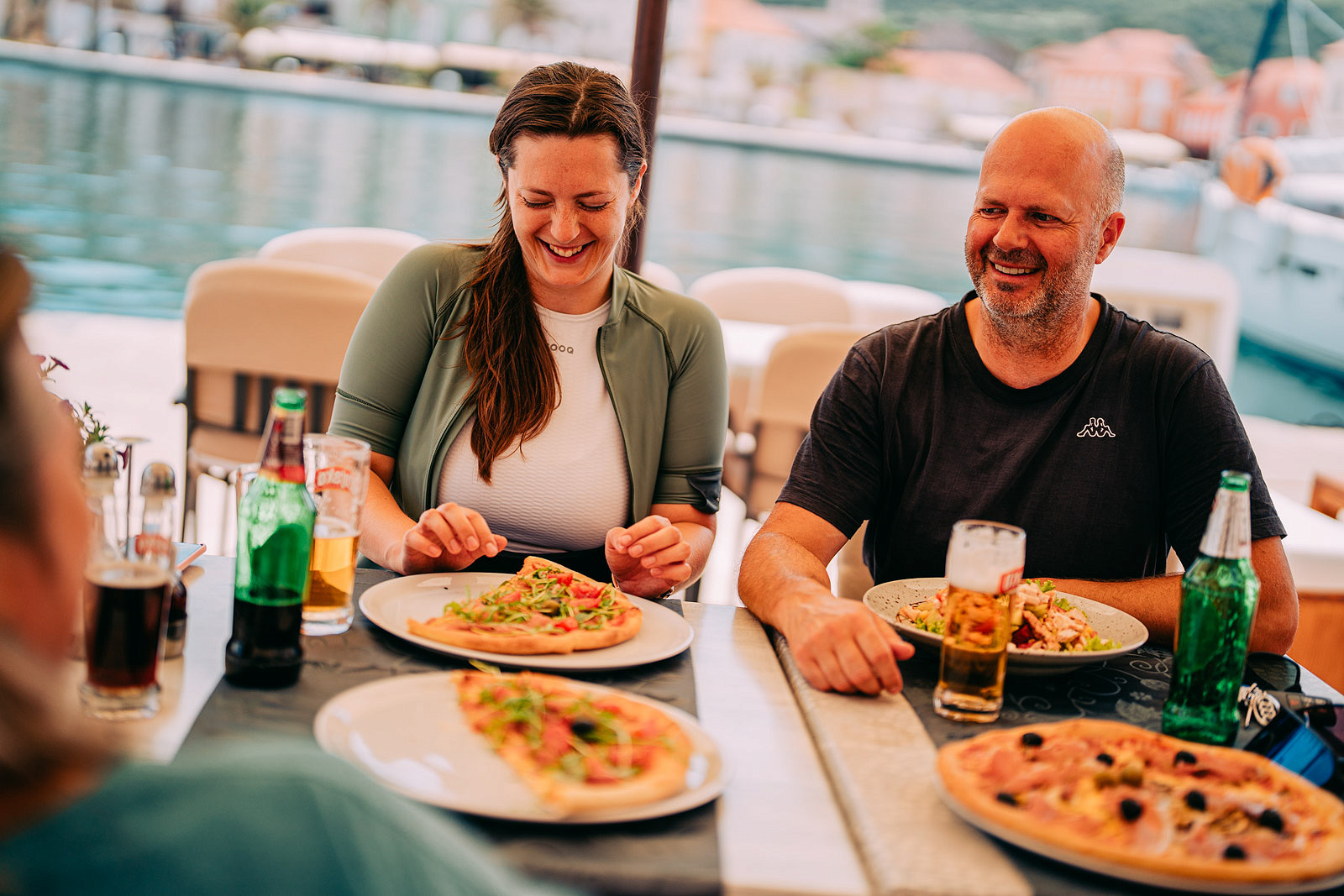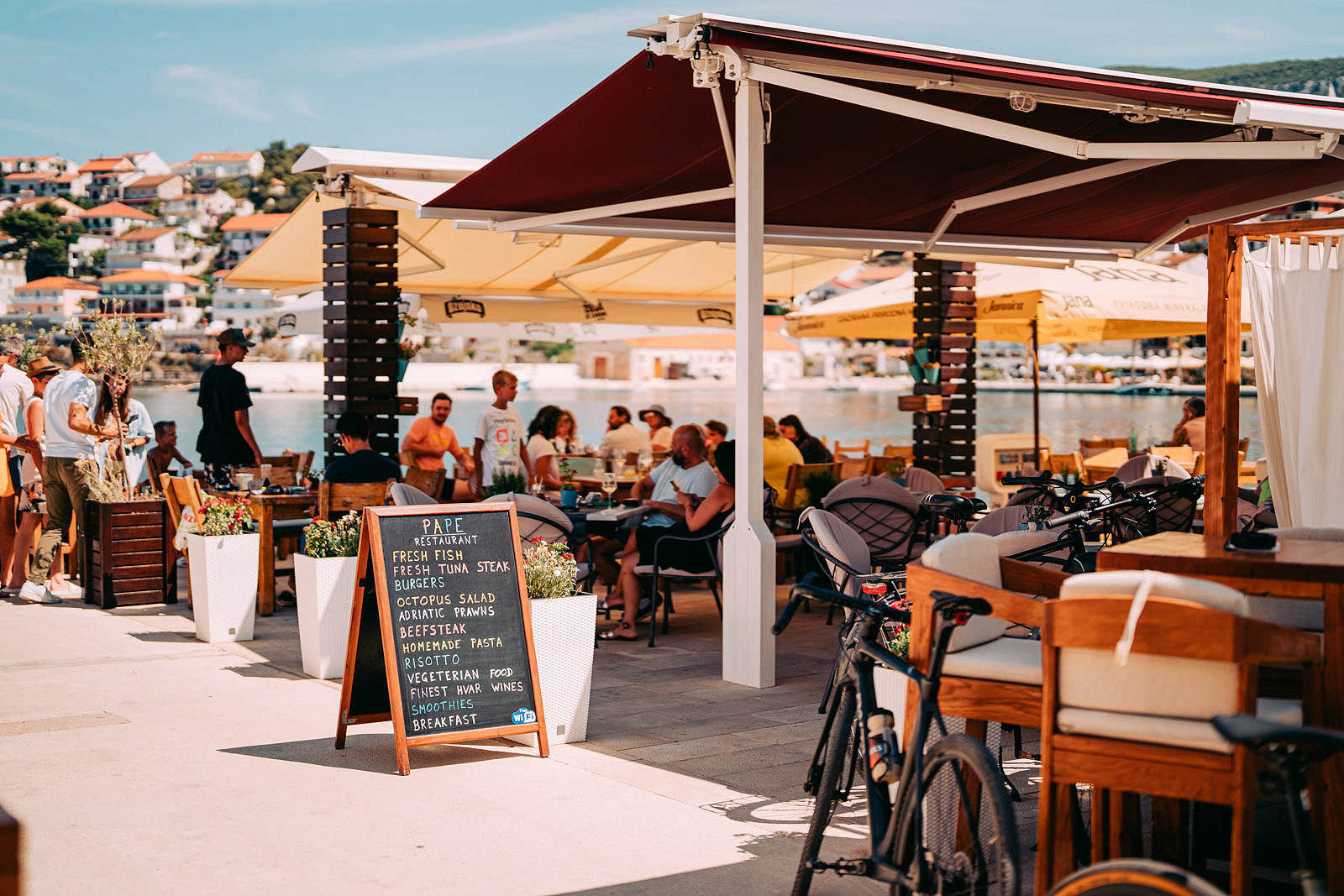 kava37
If you want to have a good coffee in Hvar in the morning, don't think about it too much, just go to kava37. It is a small coffee shop with two porches in front of the windows and a few tables inside, which has amazing coffee and they also offer croissants or cookies.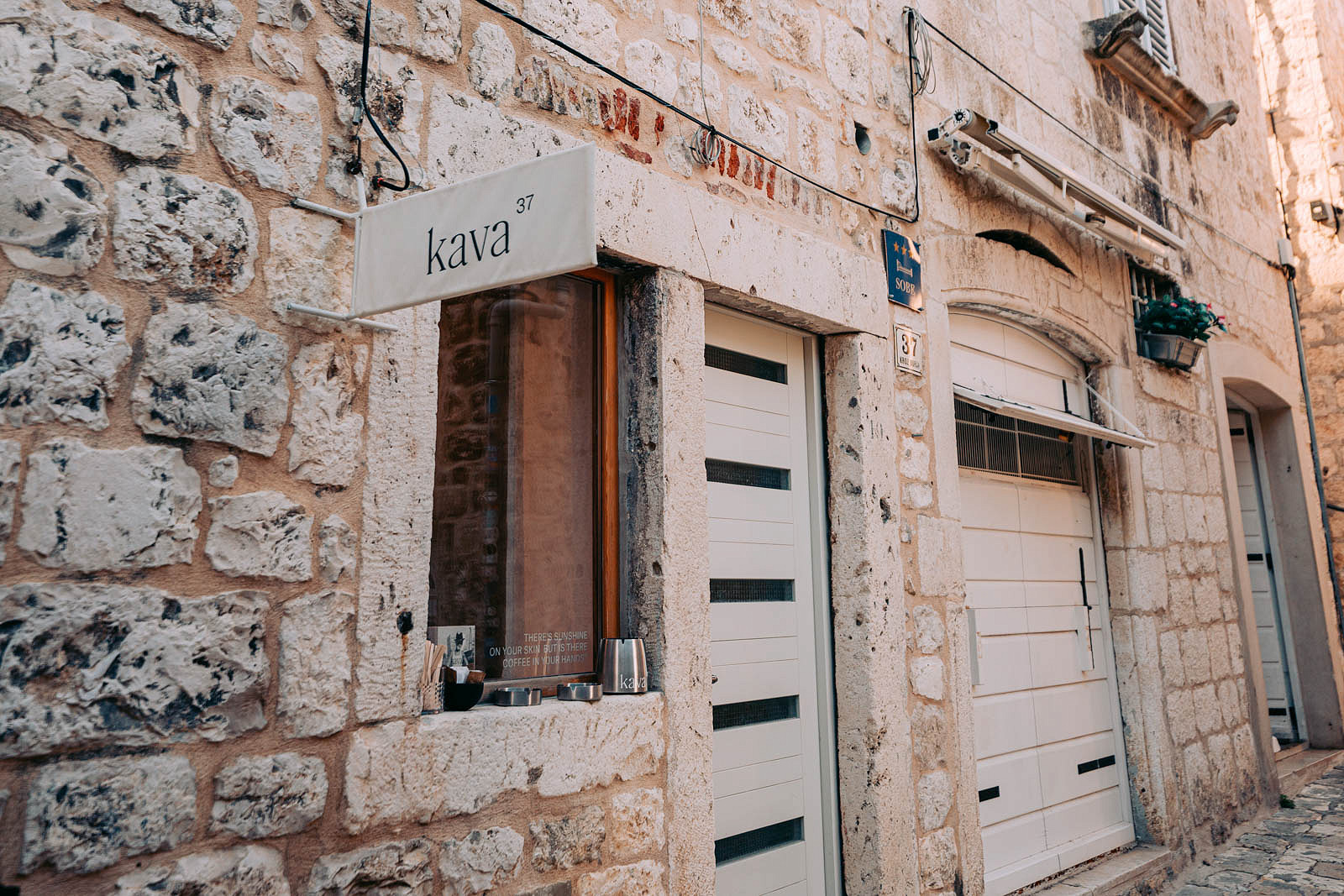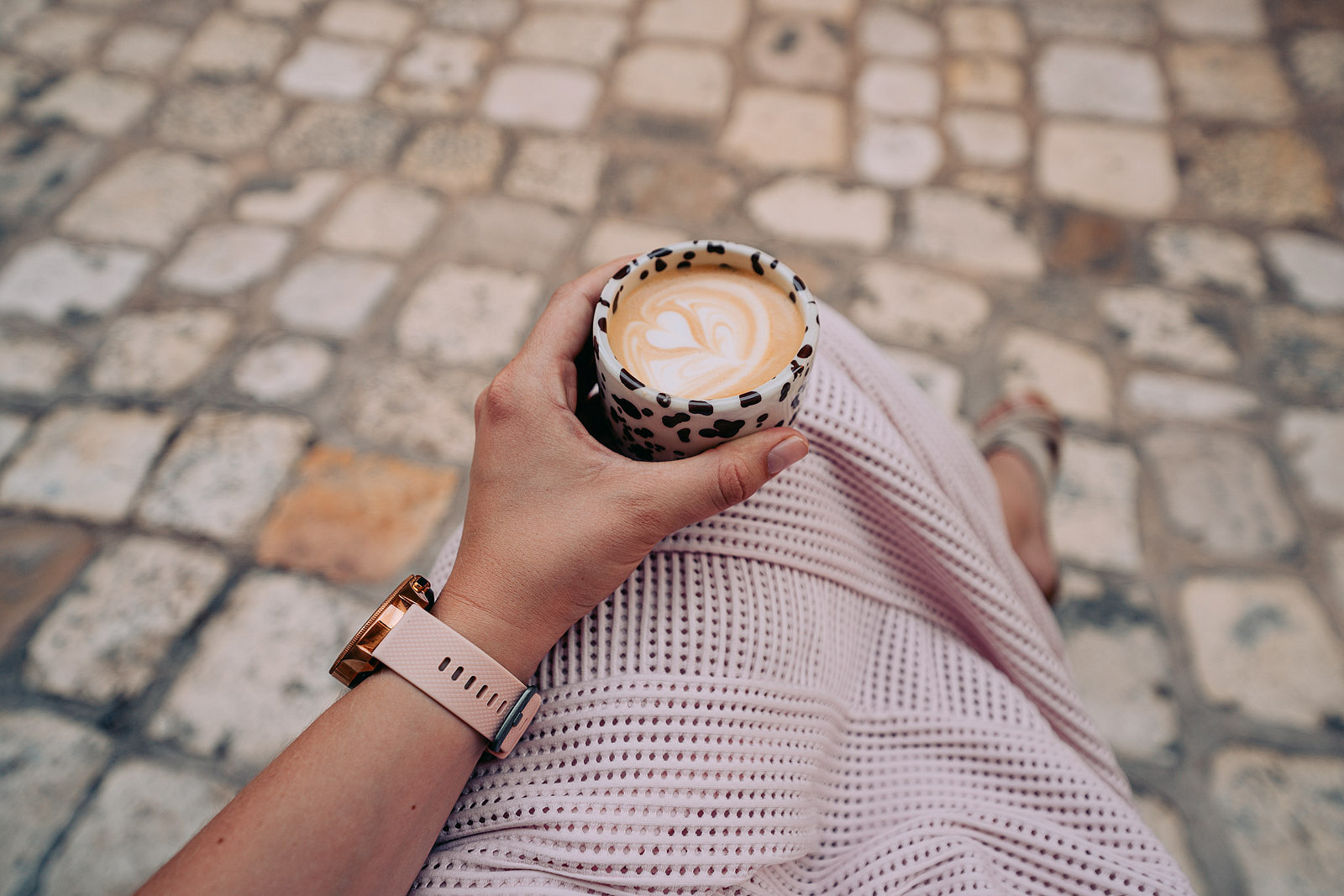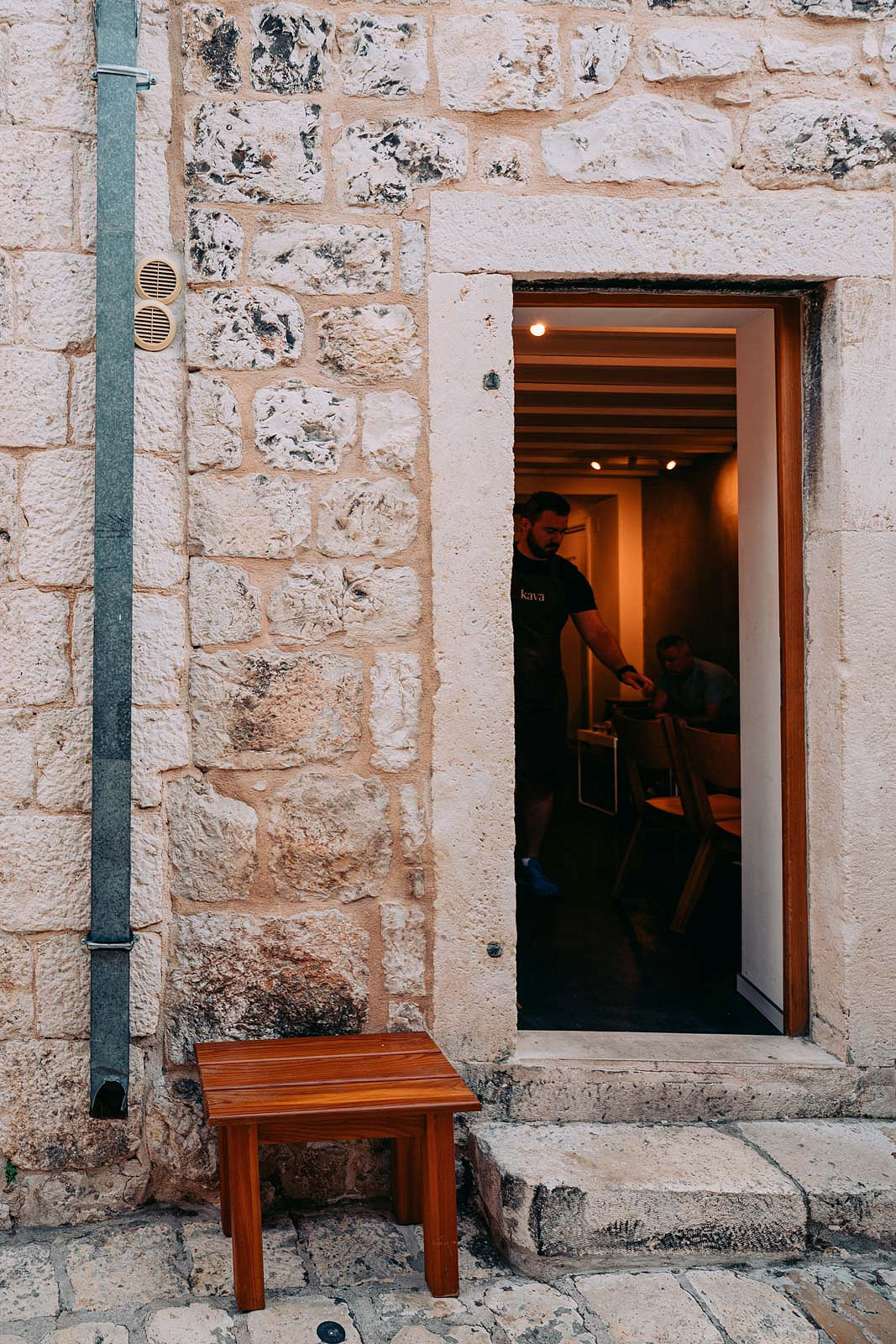 Melting Spot
Stari Grad also has a great coffee shop. About a year ago, a place called Melting Spot with a view of the harbour opened and whether you choose espresso tonic, cold brew or cappuccino, you can't go wrong. Honestly, I would order all of them if I wasn't worried I might have a stroke riding a bike after so many coffees in this heat.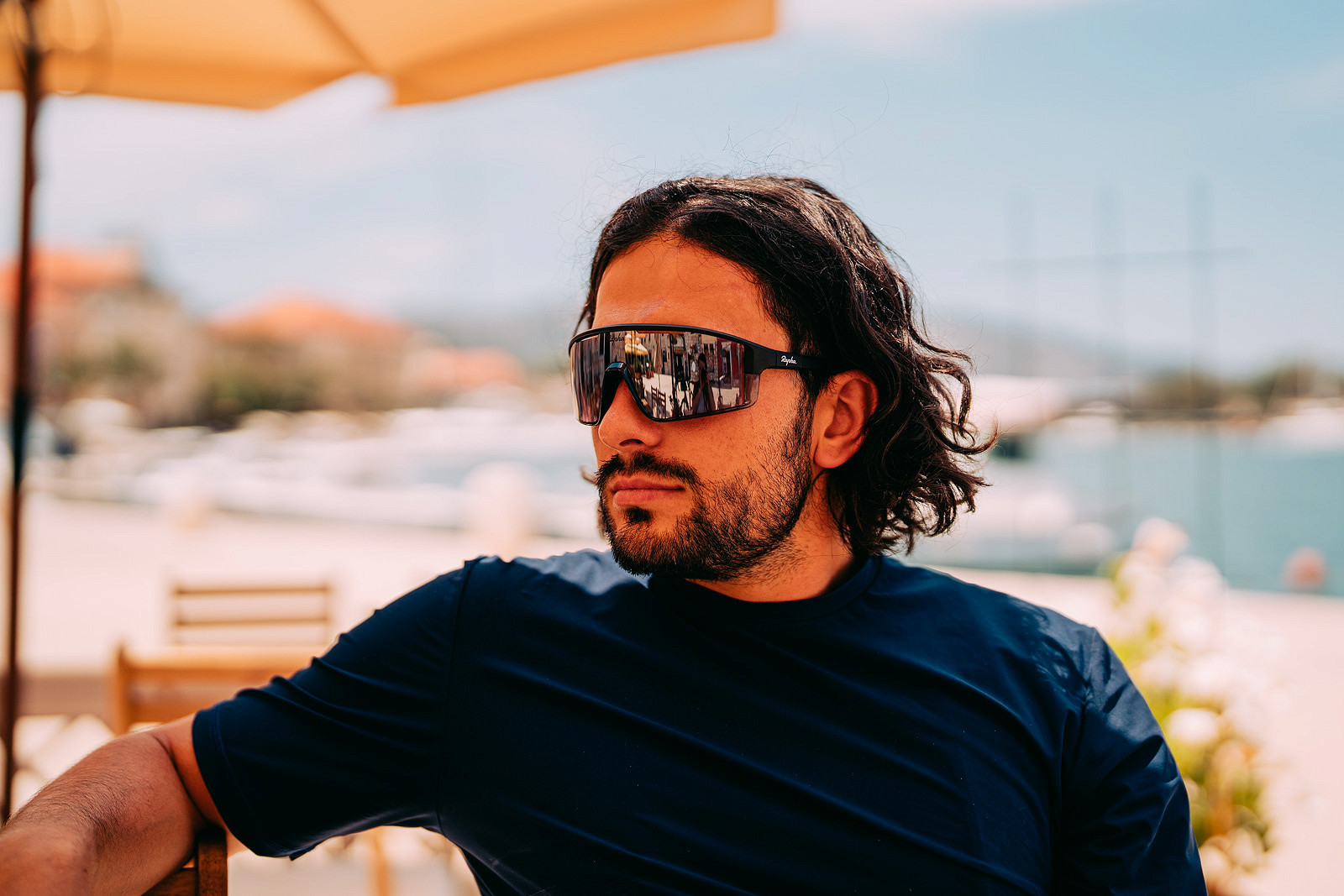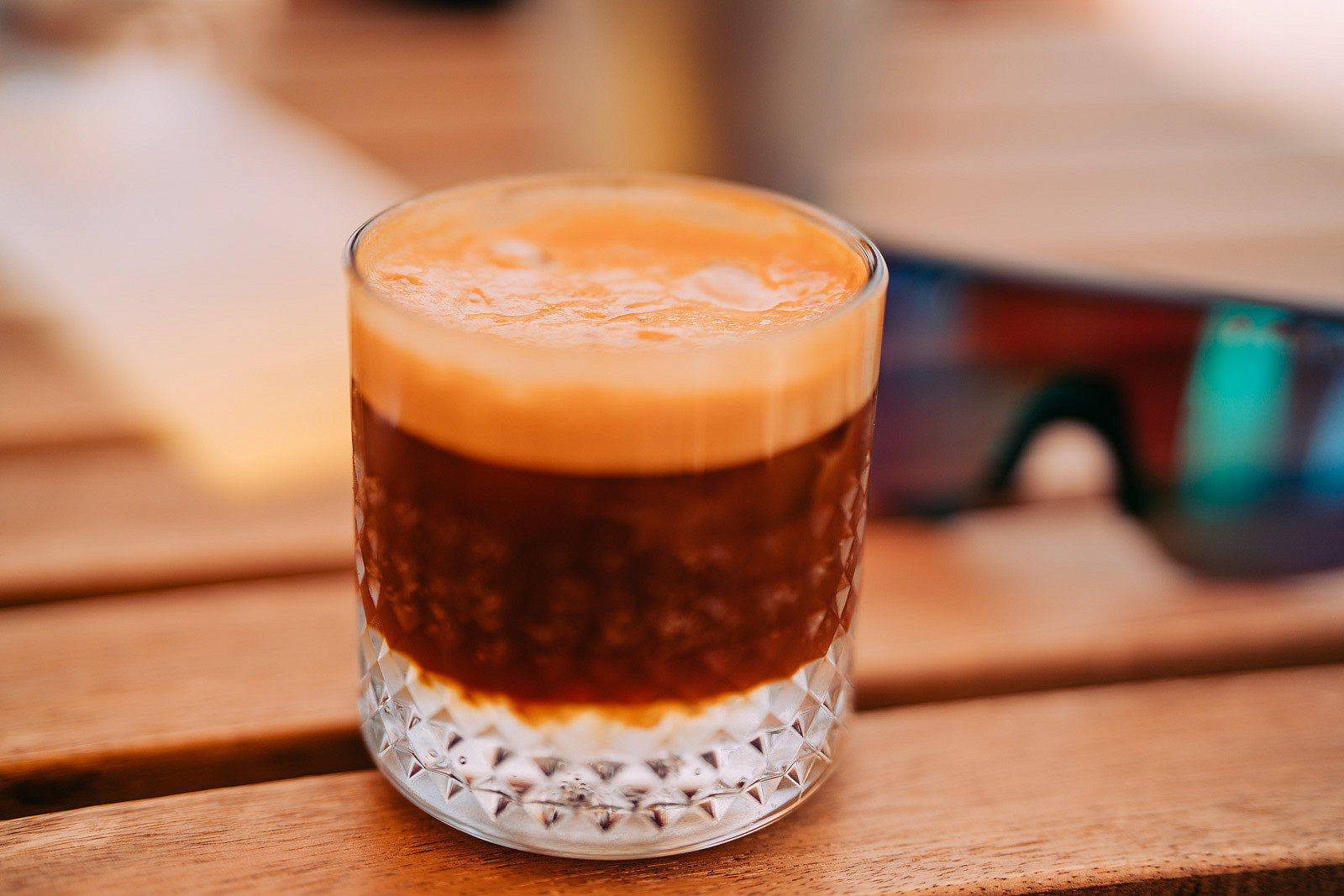 Beaches on Hvar
Zenčišće - Zen Beach Bar
A bay that you can easily reach by bike, by car or on foot from Jelsa. Crystal clear water is a standard here, of course, you can use a ladder to get into the water or walk in from a beach. There is also a small bar there so you can grab a beer or a drink and hide in the shade for some time as well.

On the coast near Hvar, as well as near Jelsa, you can find many bays and beaches. There is Bonj beach close to Hvar town, or you can head towards Sveta Nedilja town and stop by Lusisca, Jagodna, Dubovica, or Mekicevica beaches on the way.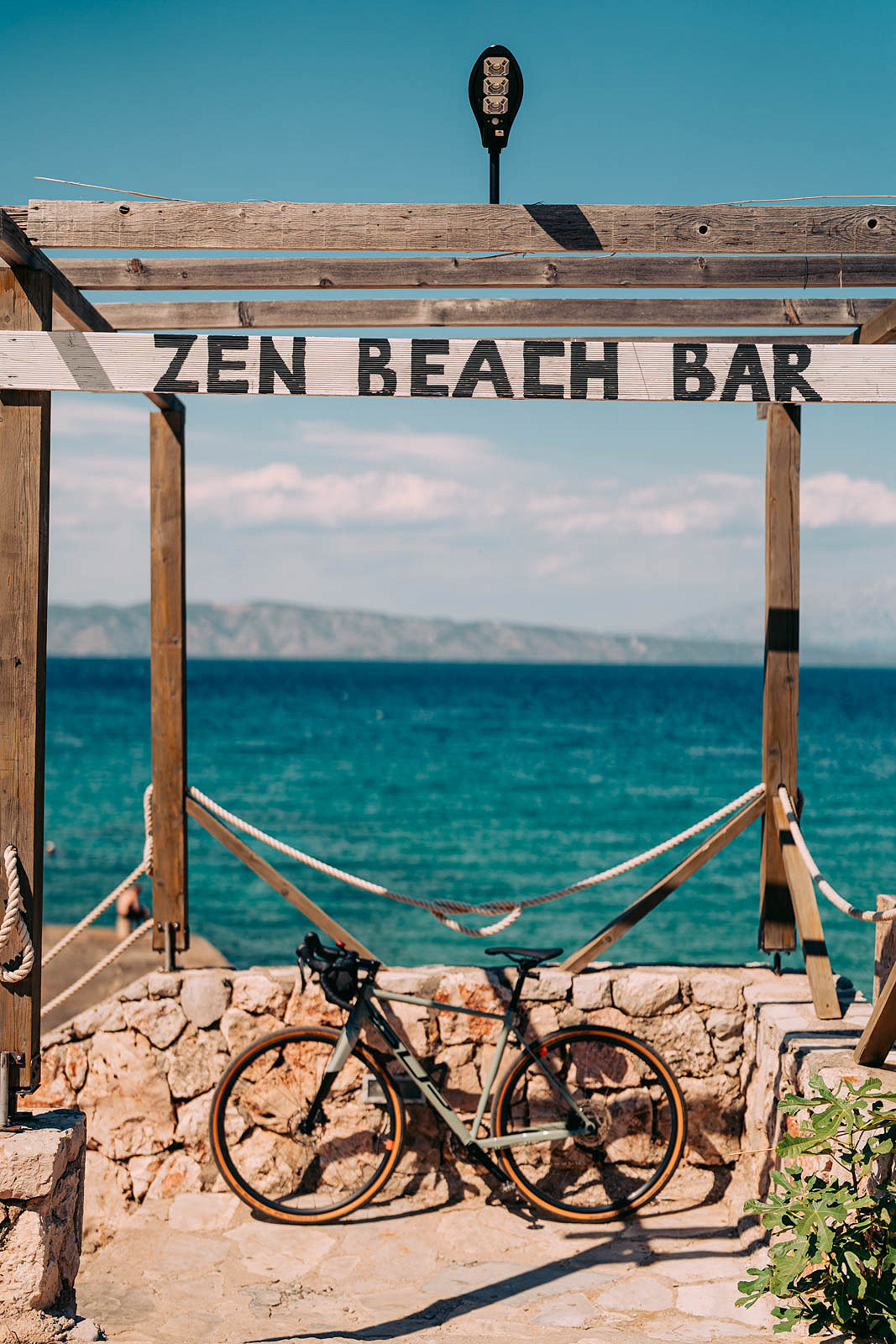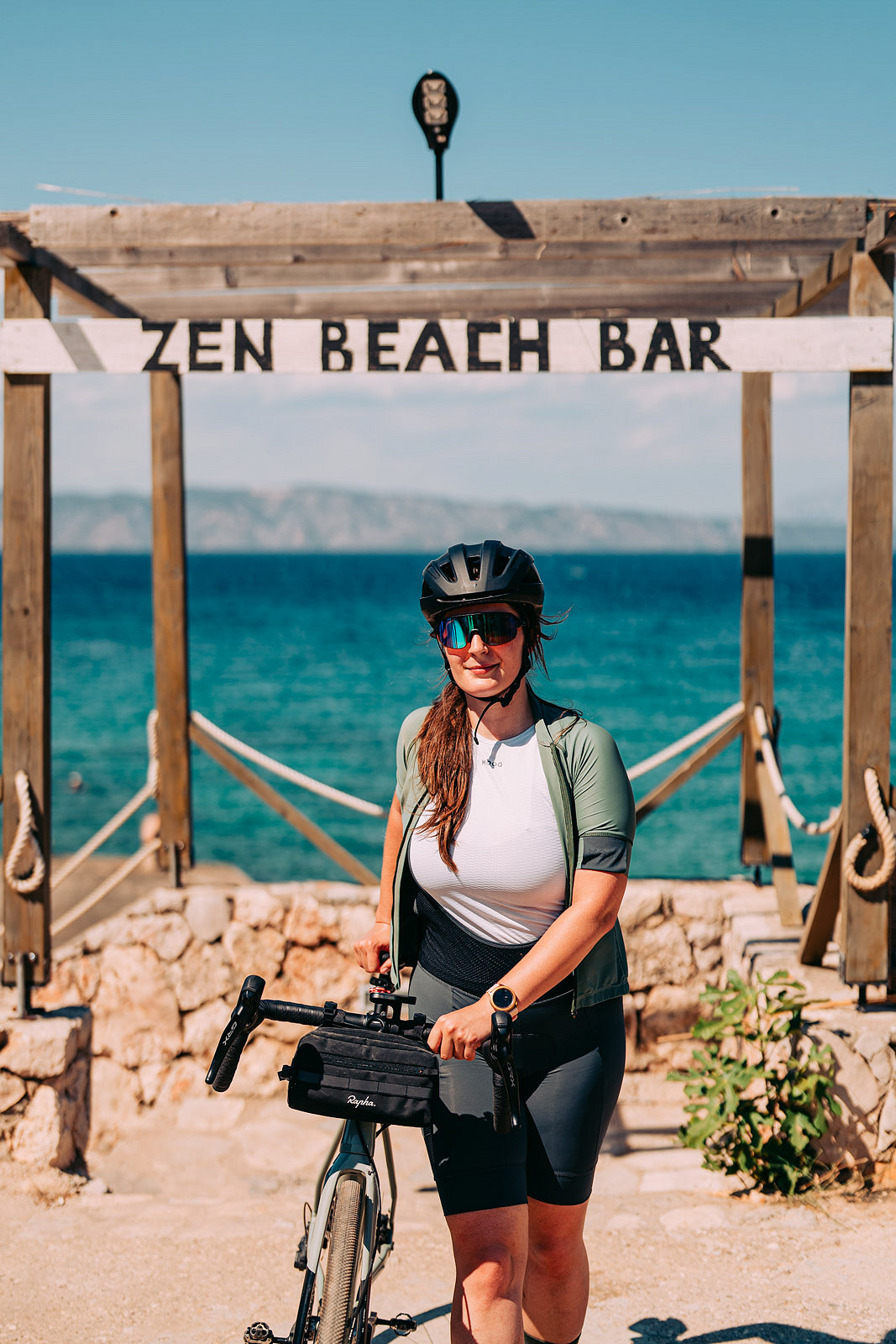 If you have an extra day in Hvar, you can head to Pakleni islands. Catch a boat from Hvar or join a group to explore the archipelago, hop on and hop off a boat and visit different beaches during the day.

PIN IT FOR LATER