Phong Nha. Národní park, o kterém jsme před příletem do Vietnamu nikdy neslyšeli, a ze kterého jsme si nakonec odvezli jedny z nejlepších zážitků díky treku, který nás provedl džunglí až do nádherné jeskyně.

Phong Nha. A national park we hadn't heard of before we arrived in Vietnam and where we ended up making the best memories thanks to a hike which took us through a jungle to a beautiful cave.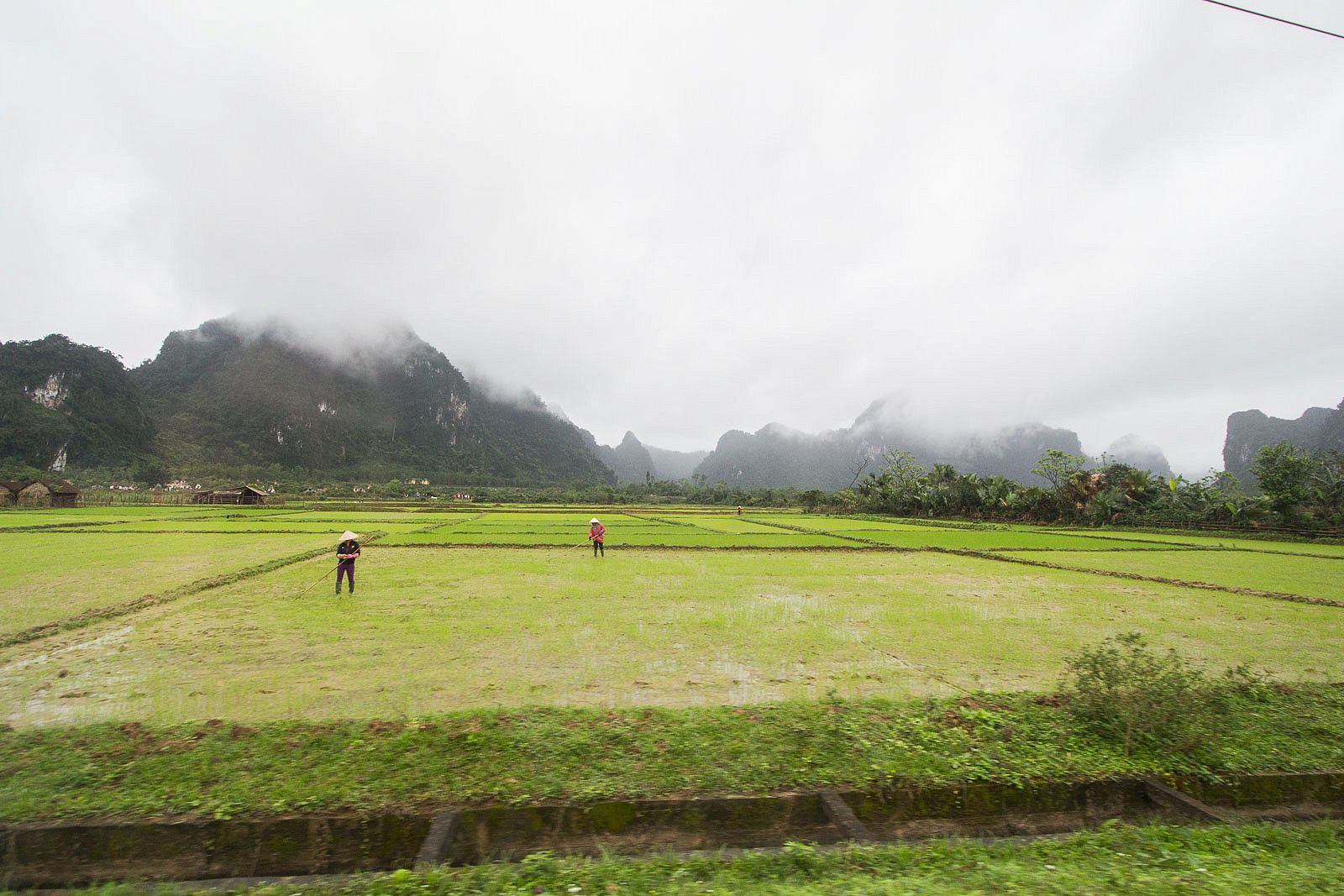 Největší jeskyně na světě / The largest cave in the world
Na seznam Unesco se Phong Nha-Ke Bang dostal v roce 2003, ale fascinující krasové hory tu začaly vznikat už před 400 miliony let, což z nich dělá nejstarší krasový systém v Asii. Ještě jedno důležité NEJ tenhle národní park drží - najdete tu největší jeskyni na světě Hang Son Doong. Můžete se k ní vydat na čtyřdenní trek, který je ale potřeba plánovat velmi dopředu a uvolnit na něj nezanedbatelnou část rozpočtu. Do jeskyně, ve které by se schoval i Boeing 747 a která má vlastní ekosystém, míří mnoho dobrodruhů, takže například na celý rok 2019 už nyní, v lednu, zbývá jen 300 míst a další se zapisují na waiting list pro rok 2020. My jsme se rozhodli podniknout jiný trek, ale se stejnou společností, která má jako jediná certifikaci expedice do Hang Son Doong podnikat - Oxalis Adventure Tours.
Phong Nha-Ke Bang has been on the UNESCO Heritage list since 2003 but the fascinating karst mountains have been forming in the area for 400 million years which makes this the oldest karst system in Asia. Also, one more important primacy - there's the largest cave in the world here, Hang Son Doong. You can go on a four-day tour to the cave but you should plan that really in advance and have some cash ready for it. It's no surprise many adventurers want to visit this cave since it would fit a Boing 747 and has its own ecosystem, which means there are only 300 spaces left for the tour for 2019 and it's only January. Others are already signing up for the 2020 waiting list. We decided to go on a shorter trip with the same company, which is also the only company with a certificate to do expeditions to Hang Son Doong - Oxalis Adventure Tours.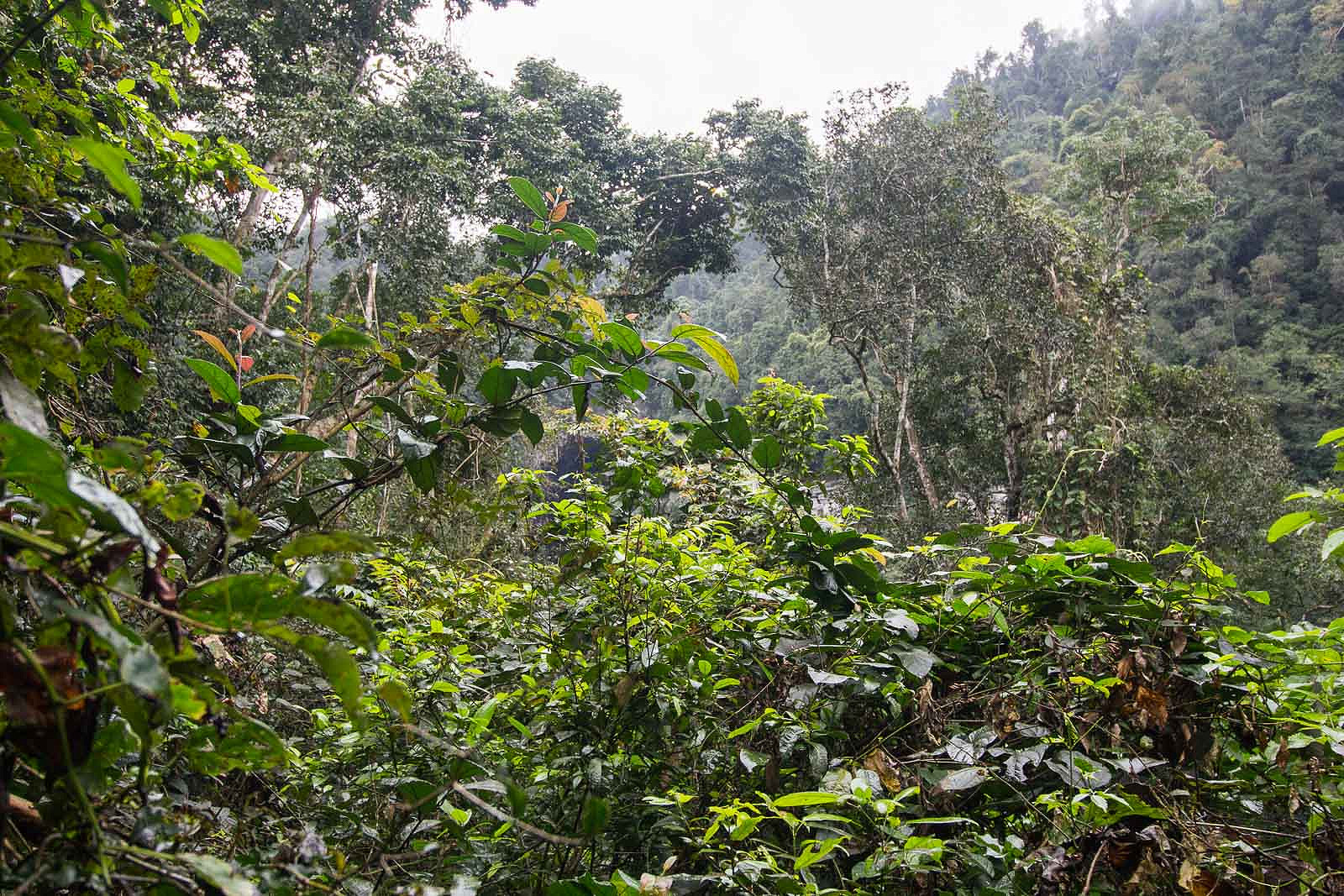 Hang Tien Discovery Tour
Po dlouhém přemýšlení a skvělé online podpoře ze strany Oxalisu jsme si z jednodenních treků vybrali Hang Tien 1-Day Discovery, abychom navštívili jeskyni, která je se vchodem o výšce 70 metrů největší v jeskynním systému Tu Lan. Vyráží se sem pouze v malé skupince dvakrát týdně, takže je lepší zamlouvat si trek dopředu, a doteď si myslíme, že jsme si nemohli vybrat lépe, byl to jeden z nejnáročnějších, ale rozhodně také nejlepších dní, které jsme si ve Vietnamu užili.
After giving it some thought and awesome online support from Oxalis we'd decided to do the Hang Tien 1-Day Discovery to visit a cave that (with a 70 meters high entrance) is the largest cave in the Tu Lan system. It's only possible to choose from two days each week to go on this trip so I'd say book in advance, anyway, we still think it was the best decision we could make, it was one of the hardest but also the most rewarding days in Vietnam.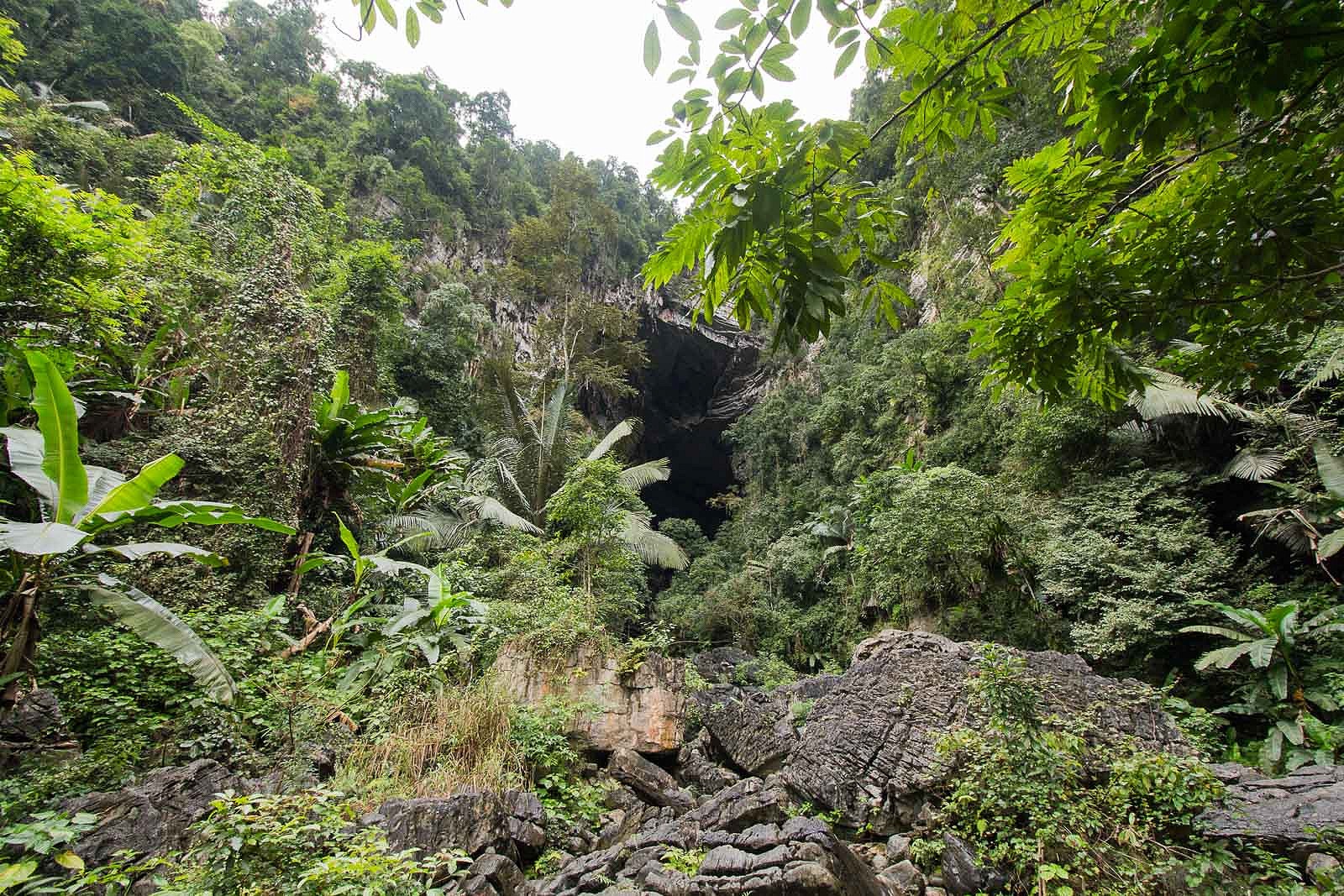 Brzy ráno nás u hotelu v Phong Nha vyzvedlo auto, kterým jsme se vydali na 70 kilometrů vzdálenou "základnu" Oxalis v Tan Hoa. Hodina a půl v autě, kdy jsme okýnkem pozorovali probouzející se park, nám tak akorát stačila, abychom se úplně probrali a začali se těšit na dobrodružství, které nás čekalo. Po příjezdu dostala celá naše skupinka krátké školení o bezpečnosti, o tom, co nás cestou čeká i na co si dávat pozor. Dopili jsme ranní kávu, přezuli si boty (každý si může vybrat, zda půjde ve svých botách, nebo se přezuje do erárních gumovo-plátěných pohorek), přebytečné věci uložili do skříněk a znovu sedli do auta.
Přibližně po půl hodině jsme vyskákali z auta na cestu doslova uprostřed ničeho a v malé skupince 10 lidí (8 účastníků, průvodce a nosič) vydali se vstříc džungli.
A car picked us up really early in the morning in our hotel in Phong Nha and we drove for 70 kilometres to the Oxalis office in Tan Hoa. An hour and a half in the car during which we were just enjoying the views and slowly waking up, was just enough to get excited about what's ahead of us. After arrival, we had a briefing, finished our coffee and changed our shoes (you can decide whether you want to wear your own or use a pair that Oxalis provides). We left our stuff we didn't necessarily need in storage and got back to the car.

After approx. half an hour we all jumped out on a road literally in the middle of nowhere and in a small group of 10 people (8 travellers, one guide and one porter) were ready to explore the jungle.
Myslím, že nepřeháním, když řeknu, že si tu cestičku vyšlapanou do kopce a z kopce, mezi kameny a spadlými kmeny, budeme pamatovat do konce života. Obzvlášť moment, kdy se celá skupina zastavila na kopci, odkud byla průzorem mezi stromy vidět obrovská jeskyně se vstupem, který nebylo možné přehlédnout. Tak jasně viditelná z místa, ve kterém jsme stáli, a přeci tak ukrytá před zraky všech, kteří se neodhodlali hledat cestu zdánlivě neprostupnou zelení.
I think I'm not exaggerating when I say we'll remember the muddy path up and down the hill, between rocks and fallen trunks for our whole life. Especially the moment we all stopped at the top of the hill at a spot from where we could see between the trees a huge entrance to the cave. Impossible to miss from where we were standing and yet so hidden from everyone who hasn't made the effort to go on a journey through what seems like impenetrable greenery.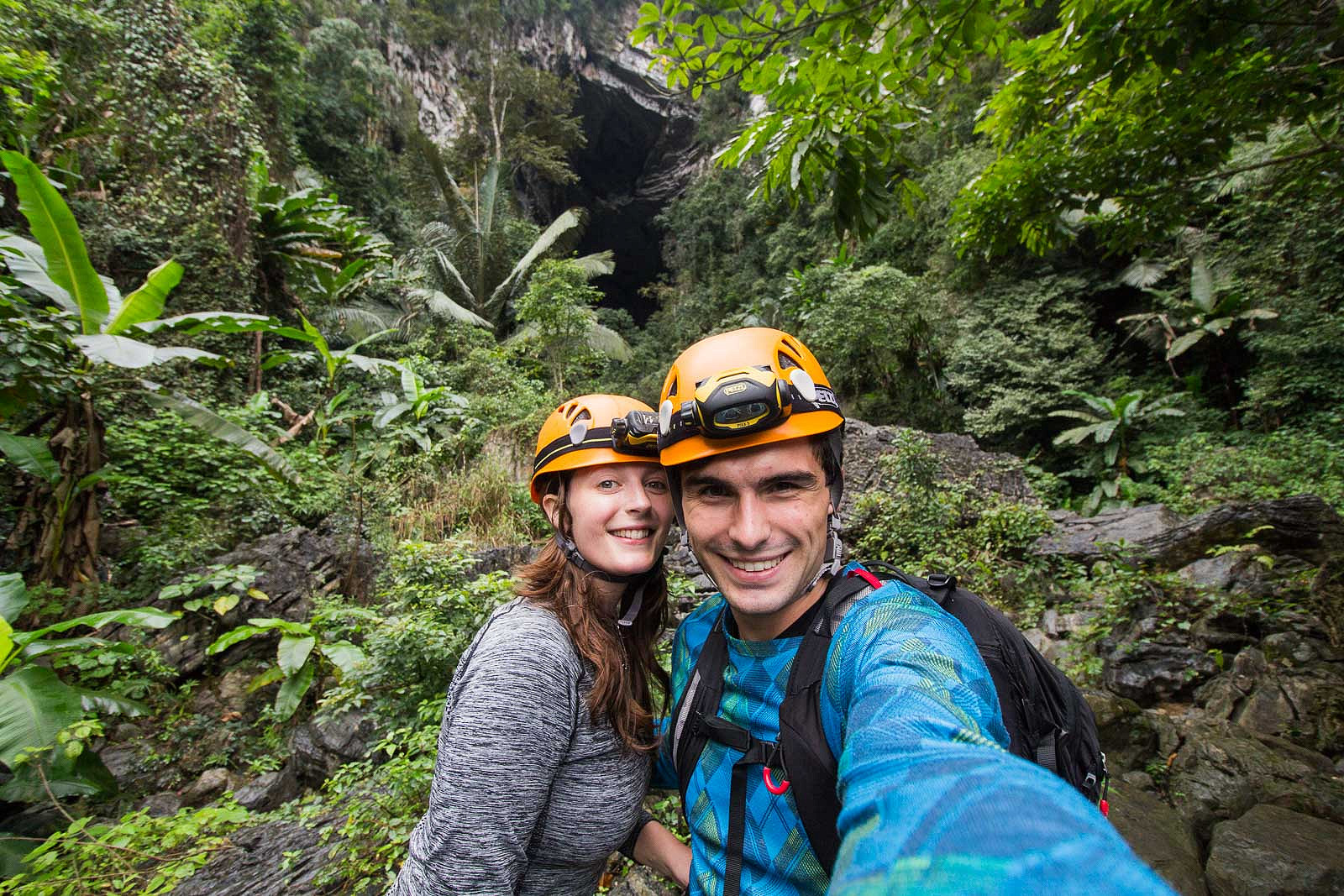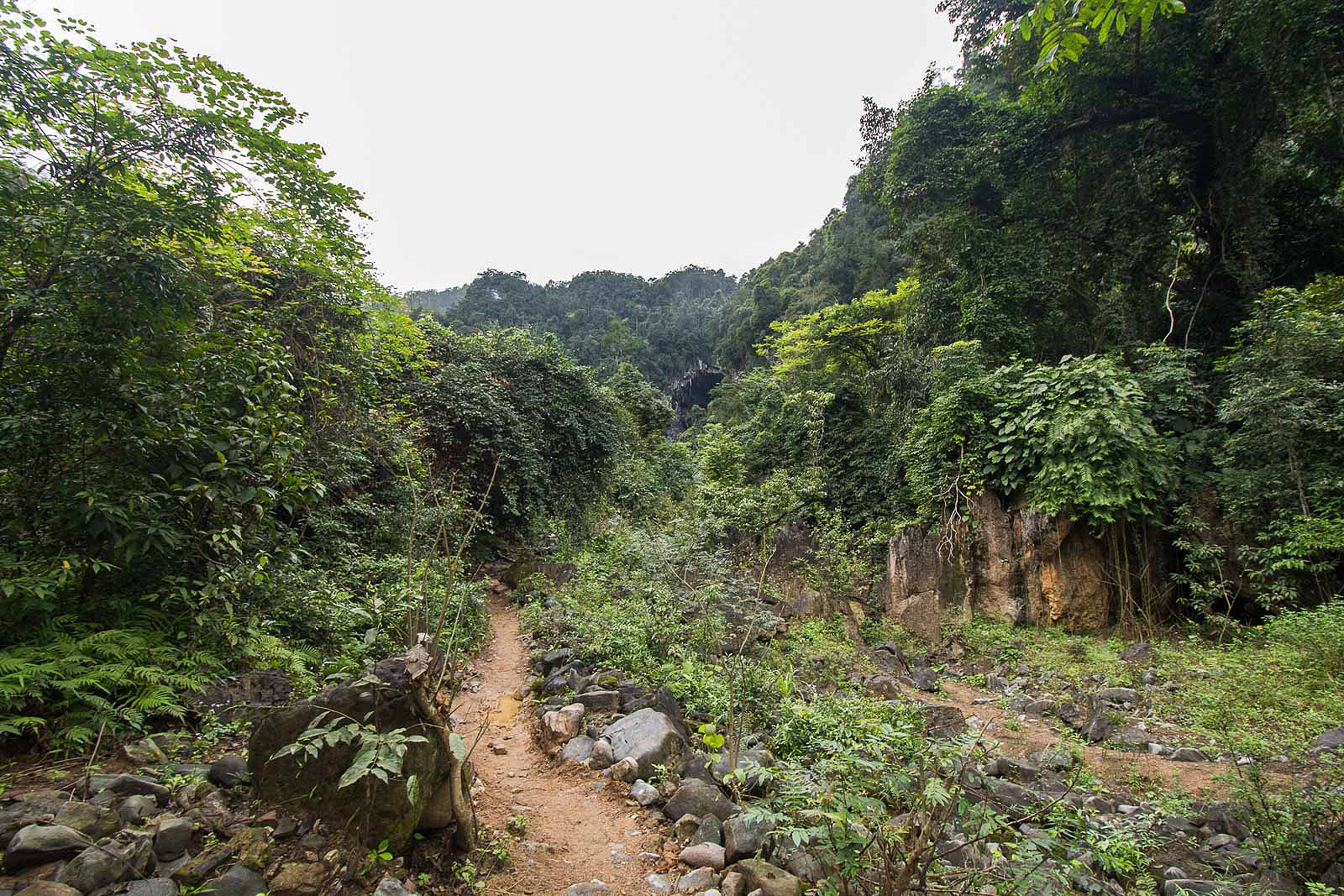 Asi nejtěžším úsekem celé cesty byly poslední desítky metrů před samotnou jeskyní. Hledali jsme místa, kde se zachytit a kam udělat další krok mezi kluzkými kameny, které jako by někdo z jeskyně obrovskou rukou vysypal před vchod a které bylo stejně těžké zdolat cestou nahoru, jako cestou dolů.
Probably the hardest part of the whole trek was the last tens of metres just in front of the cave. We were trying to figure out where to put our hands, what to hold onto, where to make the next steps between slippery stones, that look as if someone with a giant hand just spilt them out in front of the cave. Those were equally hard to cross on the way back as they were on the way there.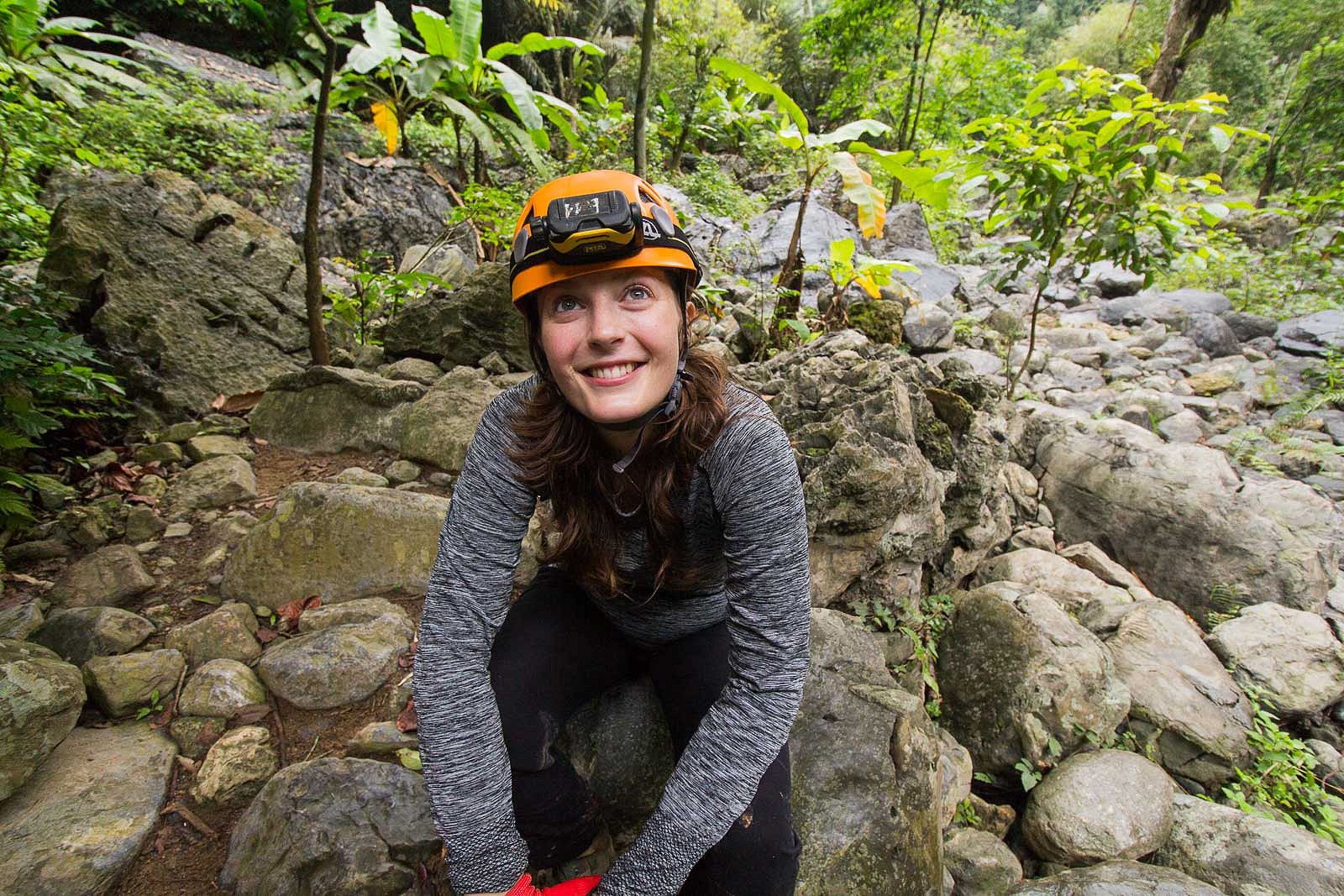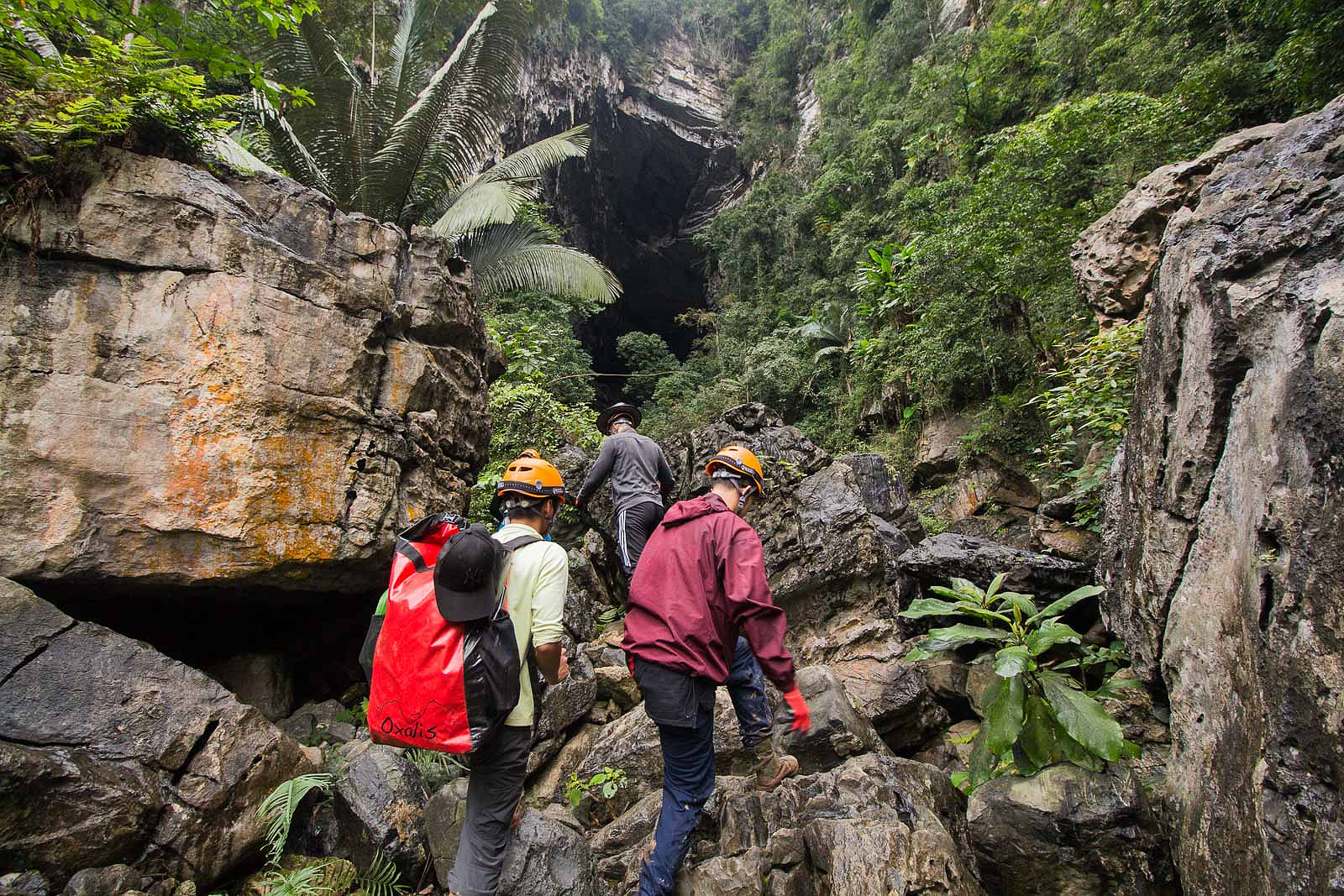 Všichni jsme dostali slušivé helmy a čelovky - helmy pro všechny případy, čelovky jednoduše proto, že tady si na každý krápník musíte posvítit sami. Uvědomili jsme si, že jsme nikdy nebyli v jeskyni, kde by krápníky nebyly nasvícené, s ohrádkou a cedulkou nesahat. Tady osvětlovalo deset kuželů cestu před námi, malá jezírka s vodou, nad kterými jsme cestou bilancovali, žebřík i úzkou cestičku nahoru na druhý konec jeskyně.
We all got helmets and headlamps - helmets just in case, headlamps simply because you have to shine on each stalagmite yourself. We realised we had never been in a cave where the stalactites would not be surrounded by lights, a fence and a do not touch sign. Here it was just ten cones of light illuminating the path in front of us, small ponds with water we were balancing on, a ladder and a narrow path up to the other end of the cave.
Cestou zpátky jeskyní nás doprovázeli netopýři, žabky a malí obyvatelé jeskyně, kteří zůstávali ukrytí ve stínech. Před zdoláním kopce, který Hang Tien opět ukryje v přehlídce odstínů zelené, jsme se zastavili také v malém táboře u jezera, kde pro nás byl připravený tradiční (a tradičně výborný) vietnamský oběd, dali jsme odpočinout unaveným nohám, sundali helmy a využili největší atrakci tábora - toaletu, o které celou cestu náš průvodce vtipkoval jako o místě splňujícím evropské standardy. Pak už jsme naposledy zabořili nohy do bahnitých stop, které nás vedly zpátky na cestu.
Bats, frogs and other animals hidden in the shadows were keeping us company on our way back through the cave. Before getting ready to climb the hill that will hide Hang Tien in the green shades of nature we stopped in a small camp by a lake where we could eat a traditional (and traditionally delicious) Vietnamese lunch, we had some time to rest, took of our helmets and went to see the toilet our guide was joking about as a toilet based on European standards, for ourselves. Later, for the last time, we stepped into the muddy tracks that led us back on the road.
Zabahnění tak, že jsme povinně všichni zabalili boty do sáčků, nás vyzvedlo auto a v základním táboře pro nás byla znovu připravená svačina, teplý čaj a hlavně teplé sprchy, do kterých jsme všichni šli tak rychle, jak nám to unavené nohy dovolily.
We were all so muddy we had to put our shoes in bags before we could step into the car. In the "base camp" there were snacks and hot tea ready for us when we arrived and most importantly a hot shower which we were all intending to use as soon as we could.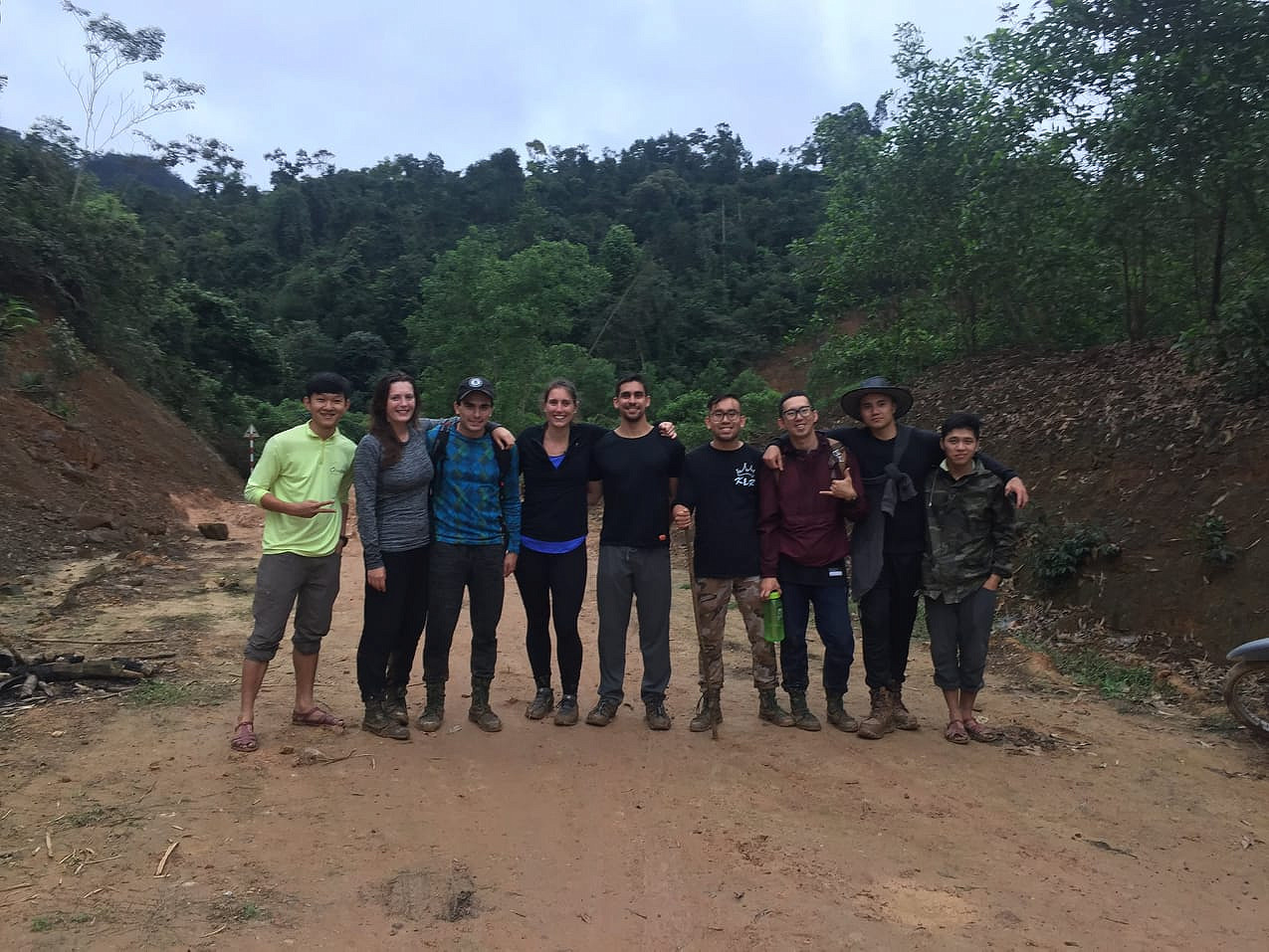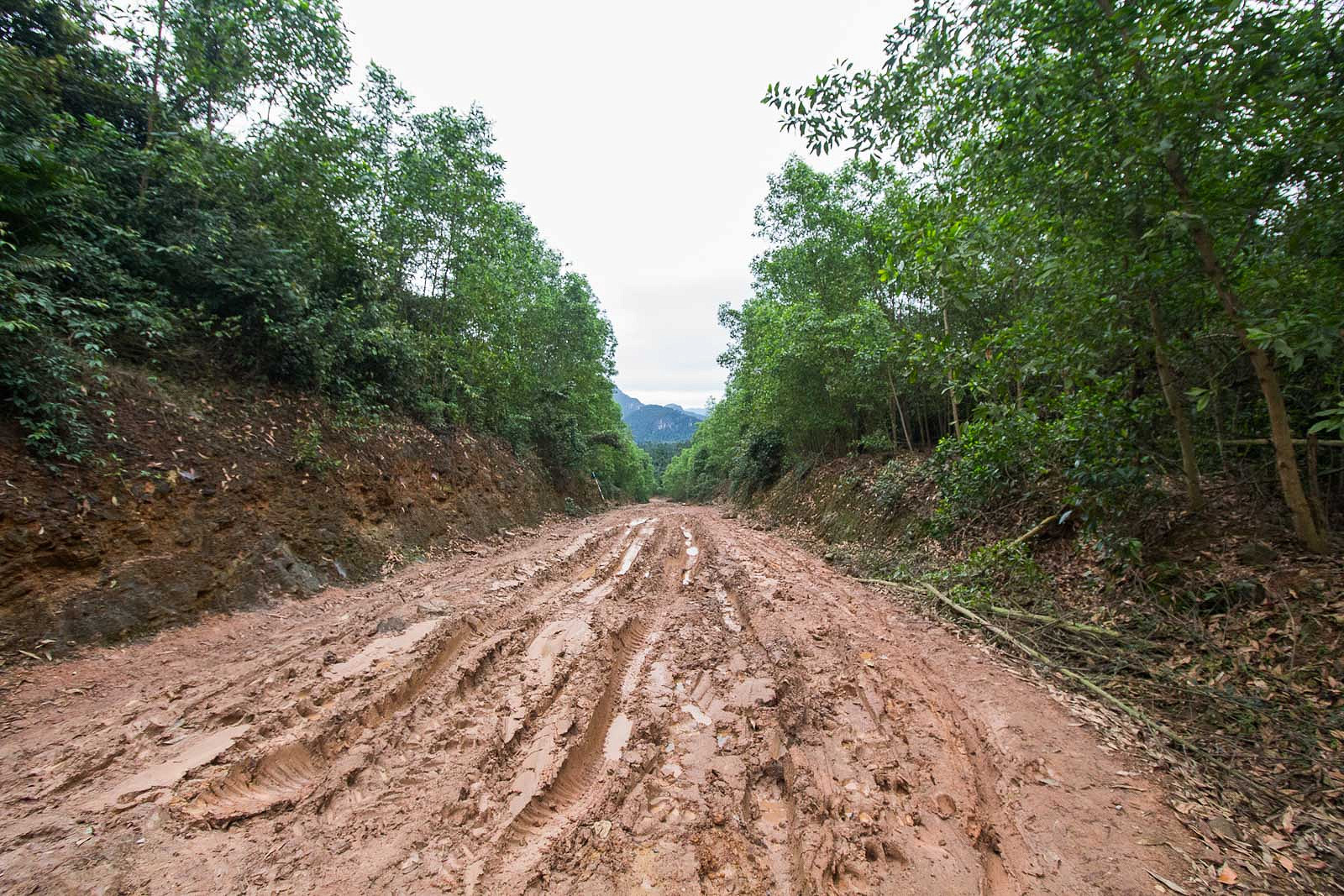 Pokud byste někdy měli příležitost do parku jet, neváhejte ani minutu. Treky rozhodně vyžadují nějakou úroveň fyzické zdatnosti a druhý den budou všechny vaše svaly vzpomínat na každý krok, ale každá minuta, kterou na cestě strávíte, se vám vrátí v podobě těch nejkrásnějších zážitků a pohledů na nedotčenou přírodu národního parku.
If you ever have a chance to visit this national park, don't hesitate even for a second. The tours definitely require a certain level of physical fitness and the next day you'll remember each step vividly but every minute you spend on the road will be rewarded with one of the most beautiful experiences and views of untouched nature you could ever imagine.
PIN IT FOR LATER