V minulém článku jsem slibovala, že se tu Sagrada Familia objeví ještě jednou a podrobněji. Nemohla jsem prostě povídání o jedné z nejkrásnějších staveb světa zkrátit do jednoho odstavce, zaslouží si svůj mnohem větší prostor.
Sagrada Familia je unikátní už jen tím, že ještě stále není dostavěná. Slyšela jsem i názory, že je kvůli tomu prohlídka nezajímavá a že by byla lepší dokončená, ale myslím, že je lepší se na to dívat z té pozitivní stránky – žijeme v době, kdy můžeme v moderním světě vidět rozestavěnou katedrálu, ještě k tomu nemalého světového významu. Navíc se na ni při troše štěstí stihneme podívat i po jejím dokončení a tak si můžeme říkat, že jsme svědky historického okamžiku… a kdo to má? :D
In the last post from Barcelona, I promised we'll be back in Sagrada Familia again, so here we are. I simply couldn't not talk about one of the most fascinating buildings in the world in more detail, it deserves its space.
First and foremost, one interesting fact is that Sagrada Familia is still being built. I've heard people say that it makes the tour boring and that they would prefer to go there once it's finished but I personally think there's a positive side to it - we're living in a modern world and to see a cathedral being built, especially when it's this amazing, is something special. Plus if we're lucky we can also witness it being finished, which is kind of an important historical moment, right?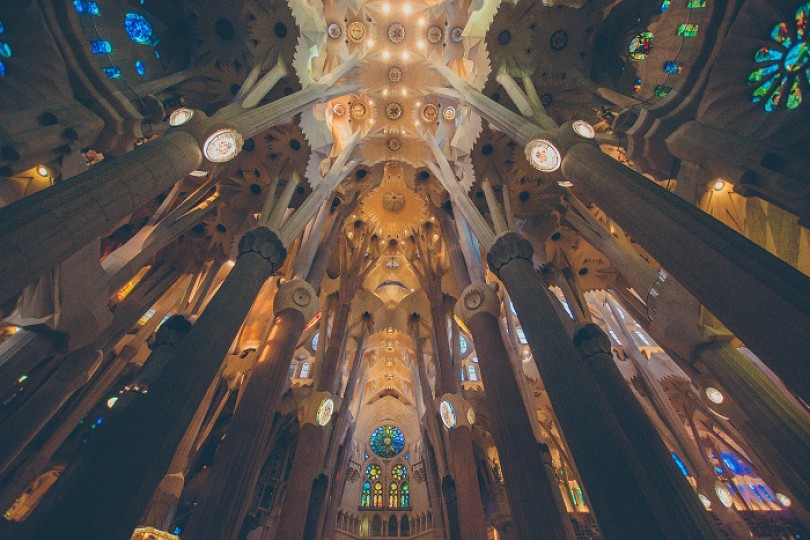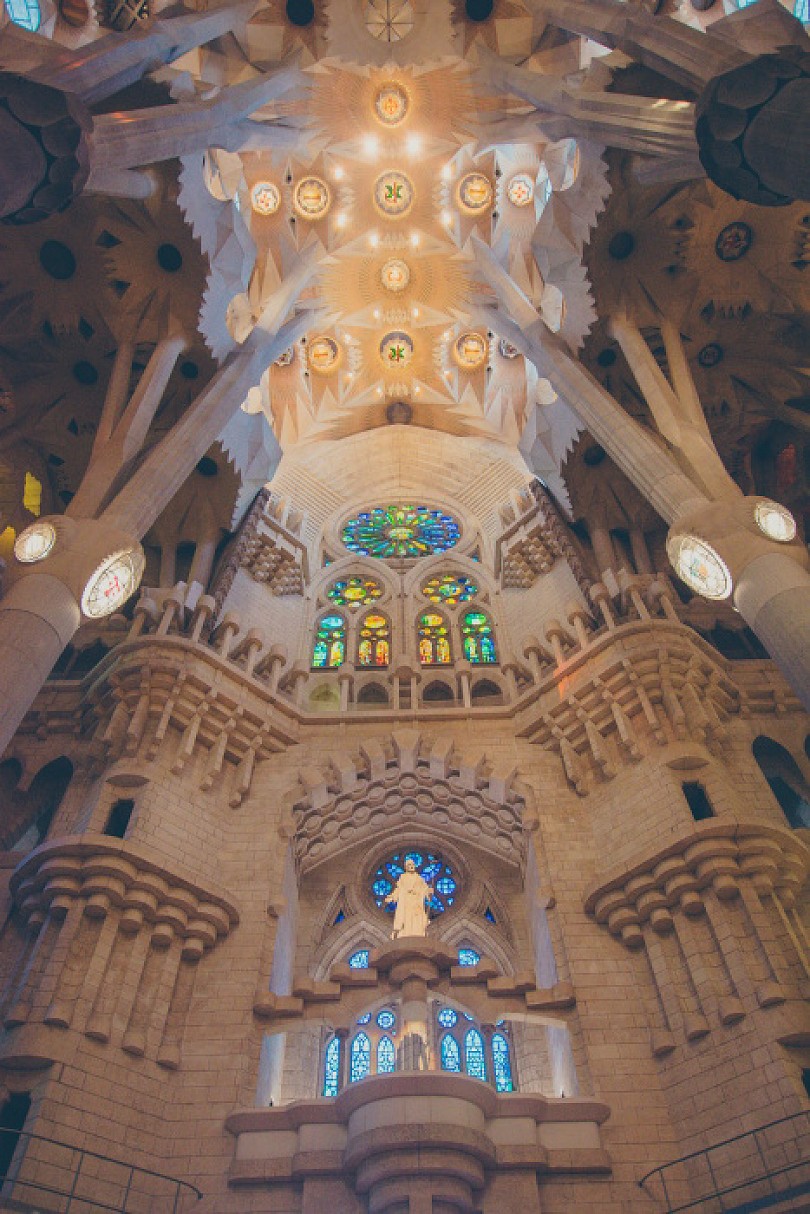 INTRODUCTION
Ještě než se vydáme na prohlídku, mám tu malé praktické okénko. Pravidlo číslo jedna, jako u všech památek, které jsou mezi turisty populární, je koupit si vstupenky předem online (bez nich budete stát hooodně dlouhou frontu, aby vám na jejím konci řekli, že nejbližší čas, na který si můžete koupit vstupenky, je za čtyři hodiny). Druhý tip je nejen si rozhodně koupit vstupenky předem, ale koupit si je na pozdější hodinu, pokud chcete pár euro ušetřit. Od šesti hodin večer je totiž v nabídce zlevněné vstupné, se kterým si sice pravděpodobně nebudete moct koupit vstup na věž (na večerní hodiny se zlevněným vstupem jsou vyprodané relativně dlouho dopředu), ale pokud vás vyloženě nezajímá pohled na stavební práce zblízka, není výstup na věž až tak nutný. Navíc, kromě toho, že ušetříte, stihnete v katedrále večerní světlo, a to rozhodně stojí za to.
Before we head inside the cathedral, let's talk about the practical stuff, not too exciting but can save you money so… Let's do this :). The rule number one is to buy your tickets online (if you don't do it, get ready for a looong queue. Plus, after standing in that queue you'll get your tickets for a specific time, which can be in four hours or even the next day, don't risk it). The second tip is to buy the tickets for later in the afternoon - it is significantly cheaper after 6pm and although you might not be able to visit the towers (tickets for the evening sell out quite fast but if you don't want to see the construction works from up there, it's not necessary to go) you'll save some money and you'll visit the cathedral in an evening light which is pure magic.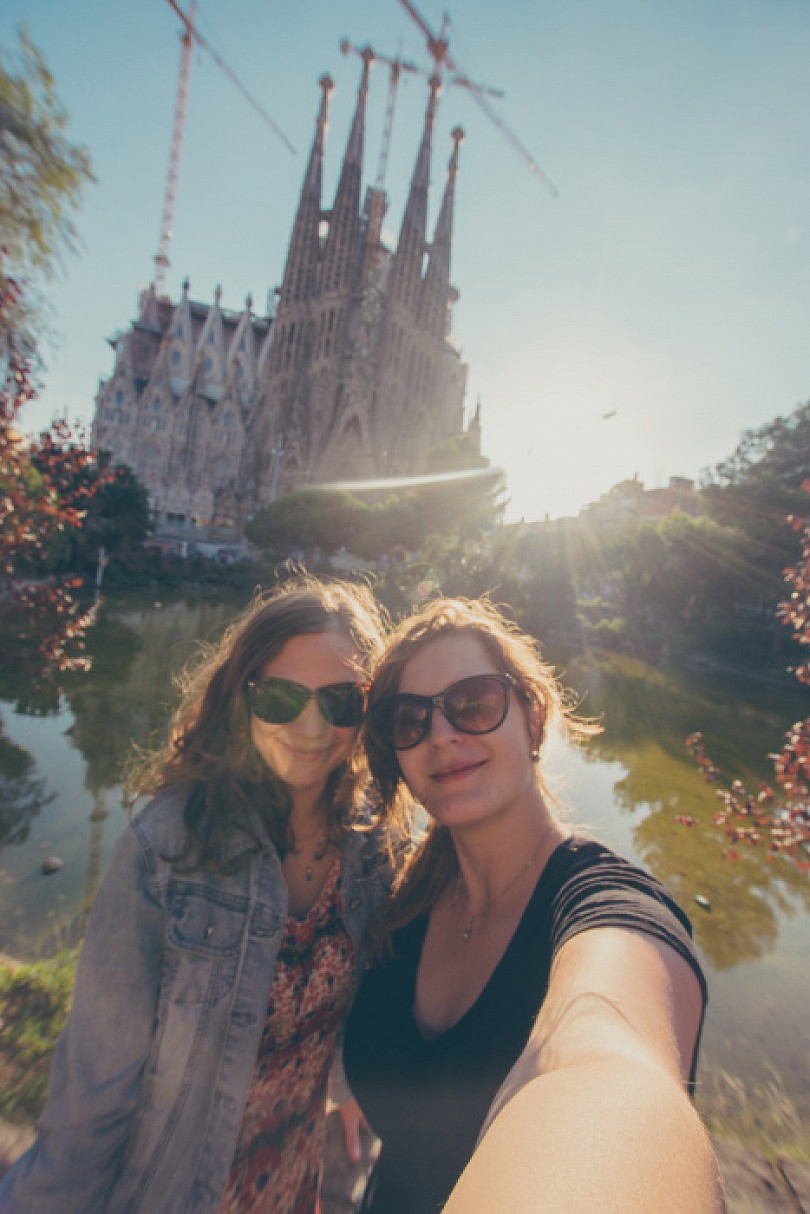 Z vlastní zkušenosti doporučuji zaplatit si ke vstupu také audio průvodce, sice budete muset pár euro připlatit oproti základnímu vstupnému, katedrála je ale nejen krásná, ale také opravdu zajímavá symbolikou jednotlivých elementů a bez výkladu vám jich spousta může utéct.

I personally suggest to pay for the audio guide as well - you'll have to pay a few more euros for it but it's worth it - the cathedral is not only beautiful but very symbolic and without the guide you might miss quite a few.
Co se týče samotné prohlídky, myslím, že jsme (celkem nevědomky) zvolily nejlepší možnou variantu – prohlídce interiéru předcházela walking tour se Sandemans, takže jsme při vstupu do Sagrady už měly alespoň nějakou představu o Gaudího životě a díle. Navíc, protože tato komentovaná prohlídka končí procházkou kolem katedrály, dostalo se nám i zajímavého výkladu o symbolech na fasádě a o jeho motivaci postavit Sagradu zrovna takto.
As far as the tour goes, we unintentionally chose the best option - before seeing the inside we went on a walking tour with Sandemans, therefore we had an idea about Gaudí's life and work already before entering the cathedral. Moreover, because the last stop is actually the Sagrada Familia, we had a chance to talk about the symbols on the facade and Gaudí's motivation to build the cathedral the way he did.
THE HISTORY
Už jsme měli okénko praktické, takže ještě malé historické okénko – Gaudí výhradně na stavbě Sagrady pracoval celých deset let, po tom, co měl boží zjevení se rozhodl zastavit všechny své dosavadní projekty a soustředit se pouze na katedrálu. A protože mu Bůh řekl, že ji do konce svého života nestihne dostavit, přímo na staveništi nechal vybudovat malou školu, kde předával své znalosti další generaci. Mimo to také přestal pracovat primárně na stavbě samotné a věnoval se raději tvorbě modelů, podle kterých měli jeho následovníci Sagradu stavět. Když byla řeč o modelech, obě jsme si představovaly nějaké malé modely, byl to tedy docela šok, když jsme se dostaly do muzea pod katedrálou, kde jsou vystavené, a zjistily, že jsou vytvořené v poměru 1:10. Když vidíte, jak jsou velké, jednodušeji se chápe, co celých těch 10 let dělal.
Bohužel Gaudí zemřel předčasně, když ho srazila na cestě z kostela tramvaj a nedostalo se mu rychlé pomoci, protože si ho kvůli jeho oděvu a zjevu spletli s bezdomovcem. Na druhou stranu alespoň už nezažil nástup generál Franca k moci, který se stavbě Sagrady snažil zabránit všemi možnými způsoby.
We've talked about the practical stuff so let's talk about the historical stuff as well - Gaudí worked solely on the construction of Sagrada Familia for 10 years. He decided to stop all other projects after a divine revelation, and because God told him that he won't be able to finish the cathedral, he started creating models and plans for the construction for the architects who would come after his death. Talking about models - we were expecting small models of different parts of the cathedral so imagine our surprise when we saw the first one in the museum (located under the cathedral - go there, it's included in your tour) in a ratio 1:10. We now know what he did for those 10 years, the models are massive!
Unfortunately, Gaudí died too soon, after being hit by a tram and not getting any help because he was considered homeless due to his clothes and appearance. On the other hand, he didn't live to see General Franco in power, who tried to stop the works on Sagrada Familia in any way possible.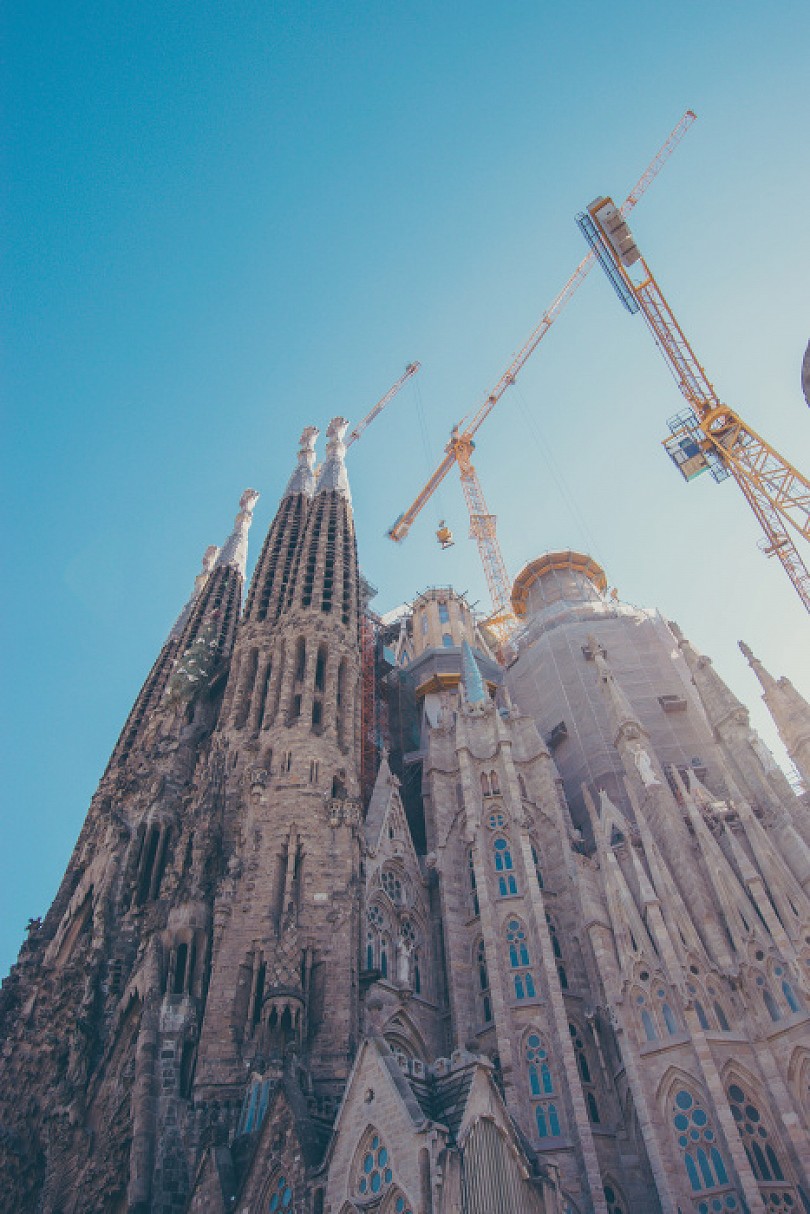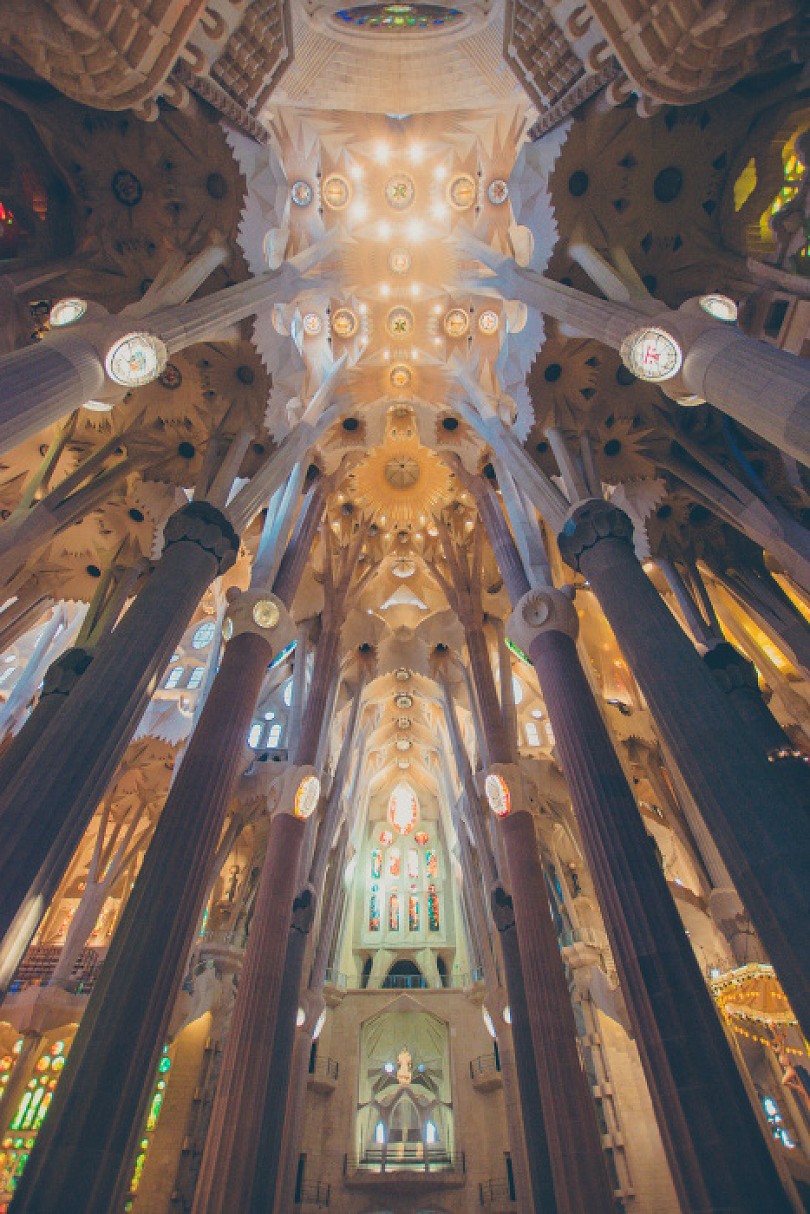 THE CATHEDRAL
A teď už tedy k samotné stavbě. Sagrada Familia vypadá zvenčí jako pískový hrad, zevnitř jako pohádkový les, prostě jako žádná jiná. Zdobí ji 18 věží, které reprezentují 12 apoštolů, 4 evangelisty, Pannu Marii a ta nejvyšší Ježíše Krista (Gaudí ji navrhnul ve výšce 170 metrů, tedy nejvyšší na světě, ale nižší než nedaleký kopec Montjuic, protože zastával názor, že člověk by se neměl snažit převýšit boží dílo). Pravděpodobně největší symboliku nesou tři fasády, které zobrazují Narození, Umučení a Zmrtvýchvstání.
Strana, na které je momentálně hlavní vchod, je bohatě zdobená a vyobrazuje právě zrození Ježíše Krista, při východu z katedrály zase projdete pod scénou ukřižování. Tato fasáda prudce kontrastuje s Narozením, strohé dekorace a patrný vliv kubismu vypráví příběh zrady a ukřižování Krista. Třetí fasáda, Zmrtvýchvstání, je stále ve výstavbě, takže na ni se můžeme těšit až za několik let.
And now let's finally talk about the cathedral itself. Sagrada Familia looks like a sand castle from the outside and a fairytale forest from the inside, it simply looks like no other cathedral in the world. Gaudí's original design includes 18 spines - 12 representing the Twelve Apostels, 4 representing the Evangelists, one for the Virgin Mary and the tallest one representing Jesus Christ (it should be 170 meters high, therefore the highest spine in the world, but not higher than the Montjuic hill in Barcelona, because Gaudí believed people shouldn't want to outdo God's work). The facades are probably the most symbolic feature, representing the Nativity, Passion and Resurrection scenes.

The side of the cathedral where there's currently the entrance, is the Nativity facade. It is richly decorated, depicting the birth of Jesus, when you leave the cathedral on the other hand, you'll walk under the passion scene. This facade contrasts sharply with the nativity scene, showing the influence of Cubism and it tells the story of betrayal and crucifixion of the Christ. The Glory facade is still under construction so we'll have to wait a few years before we can admire that one.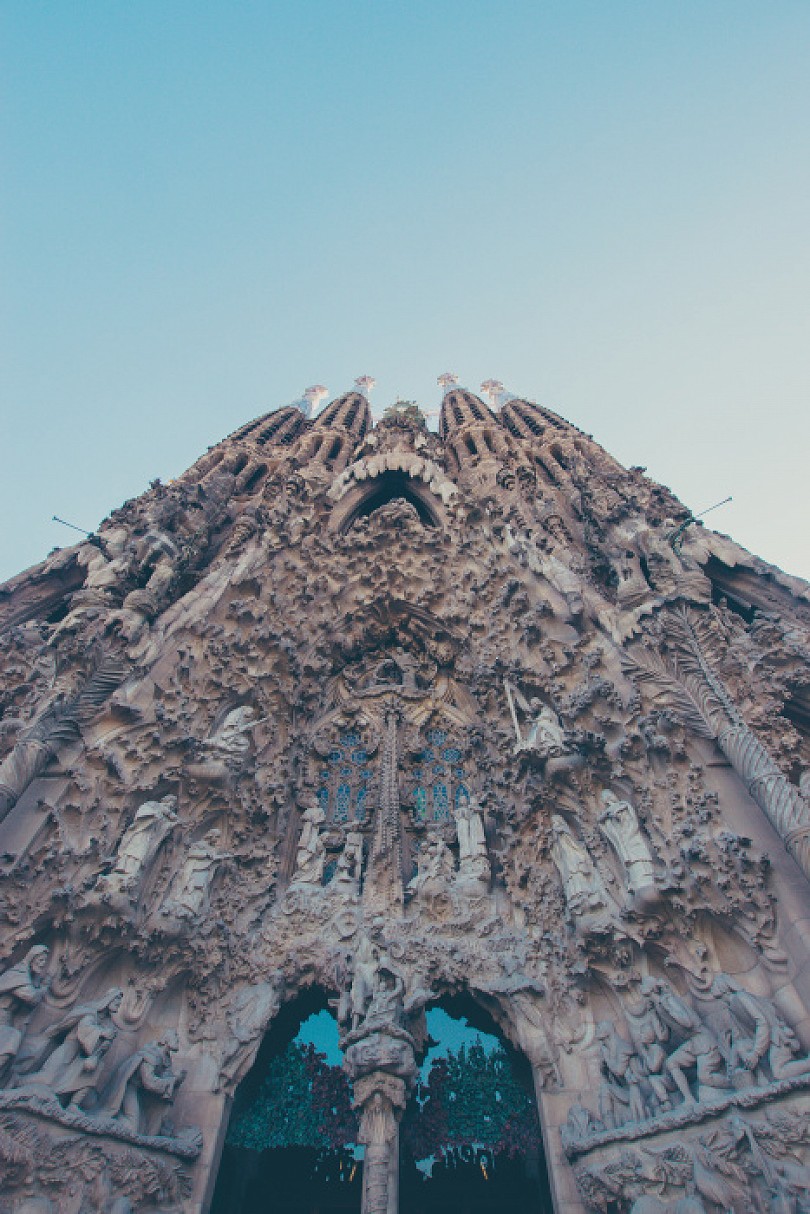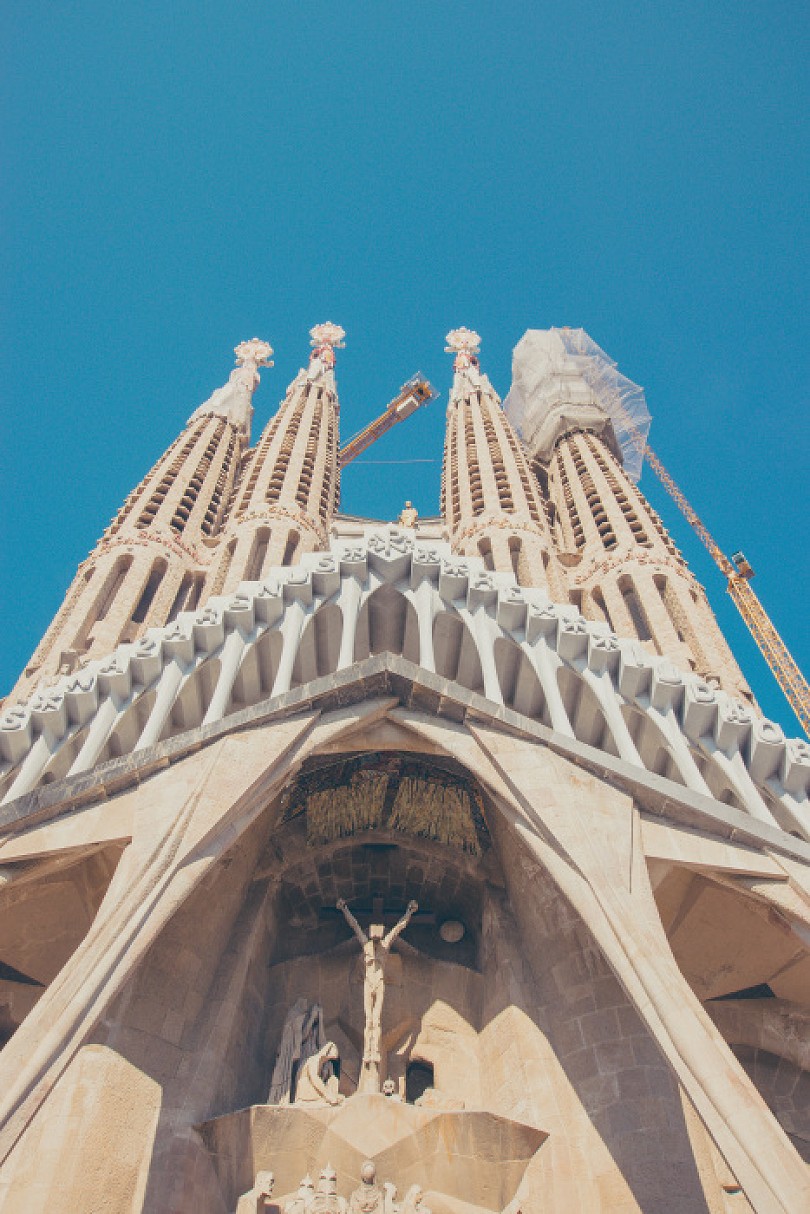 THE INTERIOR
Na interiér může mít každý z 2,5 milionu návštěvníků, kteří jím ročně projdou, jiný názor. Nelze mu ale upřít, že je naprostým unikátem a nedá se srovnat s žádnou jinou katedrálou na světě. Pro mě byly nejzajímavější dva prvky - kromě toho, že se sloupy u stropu rozestupují do klenby a vytváří tak téměř stromovou korunu (Gaudího inspirací byl les, kam prý chodil často rozjímat a kde si připadal nejblíže Bohu, a chtěl tento pocit vyvolat i v návštěvnících katedrály), vitráže v oknech mají různé barvy – na východě studenou paletu, na západě teplou. Na obou stranách jsou barvy u země světlé a postupně se do výšky ztmavují, a pokud půjdete do Sagrady brzy ráno nebo naopak později odpoledne, užijete si neskutečnou hru barev na stěnách.
Opinions on the interior can vary and each of the 2.5 million visitors who go here every year might have a different opinion on it. However, nobody can deny that it's completely unique and can't be compared to any other cathedral in the world. For me, the two most interesting elements were: the fact that the columns spread out near the ceiling and create an illusion of a tree crown (Gaudí was inspired by the forest where he used to meditate and where he felt closer to God, which is why he wanted to evoke this feeling in visitors of the cathedral) and the stained glass windows have different colours - cold palette on the east side, warm palette on the west side. On both sides of the cathedral, the colours are bright at the bottom and the higher you look, the darker the colours get. If you go there early in the morning or later in the afternoon / evening, you can enjoy a breathtaking play of colours on the walls.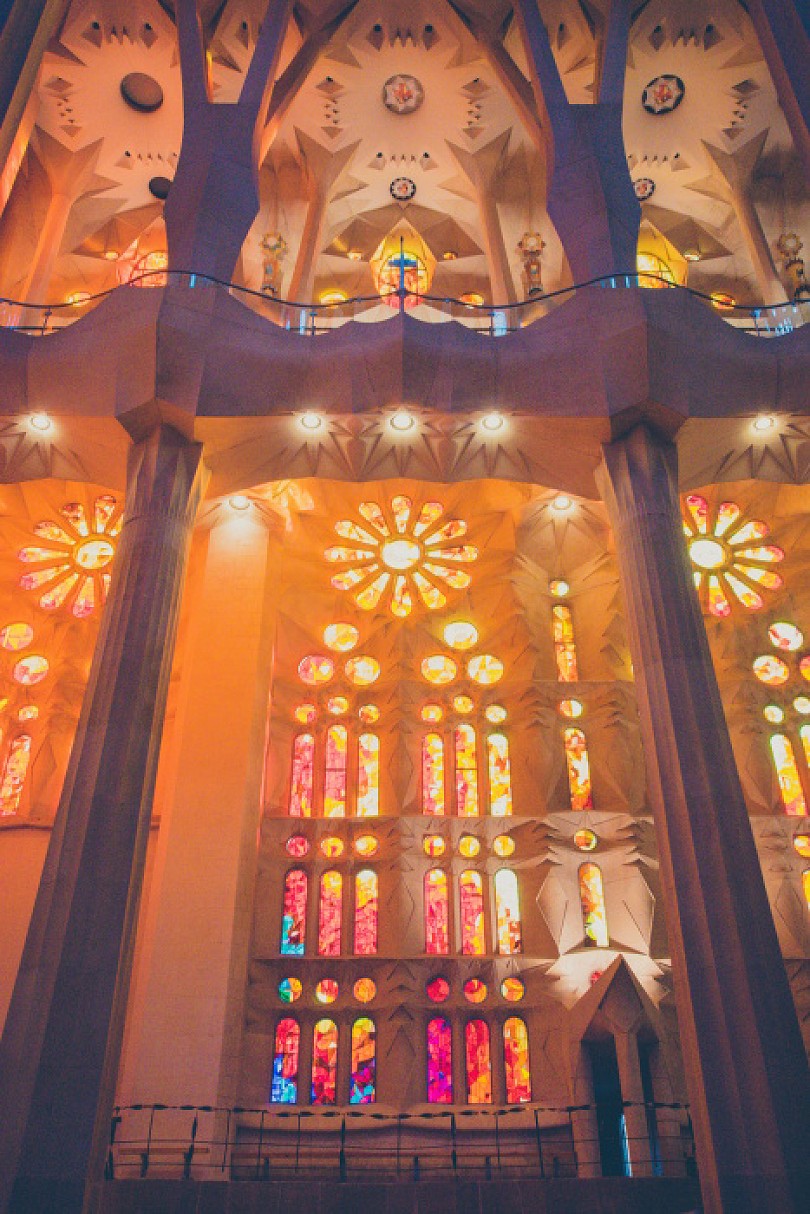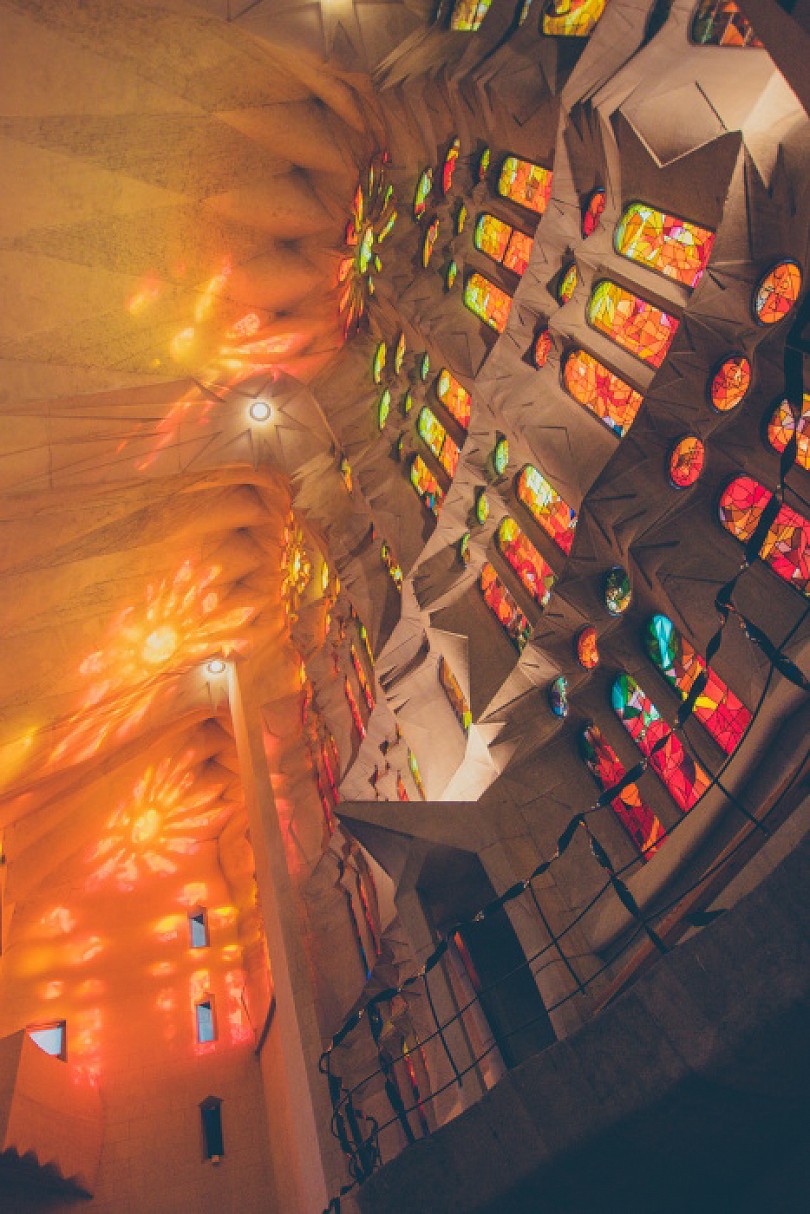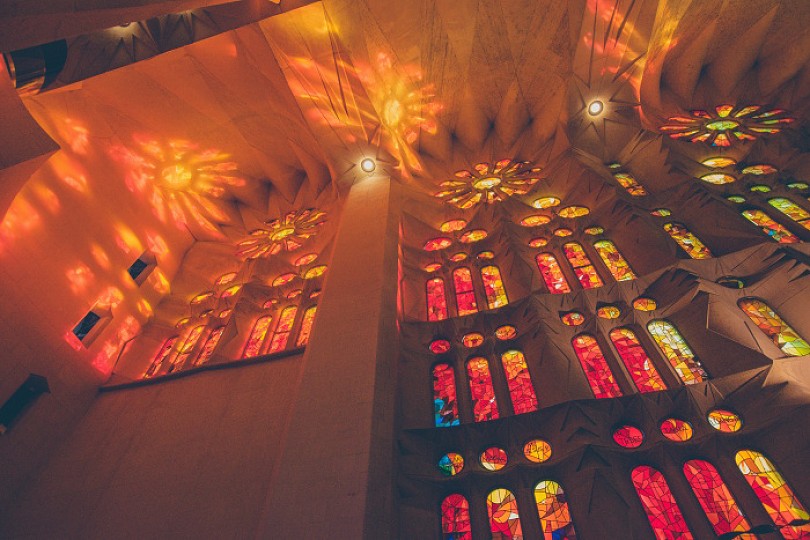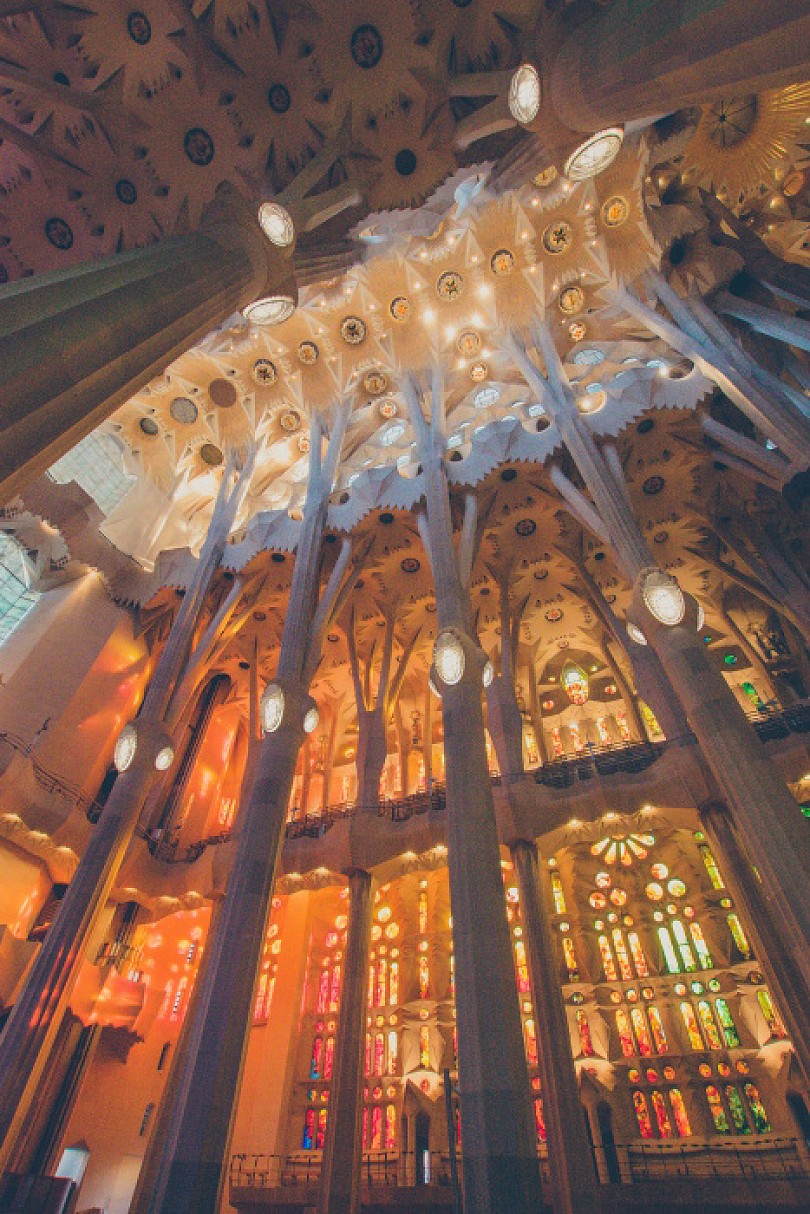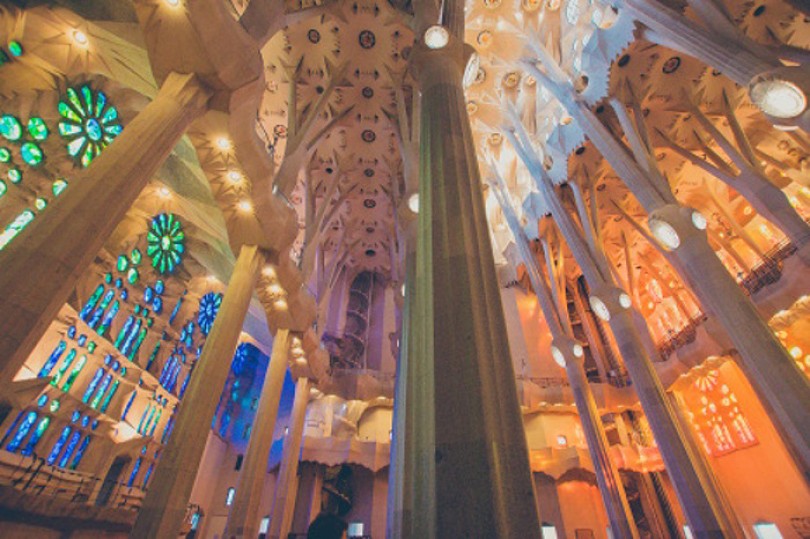 A ještě jedna rada na závěr - sto lidí, sto chutí, proto, pokud se vydáte do Barcelony, neposlouchejte ničí názory na Sagradu. Setkáte se totiž s celým názorovým spektrem, od obdivu po opovržení nebo nudu, a nejvíc bude záležet na tom, jak se bude líbit vám osobně. Prohlédněte si ji pořádně, zvenčí i zevnitř, a pak mi napište, co si o ní myslíte vy :).

Last but not least - every person is different so if you go to Barcelona, don't listen to anybody's opinion on Sagrada Familia. What you'll hear is a whole spectrum of opinions, from admiration to contempt or boredom and what matters the most is what you personally think about it after you see it with your own eyes. So look at it closely from the outside and from the inside, enjoy it and let me know what you think of it :).