Letošní dovolená rozhodně nebyla ve znamení malých cílů. Protože bylo žádoucí, abych si z Liverpoolu odstěhovala všechny věci (kterých bylo za rok života ve všech ročních obdobích + mé lásky ke knihám + mé lásky k čajům + spousty dalších nezbytností opravdu hodně) a letenky s příplatkem za zavazadla by podle našich výpočtů stály minimálně zlatou cihlu, vyšla z toho kombinace stěhování s dovolenou jako ideální varianta. V plánu tedy bylo přes 5000 kilometrů (což je víc, než jsme ujeli za poslední dvě dovolené dohromady), dva trajekty a čtyři hlavní města.
This year our vacation wasn't an ordinary one and we didn't have small goals. Since it was desirable to move out from Liverpool with all my stuff (and there was plenty since I was living there for a year + my love of books + my love of tea + million other things) and the plane tickets with an additional fee for baggage would probably be worth a golden brick, the best option was to combine business with pleasure and go on holiday while moving house. So it was more than 5000 kilometers to go (which is more than our two previous roadtrips combined), two ferries and four capital cities.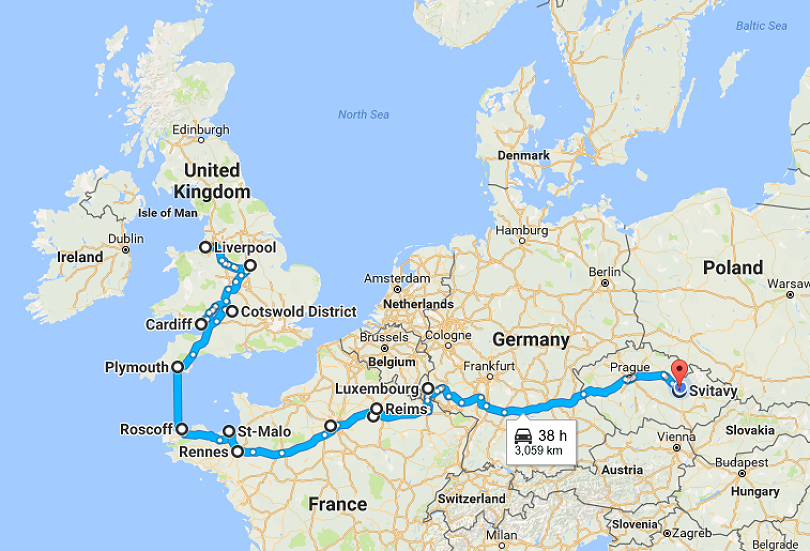 Pavel se obětoval a odhodlaně vyrazil na cestu už v úterý, zatímco já jsem ještě odevzdávala diplomku a snažila se sbalit vše zase zpátky do kufru (a do krabic a tašek).

Po rychlém zvykání si na jízdu vlevo a ovládnutí britských silnic s královskou elegancí dojel otestovat nově nabyté řidičské dovednosti do centra Londýna. Po malé pauze na přespání, která zahrnovala návštěvu pubu, několik piv a partiček FIFY (zdravíme Skaldu a dík!) zamířil na severozápad a ve čtvrtek odpoledne doputoval k našemu domu. Společně jsme dobalili zavazadla, načerpali síly na nejlepším hamburgeru ve městě, v pátek ráno naskládali vše do auta, které bylo opravdu plné až po strop, a vyjeli směr Nottingham. Za oficiální začátek dovolené lze tedy považovat dvouhodinové stání v koloně na dálnici.
Pavel had to leave Czech Republic on Tuesday already, while I was still submitting my dissertation and trying to pack everything back into a suitcase (and boxes and bags). After a quick getting used to driving on the left side and driving on the British roads with elegance in a short while, it was time for the real test - London, where he stayed over at our friend's home, managed to go to a pub and play a few FIFA games (thanks again Skalda! :)). I still admire how quickly he adjusted to it and on Thursday afternoon he was headed to North West. We packed all the last bits, went for a delicious dinner to the best burger place in town (I still miss that place) and on Friday morning we managed to squeeze everything into the car (there almost wasn't any space left for me), and headed towards Nottingham. Two hours in a traffic jam can therefore be considered as the official beginning of our holiday.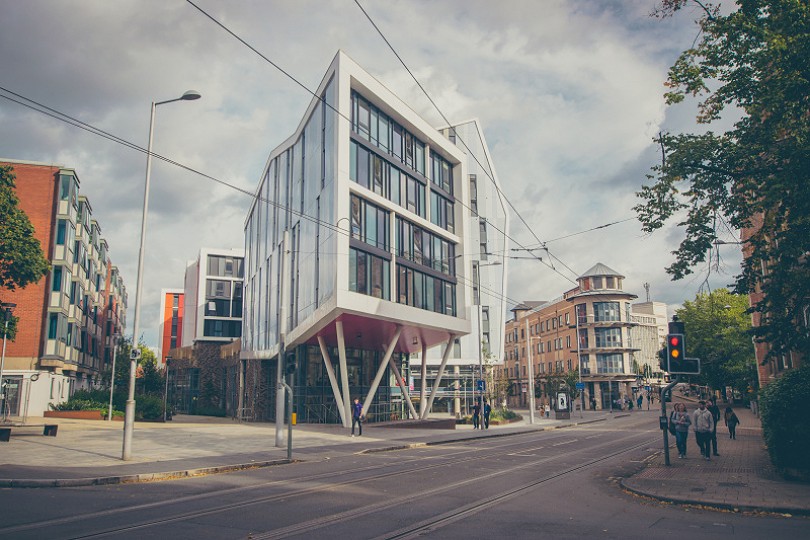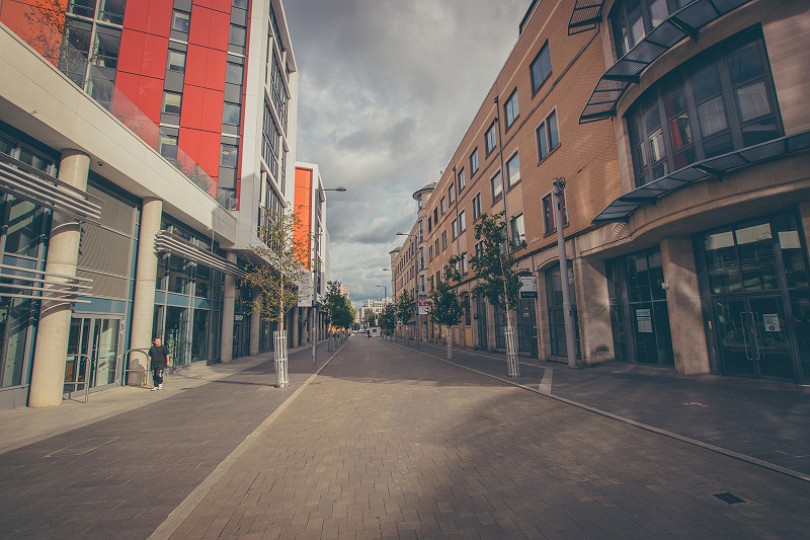 Nakonec jsme do Nottinghamu s mírným zpožděním přeci jen dojeli, akorát včas na odpolední procházku po městě a zavzpomínání na dobu, kdy tu byl Pavel na Erasmu a prošli jsme se celým centrem až k hospůdkám na nábřeží.
Náhodou jsme objevili hospodu ve zrekonstruované staré loděnici (Canalhouse), kde nabízeli asi 250 druhů piva, včetně Kozla, který byl vynášen do nebes jako award-winning pivo. I když je kurz libry asi o osm korun nižší než před rokem, rozhodli jsme se zrovna do Kozla neinvestovat, Pavel jako řidič zůstal u kafe a já jsem ochutnala výborný medový speciál.
We finally got there only with a slight delay, just in time for an afternoon stroll around the city centre and remembering the time when Pavel was in Nottingham for Erasmus and we walked to the waterfront to look for a pub.
We accidentally found a really cool pub with a canal inside it (surprisingly called Canalhouse), offering approx. 250 different beers, including Kozel (a Czech one) classified as an award-winning beer. Since it's definitely not the best beer in the world, we decided not to invest in a pint although the exchange rate is a lot better than it was this time last year. Pavel ended up having coffee and I tried a very tasty local beer with honey.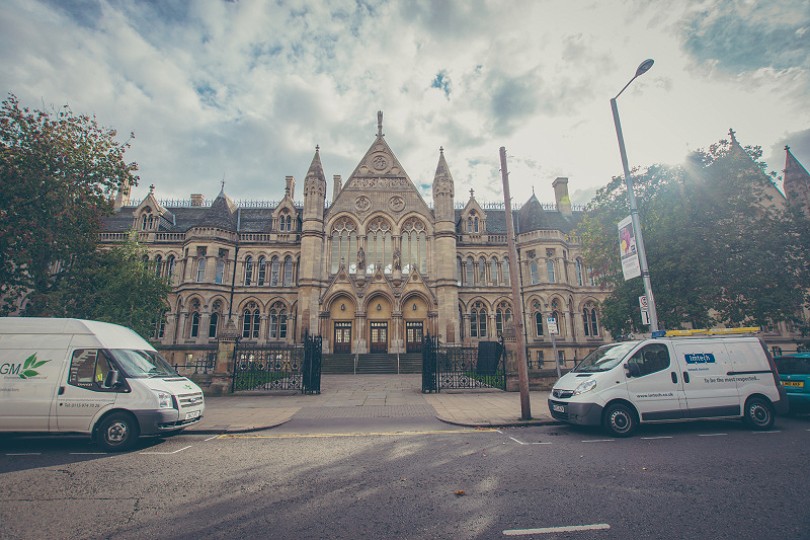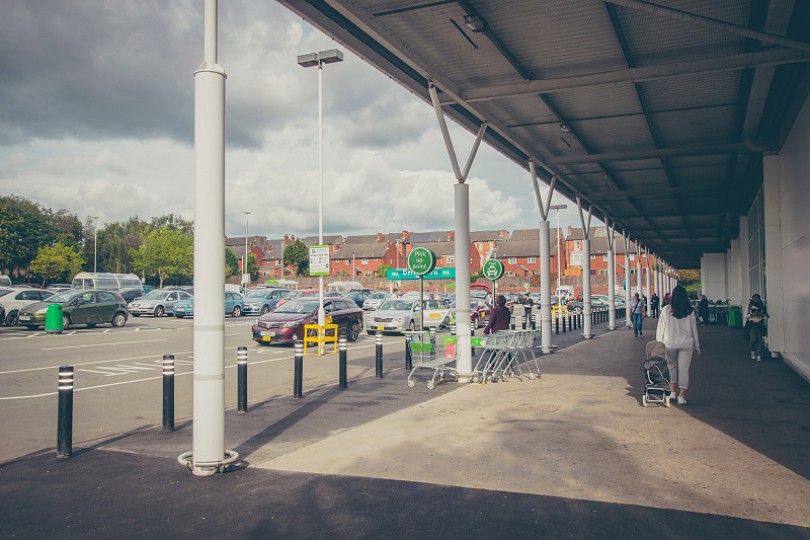 Celkem jednoduchý plán - nakoupit v Asdě něco k večeři, natankovat naftu a vyrazit směr Cardiff se nečekaně zkomplikoval, když nám při svítící rezervě odmítal platební terminál vzít jakoukoliv kartu (jak Airbank, tak Lloyds). Naštěstí nám přivolaný zaměstnanec poradil, že nedaleko je další benzínka, kde se kartou sice opět nedalo zaplatit na terminálu, ale alespoň u pokladny s ní byli spokojení. Další komplikaci jsme ale objevili při otevření kufru, kam jsme si původně šli jen pro svačinu, ale kde na nás čekal vylitý třílitrový barel vody. Ne zcela ideální situaci jsme za provozu vyřešili vyjmutím barelu, ze kterého jsme vylili zbývající vodu (tentokrát na zem a ne do kufru) a už jsme se opravdu vypravili do Cardiffu.
Quite a straight forward plan - to do some shopping in Asda, get some fuel for the car and get going, got was unexpectedly complicated by the fact that the machine at the gas station wouldn't let us use any of our cards to pay for the fuel. Luckily an employee we found in Asda suggested there's another gas station quite near so we were hoping this time we'd be leaving with a full tank. It turned out the machine wouldn't take our cards either but the guy at the cash desk was ok with any of them. However, we stumbled upon another issue when we opened the trunk because we wanted to find something to eat as a snack on the road. It turned out our three-liter barrel of water leaked. We could only solve the not-so-perfect situation by taking it out and pouring the remaining water (on the ground, not inside the trunk for a change) and we were finally on our way to Cardiff.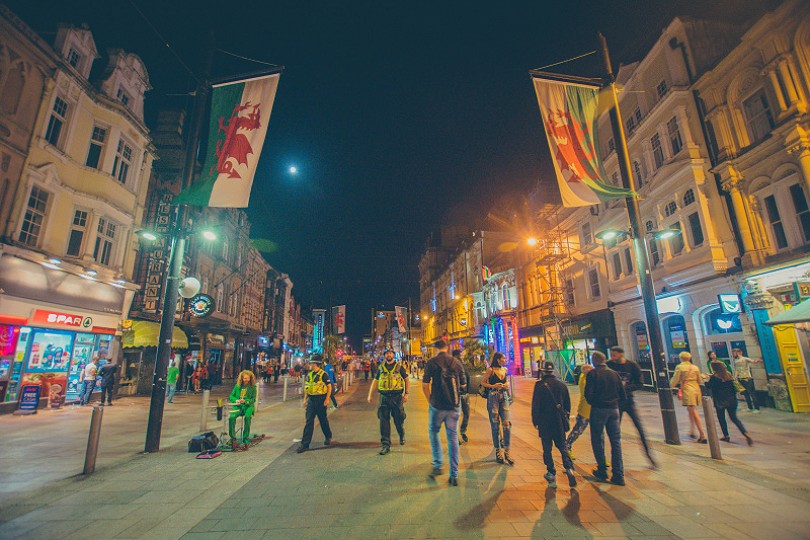 O několik hodin později nás hlavní město Walesu přivítalo bujarými oslavami jinak naprosto běžného pátečního večera, svým nočním životem je ostatně proslulé. Pána, který by si povídal s bronzovou sochou stejně jako v Dublinu jsme bohužel nepotkali, zato jsme ale mohli pozorovat marnou snahu dívek dostat se z taxíku do klubu aniž by si při tom zlomily nohy na nepřiměřeně vysokých podpatcích. Tento anglický fenomén známý také jako "noodle legs" můžete pozorovat v okolí klubů téměř kdekoliv a zaručuju, že pak ze sebe budete mít mnohem lepší pocit :D.
A few hours later we were welcomed by the capital of Wales, famous of its nightlife, which was in the middle of celebrations of a completely normal Friday. We unfortunately didn't see a guy talking to a bronze statue like we did in Dublin but we did observe the effort of girls trying to get to a club from a taxi without breaking their legs. This phenomenon known as "noodle legs" can be observed in the close proximity of clubs basically anywhere in the UK and I guarantee you'll feel much better about yourself after seeing it :D.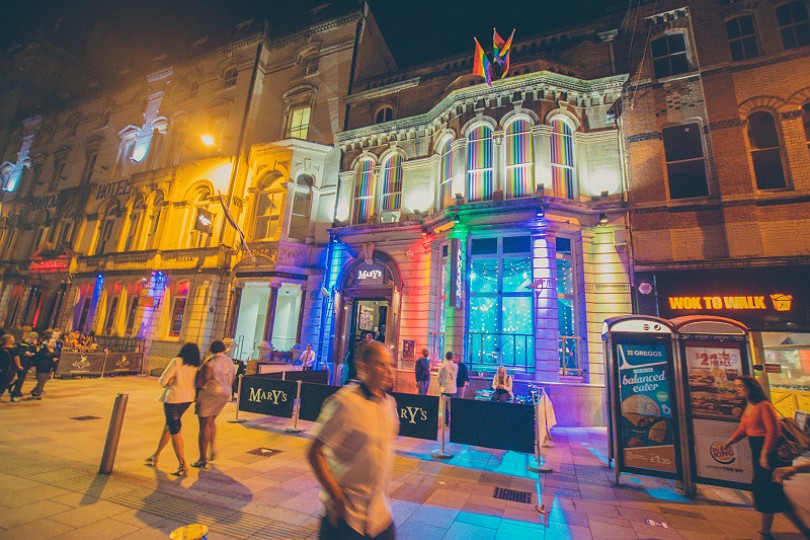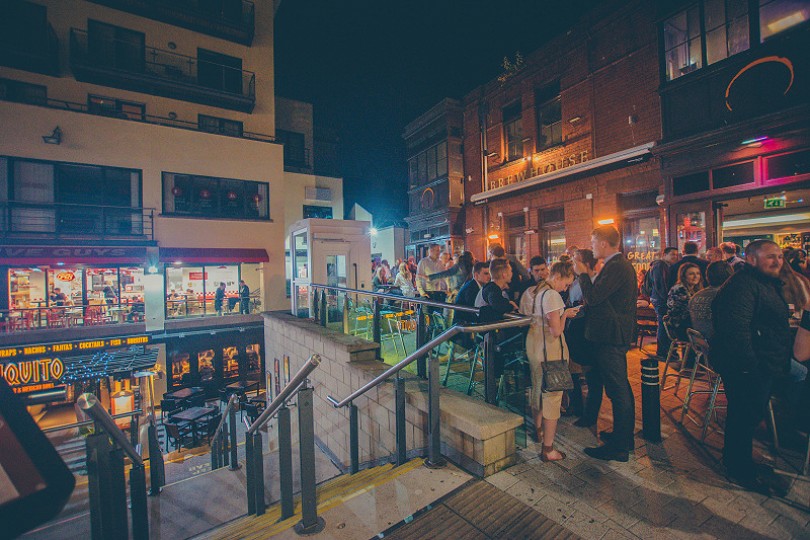 Původně jsme si v centru chtěli vybrat nějaký pub a vstřebat atmosféru, nakonec na nás ale dolehl celodenní maraton balení a cestování, takže jsme si našli odlehlý kousek parkoviště u nonstop otevřené Asdy, jako předkrm jsme si dali řešení vylité vody v kufru, kvůli které jsme museli po už tak plném autě ještě rozprostírat namočené věci, hlavní chod byla polévka z pytlíku, těstoviny a sklenička vína, a pak už nás čekala první noc na cestách.
Anyway, we wanted to go to a pub in the city centre to enjoy the atmosphere but in the end we were actually more tired after the marathon of packing and travelling so we decided to look for a place to sleep instead. We found a large Asda, parked in a corner of the parking lot and served dinner. Sorting out the spilled water in the trunk was our starter, the main course was a ready made soup and pasta plus a glass of wine as a dessert and we were ready for our first proper night on the road.