Poprvé (i když doufám, že ne naposledy) se mi povedlo koupit letenku za libru. Je to taková ta věc, kterou byste jednou v životě chtěli udělat, ale jinak než shodou okolnosti a tím, že jste ve správný okamžik na správném místě (u počítače).
A tak jsme si v úterý dali večeři a vyrazili na letiště. Letadlo do Dublinu odlétalo ve 22:10 a bylo poslední ten den z liverpoolského letiště, které bylo tím pádem absolutně prázdné. Kdyby bylo povoleno fotit, vyfotím vám, jak před námi ve frontě na bezpečnostní kontrolu v celé té obří hale stojí přesně tři lidé. Letadlo bylo přibližně podobně plné a po nejkratším boardingu v historii jsme vzlétali směr Irsko.
Pilot nás vzal kolmo vzhůru a za půl hodiny zase kolmo dolů, před jedenáctou už jsme byli na autobusové zastávce a sháněli autobus, který nás odveze do centra.
For the first time in my life (although I hope it wasn't for the last time), I managed to buy a plane ticket for a pound. It's something you'd really want to do but it will most probably be a coincidence when it happens. You just need to be at the right place (your computer) at the right time.
So after dinner we headed to the airport. Our flight to Dublin was at 22:10 and it was the last one to leave Liverpool Airport, so the whole place was completely empty. If I could, I'd take a picture of the security check hall, where it was us and three other people in the line in front of us. The airplane was similarly crowded and after the shortest boarding in history, we were headed to Dublin.
The journey consisted of flying straight up, flying for 30 minutes and flying straight down after that. It wasn't even 11 o'clock and we were already looking for a bus to take us to the city centre.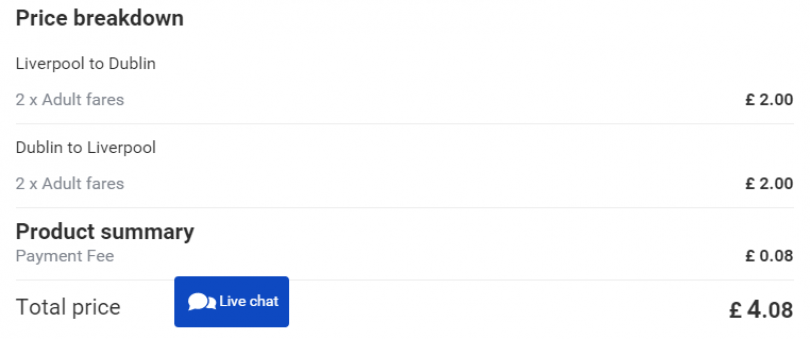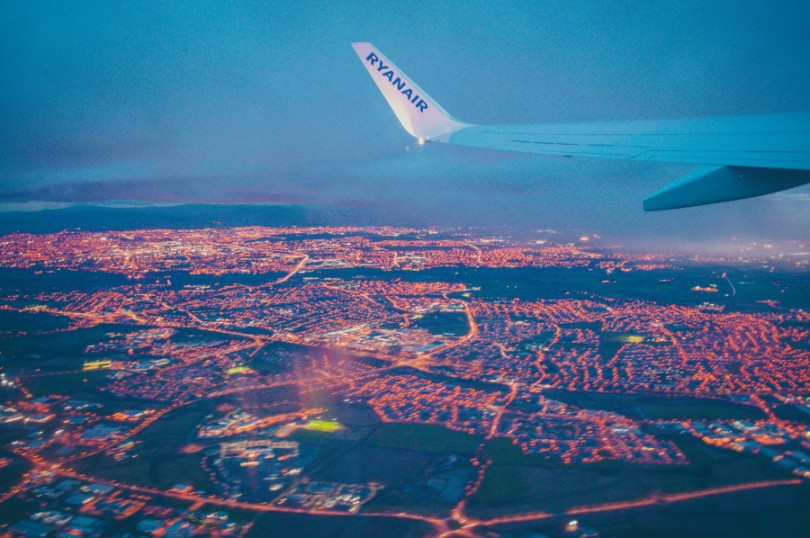 Využili jsme Aircoach, za €6 na osobu (koupili jsme si zrovna za €12 zpáteční) a za 30 minut jsme byli v centru před hostelem, který jsme si na jednu noc zamluvili. Vzali jsme kartu od pokoje a vyrazili ještě na chvíli poznávat okolí. O tom, jak nejsem hostelový typ, nesnáším, když spím ve stejném pokoji s cizími lidmi a prostě celkově se nejsem schopná ztotožnit s ideou sama sebe jako batůžkáře v hostelu, zase někdy jindy. Ale potřebovali jsme se v podstatě jen někde na pár hodin vyspat a svůj účel to splnilo.
Protože jsme odjížděli druhý den v šest hodin večer, byla to naše jediná šance na pivo v pravém irském baru. Prošli jsme si okolí hostelu a Temple Bar a nakonec skončili v baru, kde hrála také živá hudba, ale nebylo tam tak přeplněno, jako jinde. Dali jsme si Guinness (co jiného taky), pozorovali okolí a nasávali atmosféru J.
We decided to buy Aircoach tickets (€6 per person, €12 for a return ticket) and after half an hour we were standing in front of the hostel we booked for the night. We checked in and went out to explore the surroundings. We'll talk about the fact that I'm definitely not the hostel type of person, that I hate sleeping in the same room with strangers and that I'll probably never be the backpacker enjoying her stay in a hostel, next time. But we just needed to sleep somewhere for a few hours and for that it was alright.
Since we were leaving the next day at 6pm, it was our only chance to have a beer in a real Irish bar. We walked around the Temple Bar area and ended up in a bar with live music where the music was good but it was not that crowded. We had a pint of Guinness each (I mean, what else?) and enjoyed the atmosphere J.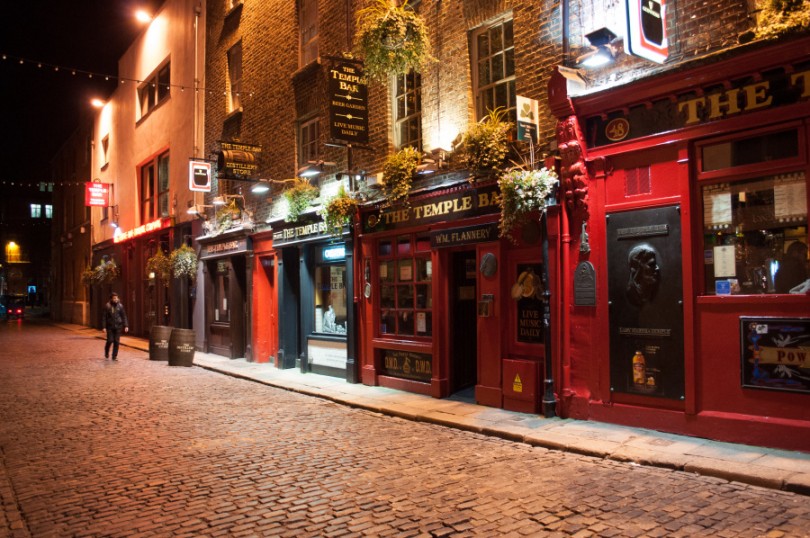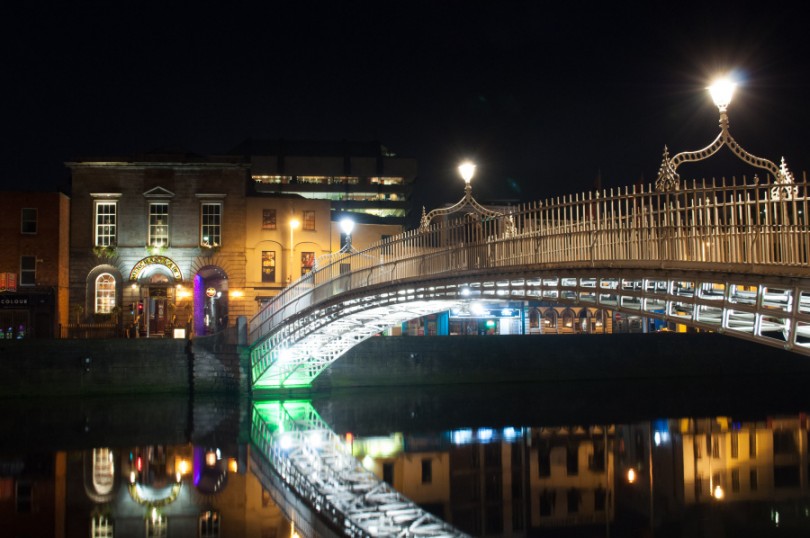 Irům je nutné přiznat, že si s pitím rozhodně příliš hlavu nelámou. Bylo úterý, pár minut po půlnoci a za ten čas, který jsme strávili venku, jsme potkali: člověka, který opakovaně téměř padal při sesedaní z kola (ano, potkali jsme ho několikrát, navzdory vlastnictví bicyklu se nepohyboval příliš rychle), mladíka, který nevypadal, že ví, že se pohybuje směrem kupředu, natož aby věděl, kam jde, a muže, který si při našem prvním setkání povídal se sudem před vstupem do baru a podruhé, asi o deset minut později, seděl u stolku naproti bronzové soše a sděloval jí své životní problémy. Že neodpovídala, ho očividně netrápilo.
Irish are very determined drinkers, that's for sure. It was Tuesday night, after midnight and during that time we were walking around the area, we met: a guy that kept nearly falling off his bicycle when he wanted to get down (yes, we met him a few times, although he had a bicycle, he didn't move really fast), a young man who looked like he didn't even know he's moving forward, let alone where he's going and a guy who was talking to a barrel in front of a bar when we first met him and about ten minutes later he was sitting at a table next to a bronze statue, explaining her his struggles. She was silent but that probably wasn't an issue.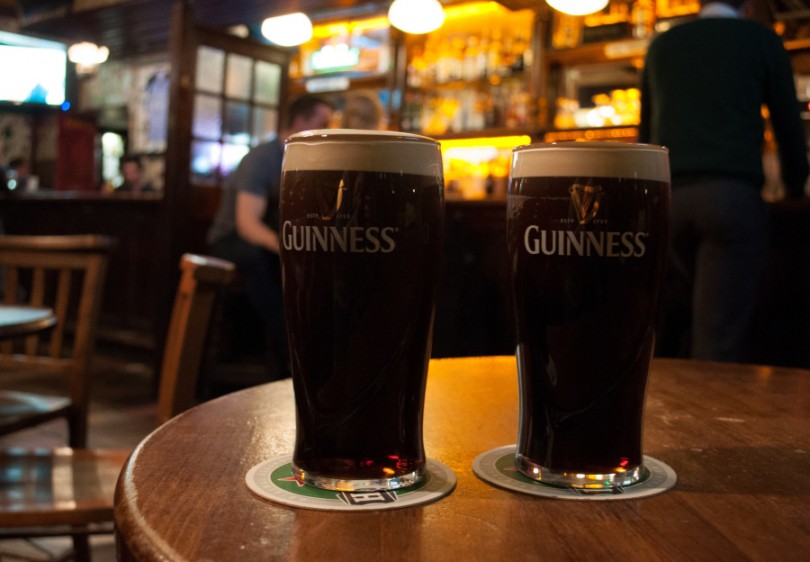 Ráno jsme po snídani vyrazili směr Trinity College a St. Stephen's Green. Prošli jsme se opravdu pěkným historickým kampusem univerzity a šli se projit ještě do parku, který jsme měli doporučeno neminout (Díky Cassie!)
Po půl desáté, kdy se otevřela Old Library, jsme se z parku běželi zase zpátky na kampus vzdělávat. A mužů vám říct... ta atmosféra, to dřevo, ty stovky starých knih (na které si bohužel nemůžete sáhnout, fakt jsem chtěla), busty literárních velikánu... Je to něco! A určitě to za vstupné (€10, €9 se studentskou slevou, protože to euro vám změní život) stojí, neváhejte ani vteřinu!
We started our day by walking to the Trinity College and St. Stephen's Green. We wandered around a really nice historical campus and also a beautiful little park, that Cassie suggested we shouldn't miss (thanks!).
After 9:30, when the Old Library opened, we hurried back to the campus to educate ourselves, haha. And all I can say is… the atmosphere, the wood, hundreds of old books (that you unfortunately can't touch, and trust me I really wanted to), busts of writers to decorate the place… It's really something! And definitely worth the entrance fee ((€10, €9 with a student discount because that extra Euro saved will change your life), don't even think about not going there!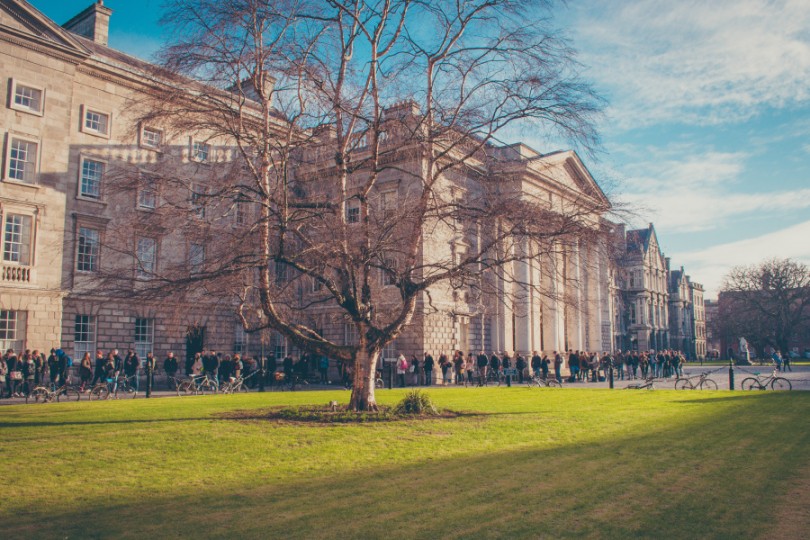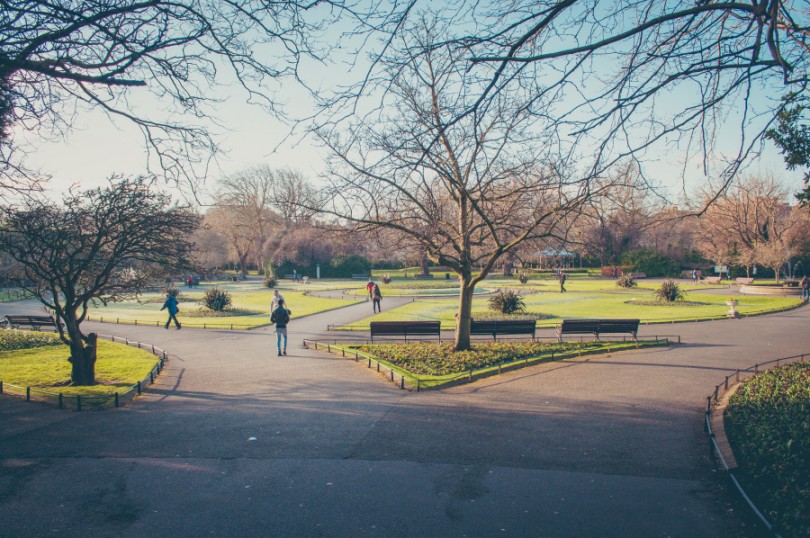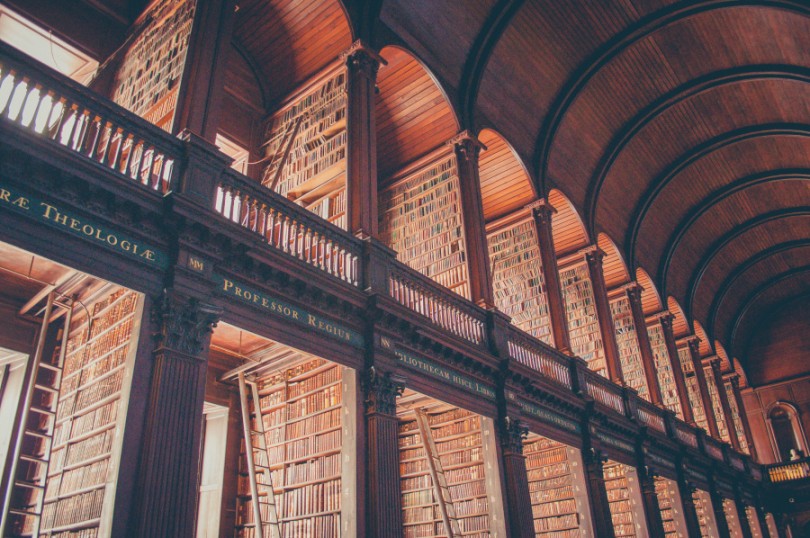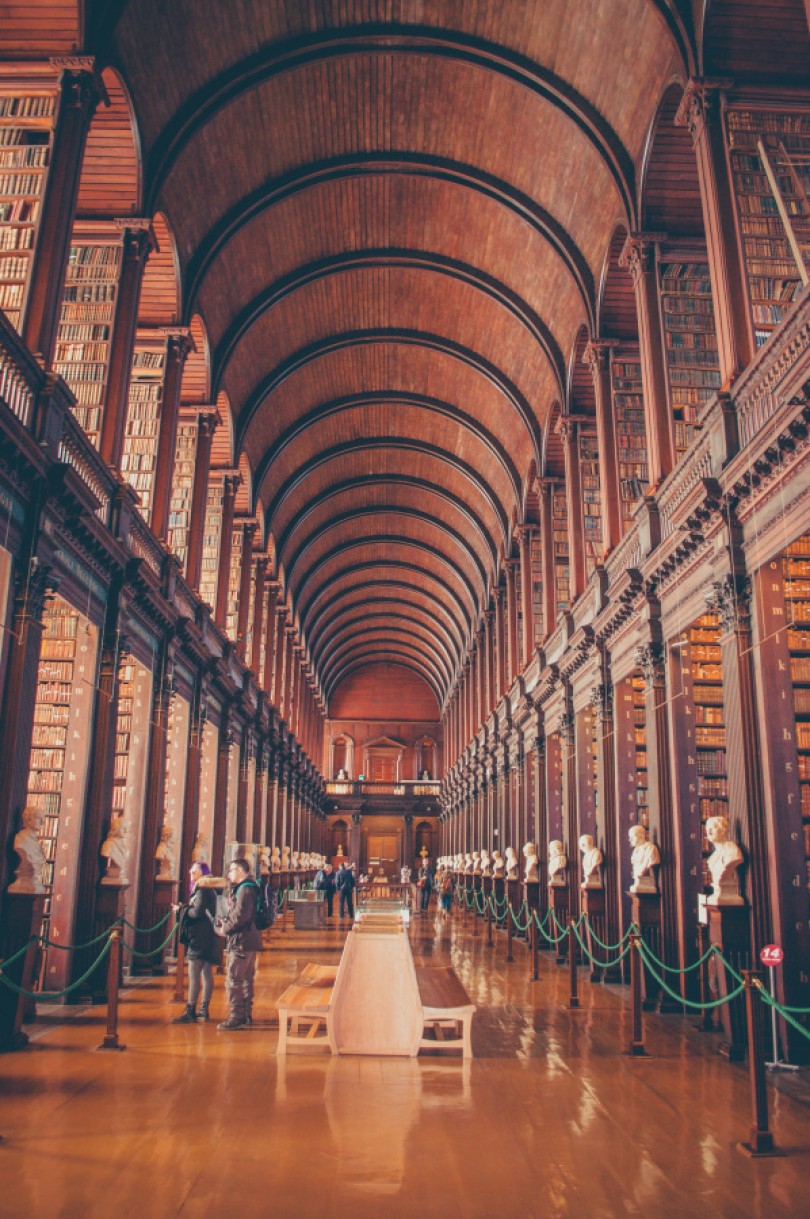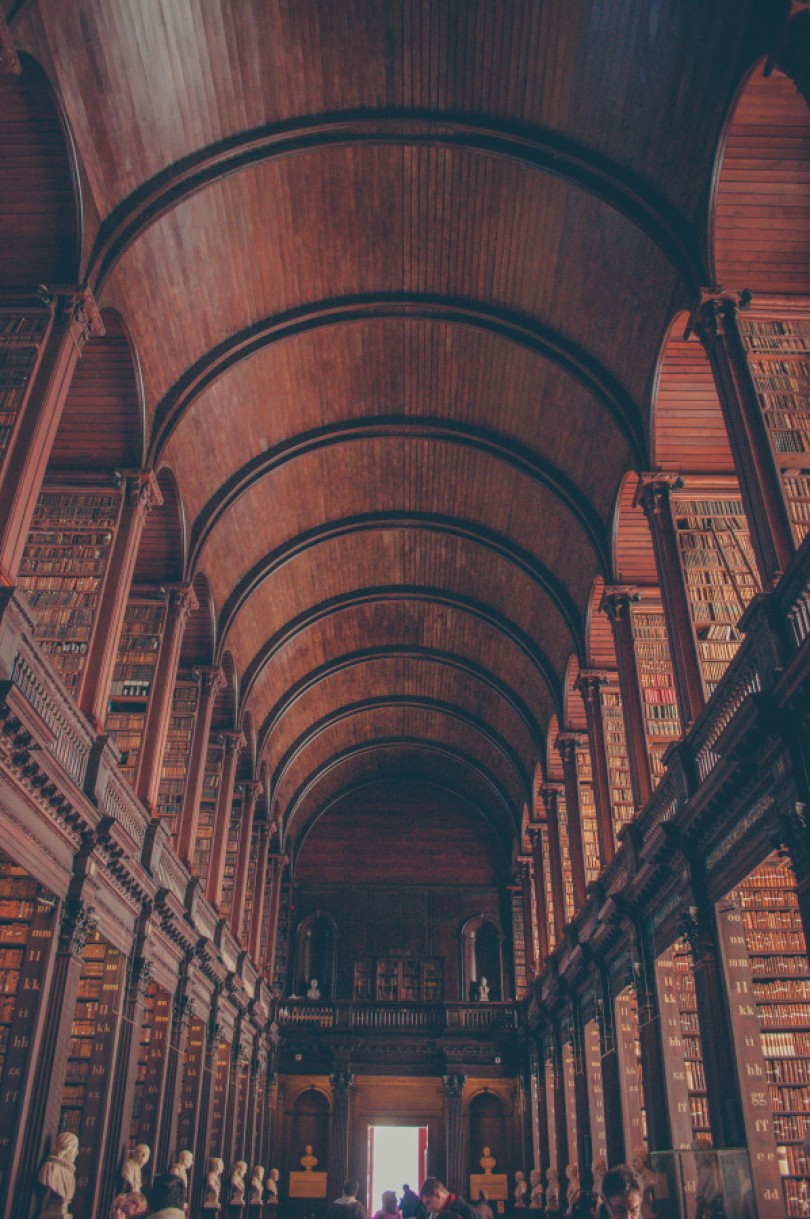 Po prohlídce knihovny jsme měli v plánu se až do oběda potulovat městem, abychom toho viděli co nejvíc. Omrkli jsme Saint Patrick's Cathedral, Christ Church Cathedral, Dublin Castle, George Street a spoustu roztomilých dublinských uliček. Procházku jsme zakončili u v uličkách okolo Temple Bar a dali si oběd.
After visiting the library we only wanted to wander around the city centre until lunch, to see as much as possible. We stopped at Saint Patrick's Cathedral, Christ Church Cathedral, Dublin Castle, George Street and many more cute little streets. The last stop was the area of Temple Bar, where we stopped for lunch.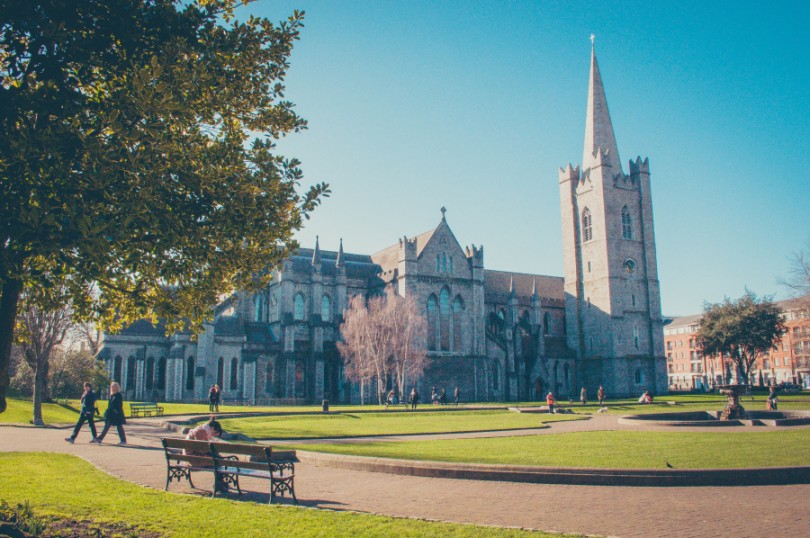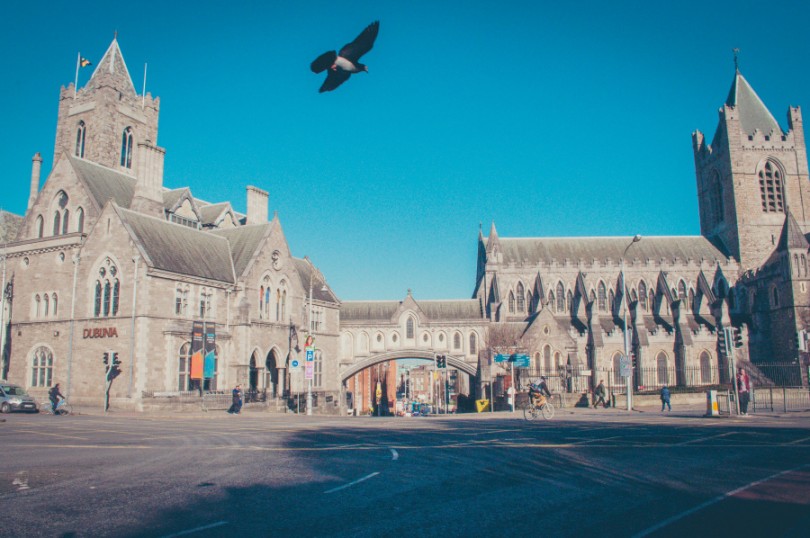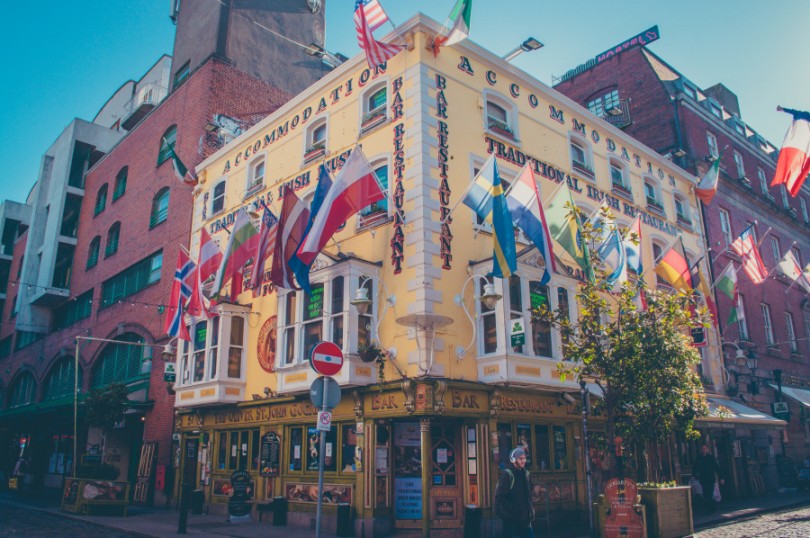 Po obědě už jsme se těšili na hlavní odpolední program - prohlídku Guinness (znovu, díky moc Cassie). Cestou k pivovaru jsme ještě minuli nejstarší hospodu v celém Irsku a pak už hurá na pivo!
O tom, jaká byla prohlídka, a víc fotek z ní uvidíte příště, byla jednoduše tak super, že by byla škoda ji shrnout do jedné věty a už teď je tenhle příspěvek víc než dlouhý (jestli jste se dočetli až sem, tak máte můj obdiv J). V pivovaru jsme byli snad tři hodiny, i když přesně to nevím, protože jsme ztratili pojem o čase. Když jsme si prohlédli obchod se suvenýry (a neodešli s prázdnou, moje nové magnetky už se těší na ledničku), byl nejvyšší čas vydat se zpátky do centra, odkud nás Aircoach vzal zase zpátky na letiště.
V sedm večer už jsme byli zpátky v Liverpoolu, nadšení Dublinem a plní zážitků. První setkání s Irskem naprosto předčilo všechna očekávání a určitě jsme tam nebyli naposledy!
After lunch it was time for the most exciting part of our trip – the Guinness factory (and again, thanks Cassie). On our way to the brewery we walked past the oldest pub in Dublin and we were ready for the beer!
I'll tell you more about the storehouse tour next time. It was just too good to only summarize it in one sentence and the post is already quite long (if you've read this far, you have my respect J). We spent probably three hours in the brewery, although I don't know that for sure, we just lost track of time. After exploring the souvenir shop (and not leaving empty-handed, my new magnets are already looking forward to being on the fridge), it was time to go back to the city centre from where we took the Aircoach back to the airport.