Roadtrip 2016 | Day 3: Roscoff, Cap Fréhel, Saint–Malo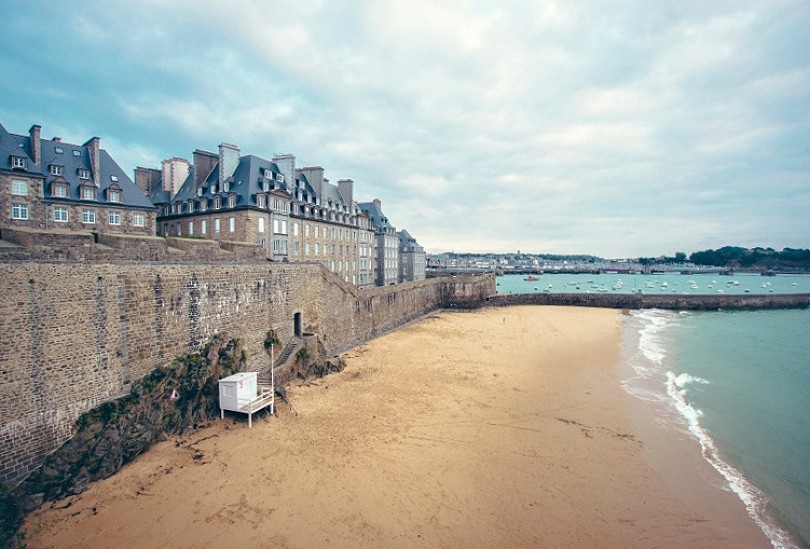 Neděle začala skvěle hned ze dvou důvodů - přežila jsem cestu lodí a konečně jsme mohli jet po té správné straně silnice :). První francouzské městečko, které jsme viděli, byl tím pádem Roscoff,kterému jsme původně nepřikládali větší význam, než ten, který pro nás měl jeho přístav. Rychle nám ale ukázal, že jsme hodně spletli - je to takové roztomilé, starobylé městečko, které má snad ještě větší kouzlo právě díky tomu, že ho nenajdete v každém průvodci. A tak jsme změnili plány, zaparkovali a šli se na tu nádheru podívat zblízka. Navíc jsme se nachomýtli k místnímu středověkému festivalu, takže i obyvatelé skvěle ladili s kulisami, které pro ně Roscoff připravil. Nevědomky jsme si příjezd do Francie načasovali opravdu perfektně.
Our Sunday started well for two reasons - we survived the ferry and we were finally on the right side of the road :). The first French town we saw was thus Roscoff which we initially thought was only interesting because of its harbour. However, we quickly saw we couldn't be more wrong! It's a cute medieval town which is probably even more charming thanks to not being in every guide book ever. So we changed the plan, parked the car and went to see the beauty from up close. Plus there was a medieval festival for some reason so the locals were accordingly dressed and were in perfect harmony with Roscoff's houses and streets. Unconsciously we planned our arrival to France perfectly.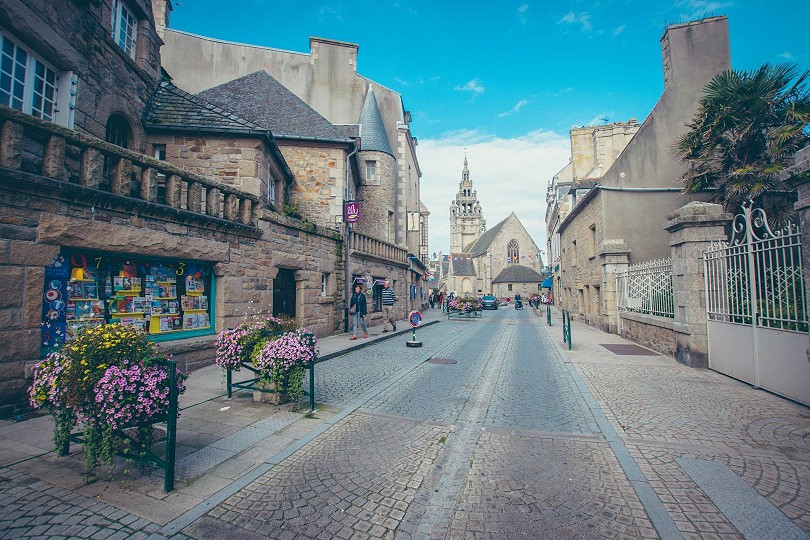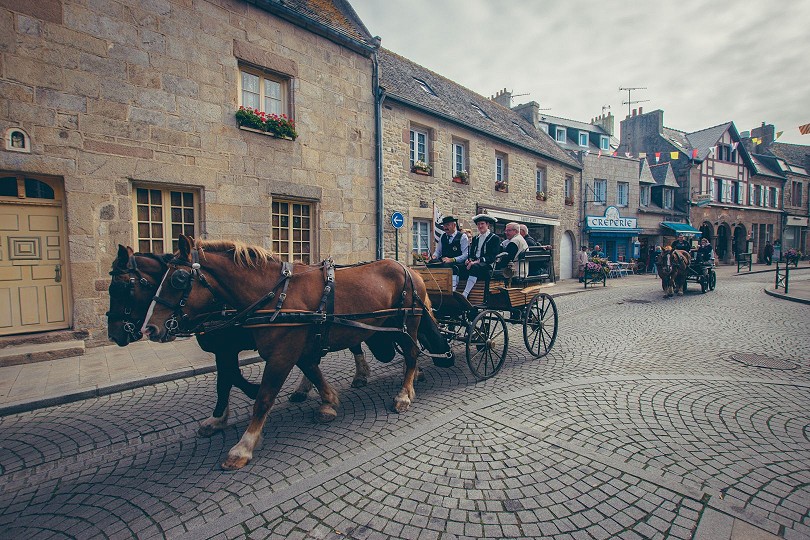 Z Roscoffu jsme započali přesun na sever a jako první zastávku jsme naplánovali mys Cap Fréhel, který je právem považován za jeden z nejkrásnějších mysů ve Francii. Zdobí ho dva majáky střežící až 70 metrů vysoké útesy, o které se tříští vlny divokého moře. Síla přírody je tu opravdu vystavená na odiv a výhled na nekonečnou vodní hladinu a skály, které jí vytrvale odolávají, vám vezme dech. Opravdu hodně tu ale fouká, takže po chvíli se nám dech zase vrátil a vydali jsme se zpět k autu (mimochodem parkovat se dá za 2.50€ na parkovišti u majáku).
From Roscoff, we headed north and our first stop was Cap Fréhel, which is rightly considered one of the most beautiful capes in France. There are two lighthouses guarding the 70 meter high cliffs and witnessing the wild sea and high waves. The power of nature, the endless sea and the rocks which resist the waves are breathtaking. However, it's also really windy so after a while, we caught our breath and went back to the car (by the way there's a parking lot near the lighthouse which only costs 2,50€).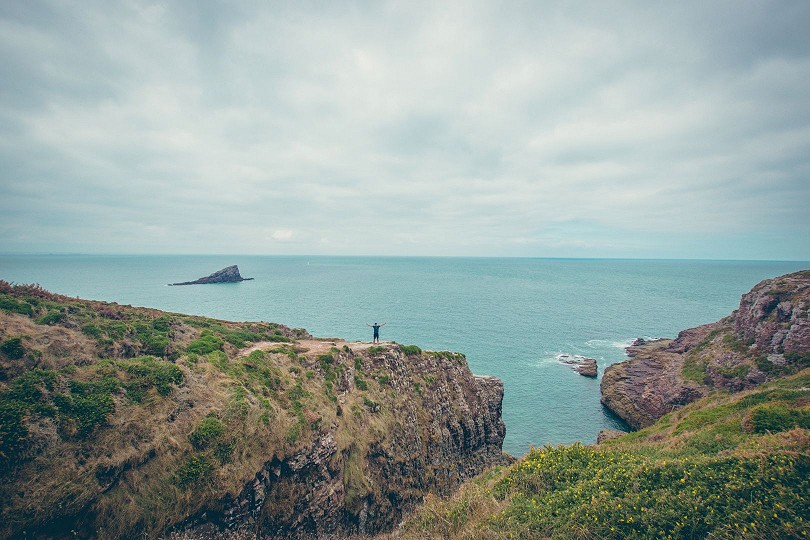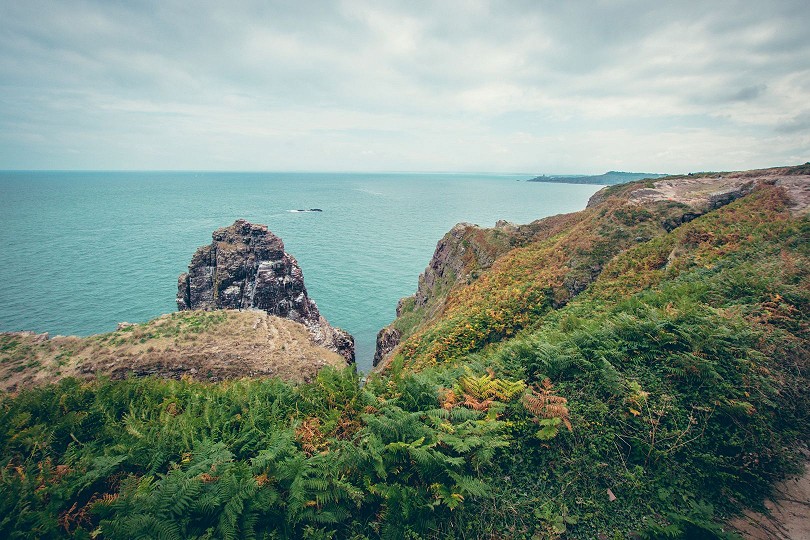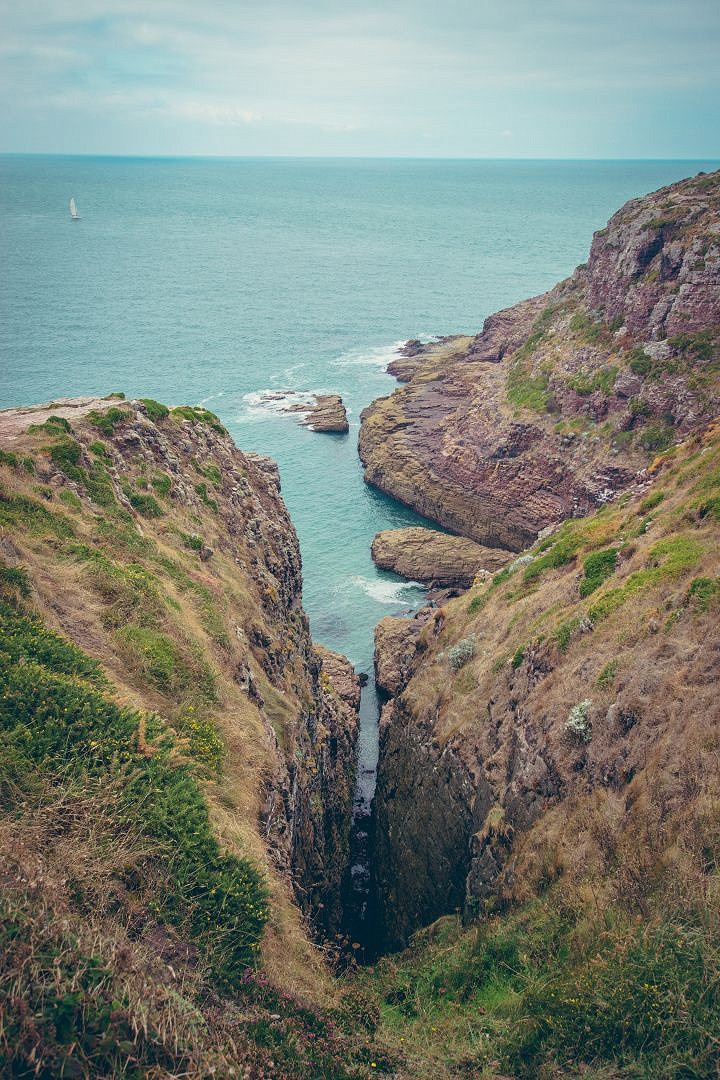 Navigace nám už napovídala, kudy do Saint-Malo, ale ještě než jsme nabrali správný směr, stavili jsme se na pláži nedaleko mysu, kde francouzské babičky a dědečkové sbírali do košíků mušle a boty zanechávaly perfektní otisky v mokrém písku. Možná si vzpomenete, že Pavel se minule koupal i v ledovcovém jezeře, takže nepřekvapí, že místní obyvatele v podzimních kabátech malinko šokoval a skočil v plavkách do moře, které už letní dovolenkovou teplotu rozhodně nějakou dobu nemělo.
Our GPS was already telling us which road to take to Saint-Malo but before we took the right direction, we stopped at a beach near the cape where French grandmas and grandpas were putting mussels into their baskets and our shoes were leaving marks in the wet sand. Maybe you'll recall Pavel was swimming in a glacial lake so it won't surprise you he shocked the locals wearing fall coats when he jumped into the sea which definitely isn't very common in this part of France in a gloomy weather in September.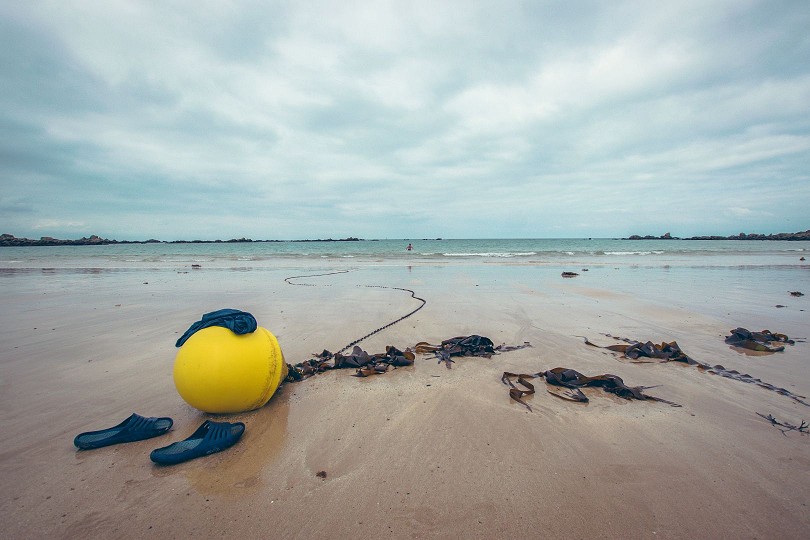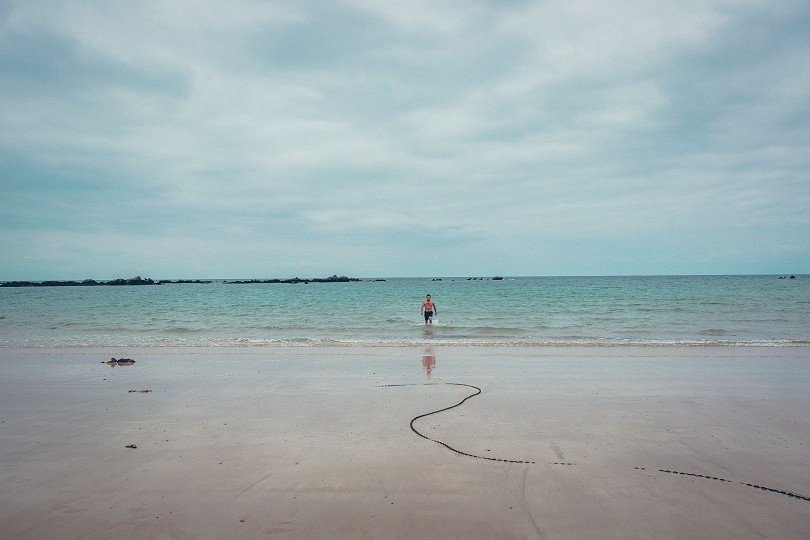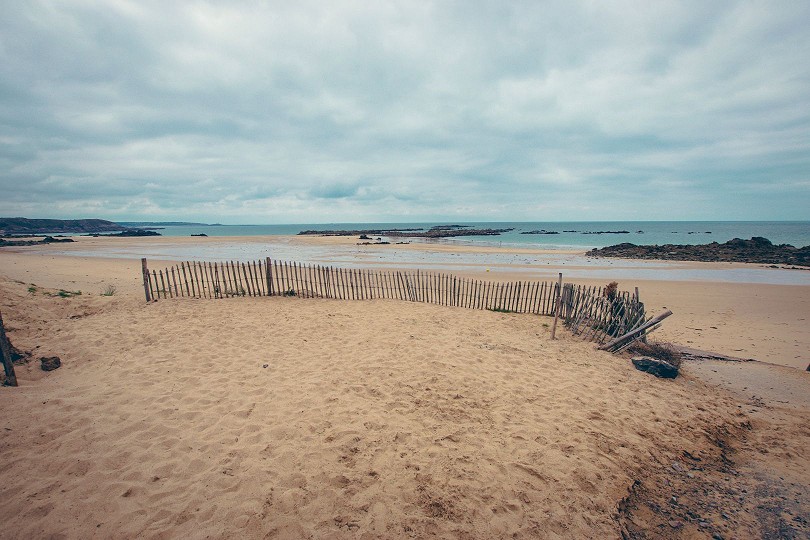 Odpoledne jsme dojeli do Saint-Malo, kam jsem se obzvlášť těšila, hlavně kvůli knížce Jsou světla, která nevidíme. Chystám se ji přečíst ještě jednou, protože je nejen geniální, ale tentokrát si ji budu moct zasadit i do kulis městečka. Prokličkovali jsme centrem, mezi vysokými domy, které se tisknou jeden na druhý, až k vnějším hradbám, které město od pradávna chrání před nezvanými návštěvami připlouvajícími po moři.
Co nás nepřestávalo fascinovat je, že město je opravdu téměř nedobytné, ze strany od moře tedy určitě. Vysoké dvojité hradby, strážné věže, divoké moře a útesy… Být dobyvatelem, útok bych si dvakrát rozmyslela. Neuvěřitelný je také příliv a odliv - při odlivu je možné si lebedit na pláži, koupat se v moři i v bazénu, ve kterém se drží mořská voda, nebo dokonce přejít ze Saint-Malo na nedaleký ostrov. Při přílivu se ale situace velmi rychle a velmi dramaticky mění - cestička na ostrov během půl hodiny úplně zmizí, z bazénu je za hodinu vidět jen sedátko pro plavčíka a kdyby vám v tu chvíli někdo tvrdil, že tu byla pláž, budete si myslet, že si dělá legraci.
In the afternoon we arrived in Saint-Malo which I was especially excited about because of the book All the lights we cannot see. I'm planning to re-read it soon not only because it's genius but also because this time I'll be able to imagine the scenery and atmosphere of the town much better. We walked through the narrow streets, between the tall houses to the outer walls which have been protecting the town against uninvited guests arriving on boats.
We were fascinated by the fact that the city truly is almost impregnable, well certainly from the sea. High double walls, watchtowers, wild sea and cliffs… If I was a conqueror, I'd think twice about attacking this town. The high and low tide are also unbelievable - you can relax on the beach, swim in the sea and a swimming pool (with sea water) or walk from Saint-Malo to a nearby island at low tide. However, the situation can very quickly and very dramatically change during high tide - the path to the island disappears in half an hour, in an hour you can't see the swimming pool at all and if I'd tell you there was a beach you'd think I'm kidding.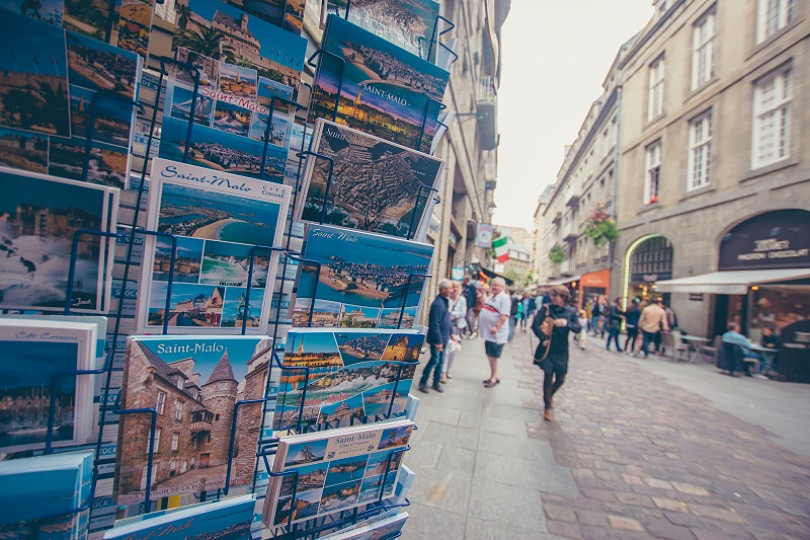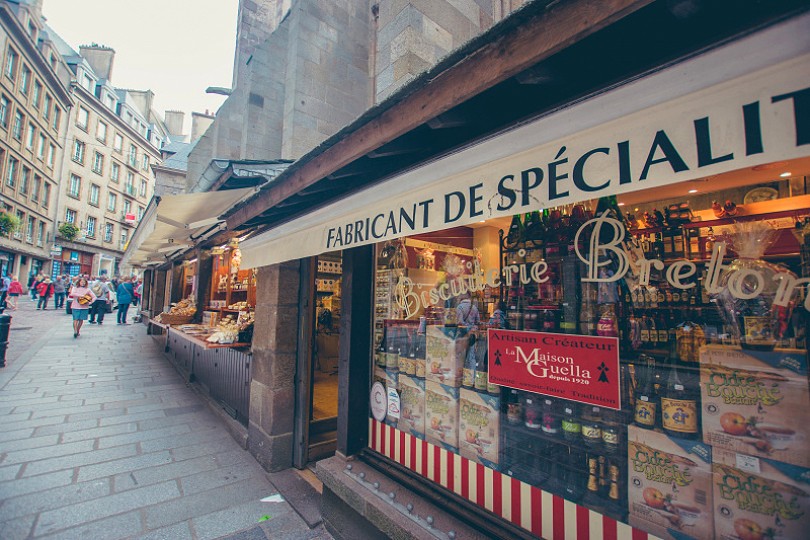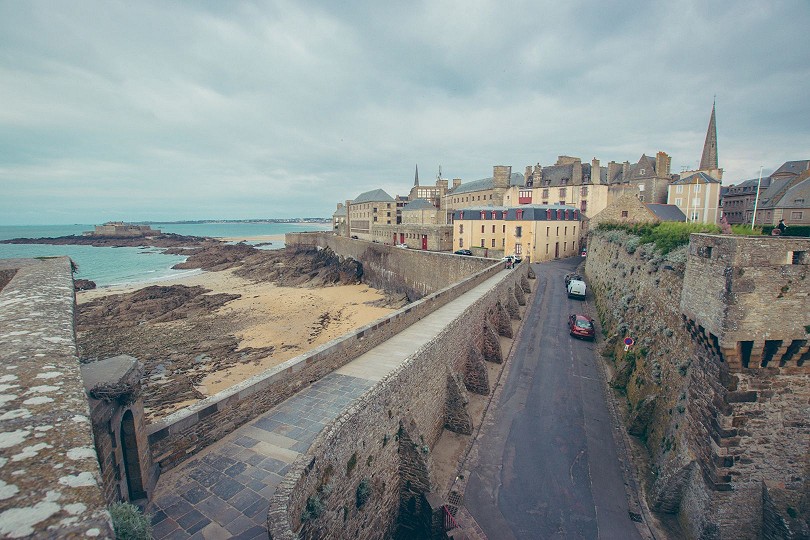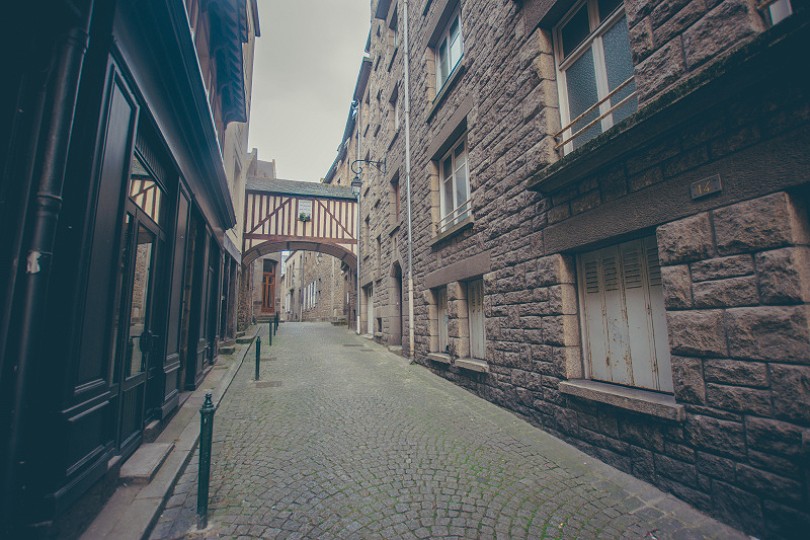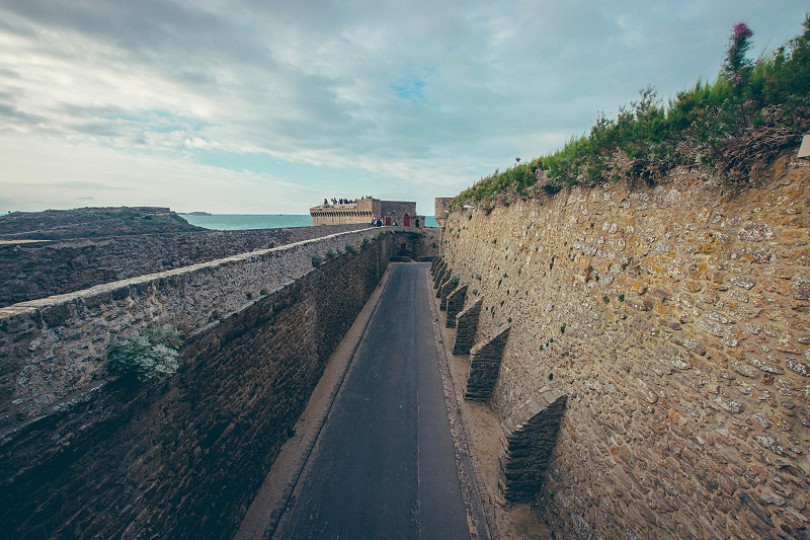 Během pozorování všech těch pohybů vody nám pořádně vyhládlo. Navíc už se stmívalo, takže ideální čas jít hledat restauraci a večeři, řekli byste si. Když jsme se ale vrátili na náměstíčko, kde předtím byla otevřená jedna restaurace vedle druhé, všichni se někam vytratili. Jediné otevřené zůstalo bistro na rohu, kde ale ani mladí číšníci neuměli slovo anglicky. My jsme navíc byli ve Francii první den, takže hledat někde wifi a stahovat francouzský slovník nás zatím nenapadlo.
Ze zapeklité situace jsme nakonec vybruslili přečtením něčeho, o čem jsme předpokládali, že je slaná palačinka, sladká palačinka a kafe, vše doplněné velmi špatným pokusem o francouzský přízvuk :D. K našemu překvapení jsme si objednali opravdu to, co jsme si mysleli, výborně jsme se najedli a cestou k autu nahlas přemýšleli, jak je možné, že v takovém turistickém místě restaurace zavírají v osm a nikdo nemluví anglicky.
We got really hungry while observing the sea, plus it was getting dark so the perfect time to look for a restaurant you'd think. But when we got back to the square to find a place to eat, all the restaurants except one bistro were closed. The waiters didn't know a word in English and it was our first day in France so we didn't have time to think about downloading a dictionary.
We solved the situation by trying to read what we thought was a galette, a pancake and coffee with a very bad French accent :D. To our surprise, we actually got what we thought we ordered, enjoyed a delicious dinner and on our way to the car we were wondering why all the restaurants close at eight and nobody speaks English, considering it's a quite popular place.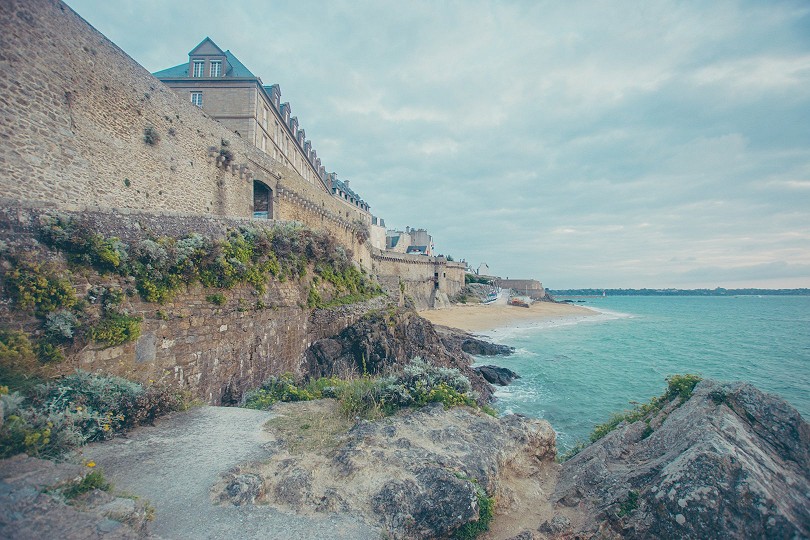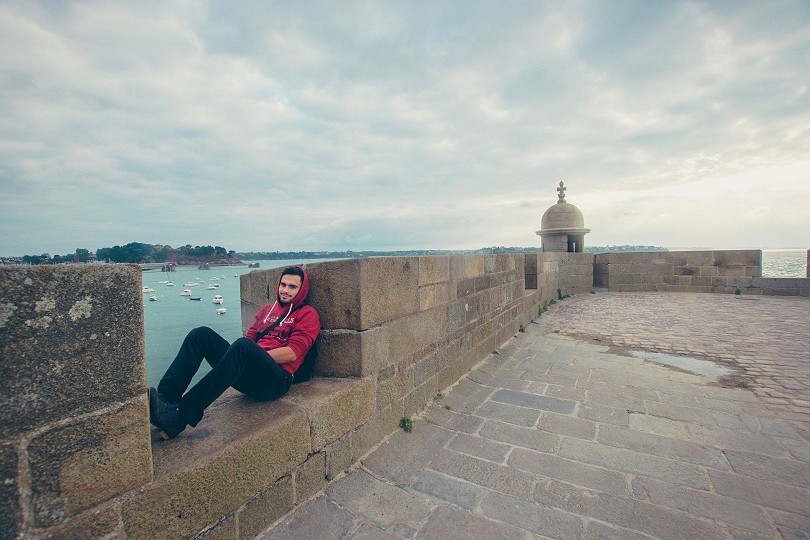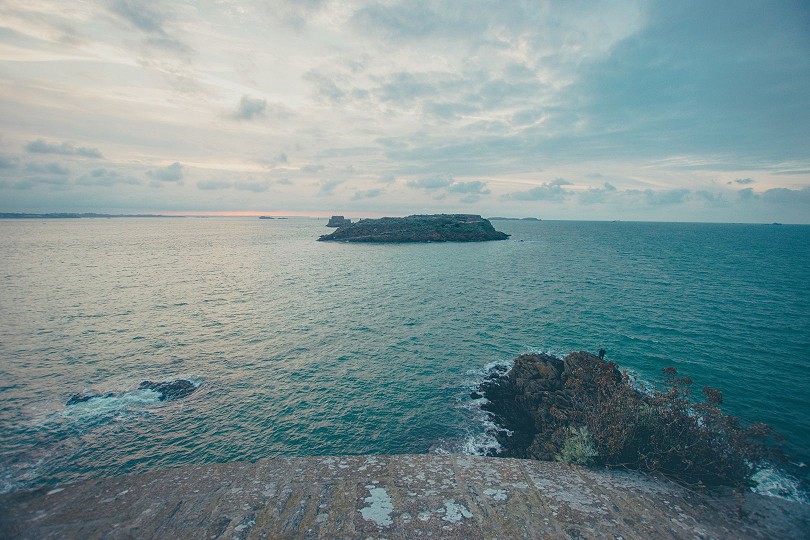 Všechno se vysvětlilo, když jsme v jedné uličce odbočili, že se ještě projdeme okolo hradeb. Najednou se před námi objevilo osvětlené náměstí, restaurace se zahrádkami plné lidí a menu v angličtině nabízel každý číšník. Takže očividně jen neumíme hledat ty správně profláklá turistická místečka, haha. Nicméně jsme na sebe mohli být pyšní, že jsme ve francouzské restauraci nezůstali o hladu a taky jsme pěkných pár euro ušetřili, za menu v angličtině je očividně přirážka alespoň dvě eura za položku :D.
Se Saint-Malo jsme se dobře najezení rozloučili, jako ložnici jsme si vybrali sympatické parkoviště u McCafé a vymýšleli, kudy pokračovat další den. Jak to dopadlo a kam jsme nakonec vyrazili, o tom zase příště :).
Everything started to make sense when we took a different turn in an alley thinking we'll go back to the walls one more time. Suddenly a huge square appeared in front of us, with restaurants full of people and every waiter was offering an English menu. So we obviously don't know where to look for the touristic spots, haha. Anyway, at least we could be proud of ourselves because we managed to order food in a French restaurant and didn't starve to death. Plus we saved a few euros, every meal cost at least two euros more, I guess that's the price of a menu in English :D.
We said goodbye to Saint-Malo, found a nice parking spot near McCafé and were excited to plan our next day. You'll see what we planned and where we went in the next post:)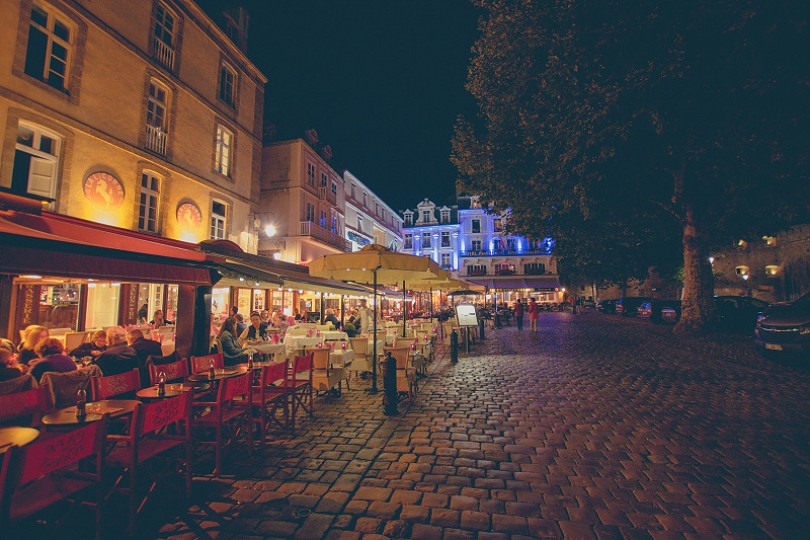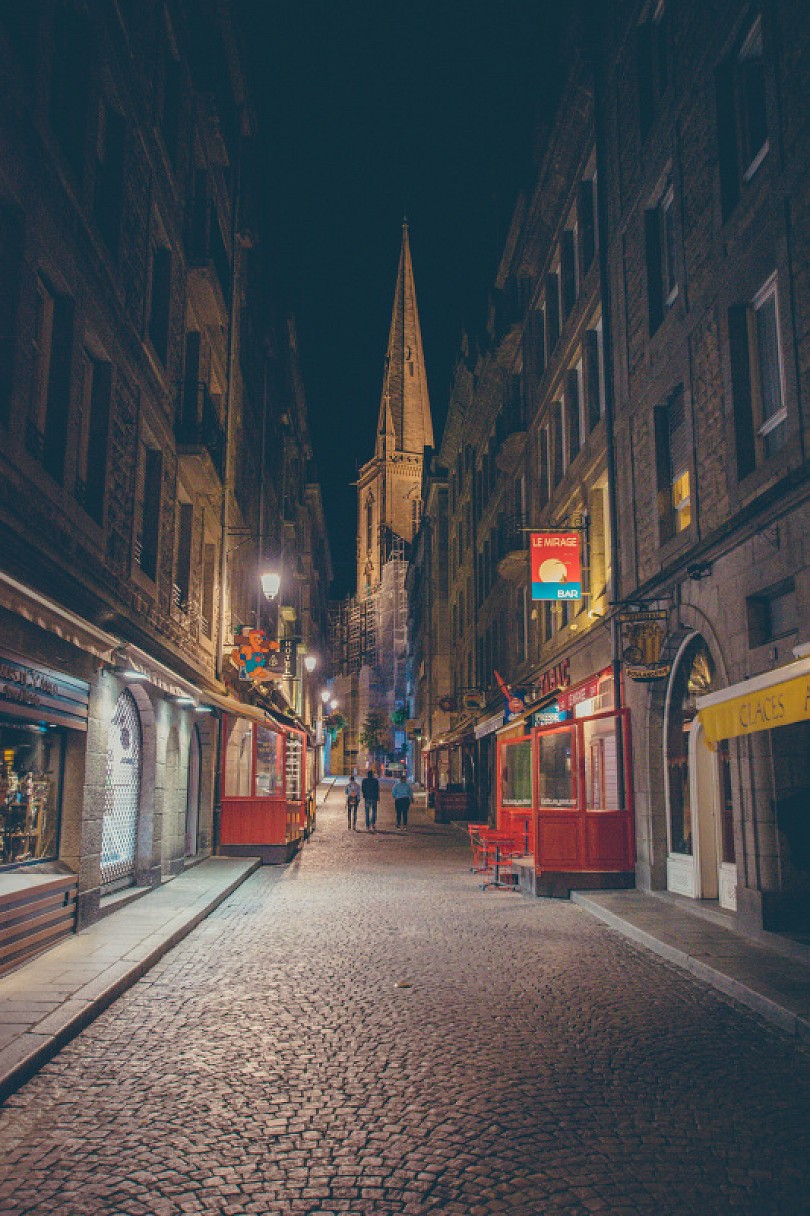 ---