Druhý den ve Francii jsme zahájili stylově už u snídaně - bageta s kozím sýrem byl doslova náš denní chleba a přišel i den, kdy jsme měli bagetu se sýrem ke snídani, obědu i večeři (potom jsme asi měsíc nechtěli bagety ani vidět) a první cíl cesty byl nedaleko.

V malém městečku Dol-de-Bretagne se nejprve potkáte s gotickou katedrálou z 12. století, u které na první pohled zaujme, že jí chybí část jedné věže. S katedrálou sousedí staré město - ulice, nad kterými se sklání a kroutí domy i z 11. století, najdete tu i údajně nejstarší dům ve Francii vůbec. My jsme se nemohli vynadívat na všechny ty hrázděné domky, které se navzájem podpírají a působí trochu jako domečky z karet. Mimochodem ve většině domů se bydlí a jsou v nich obchody - oblíbené jsou tu asi optiky, na jedné ulici jsme napočítali čtyři. Už tak jsme obdivovali, že místní udržují historické centrum města v takové kondici, a to jsme ještě netušili, co nás za krásu čeká v Rennes!
We started the second day in France in style - a baguette with goat cheese was on our plate literally daily and there was even a day when we had a baguette with cheese for breakfast, lunch and dinner (we didn't want to even see baguettes for a month after that) and the first destination of the day was nearby so we were hoping to get there early in the morning.
The first thing you'll see in the small town of Dol-de-Bretagne is a gothic cathedral from the 12th century which is missing a part of one tower. The cathedral is adjacent to the old town - streets over which the houses from 11th century bend and twist have a unique atmosphere, especially in the morning. By the way one of the houses is supposedly the oldest house in France! We couldn't stop looking at all the little half-timbered houses which support each other - surprisingly many of them are inhabited and with shops - the most popular shop of all is the optics - we saw four of them on one street. We already loved the houses and we didn't know what's about to come when we arrive in Rennes!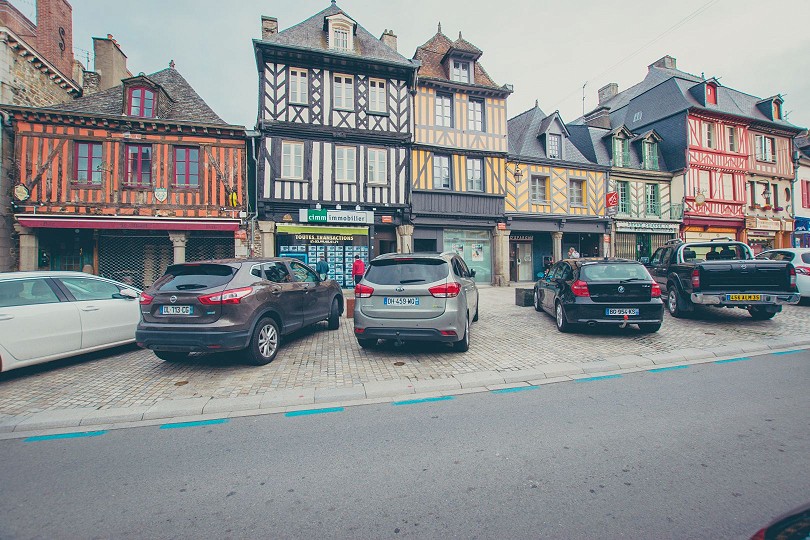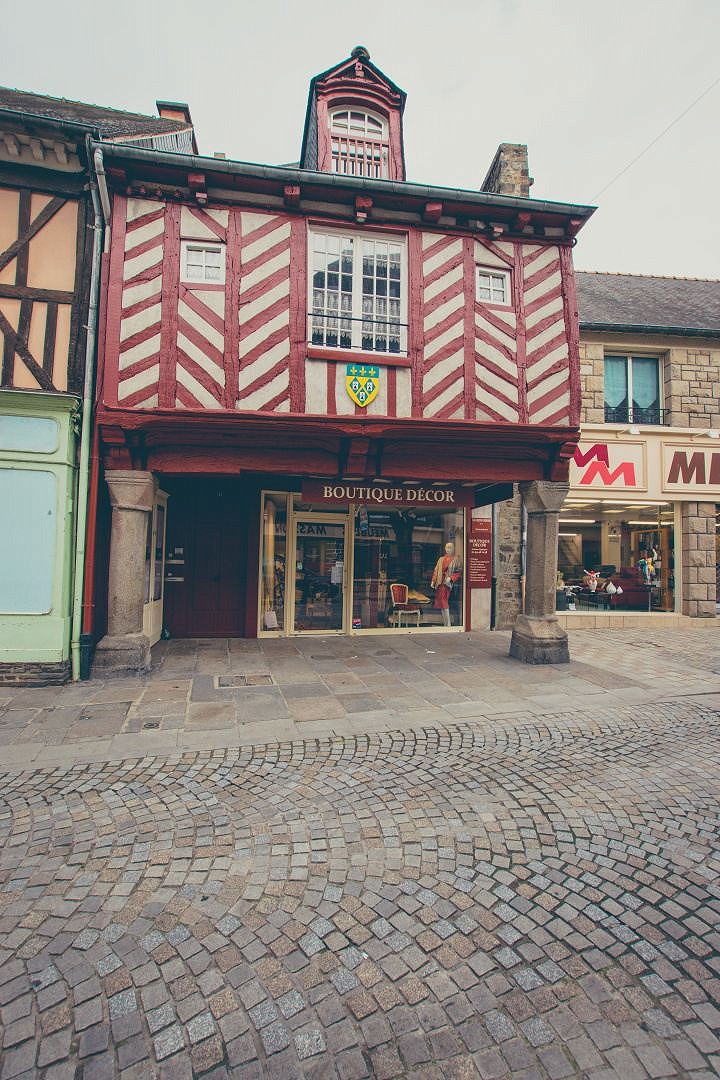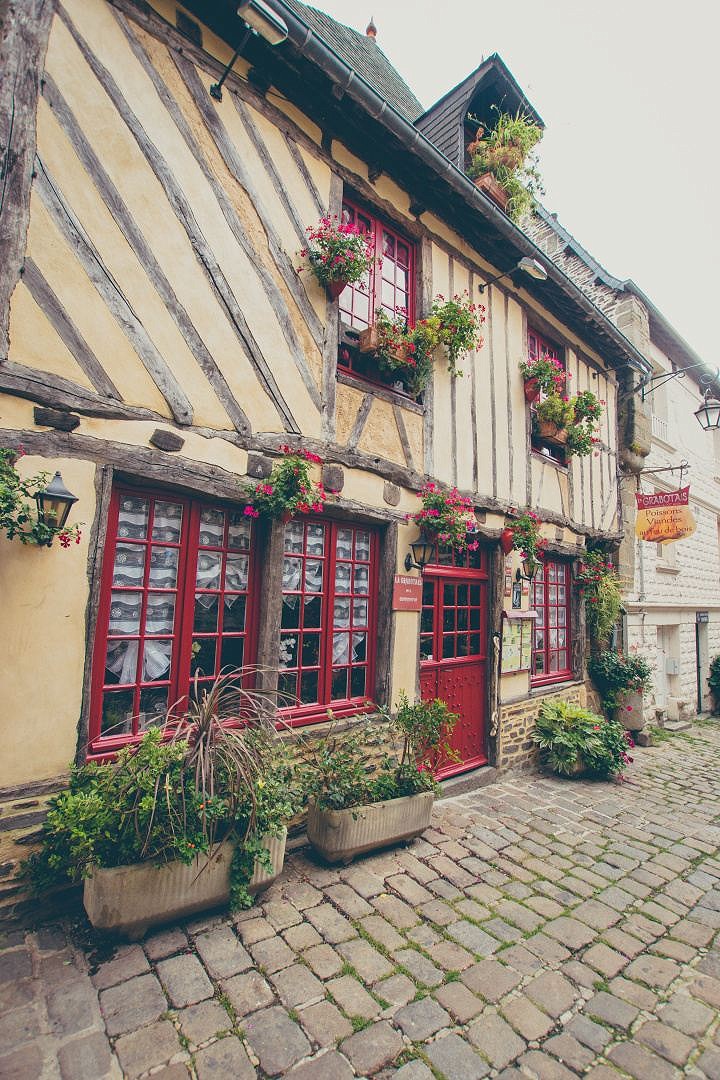 Dol-de-Bretagne jsme stihli projít ještě před náporem turistů a pak jsme už spěchali do auta, abychom se co nejdřív dostali na Mont Saint-Michel. Pokud jedete autem, připravte se na to, že se u parkovacího automatu trochu prohnete - do dvou hodin stojí parkovné 6.30€, zůstanete-li déle, připravte si 11.70€. V podstatě je lepší se s dvanácti eury za parkování smířit hned, protože stihnout návštěvu pod dvě hodiny je a) v podstatě nemožné, b) zbytečné, c) nebude se vám stejně po dvou hodinách jít pryč. Na druhou stranu, pokud nebudete chtít, za celou návštěvu nic víc už neutratíte - autobus, který vás z parkoviště dopraví na ostrov, je zdarma a jestli je vám méně než 26, máte gratis i vstup do kláštera.
We managed to walk around Dol-de-Bretagne before the tourists arrived, yay, and shortly were on our way to Mont Saint-Michel. If you're travelling by car, know that your wallet will cry a little when paying for the parking - you'll pay 6.30€ for up to two hours, if you stay longer, it'll cost you 11.70€. It's basically better to make peace with those 12€ straight away because being there for less than two hours is a) basically impossible, b) unnecessary, c) you will not want to leave after two hours anyway.
On the other hand, if you don't want to, you don't have to spend another euro during the visit - the shuttle bus which gets you from the parking lot to the island is free and if you're under 26, you don't have to pay the entrance fee to the abbey either.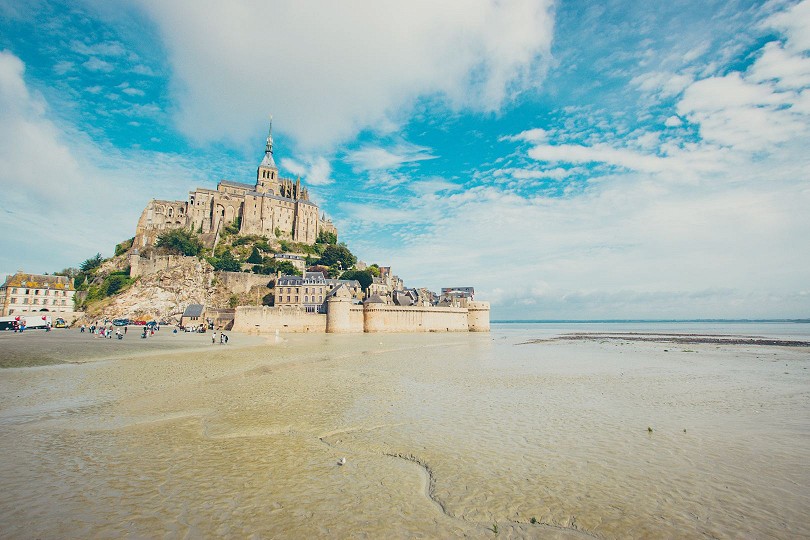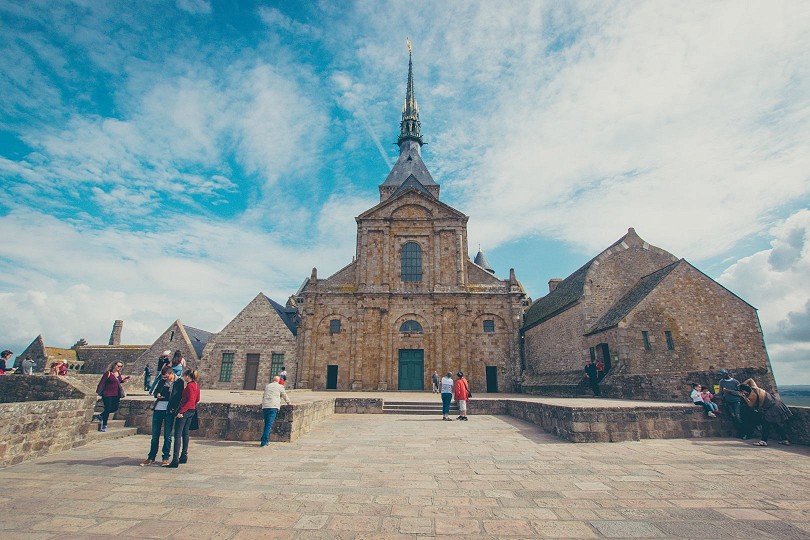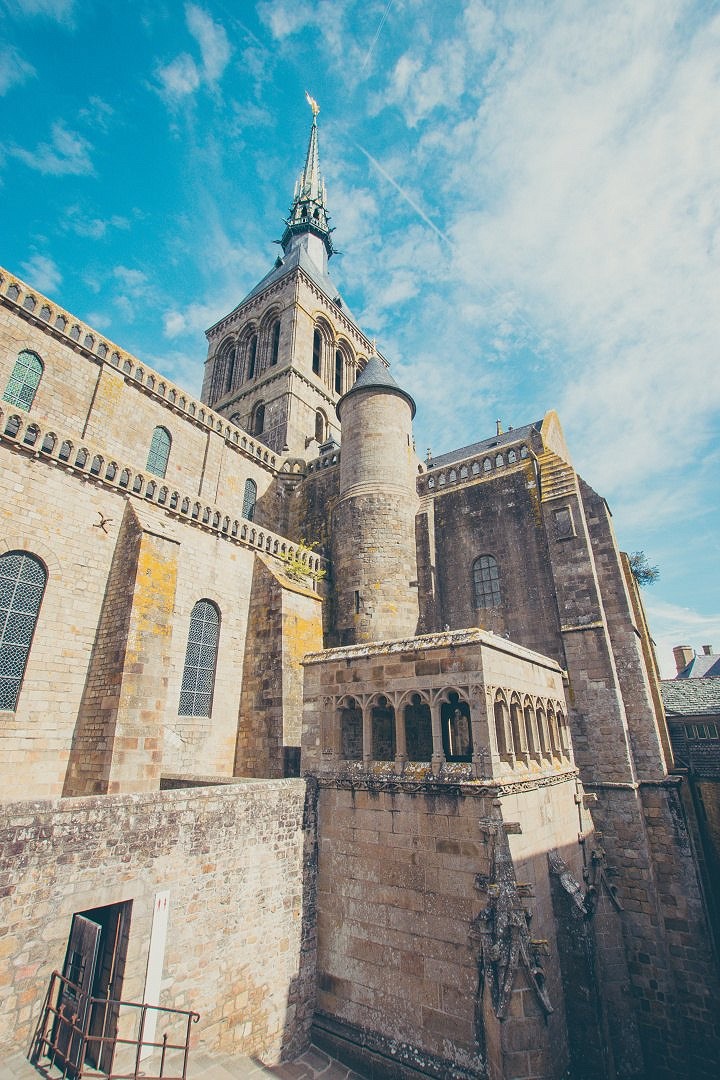 Čím více se k úpatí skály přibližujete, tím monumentálnější se stavba jeví a po Paříži nejnavštěvovanější místo ve Francii si vás získá hned po příjezdu. Opatství a chrám tu stojí už přes tisíc let a gotický klášterní komplex byl ve své době jedním ze vzdělanostních center Evropy. Chrám se kvůli příkrým svahům stavěl sto let a i tak se při prohlídce kláštera dozvíte o různých místnostech, které se dříve či později propadly. Pro podrobnější výklad si zajeďte přímo na Mont Saint-Michel, ale ještě jednu zajímavost si neodpustím - kostel, který stojí na vrcholu hory, je z větší poloviny v románském stylu, ale protože se část s oltářem později propadla, byla dostavěna v gotickém stylu. Je tak krásně vidět kontrast dvou stylů těsně vedle sebe, jako asi nikde jinde na světě.
The closer you get to the rock, the more monumental the buildings look and the second most visited place in France (after Paris) will win you over immediately. The abbey and the church have been here for over 1000 years and the gothic monastery complex used to be one of the educational centres of Europe. It took 100 years to build because of the steep slopes and you'll hear quite a few stories about rooms that collapsed because they weren't supported enough. To hear more fascinating stories, go to Mont Saint-Michel but let me share one more interesting fact - the church which was built on top of the rock is half in Romanesque style and half in Gothic style, because the part with the altar collapsed and they rebuilt it in the style that was currently "on trend" haha. I don't think you can see the difference between these two styles as clearly anywhere in the world.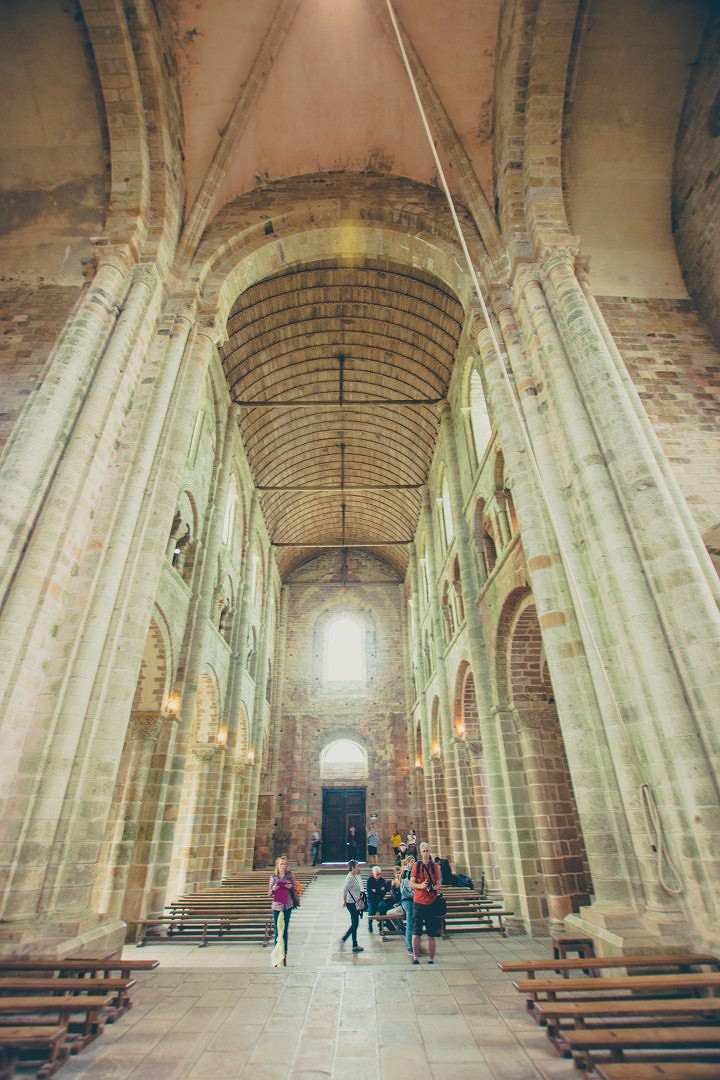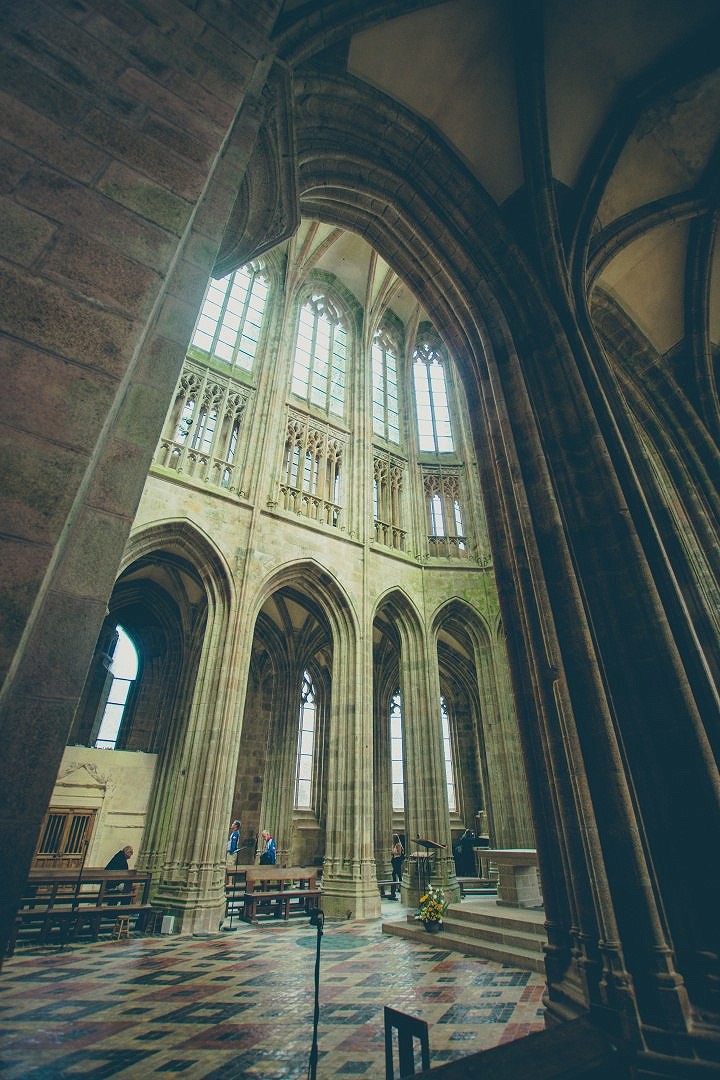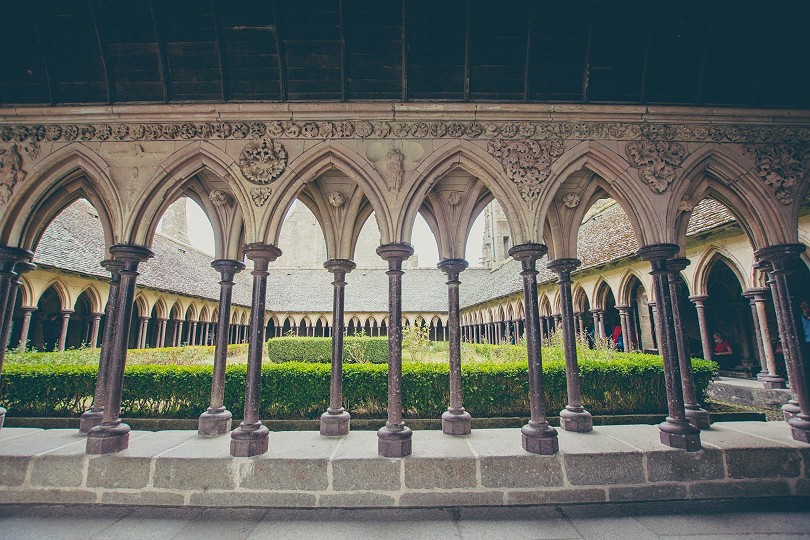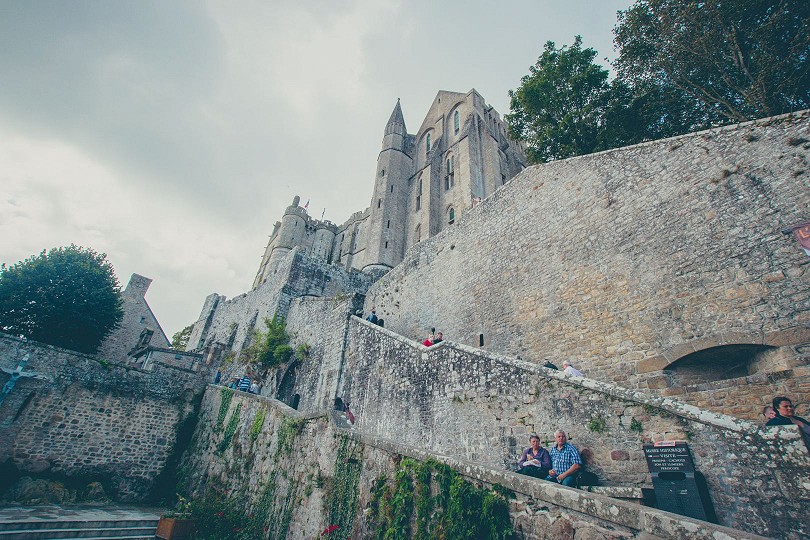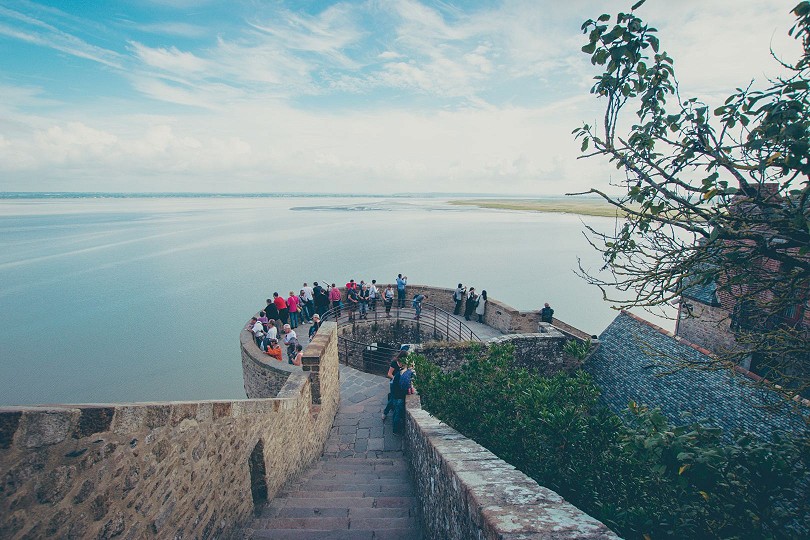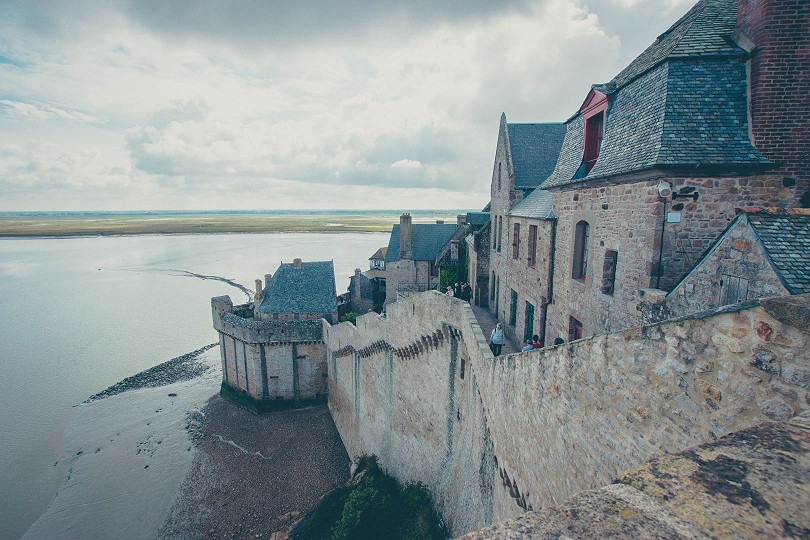 Můžu vám slíbit, že Mont Saint-Michel si vás získá a připraví pro vás nezapomenutelný zážitek, ale dříve nebo později se musíme vrátit na parkoviště, najít auto a pokračovat dál. Náš plán byl ještě ten den dorazit do Rennes, jenže krásných měst a městeček je cestou opravdu spousta, takže jsme ještě udělali zastávku v jednom, které má svůj vlastní hrad. Fougeres (nechtějte to po mě přečíst, asi by mě tam už znovu nepustili) má dvě části - staré město (staré=středověké) a nové město (nové= domy ze 14. století), pokud budete mít cestu kolem, určitě ho nevynechejte, za krátkou návštěvu a procházku starou i novou částí rozhodně stojí.
I can promise you that you'll adore Mont Saint-Michel and the visit will be an unforgettable experience, but we all have to go back to the car park and move on at some point. Our plan was to get to Rennes but there are so many cute towns so we stopped once more, in Fougeres (don't make me read it, it would be a disaster), which is divided into two parts - the old town (old=medieval) and new town (new=14th century houses), so if you happen to be nearby, do stop here, it's worth it.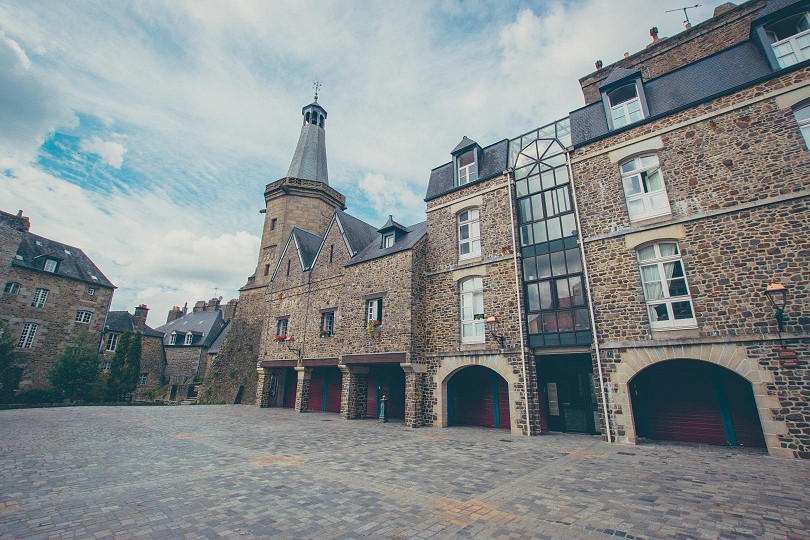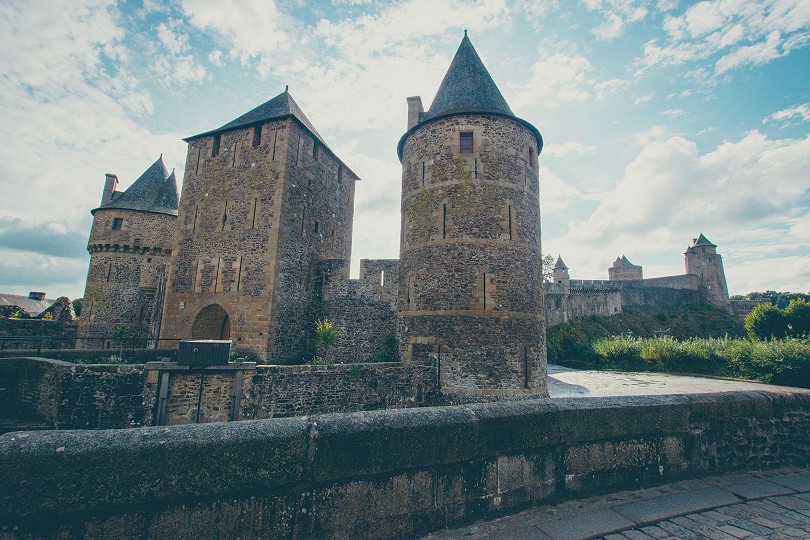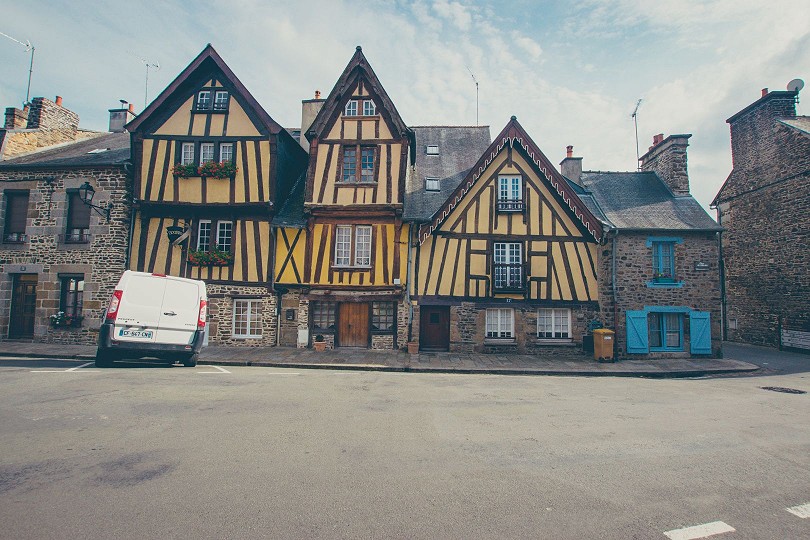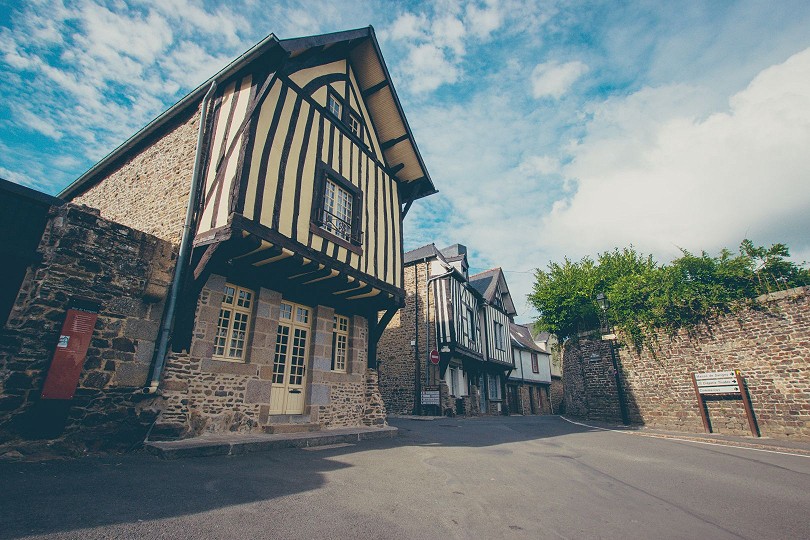 Poslední zastávkou dne bylo hlavní město Bretaně, Rennes, kam jsme přijeli tak akorát včas na procházku centrem a posezení na některé z mnoha zahrádek před restauracemi, které dávají při pohledu na hosty tušit, že Rennes se těší velké popularitě u studentů. O tom, jak krásné je historické centrum, jak neuvěřitelně působí vysoké hrázděné domy, které tu stojí už celá staletí nebo jak přirozeně se v jejich blízkosti pohybují místní nechám už mluvit raději fotky. My jsme byli opravdu unešení a celé Rennes na nás působilo až téměř nereálně, nestává se prostě každý den, že si jdeme objednat pivo do domu, který je na světě o pět set let déle, než my. A na závěr šokující odhalení - i Francouzi umí dobré pivo, neuvěřitelné!
Finally, the last destination of the day, the capital of Britanny, Rennes. We arrived just in time for a walk around the city centre and enjoy sitting in front of one of many restaurants which suggest (by looking at the people who sit there), Rennes is the city for students. I'd talk about how beautiful the city is, how incredible the tall half-timbered houses which have been standing here for centuries look or how the locals take them as a natural part of the city but I think the pictures will do a better job. We were really amazed and the whole city of Rennes looked almost unreal, it simply doesn't happen every day that we order a beer in a house which has been standing here for over five hundred years.