Do Versailles jsem se při žádné návštěvě Paříže nepodívala, ne úplně proto, že by nebyl čas (někam by se do programu nejspíš prohlídka vešla), ale kvůli představě o tom, jak prohlídka probíhá - zástupy turistů u pokladny, dav valící se zámkem, který nás unáší z jedné místnosti do druhé a tlačenice u všeho, co někdo začal z jakéhokoliv důvodu fotit, mě to úplně nelákala.
I've never been to Versailles when in Paris, not really because there wasn't time (we could fit it in somehow) but because I had this idea that the place will be extremely crowded, the crowd will take me from one room to another without and everyone will take pictures of everything so there won't be any time or space left to enjoy the place, which wasn't exactly a visit I'd dream of.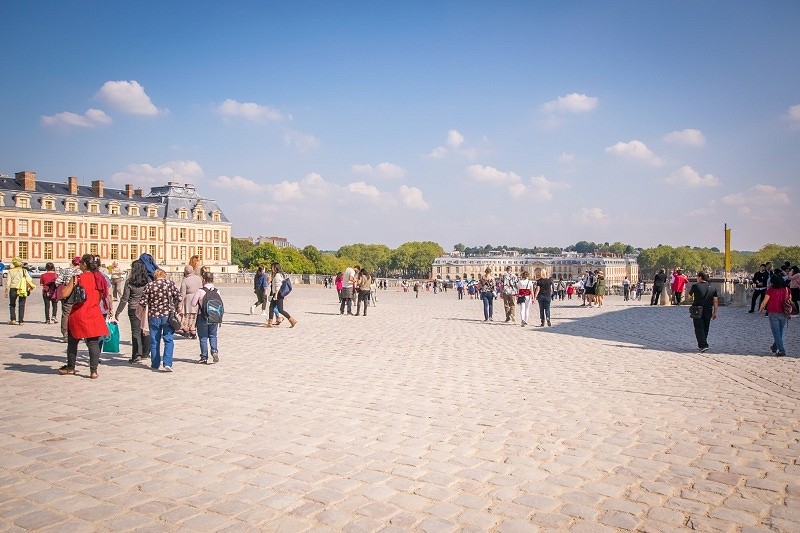 Když nám ale přišla Paříž do cesty při poslední cestě Francií, rozhodli jsme se dát Versailles šanci, protože možnost zaparkovat přímo u zámku v kombinaci s tím, že občané EU mají do 25 let vstupné zdarma, zněla lákavě. Den předem jsme se utábořili jen asi dvacet kilometrů daleko, abychom ráno byli mezi prvními a vyhnuli se alespoň těm největším zástupům (téměř nadlidský úkol na místě, které ročně navštíví přes šest milionů lidí, haha) a byli zvědaví, co se nám Ludvík XIV. rozhodl zanechat.
However, when we were approaching Paris on our last trip through France, we decided to give Versailles a chance, because we could park right in front of the palace (didn't have to travel from Paris) and also because the entry is free for EU citizens who are 25 years old or younger. The day before we decided to stay just twenty kilometres away from Versailles so that we could get there early in the morning and avoid at least the biggest crowds (slightly impossible when approx 6 million people visit this place every year, haha) and were curious to see what Louis XIV. had created.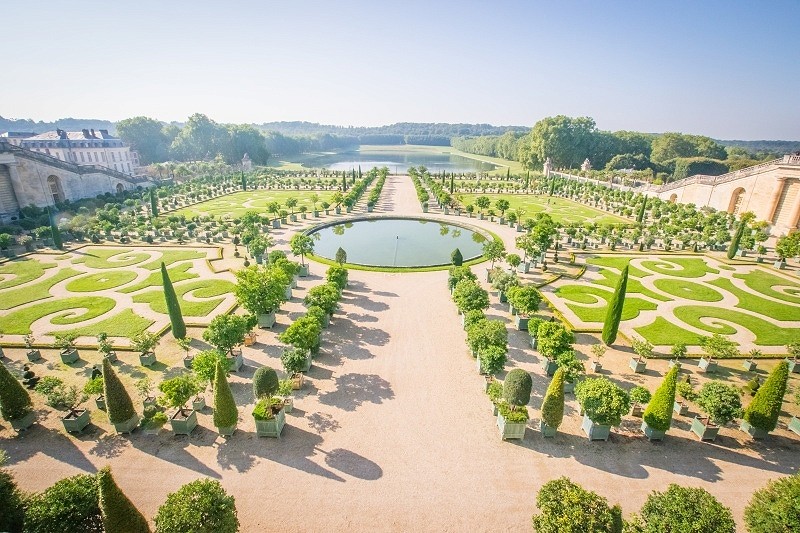 Pokud jste dějepisu taky nevěnovali svou plnou pozornost a třeba něco pozapomněli, doporučuju se předem podívat na dokument o Ludvíkovi i Versailles, i když výklad v audioprůvodcích je poutavý a dobu vám přiblíží, není na škodu zjistit si něco víc :).
If you didn't pay too much attention in the history class either and have forgotten a little bit about the French history, I recommend you watch a documentary about Louis XIV. and Versailles, because although the audio guides provide you with interesting information, it's never bad to know a little more :).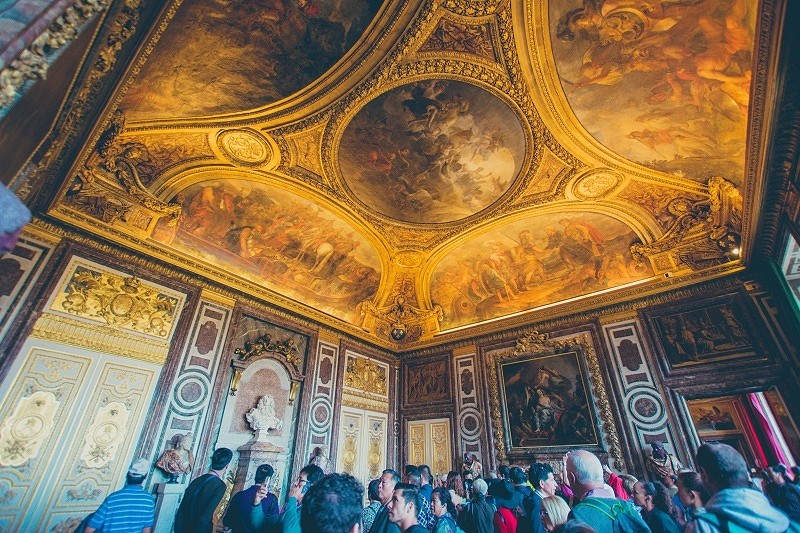 Motor jsme na parkovišti zhasínali dvacet minut po otevření a i když jsme rozhodně nebyli první, na nádvoří i u vchodu pro nás bylo místa dost. A tak jsme se nechali ohromit Ludvíkovou vizí, neuvěřitelnými uměleckými díly a nepředstavitelnou koncentrací luxusu na jednom místě.

Představa davu asijských turistů unášejících nás z pokoje do pokoje sice byla blízko realitě, ale myslím, že jsme šli štěstí naproti prohlídkou brzy ráno a návštěvou na konci září, tedy ne úplně v hlavní sezóně, a skupina se postupně po paláci rozptýlila. Co a proč ve Versailles uvidíte, se nejlépe dozvíte z dokumentů, knížek nebo audioprůvodce přímo na místě, takže přeskočíme ještě k praktickým tipům :)
We parked the car in the parking lot twenty minutes after the palace opened and although we certainly weren't the first ones to arrive, there still weren't that many people. So we let ourselves to be impressed by what Louis XIV. created, the unbelievable art and incredible concentration of luxury in one place.
The idea of Asian tourists leading us from one room to another was unfortunately not very far from reality but I think that thanks to arriving quite early in the morning and visiting at the end of September, aka not in the high season, we made the visit bearable. You will find everything about the historical, architectural and artistic significance of the place in books, movies or the audio guide, so we'll skip that and move on to some practical tips :).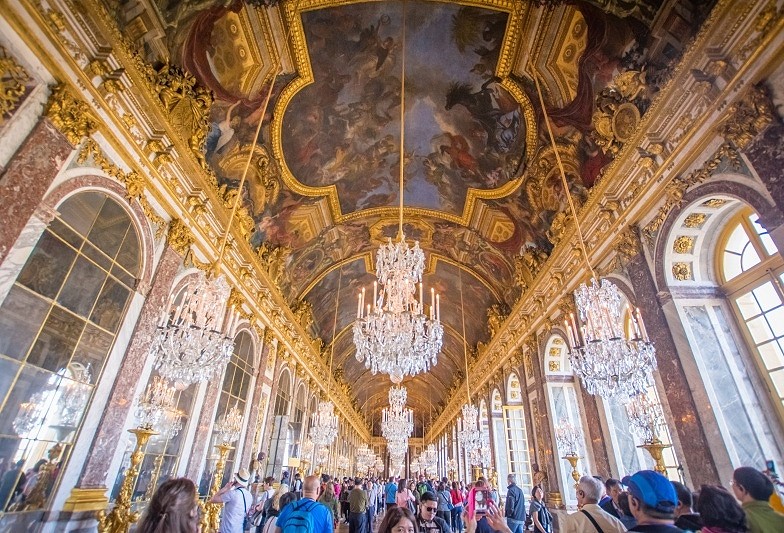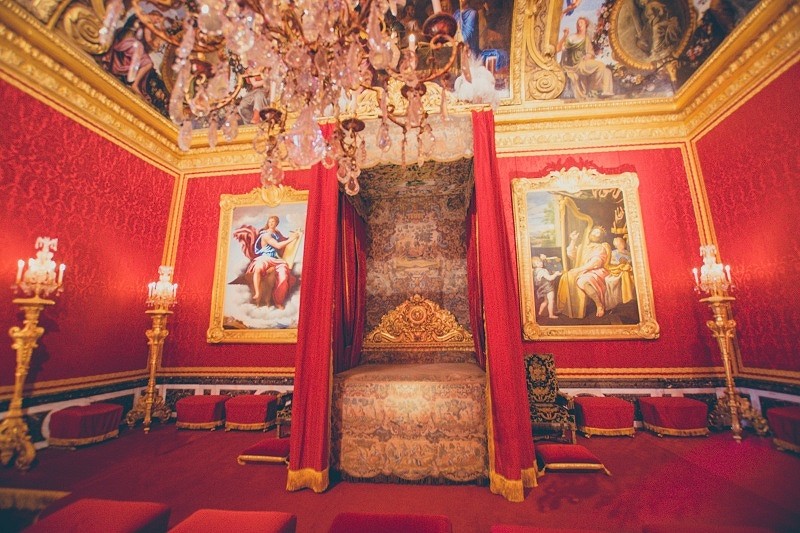 Určitě si na návštěvu vyhraďte celý den - my jsme během prohlídky ušli přes deset kilometrů a strávili v areálu několik hodin. Projděte si nejen palác, ale vydejte se do zahrad, všímejte si soch ve výklencích a altánků schovaných mezi stromy i toho, jak francouzská geometrie přechází v anglickou divokost. V odlehlejší části zahrad najdete také Velký a malý Trianon, dům Marie Antoinetty i "vesničku" se dobovými domky a hospodářstvím (kdo by to řekl, že ve Versailles můžete přes ohradu pozorovat krávy?).

A ještě jedna drobnost - v zahradách jsou dominantou fontány, show si ale užijete jen v některé dny a za cenu vyššího vstupného. Pokud ji chcete vidět, raději si na webu zkontrolujte, že si cestu do Versailles plánujete na správný den.
Be prepared to spend the whole day in Versailles - we walked over 10 kilometres and spent a few hours there. Don't just visit the palace but be sure to wander around the gardens, admire the statues in the alcoves and gazebos hidden behind the trees and notice how the French geometry becomes the English wilderness. If you keep going through the gardens, you'll get to the Grand and Petit Trianon, Marie Antoinette's house and a "village" with a farm and animals (who would think you can see cows in Versailles?).
And one more thing - there are famous fountains in the gardens but the show can only be seen on certain days and for a higher price. If you really want to see it, make sure you're planning to visit Versailles on the right day.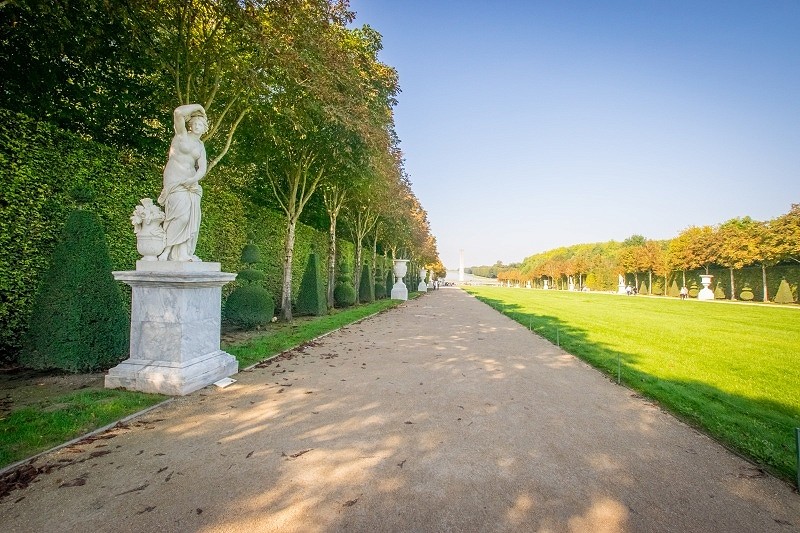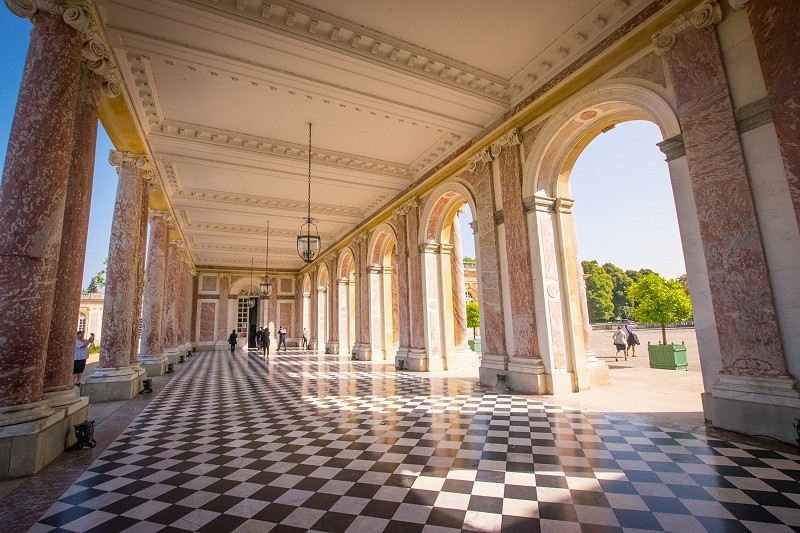 Každopádně musím na závěr přiznat, že jsem na Versailles úplně změnila názor. Naprosto nás uchvátila genialitou, luxusem, vizí a odhodláním, které Ludvík XIV. vynaložil na realizaci svého snu. Palác je fascinující a důležitou součástí francouzské historie, takže pokud budete mít možnost, určitě s návštěvou neotálejte, nic podobného Versailles ve světě nenajdete.

Anyway, I must admit my opinion of Versailles changed completely. We were absolutely blown away by the genius, the luxury, the vision and dedication which made the dream come true for Louis XIV. It's a fascinating and important part of French history so if you have the chance, don't think twice about it, you can't see anything like Versailles anywhere in the world.