Bettys Cafe Tea Rooms byla naše úplně první zastávka v Yorku. Téměř před sto lety dal této kavárně vzniknout švýcarský pekař a cukrář Frederick Belmont a skloubil švýcarskou kuchyni s anglickou pohostinností. I když je v Bettys Cafe Tea Rooms vyhlášený především afternoon tea, rozhodly jsme se, že zkusíme štěstí hned ráno, především kvůli recenzím, které slibovaly nejen skvělý zážitek, ale taky dlouhé fronty, zejména odpoledne.

Bettys Cafe Tea Rooms was our very first stop when we arrived in York. Established almost 100 years ago by a Swiss baker and confectioner Frederick Belmont, this place really offers an extraordinary experience. Although Bettys Tea Rooms are famous mostly for the Afternoon Tea, we decided to go there in the morning, especially because of the reviews suggesting there might be a really long queue in the afternoon.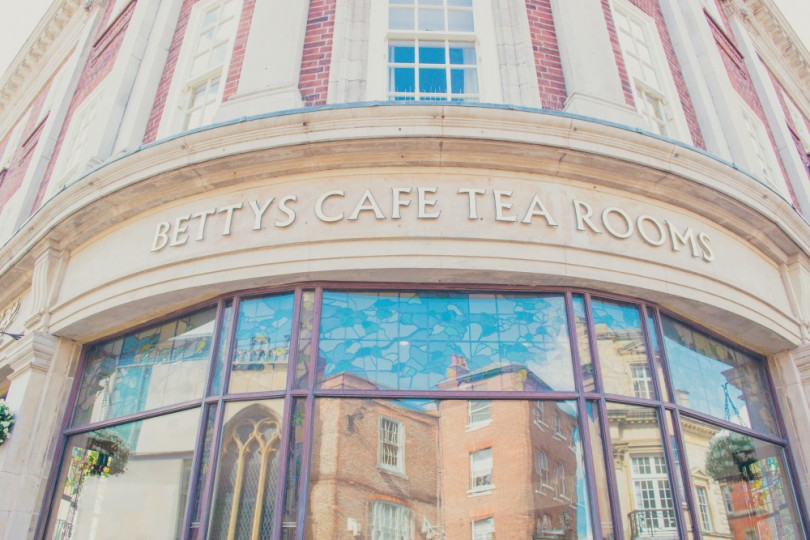 Nakonec se ukázalo, že jsme se rozhodly nejlépe, jak jsme mohly. Na stůl pro dvě jsme čekaly asi jen deset minut. Pokud vám jde o čas, rychleji se uvolňují místa v suterénu, takže si teoreticky můžete čekání zkrátit. Pokud vám jde ale o zážitek, myslete na to, že dole nejsou žádná okna, a tak je atmosféra taková… no, tmavší :). My jsme si raději počkaly na stůl v hlavních prostorách, odkud je výhled ven na ulici. A rozhodně to čekání stálo za to. Dívat se ven a pozorovat okolí je totiž, minimálně pro mě, polovina zážitku.
It turned out we made a wise choice. We only waited in the queue for approximately 10 minutes before a table for two was ready. If you're in a hurry or you just don't want to wait, you can go to the basement bar area, because they are offering the tables downstairs to the queue and because some people say they'd rather wait for an upstairs table, you can get a table faster. However keep in mind there are obviously no windows so it's a bit… well, darker :).
We decided to wait a bit longer because we wanted to sit in the area upstairs. And it was worth the wait. Looking outside and observing people while eating is, for me at least, as important as having a good meal.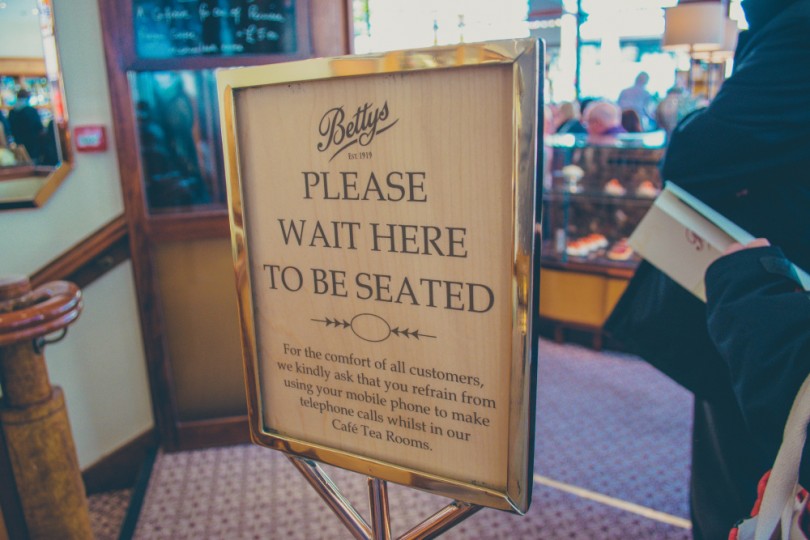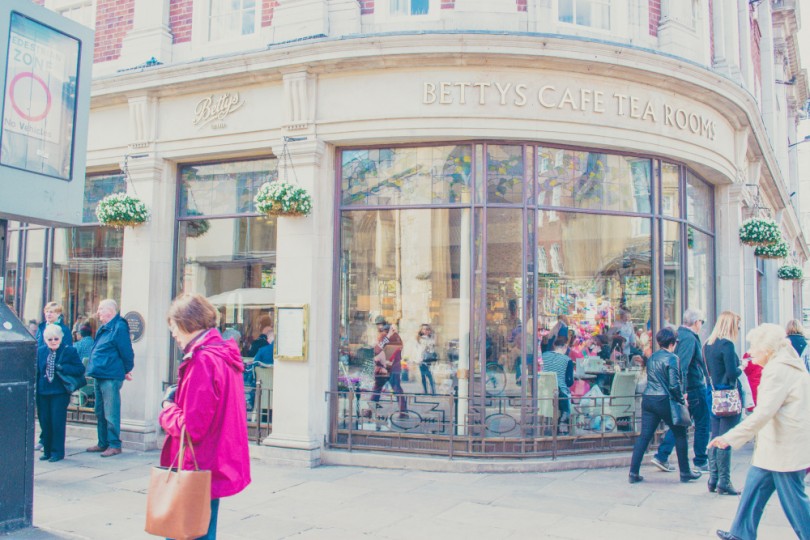 Service
V kavárně bylo rušno a obsluha rozhodně neměla času nazbyt. I přesto jsme si připadaly jako kdybychom patřily ke královské delegaci. Od usazení ke stolu až po zaplacení bych si neuměla představit lepší péči. Číšnice, která se starala o naše objednávky, s námi šla i vybrat dezerty k pultíku, ochotně nám popsala každý, na který jsme se zeptaly a celou dobu jsme měly pocit, že se o nás někdo opravdu stará, a cokoliv budeme potřebovat, je možné okamžitě zařídit.
It is a crowded place (I think there's a queue any day, anytime) and the staff is really busy. But they stil made us feel like royalty. From being seated at a table, ordering until we decided to pay and leave, I couldn't think of a better service. The waitress who was taking our orders even personally went with us to help us choose desserts and she kindly gave us information about each of those we were interested in. We really felt like we were taken care of and that whatever we need can and will be arranged immediately.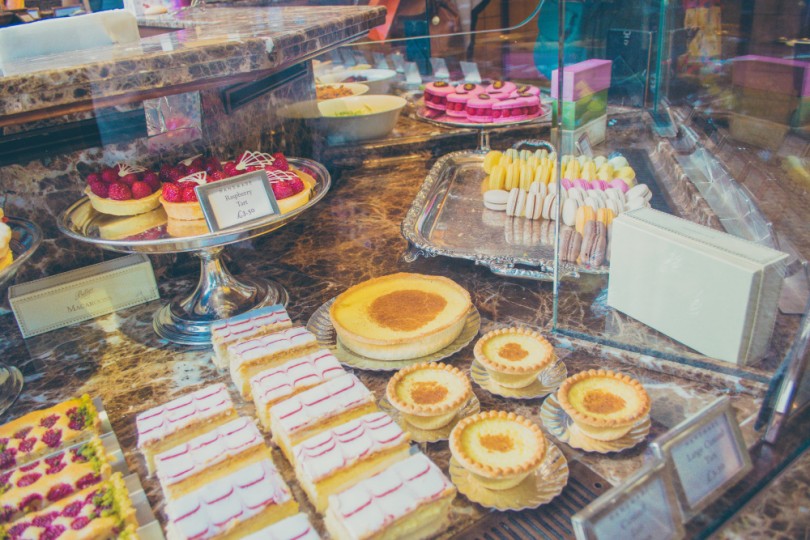 Food and Drinks
Nakonec jsme z menu, ve kterém znělo lákavě úplně všechno, vybraly horkou čokoládu, která se nám ke švýcarské kavárně tak nějak hodila, a neodolaly jsme dezertům. Na ty nás nalákalo jednoduše to, že všechny vypadaly božsky a také to, že už od založení vznikají v pekárně, která ke kavárně patří. Po dlouhém rozhodování padla volba na čokoládovou pěnu a malinový dortík. Sladké maliny i čokoláda s marakujou nás opravdu nadchly (marakuja v pěně byla naprosto nečekaná kombinace, která z "obyčejné" čokoládové pěny udělala nejlepší pěnu, jakou jsem kdy ochutnala), a nebála bych se říct, že chuťově byly stejně dokonalé jako z pařížské Angeliny. Co se týče horké čokolády, byla to ta opravdová, nepřeslazená, čokoládová, která se k atmosféře Betty's Café Tea Rooms perfektně hodila.
We ended up choosing hot chocolate, because it kind of felt right in a Swiss café. And we decided to order some desserts because they looked amazing and all of them are made in their own bakery. After thinking about it for some time, we went for a chocolate mousse and raspberry tart. We were amazed by the sweet raspberries and chocolate mousse with passion fruit (a combination I would not expect and a taste that immediately made this mousse the best mousse I've ever had), and I would even say they were as delicious as those from Angelina (Paris). The hot chocolate was the original one, not too sweet but really chocolatey, which went well with the Betty's Cafe Tea Rooms atmosphere .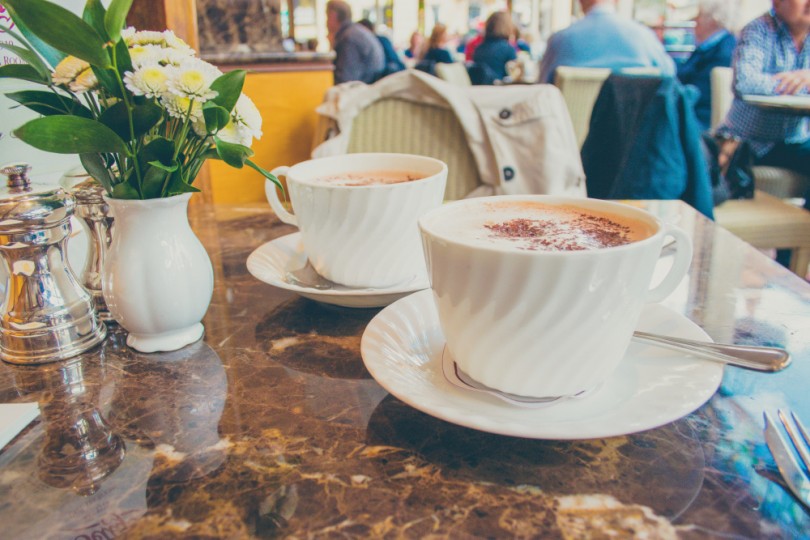 Interior
Interiér byl na jedničku. Promyšlený do detailu, od vitráží v oknech po design jídelního lístku a dekorace na stolech. Body navíc bych dala ještě za toalety, které s naleštěnými umyvadly a křesílky, ještě umocnily dojem toho, že na interiéru téhle kavárně opravdu záleží.
We loved the interior. The attention to detail was evident, from the stained glass windows to the menu and table decoration. I'd also add some extra points for the bathroom. The polished sinks and chairs so you can sit while waiting, contributed to the impression that this place really pays cares about every detail.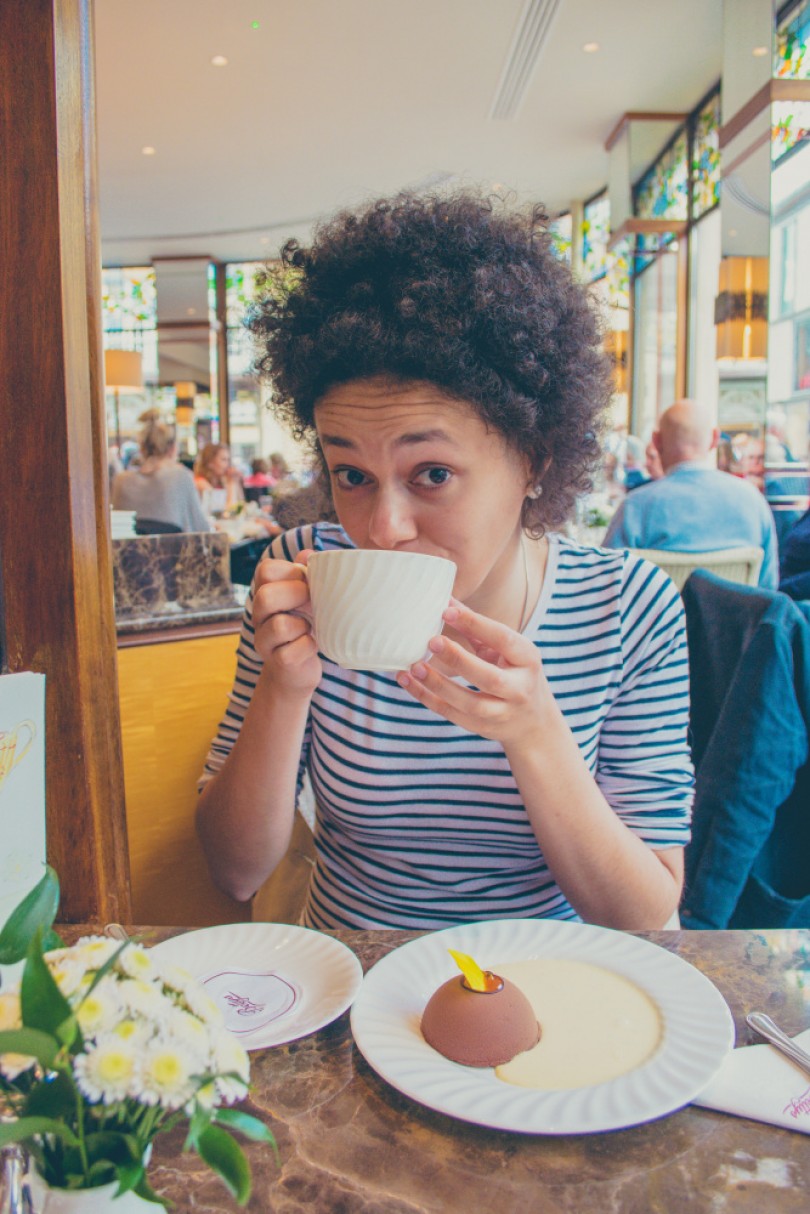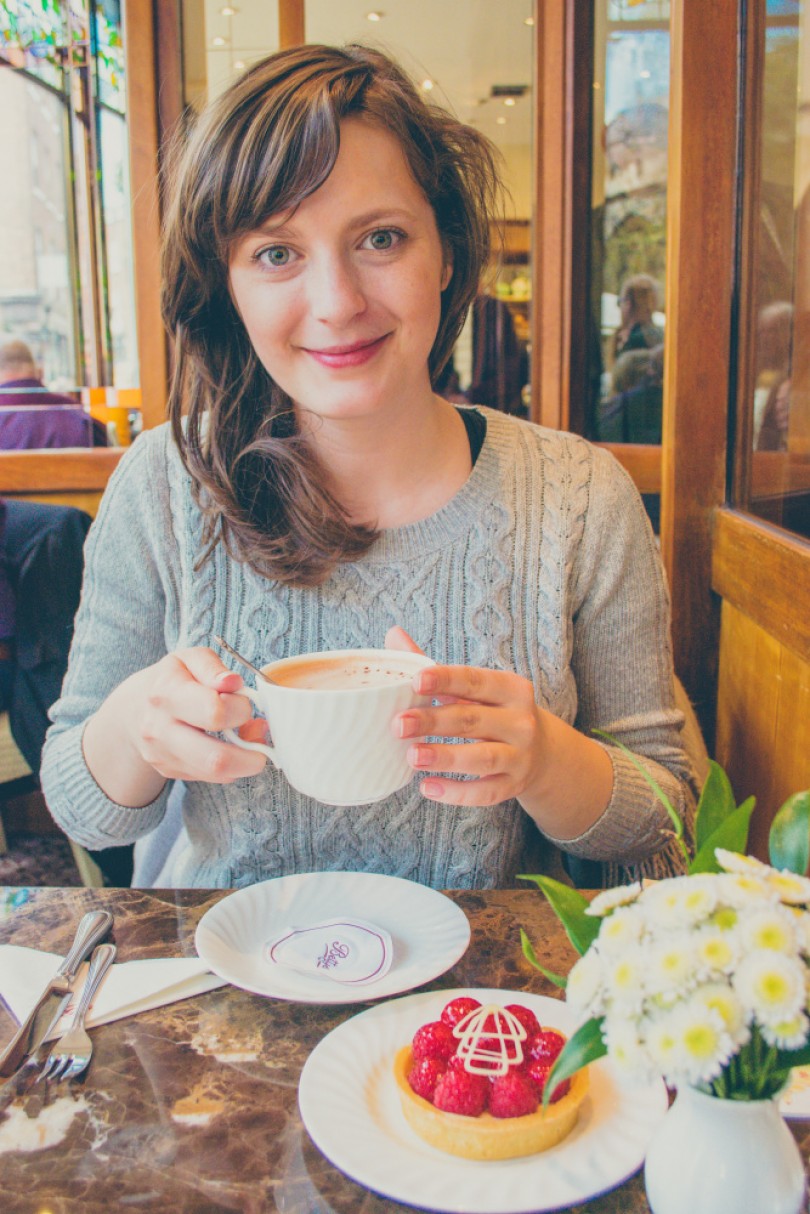 Celkově jsme byly velmi příjemně překvapené (naše nadšené obličeje to potvrzují). Návštěvu jsme si opravdu užily. Pesonál se o nás staral přímo ukázkově a do dezertů jsme se zamilovaly. Takže pokud někdy pojedete do Yorku a chcete si odvézt skvělý zážitek, Betty's Café Tea Rooms je místo, které nesmíte vynechat.
Jestli ještě nevíte, co jsme v Yorku stihly kromě jídla, podívejte se sem! A pokud si chcete přečíst víc o pařížských dezertech a Angelině, klikněte sem :).
Overall, we were really impressed (as you can see from our happy faces). Loved the food and drinks, the staff was extremely kind and made us feel welcome. So if you're ever in York and you want to experience something special, Betty's Café Tea Rooms is definitely the place to go.

If you don't know what we were up to in York, read about it here! And if you want to keep reading about food, read more about desserts in Paris and Angelina, click here :).