Why I Don't Like Hostels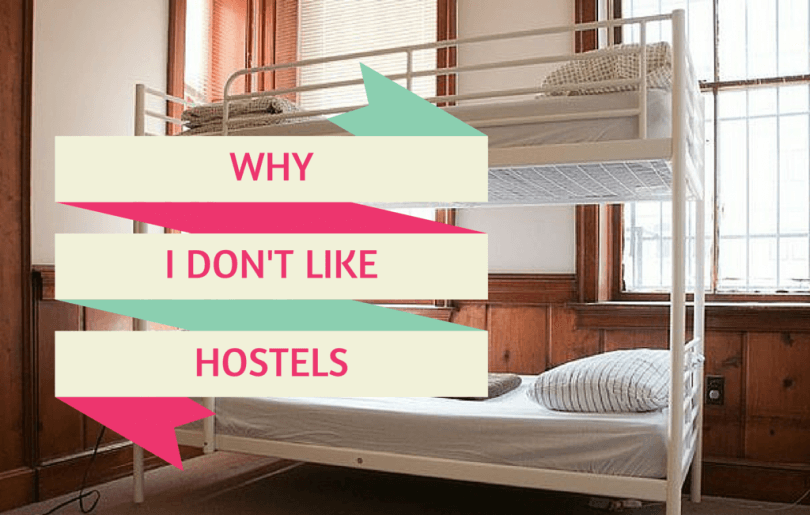 Na konci června pojedeme na sourozenecký víkend do Skotska. Dva dny v Edinburghu, jeden den v Glasgow, takže musíme řešit ubytování. A protože jsem nám už zamluvila pokoj a při přemýšlení, jaké ubytování vyberu, jsem stejně nakonec přeskočila hostely, napadlo mě, že o tom něco napíšu. Pro vás, ale i pro sebe, abych si ušetřila ten provinilý pocit, až příště zase vyberu raději hotel.
I'm going to Scotland with my brother at the end of June. Two days in Edinburgh and a day in Glasgow mean that we need to sort out the accomodation. And because I've already booked a room and while thinking about where to stay I ended up skipping hostels again, I figured I might as well write about it. For you but also for myself, to remind myself in the future, that I don't have to feel guilty when I choose a hotel over hostel.
Nemám ráda hostely. Bohužel, možná přicházím o nějakou speciální životní zkušenost, ale hostely prostě nejsou moje oblíbené místo ke spaní. Aby se neřeklo, že nevím, párkrát v životě jsem v hostelu spala. A s každým dalším, který jsem vyzkoušela, se pravděpodobnost, že jsem zrovna narazila na nějaký horší, snižovala. Takže ano, zkusila jsem to. Ne, nelíbilo se mi to.
I just don't like hostels. Maybe I'm missing out on an adventure of a lifetime but hostels are not my favourite place to stay. I know what I'm talking about, I've stayed in hostels a couple times. And with each of those stays the chances that I just happened to choose the wrong one were smaller. So yes, I tried. And no, I didn't like it.
Mám pocit, že je to takový stereotyp mladého cestovatele. Rád cestuješ? Chceš vidět svět? Jasně, tak to spíš v hostelech a na zádech máš batoh se vším, co budeš potřebovat, aby sis ho mohl nosit všude s sebou (batohy taky moc nemusím). Přijde mi, že když je mi dvacet dva, je z pohledu mnoha lidí tak nějak "nepatřičné", v tom hostelu nespat. Navíc každý má přeci ty nejlepší historky z hostelů (v hotelech se nic zábavného většinou neděje… To je přesně ten důvod, proč si v hotelu rezervujete pokoj).
It is some kind of a stereotype. Are you young? Do you like travelling? Do you want to see the world? Than of course you have to sleep in a hostel and have a backpack with everything you need so you can carry it around all the time (I don't particularly like backpacks either). I feel like because I'm 22, it's "unusual" not to sleep in a hostel. Because everybody seems to have the funniest stories from hostels (nothing funny seems to happen in hotels, but that's exactly the reason why you book a room there).
Ale pro mě to není až tolik o kontrastu hotel x hostel. Nepotřebuji pětihvězdičkový pobyt s vanou a snídaní na pokoj (i když je to fajn). Vydržím spát týden v autě, klidně i déle, když to stojí za to, nebo u kamarádů na gauči, i na karimatce na zemi. Ale chci usínat v pokoji / v autě / kdekoliv sama nebo s někým, koho dobře znám. Nevadí mi ani tak společné sprchy nebo jakýkoliv nekomfort toho typu (včetně pečlivě rozvrhnuté dovolené podle toho, který den se můžeme osprchovat na pláži, protože dojedeme k moři, to je zábava a tak nějak to k roadtripům patří), ale potřebuji za sebou zamknout dveře a spát bez obav z toho, že jsem obklopená cizími lidmi. Bez toho, abych musela poslouchat ostatní, jak chodí po pokoji, jak chrápou a kdy se budí. Opravdu někdo dobrovolně poslouchá budíky a všeobecně zvuky cizích lidí?
But for me, it's not really about hostel vs. hotel. I don't need a five-star room with a bath and a room service (although I certainly don't mind). I can sleep in a car for a week or longer, on my friend's couch, or on the ground and I enjoy it. But I want to fall asleep in a room / car / wherever alone, or with somebody I know well. I don't really mind the shared bathrooms or any discomfort of this kind (including a vacation with planned stops by the sea to shower at the beach, that was fun), but I need to close the door behind me and sleep without the fear of being surrounded by strangers or having to listen to people walking around or snoring or waking up. Does anybody really like listening to other people's alarms and sounds?
Nemyslím si, že jsem jediná, kdo nemá rád hostely. Ale existuje jakýsi standart, který ve mně vyvolává pocit, že pokud někdo nesnáší spaní v hostelech, pravděpodobně není ten "opravdový" cestovatel. Ale co je na spaní na pokoji s deseti lidmi, které jsem nikdy v životě neviděla, tak strašně moc super? Kde je ta zábava v tom, že vás někdo vzbudí ve tři ráno, protože se mu z kapsy na horní posteli vysype asi tak půl kila drobných?
I don't think I'm the only one who doesn't like hostels. But there's this kind of attitude that you're not the "real" traveller if you don't sleep in hostels. But where's the fun in sleeping with ten other people you've never seen before, in one room? What's great about being woken up by somebody dropping at least half a kilo of his change from the upper bed at 3am?

Mám prostě ráda ticho, klid a zamčené dveře. A můžou to být klidně dveře u auta, které jsme zavřeli po půlnoci kousek od moře, na parkovišti u McCafé, kam si ráno skočíme na snídani.
I just like a bit of silence, peace and doors locked at night. And it may well bet he car door that we closed after midnight, a short walk from the sea, in the McCafé parking lot where we went for breakfast the next morning.

---