Nezáleží, kolikrát jste v Londýně byli nebo jak dlouho jste tam žili, nikdy si neřeknete, že tentokrát už jste to viděli všechno. Londýn bude mít díky své velikosti a rozmanitosti vždy co nabídnout, ať už je to nová galerie, nová kavárna nebo čtvrť, která se během několika let stane centrem všeho dění. Na jednu stranu je to úžasná věc, na druhou to ale může skýtat výzvu, když přijde na plánování cesty sem. Co vidět první? Které památky určitě nevynechat a které odložit na příští návštěvu? Které jsou blízko u sebe a dají se navštívit ideálně za jedno odpoledne?
It doesn't matter how many times you've been in London or for how long you've lived there because you'll never say to yourself that you've seen it all. London is huge and diverse which means it will always have something to offer, whether it is a new gallery, a new coffee place or a neighbourhood that has become a well known part of the city in a few years. On one hand this is amazing, on the other hand it might be a challenge to plan your trip. What's the first thing you should see? Which sights not to miss and which ones to maybe leave for your next visit? Which ones are close to each other so you could visit them in one afternoon?
Spoustu takových otázek vám může vyřešit procházka podél Temže. Je to doslova přehlídka toho nejlepšího, co může centrum Londýna nabídnout, pěkně pohromadě, a jedna z nejkrásnějších procházek centrem města vůbec. Tak se po ní se mnou pojďte projít :).
A walk along Thames might be an answer to many questions. It's literally a walk along the best sights the centre of London can offer and it's probably one of the most beautiful walks in the city. So let's go for a walk together :).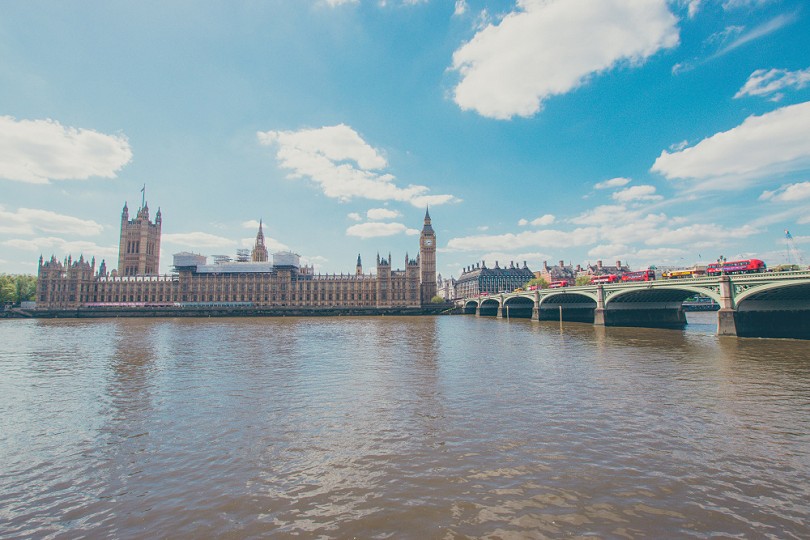 Začít ji můžete z obou směrů, předpokládejme ale, že jsme se do centra města museli nějakým způsobem dopravit a vycházíme od vlakové stanice Waterloo Station. Ta je přiblizně pět minut chůze od London Eye, které předpokládám nepotřebuje víc představovat. Pokud se rozhodnete pro vyhlídkovou jízdu, lístek pro dospělého stojí £21.20 (cca 700,-), často se ale dají koupit v různých "2 za cenu 1" akcí nebo v balíčku s dalšími atrakcemi.

You can start at either side but let's say we had to get to the city centre somehow so we're starting at the Waterloo Station. The train station is approx. 5 minutes away from the London Eye, which probably doesn't need any introduction. If you decide to go on a ride, the admission fee is £21.20 but there are 2-4-1 sales going on very often or you can buy a pass to access other sights as well.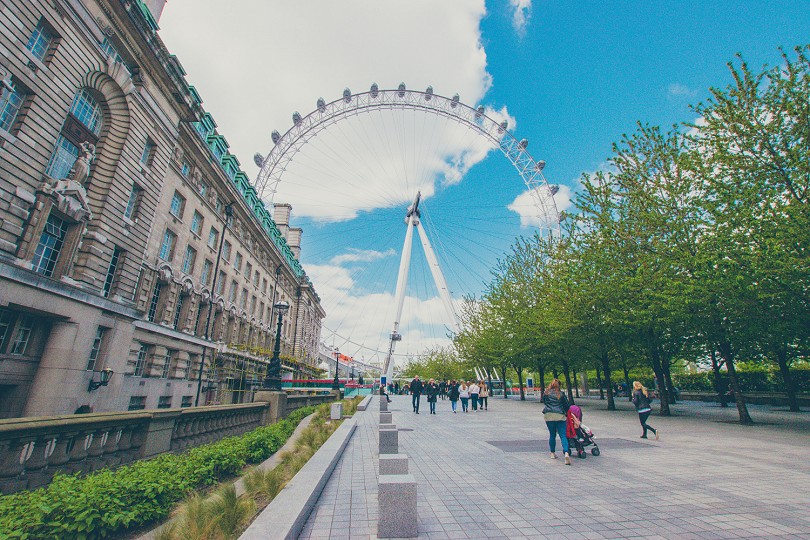 Od London Eye se nám přes řeku nabízí výhled na Houses of Parliament a Big Ben. Na chvíli se tu můžeme zastavit a kochat se Londýnem z pohlednice, ve stejnou chvíli to samé ale dělá dalších tisíc lidí, kteří se s námi mačkají na chodníku, tak se raději vydáme po břehu dál (nebojte, k Big Benu i parlamentu se ještě vrátíme, necháme to ale na jinou procházku).
We can spot the Houses of Parliament and Big Ben on the other side of the river, so let's stop for a while to admire the view. Not for too long though because at least a thousand of people are doing the same thing and it's a bit crowded on the sidewalk. Don't worry, we'll come back to Big Ben and the parliament but we'll leave that for another day.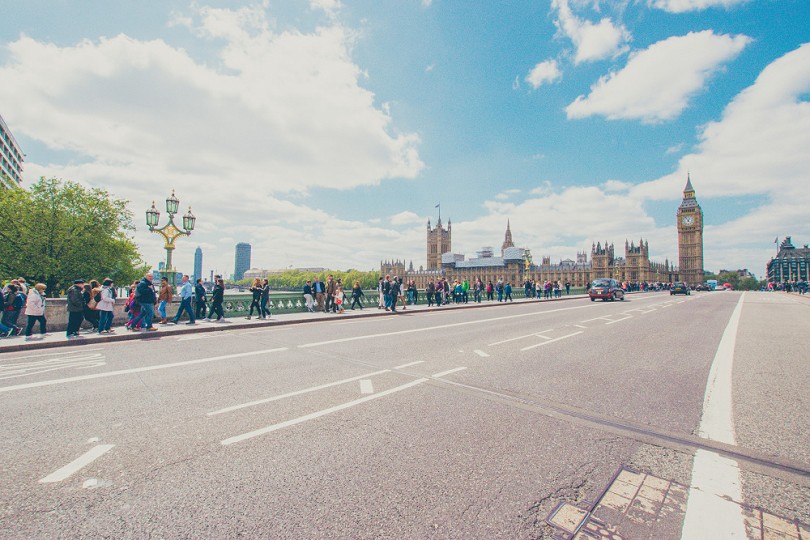 Na procházce podél Temže jsou nejlepší výhledy na památky na břehu, které se za každým rohem ukazují z trochu jiného úhlu a tak, pokud s sebou máte foťák, pravděpodobně celou cestu nepřestanete fotit. Cestou mineme National Theatre, několik obchodů, hospůdek a spoustu umělců hrajících v podchodech. Další zastávkou je Tate Modern, ve které si prohlédneme prostory, do kterých je vstup zdarma nebo připlatíme za vstup na další výstavy, záleží na vás, co si chcete prohlédnout.
The best thing about walking along the Thames is the view which keeps changing and showing you the best sights along the way. Which means if you have a camera with you, you probably won't stop taking pictures. On our way we'll pass the National Theatre, a few shops and pubs and many street artists playing in the passages. Our next stop is Tate Modern where we can explore the exhibitions that are for free or, depending on what you want to see, we can pay the admission and enter more exhibitions.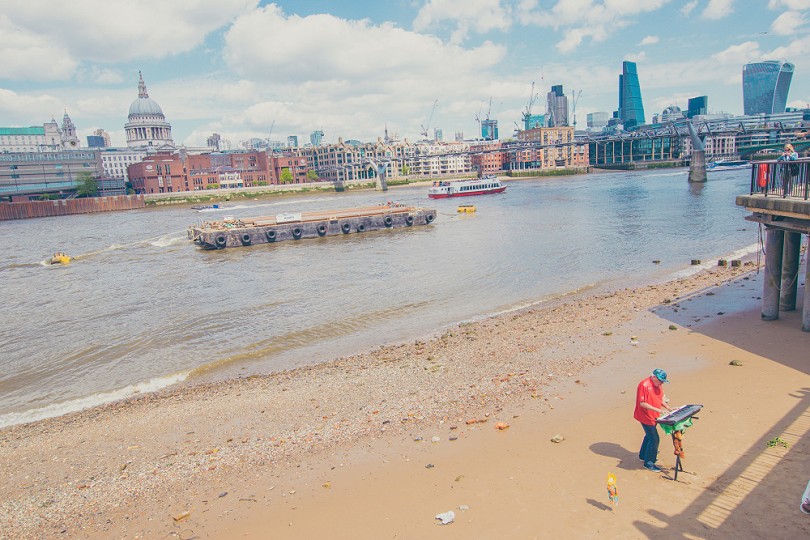 Ještě než se zastavíme u Shakespearova divadla Globe, uděláme si krátký výlet na druhou stranu řeky. Přes Millenium Bridge přejdeme k St. Paul's Cathedral, na kterou je právě z této strany nejlepší pohled, a na pár minut se u ní zastavíme. Byl by to hřích neposadit se na chvíli na lavičky s takovým výhledem (St. Paul's Cathedral je podle mě jedna z nejkrásnějších londýnských budov, a nikdy se k ní při návštěvě města nezapomenu vrátit).
Before we stop at Shakespeare's Globe, we'll make a quick stop at the other side of the river. We'll cross the Millenium Bridge to St. Paul's Cathedral because this is the way to get the best view, and we'll sit on one of the benches to admire it for a moment. It would be a shame not to stop here, St. Paul's Cathedral is one of the most beautiful buildings in London (at least for me) and I never forget to come here when I'm in London.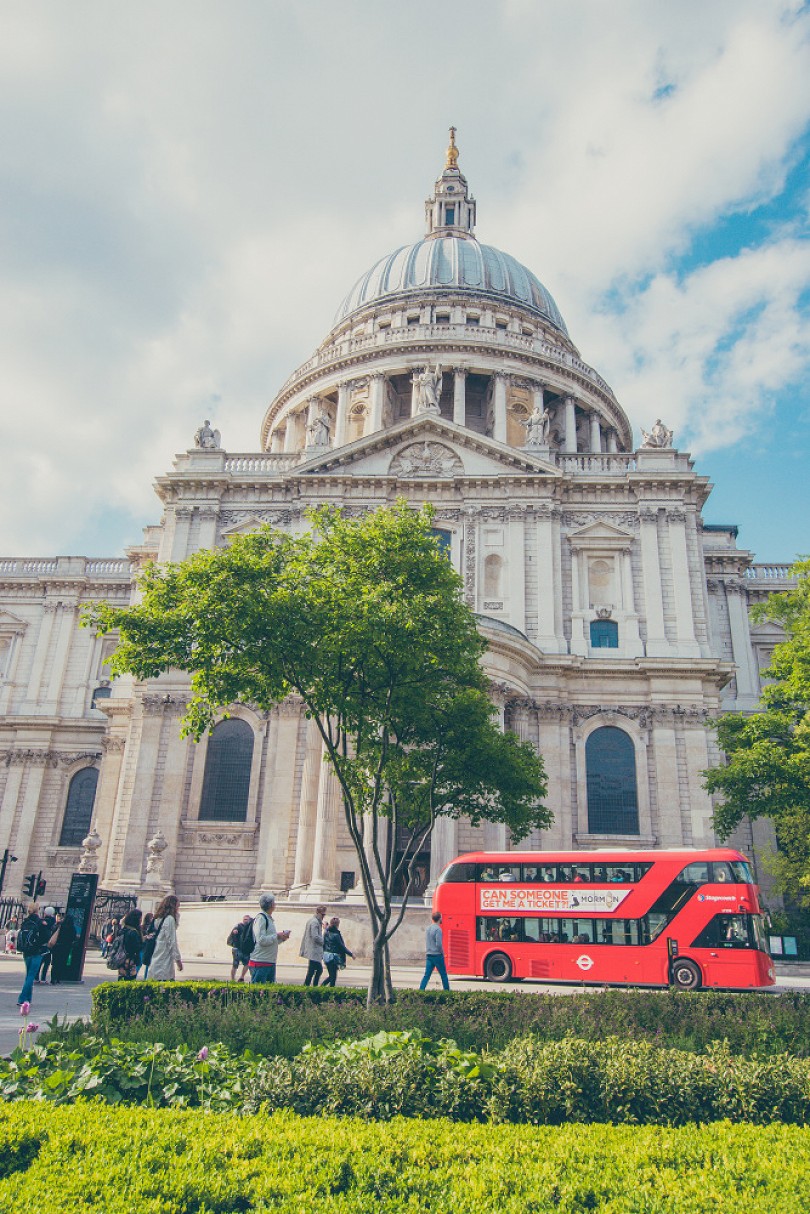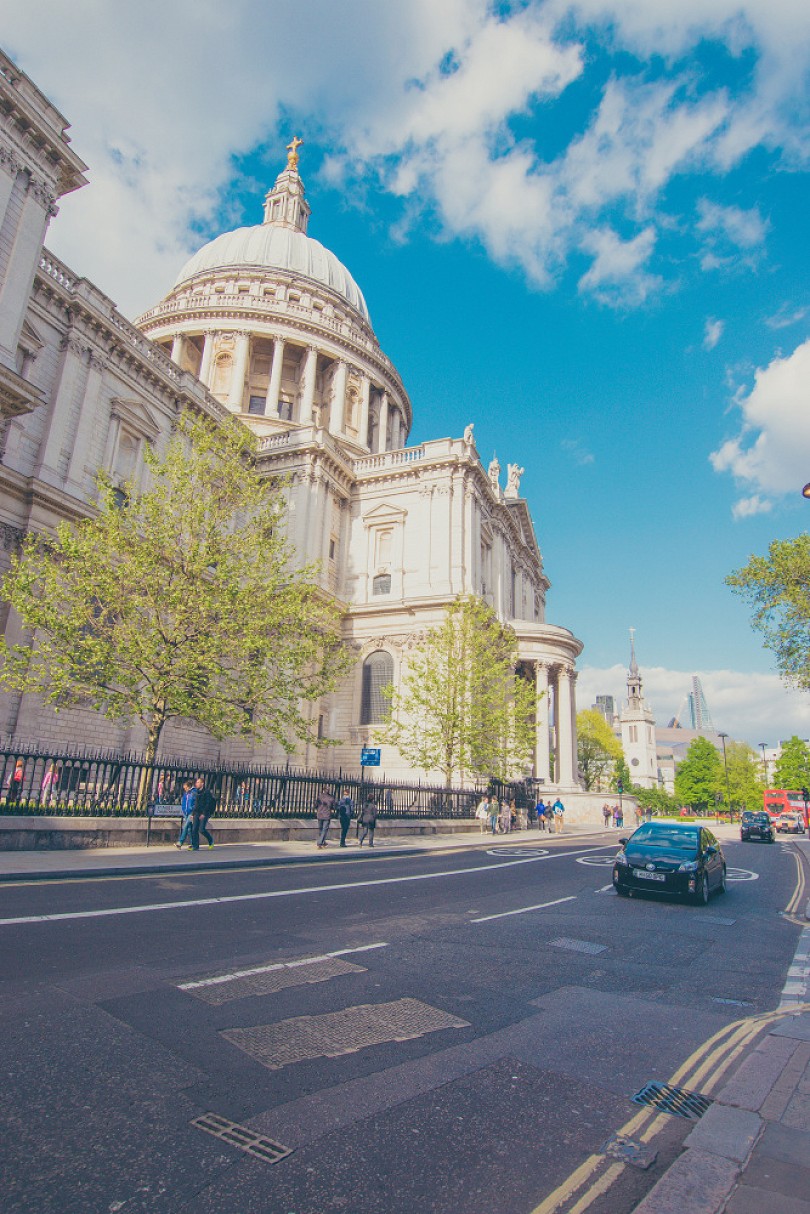 Tak a teď už přes most zpátky na druhý břeh, kde si při pohledu na Globe zkusíme vzpomenout, co si o Shakespearovi pamatujeme z hodin literatury, a budeme pokračovat dál. Máme za sebou už pořádný kus cesty, a tak se hodí, že máme po cestě vůbec nejstarší trh s jídlem v Londýně, Borough Market, kde se jednotliví prodejci předhání v tom, kdo nabídne větší dobrotu (jen počítejte s tím, že v neděli je zavřený).
So now let's go back to the other side where we'll try to remember what we know about Shakespeare while looking at the Globe theatre. And because we've already walked quite a bit, it's really convenient there's the oldest food market in London very close. Borough Market is not only the oldest but also one of the most popular markets in the city and we'll have plenty of food options to choose from (just keep in mind it's closed on Sundays).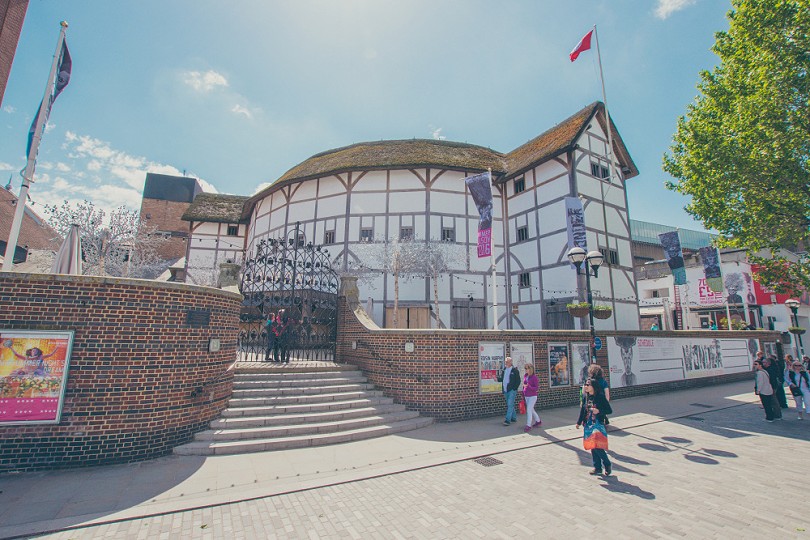 Z trhu se vydáme k mrakodrapu Shard, který je opravdovou dominantou centra, i když jeho vzhled budí rozporuplné reakce. Je to každopádně architektonicky zajímavá budova a ze svých nejvyšších pater samozřejmě nabízí možnost vyhlídky na Londýn. Ta vám ale každopádně udělá průvan v peněžence, vstupné £29.95 na osobu (cca 990,-) z ní dělá opravdu vyhlídku za všechny prachy. Pokud jste ale ochotní takové peníze do pohledu na město investovat, doporučovala bych se ještě před koupí vstupu na vyhlídku podívat na menu restaurací, které se sice nachází o několik pater níž, ale pořád nabízí dechberoucí výhledy, a alespoň za přibližně stejné peníze dostanete k výhledu i jídlo.
From the market we'll head towards the Shard, which is a true landmark, although it arouses contradictory reactions. Anyway, the architecture is really interesting and of course you can go to the top to see the city. However, it's not the cheapest view. The admission fee is £29.95 so I'd highly recommend checking out the restaurants and bars that are not on the top floors but offer an amazing view anyway. This way you could at least get some food with the view as well :).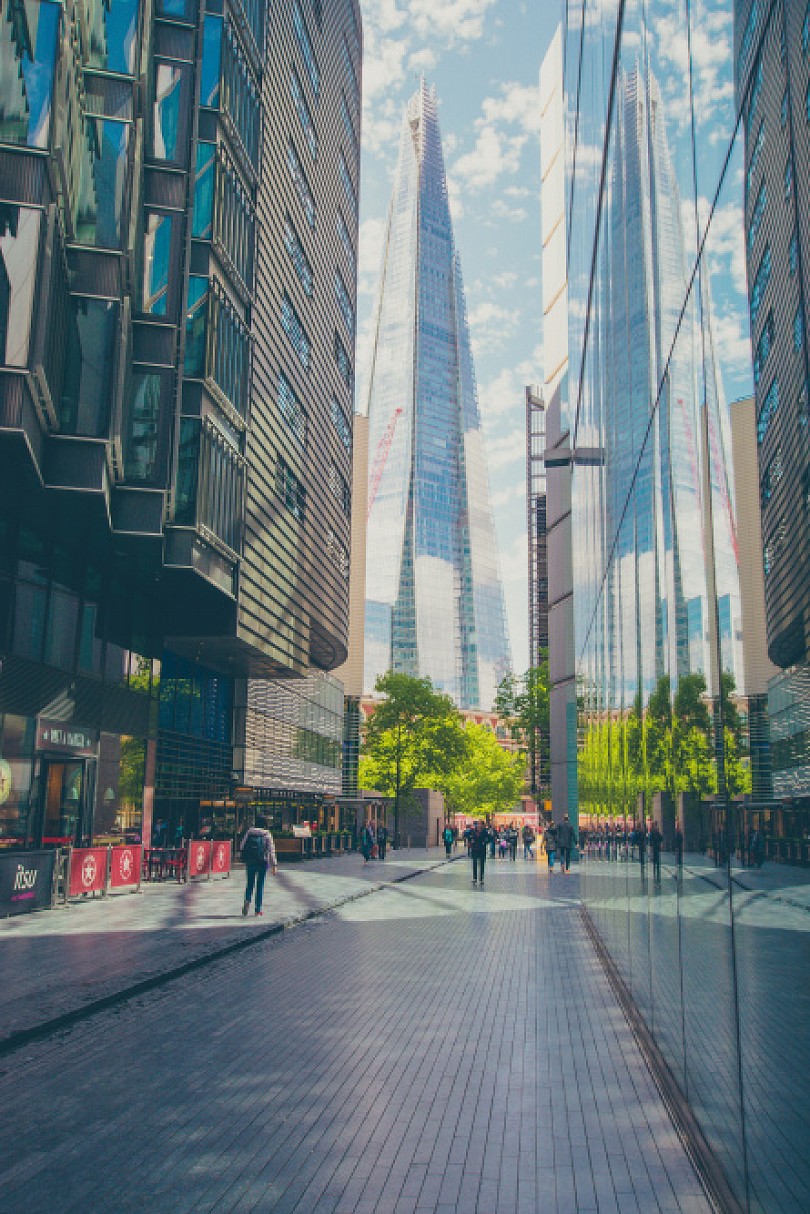 Shard budeme mít v dohledu i cestou k jedné z posledních (a nejlepších) zastávek naší procházky. Z hlavní silnice, na kterou se cesta od řeky za London Bridge stočila, se vrátíme zpátky k jejímu břehu. Uličkou pro pěší mezi kacelářskými budovami se dostaneme na More London Riverside,odkud je výhled na Tower i Tower Bridge. Nejlépe to asi vystihnou fotky :).
We'll see the Shard on our way to one of our lasts (and best) stops today as well. We'll turn left from the main road which will lead us back to the river. The path between huge office buildings leads to the area called More London Riverside, where we'll get the best views of both Tower and Tower Bridge. I think pictures will speak for themselves :).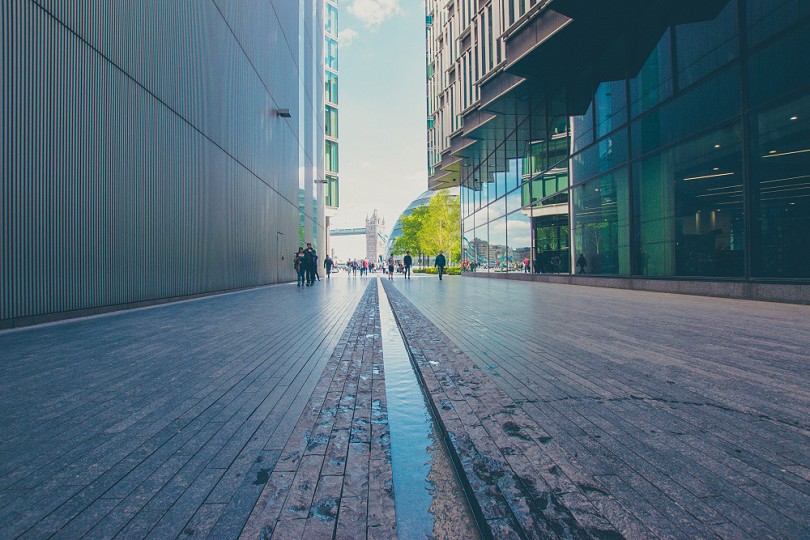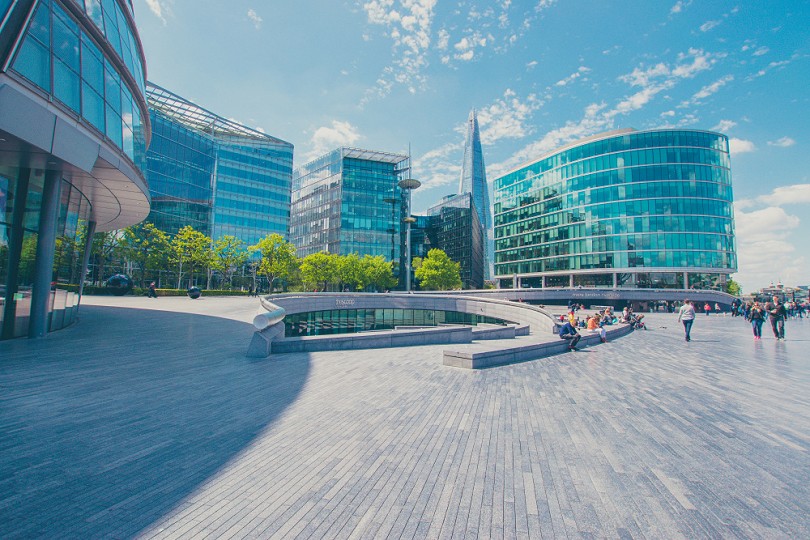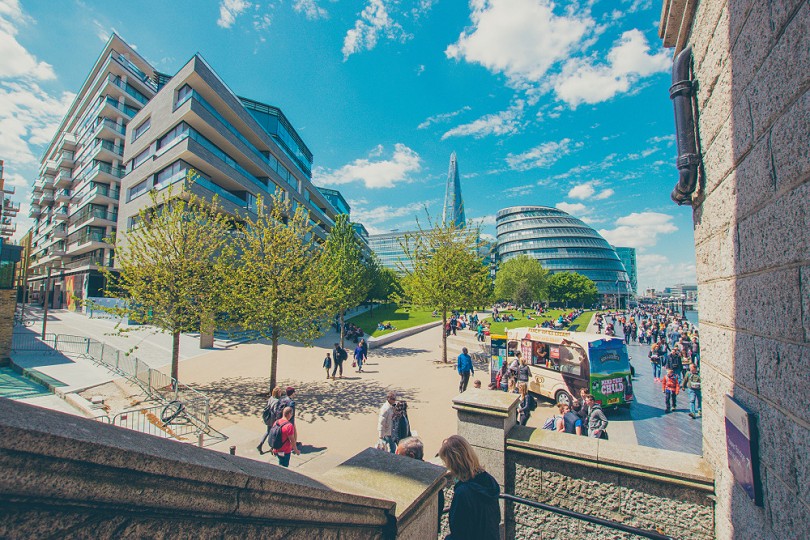 A už se blížíme k úplnému závěru. Přes davy turistů na Tower Bridge se probojujeme na druhou stranu k Tower of London. Na obě tyto památky je možné si koupit vstup - za £9.00 (cca 300,-) se projdete po skleněné podlaze na mostě ve výšce 42 metrů nad Temží, za £25.00 (cca 830,-) se dostanete do pevnosti, k britským korunovačním klenotům a na další expozice.
And we're really getting to the end here. We'll make our way through the crowds on Tower Bridge to get to the Tower of London. If you want to, you can discover both of them more - for £9.00 you'll get to walk on the glass floor walkway on the top of Tower Bridge, 42 meters above the River Thames. For £25.00 you'll have access into the Tower to see the Crown Jewels and many more interesting exhibitions.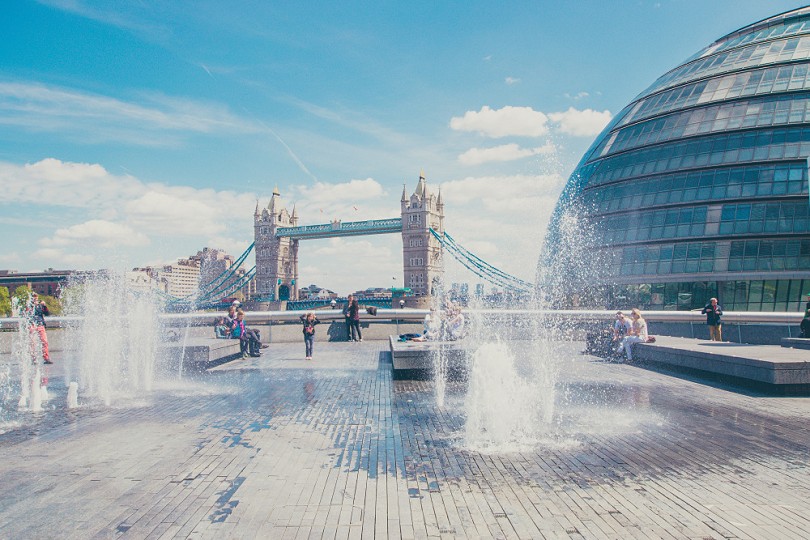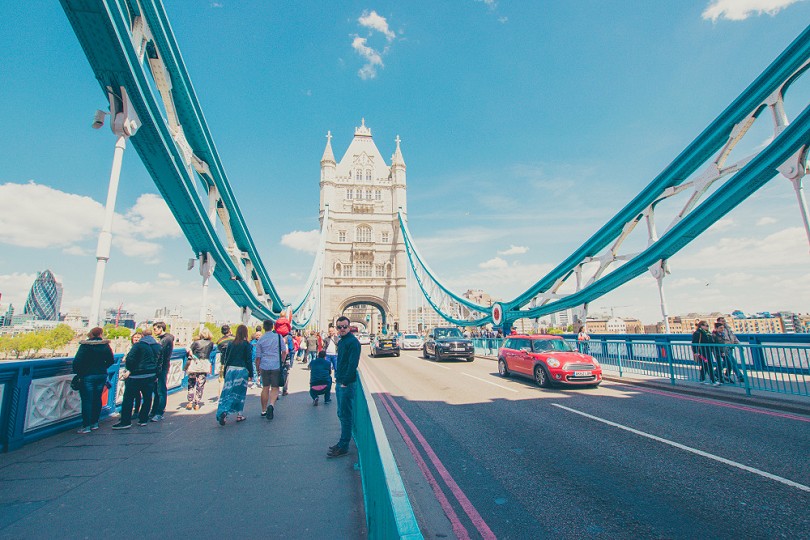 A tady, u Tower of London naše procházka po břehu Temže končí. Jestli jste dočetli až sem, je vám asi jasné, že je potřeba si na ni vyhradit nejlépe celé odpoledne, protože zajímavosti, výhledy a památky jsou opravdu na každém rohu. Podle mě je to ale pravdu ten nejlepší "úvod do Londýna" a neuděláte chybu, když ji do programu zařadíte :).
Tower of London is where our walk ends today. If you've managed to follow my lead through this post you've probably already figured out that it's not a short walk and it's best to devote a whole afternoon to see everything because there are so many interesting sights it would be a shame to rush it. I truly think this is the best "introduction to London" you could possibly get and I'm sure you'll enjoy walking along the Southbank as much as I do :).