Rozhodla jsem se, že k narozeninám sobě i blogu sepíšu už dlouho plánovaný článek z Dubaje, na kterou málokdo zůstává bez názoru. Ať už si myslíte, že je to jen moderní město bez ducha, nebo vás fascinuje prolínání tradiční arabské kultury s neomezenými možnostmi moderního centra, Dubaj by si, alespoň podle mě, měla najít cestu do vašich cestovních plánů. Minimálně si svůj názor potvrdíte, nebo budete nakonec odjíždět s úplně opačným.
Tak se pojďme pustit do toho, jak si v Dubaji užít víkend a co před odjezdem nevynechat :).
I've decided that to celebrate my and blog's birthday I'll finally write about Dubai, which I've been wanting to do since last November, ups :D. It's a city almost everybody has an opinion on - whether you think it's just a modern city with no spirit, or whether you're fascinated by how well the traditional Arabian culture blends with the modern city centre, Dubai should have a place in your travel plans. At least you'll either confirm your opinion or you'll leave with a completely opposite one. So let's go to Dubai for the weekend! :)

Souk Madinat Jumeirah
Madinat Jumeirah v sobě spojuje něco ze staré Dubaje s tou novou. Kromě toho, že tu najdete několik luxusních hotelů, je se svými trhy, obchůdky a restauracemi otevřený i veřejnosti. Musím říct, že se mi těžko vybírá, které místo se mi v Dubaji líbilo nejvíc, Madinat Jumeirah má ale nakročeno vysoko.
TIP! Kromě nákupů a procházky podél kanálů je odtud totiž pravděpodobně nejlepší a nejhezčí výhled na Burj Al Arab, tak si ho sem přijdťe vyfotit.
Madinat Jumeirah is a mix of traditional and new Dubai. You'll not only find a few luxurious hotels here but also a complex of markets, restaurants and coffee places opened to the public. I have to say it's hard to choose my favourite place in Dubai, but Madinat Jumeirah is really high on the list.
TIP! It's probably one of the bests spots for seeing Burj Al Arab and the surroundings are beautiful as well.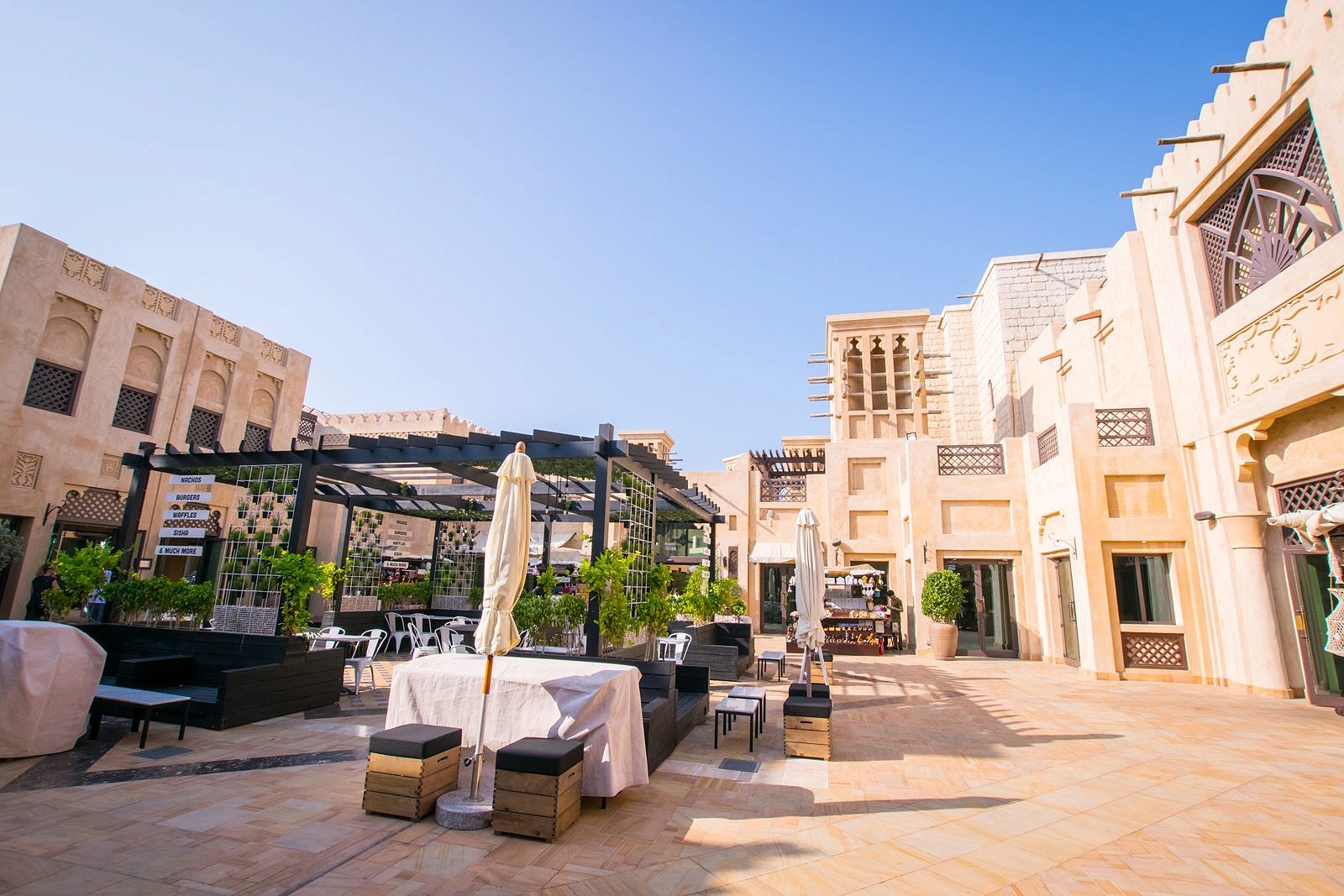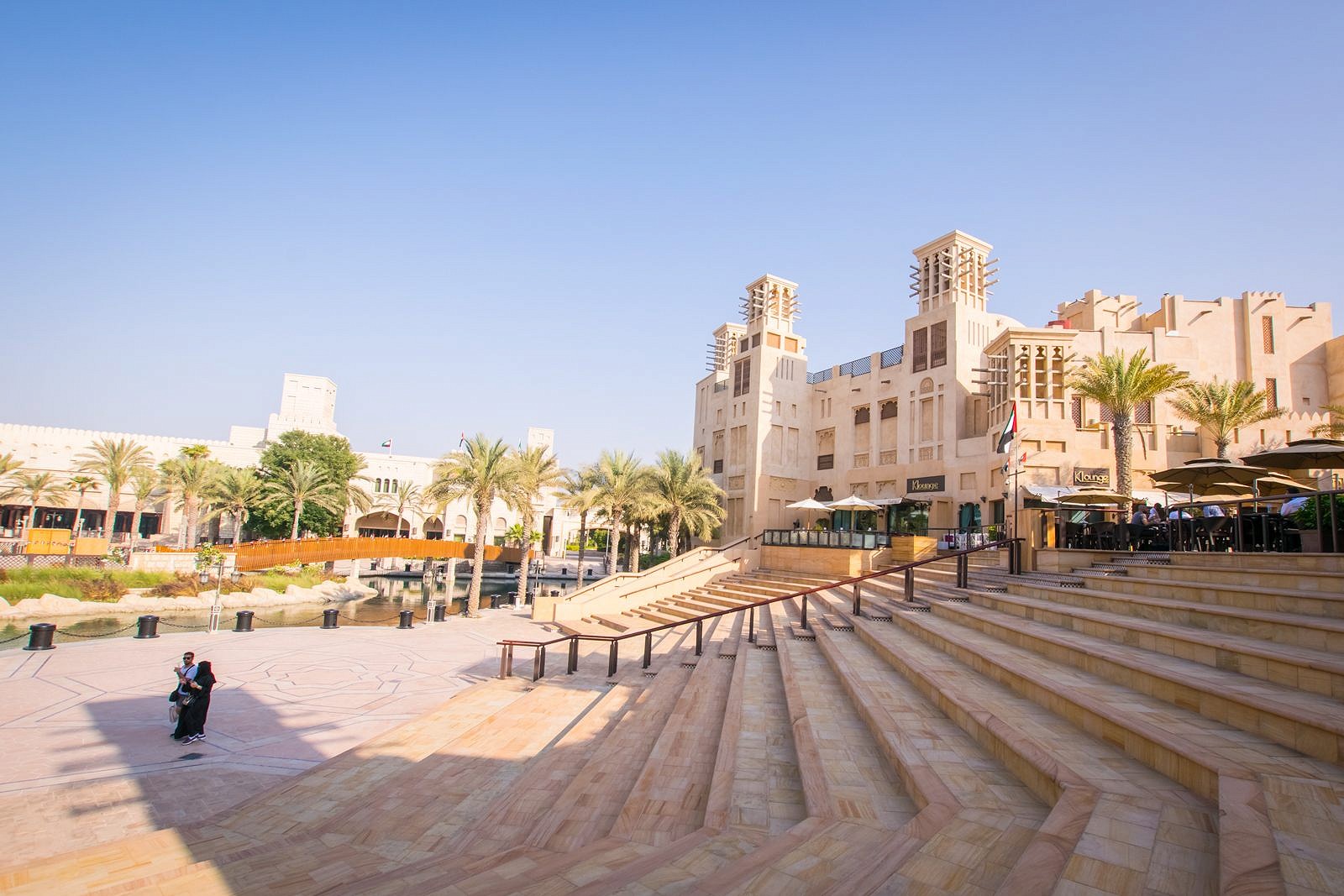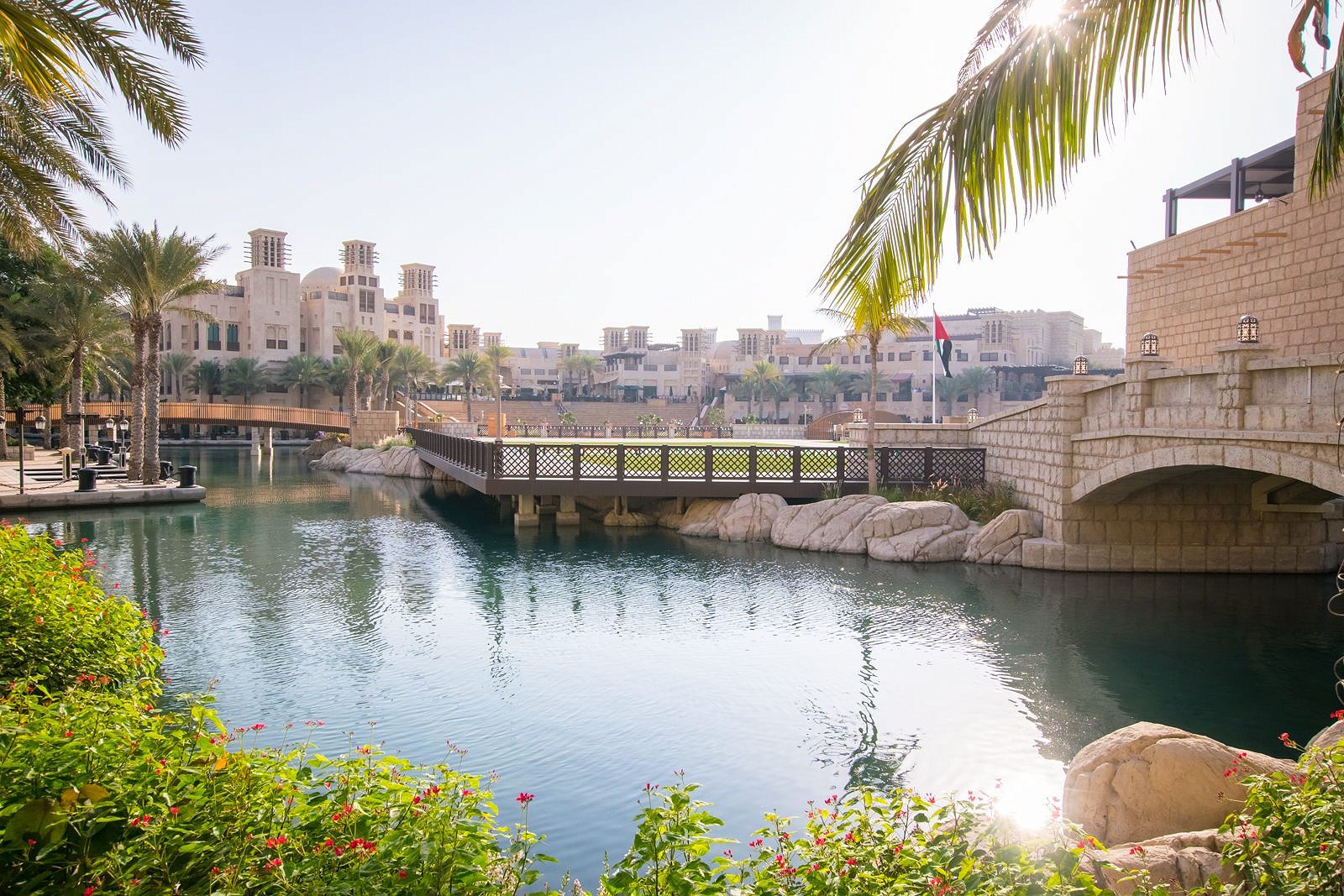 Burj Khalifa
Je nutné tohle vůbec rozvádět? Nejvyšší budova na světě vás, ať chcete nebo ne, prostě ohromí a ať už budete v Dubaji kdekoliv, budete její špičku hledat na nebi. Jen tak, kdyby náhodou byla vidět ;).
Zážitek, kvůli kterému se do Dubaje mnoho lidí vydává, je pohled na město právě z vrcholku Burj Khalifa, ale protože i se vstupenkou koupenou předem to není úplně blesková záležitost (fronta ke kontrole a na výtah vás může zdržet i na hodinu) a my jsme měli na celé město jen omezený čas. Na druhou stranu je to rozhodně pádný důvod se vrátit :).
TIP! Pokud vy se na "At the Top" podívat chcete, nervy vám ušetří právě koupě lístků předem, a nezapomeňte zkontrolovat různé slevové portály, jako třeba Groupon, kde jsou často ve slevě.
Do we really need to talk about this one? The tallest building in the world will amaze you whether you want or not and you'll find yourself looking for it wherever you are in Dubai, because what if you could see its top even from this or that place :).

Seeing Dubai from the top of Burj Khalifa is a bucket-list experience and also a reason why I have a reason to come back - we only could spend two days in Dubai and since standing in the queue takes quite some time (it can be up to an hour even with a pre-purchased ticket), I've decided it's better to see some other spots. It's a legit reason to come back though :).
TIP! If you're planning to see how it looks "At the Top", save yourself some time and buy tickets in advance and don't forget to check the discounts e.g. on Groupon, it's quite common to find the tickets on sale.
Dubai Fountain
Uznávám, že někomu se může zdát zbytečné vybudovat mezi mrakodrapy bazén o velikosti středního rybníku a do něj přidat fontány… Ale! Tohle nejsou ledajaké fontány. Tohle jsou nejepičtější fontány, které jsem kdy v životě viděla (a taky je to nejrozsáhlejší systém tančících fontán na světě, což vás v Dubaji už ani nepřekvapí). Každý večer, od šesti do deseti hodin, vás čeká představení na jednu z asi 35 písní, které mají fontány v repertoáru. Voda stříká až do výšky 150 metrů a všechno je doprovázeno světelnými efekty a já slibuju, že toho čekání se spoustou dalších lidí určitě nebudete litovat!
TIP! Mimochodem my jsme shodou okolností viděli představení tři a asi nejužitečnější tip, který můžu přidat, je poodejít od Dubai Mall, odkud fontány pozoruje nejvíc lidí. Když "bazén" obejdete a budete na místě dostatečně včas, můžete stát na druhé straně, s krásným výhledem a minimem lidí mačkajících se u zábradlí - na tuhle stranu se chodí dívat i místní, kteří si výhled užívají spíš v sedě na trávě, než namačkaní co nejblíž.
Ok, it might appear a bit excessive to build a pool of the size of a pond and add a fountain… but! Hear me out, this is not your average fountain. This is the most epic fountain I've ever seen (and it's the world's tallest performing fountain, not too surprising in Dubai). Every night from 6 pm till 10 pm and you can witness the impressive water, light and music spectacle every half an hour. There are around 35 different songs, the fountain can spray water up to 150 meters high and I promise you won't regret waiting for the show despite being surrounded by many others.
TIP! It was a complete coincidence but we got to see three shows and probably the most useful tip I can give you is to go further away from the Dubai Mall, which is where most people watch the show. If you walk around the "pool" and you have enough time to reach the other side, the view will still be amazing but you'll be there with far fewer people :).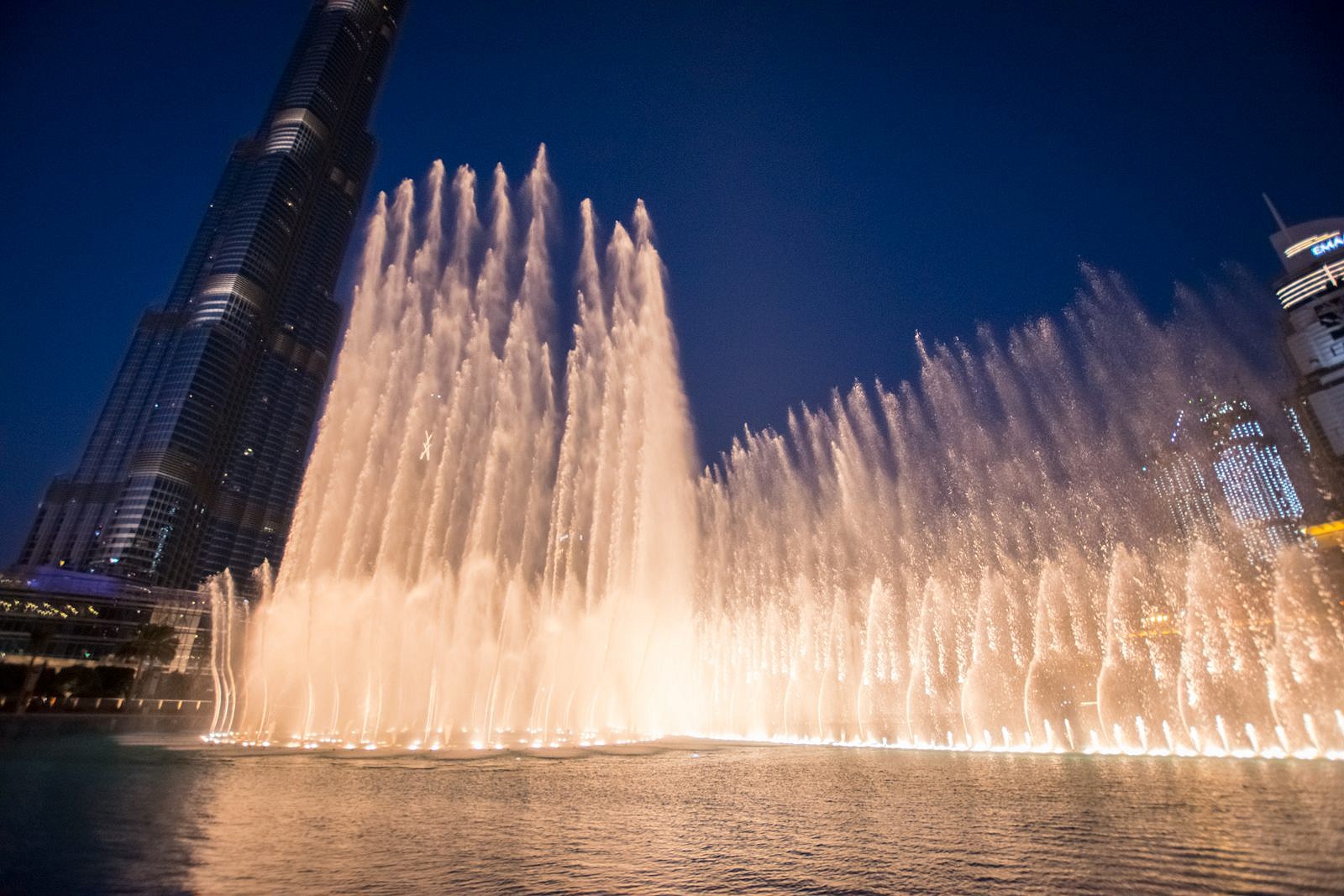 Dubai Mall
A další nej… největší obchoďák na světě je takové město ve městě. S nekonečně mnoha obchody, restauracemi, obrovským akváriem, zajímavě řešeným vodopádem (mimochodem - zkuste si před něj na chvíli stoupnout a dívat se na plavce, nám se z toho všem zatočila hlava), prostě se vším, na co si jen vzpomenete, je průřezem populárními obchody z celého světa. Jestli je nakupování váš šálek kávy, vyhraďte si na Dubai Mall minimálně celé odpoledne a změňte limity na kartě :D, ale i pokud se na velké nákupy nechystáte, aspoň se tudy projděte, stojí to za to a navíc je tu klimatizace, za tu je hodně plusových bodů.
And another "world's biggest" is next to the Dubai Fountain. It's the Dubai Mall which is the biggest shopping mall in the world and is almost a city within a city. Endless possibilities to shop, eat, to visit an underwater world, a waterfall (try standing in front of it and looking at the sculpture for a moment, I bet your head will start spinning), there's literally every shop you could think of. If shopping is your cup of tea, I recommend going to Dubai Mall for at least one afternoon and changing limits on your card :D, but even if you're not planning to go wild in the shopping mall, at least have a look, it's so different to the malls we know and it's air-conditioned which is a huge plus when it's so hot outside, haha.
Souk al Bahar
Pokud nemáte večeři v hotelu, můžete se zastavit v jedné z mnoha restaurací v komplexu Souk al Bahar, přes který půjdete okolo fontán při hledání nejlepšího výhledu a obdivovat důmyslnou arabskou architekturu, která rozhodně nestojí jen ve stínu okolních mrakodrapů.
TIP! Pokud vás vysoké teploty zlákají k moři, vyzkoušejte třeba Al Mamzar Beach Park, za celodenní vstup tu zaplatíte jen 5 AED (asi 30 Kč).
If you're not having dinner at your hotel you can book a table in one of many restaurants in Souk al Bahar, which is a complex surrounding the Dubai fountain and you'll walk past many bars and restaurants while looking for the perfect spot to watch the fountain. Try to stop here for a moment to admire the Arabian architecture which definitely doesn't let the modern architecture overshadow the tradition.

TIP! If the hot weather convinces you an afternoon on the beach is the best option, try Al Mamzar Beach Park, a ticket for the whole day costs just 5 AED (approx 1,20€).
Kromě té známější, moderní tváře, má Dubaj ještě tu tradiční, s trhy, vůněmi, loděmi převážejícími cestující z jednoho břehu řeky na druhý a neutuchajícím mumrajem, ve kterém se trhovci snaží nabídnout všechno zboží, které byste mohli aspoň trochu potřebovat. Old Dubai je podle mě právě ta část, která dodává Dubaji další rozměr a ducha, a rozhodně byste ji neměli vynechat. Kam jít, o tom si přijďte přečíst příště :).
Apart from the well known, modern part, Dubai also has a traditional part, with souks, different smells, ships carrying passengers from one side of the river to another one and a never-ending bustle with merchants offering all the goods you could possibly need. Old Dubai is, at least in my opinion, exactly the part which gives Dubai another dimension and spirit and is something you can't miss. Come back soon to find out where to go and what to see :).
PIN THIS FOR LATER