Sedmdesát kilometrů po tom, co jsme minuli poslední "městečko" (rozuměj benzinku, obchod, kemp a několik domů v různém stádiu opuštěnosti), jsme se ocitli v Panamint Springs... Tečka na mapě téměř neviditelná, ještě aby ne, když jsme tu našli jen poměrně opuštěně vypadající benzinku, malou restauraci a několik pokojů s (poměrně drahým a dlouho dopředu vybookovaným) ubytováním.
Panamint Springs je svět sám pro sebe. Z terasy malé restaurace je výhled na kopce, ze kterých jsme právě sjeli dolů, a na údolí, přes které někdo podle pravítka načrtnul silnici do srdce Death Valley.
Seventy kilometres after we drove past the last "town" (and by town I mean a gas station, a shop, a camp and a few houses in different stages of being abandoned), we arrived in Panamint Springs… A dot that is almost impossible to see on a map and you can understand why when you get here. It's just a gas station, a small restaurant and a few (quite expensive and most of the time booked) rooms.
Panamint Springs is a world of its own. From the restaurant, you can see the hills we've just arrived from and raising up on the other side of the valley, connected by a road so straight it just looks like someone took a ruler and draw it.
Když do nás zapadla poslední hranolka a slunce zašlo za obzor, všichni obyvatelé se začali ukládat ke spánku a jasnější signál, že bychom i my měli začít řešit, kde budeme spát, jsme nepotřebovali. Vydat se kupředu do Údolí smrti rozhodně nebyl nápad století, zkusili jsme to tedy opačným směrem. Vyjeli jsme zpátky na kopec, kde jsme ještě večer zahlédli vyhlídkové parkoviště a Father Crowley Overlook (jak jsme se dočetli ráno na ceduli) byl nakonec naším prvním "autoubytováním". Můžeme ho všemi deseti doporučit, stejně jako nocování takhle blízko Death Valley.
As soon as we finished the last fry, the sun went down and everybody started to slowly go back to their bedrooms which were a clear signal for us that we should start sorting out where we are going to sleep tonight. Going to Death Valley didn't sound like the idea of a century so we decided driving back, up the hill, is more reasonable. Before dinner, we saw a parking lot at the Father Crowley Overlook which turned out to be the perfect spot for spending the night. We can't recommend this enough as well as sleeping as close to the Death Valley NP as possible.
Z praktického hlediska jsou tu toalety, parkoviště je dost velké, takže ho můžete sdílet pohodlně s dalšími auty a z romantického hlediska tu uvidíte noční oblohu tak nádhernou, jakou jsme snad nikde neviděli. Desítky kilometrů odsud neexistuje žádný zdroj světla, který by kazil hvězdnou podívanou, a tak se stačí rozhlížet po nebi nad sebou a hrát si na hvězdáře. My jsme si otevřeli pivo a koukali jsme na hvězdy, dokud se neochladilo a dokud nám nově příchozí, kteří zaparkovali vedle nás neprozradili, že s baterkami okolo nás hledají škorpiony (mezi tím našli taky naše GoPro, které jsme měli o kousek dál na kamenech na timelapse, ale to se nám prý chystali jen donést. GoPro máme, tak jim věříme).
Let's focus on the practical stuff for a second. There are decent toilets and the parking lot is big enough to accommodate a few cars or campervans. For the romantic souls, you can't really beat the night sky here. There are no sources of light for tens of kilometres which means nothing disrupts the show on the sky. So we just opened a beer, sat outside and watched the sky until it was too cold (and some guys told us they are searching for scorpions next to us).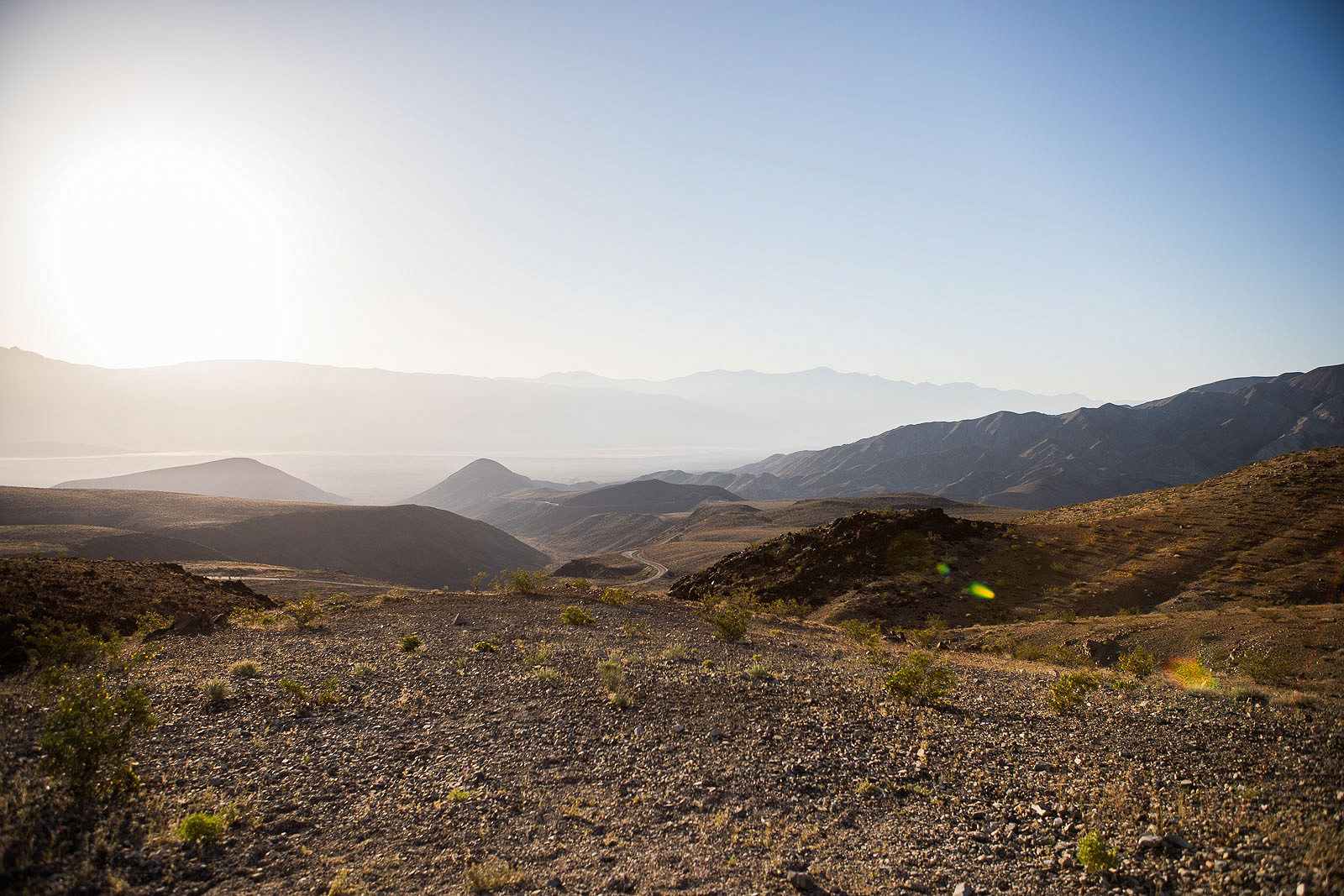 Východ slunce je tu stejně fascinující, jako západ, a tak se vyplatí si přivstat nejen kvůli tomu, že v údolí rychle stoupají teploty nad snesitelnou hranici, ale i pro zážitek, který vás nabije energií na celý den (tímto děkujeme slovenskému karavanu, jehož osazenstvo si taky přivstalo a nabilo nám u sebe baterii do foťáku – té bohužel k nabití energií všechna ta přírodní krása nestačila).
Z kufru jsme vydolovali jablko a kousek bagety ke snídani, mrkli jsme naposledy na mapu a do průvodce, udělali přibližný plán a vydali se vstříc místu, které známe od malička z encyklopedií.
Nakonec jsme po národním parku najezdili desítky kilometrů od jedné fascinující zastávky k další a tady je seznam toho nejlepšího, co jsme v Údolí smrti za jeden den stihli vidět.
The sunrise here is equally fascinating so it's worth waking up early, not just because it gets really hot quite fast but for the experience as well. It's so beautiful it just makes you excited for the day.
Biting into an apple and a baguette we checked the map and the guide for the last time, agreed on an approximate plan and headed to the place we've known from the encyclopedia since we were little.
We ended up driving for tens of kilometres around the park from one fascinating stop to another so here's a list of the best spots we've managed to see in one day.
Mesquite Flat Sand Dunes
Podle toho, ze které strany do parku vjedete, budou duny Mesquite pravděpodobně první nebo poslední zastávkou. My jsme u nich parkovali auto v sedm hodin ráno, parkoviště bylo téměř poloprázdné a měkce tvarované duny odvážně kontrastovaly s ostře řezanou měsíční krajinou, která je obklopuje.
Naplánujte si příjezd ráno nebo v podvečer, písek může být přes den nepříjemně rozpálený.
Depending on the side you enter the park from the Mesquite Flat Sand Dunes will be either the first or the last stop. We turned off the engine at the parking lot here at 7 am and we were there only with a few other people. The soft-shaped dunes contrast boldly with the sharp-cut moonscape that surrounds them.
Keep in mind the sand will be hot during the day so either plan to arrive in the morning or later in the evening.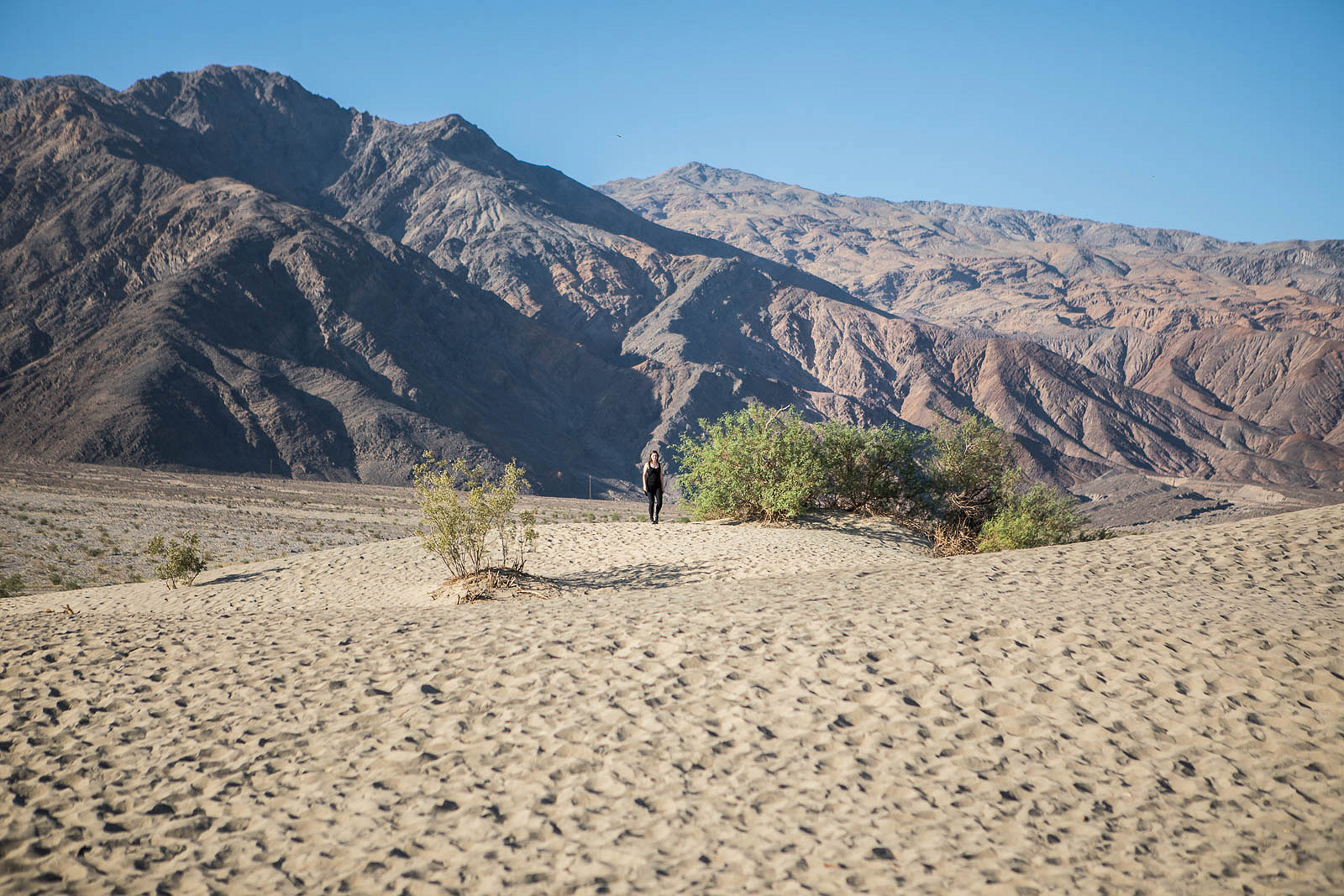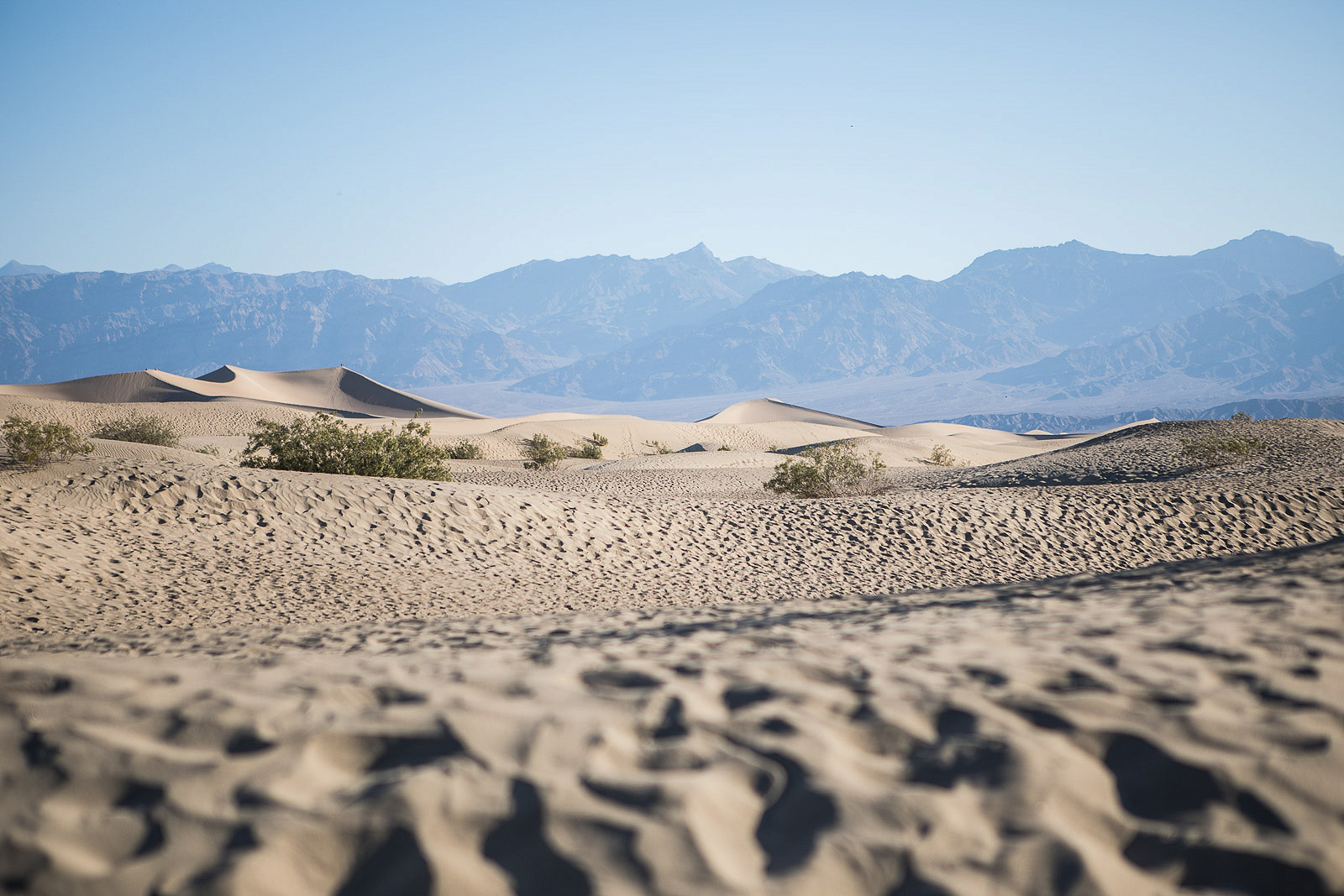 Artist's Drive
Devět mil dlouhá jednosměrná silnice se klikatí mezi barevnými skalami, které tu vymalovaly různé soli a minerály. Cestou si můžete vybrat z několika příležitostí k procházkám mezi skály a podívat se na jejich fascinující zbarvení zblízka.
The 9 miles long one-way road winds along the rocks that have been coloured by various metals and minerals. There are a few stops on the road where you can park your car and head towards the rocks to see the colours from up close.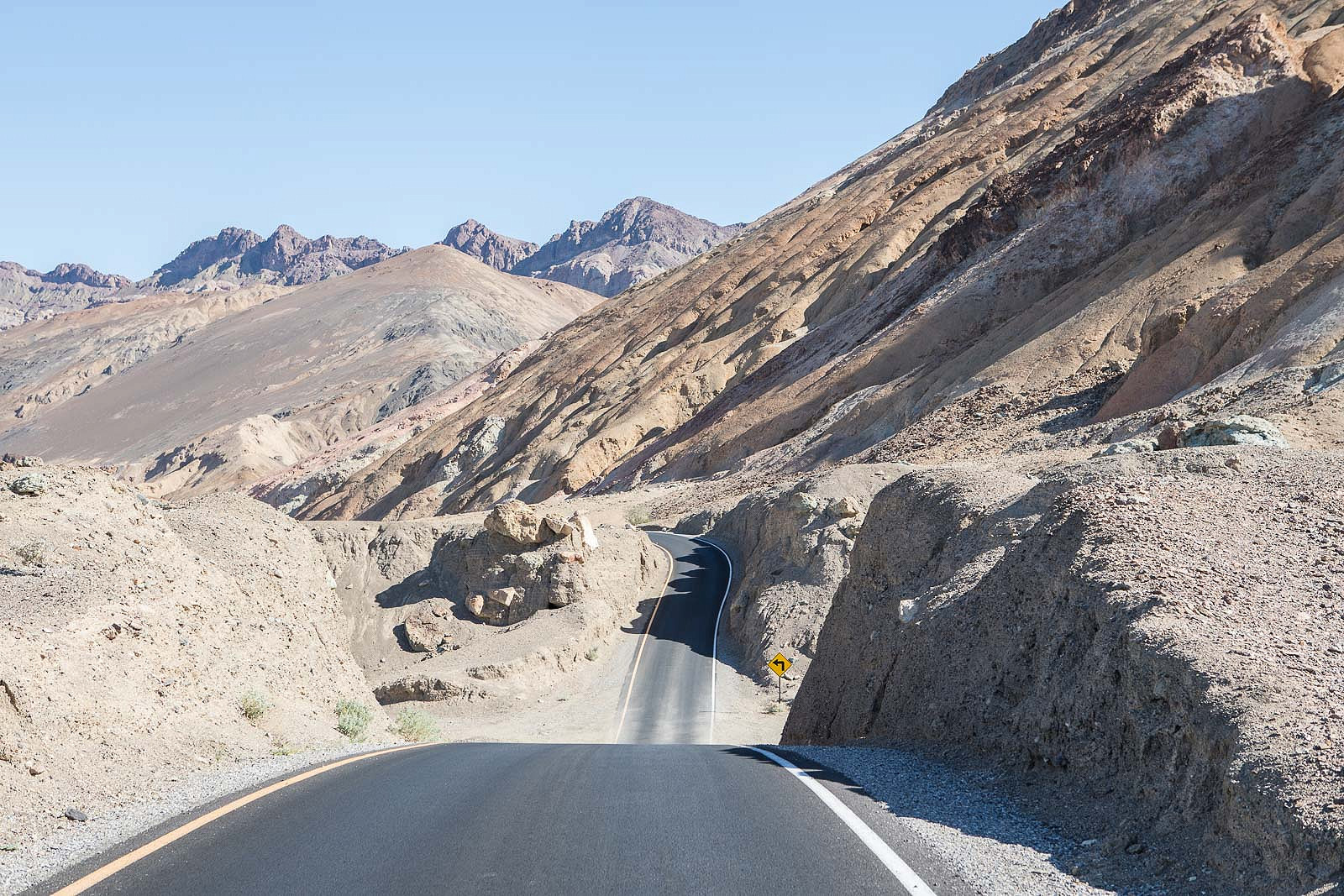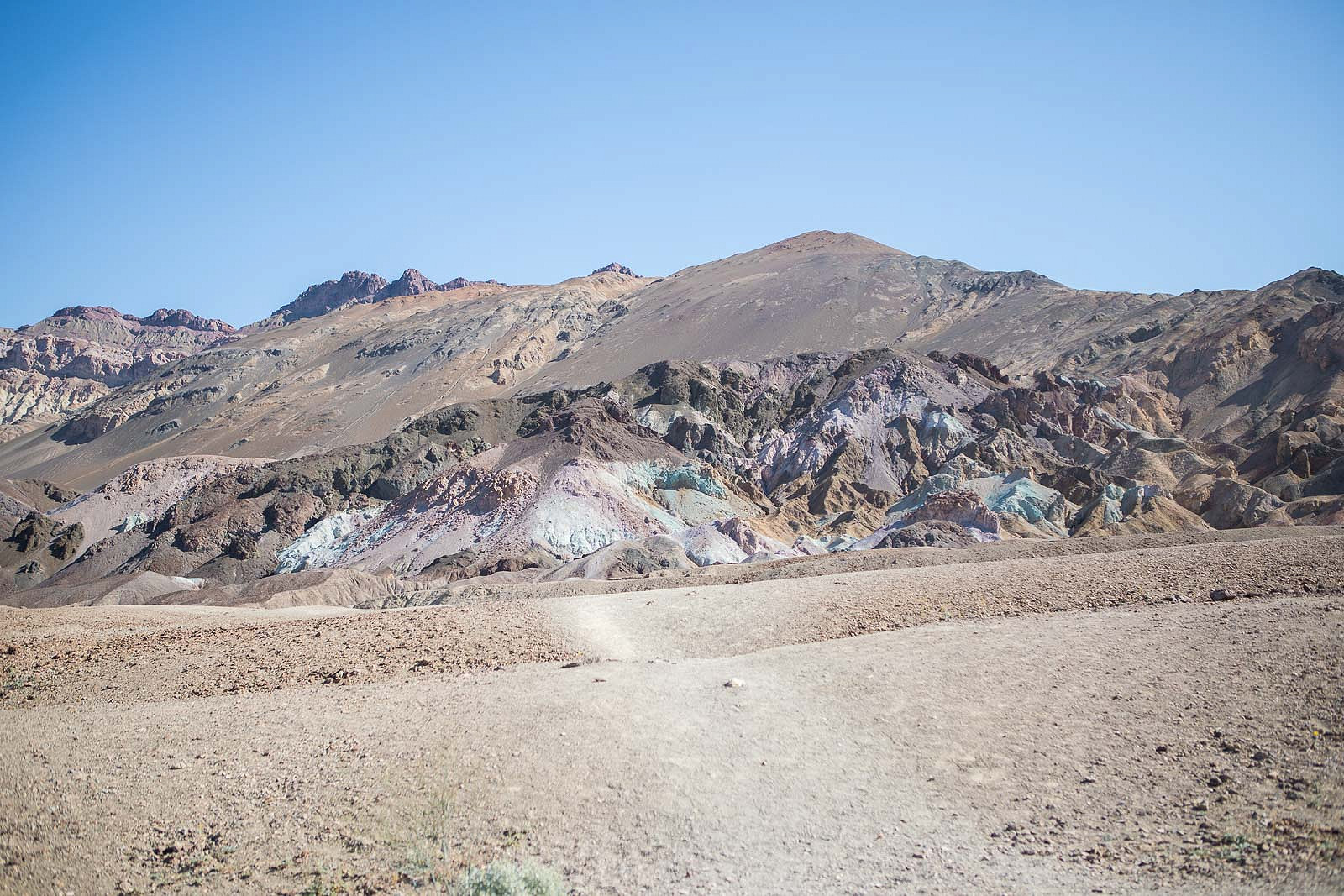 Nejníže položené a pravděpodobně i nejnavštěvovanější místo parku, solná pláň Badwater Basin. 85.5 metrů pod hladinou moře jsme se tu procházeli po soli tak bílé, až z ní po chvíli bolí oči a viděli naši první fata morganu. Úpatí skal na druhé straně údolí opravdu vypadá jako oáza se zelenými stromy sklánějícími se nad širokou řekou a v horku, které tu panuje, mohlo nalákat zoufalé poutníky k sobě na zbytečnou cestu.
The lowest and probably most visited point of the park, Badwater Basin. 85.5 meters below the sea level, we were walking on an endless field of salt so white that our eyes hurt a little and it was the first time we've ever seen fata morgana. It can be seen at the other end of the valley and the trees bending over the river seem very tempting and used to lure desperate pilgrims to the foot of the mountain.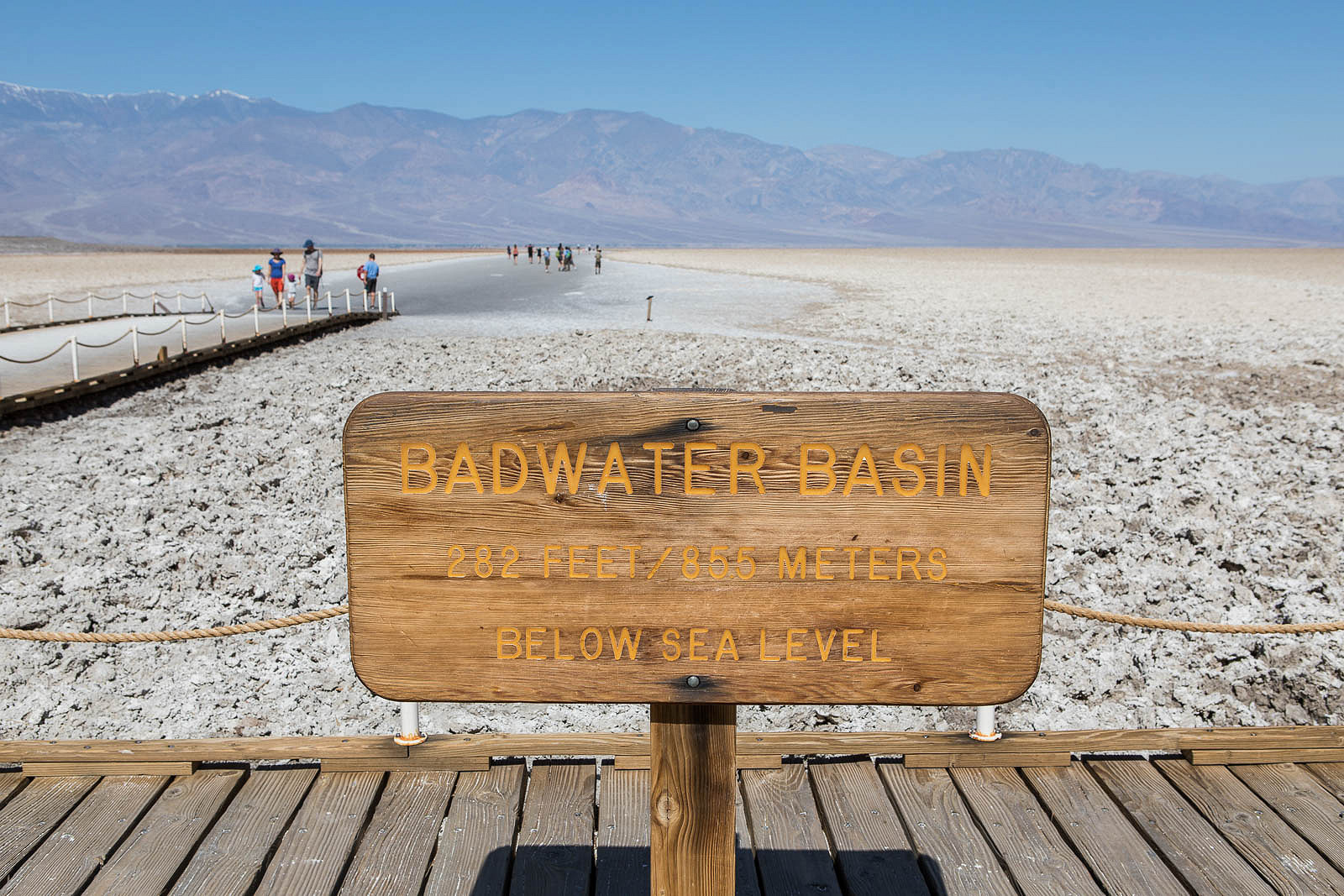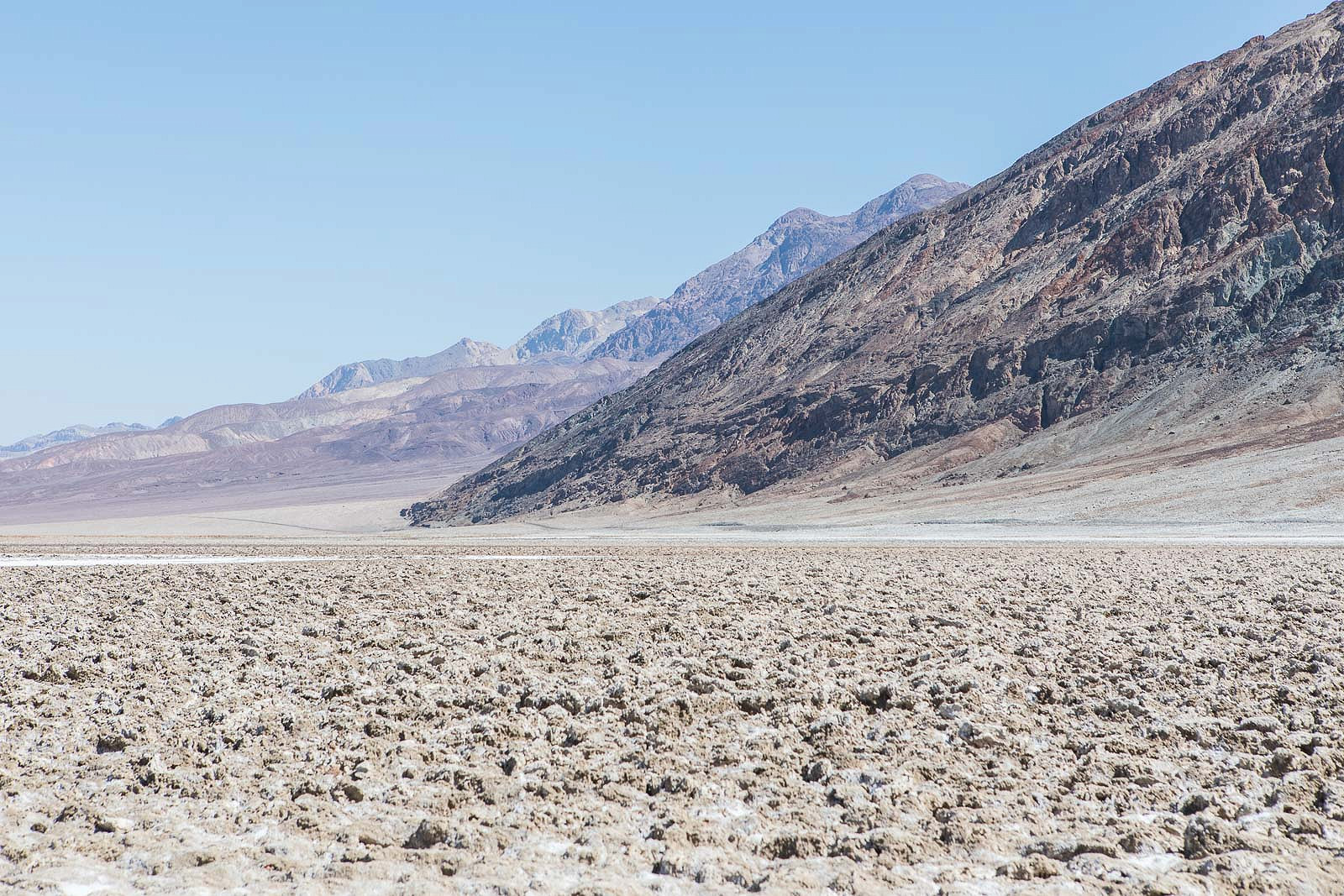 Na Badwater se můžete podívat z vyhlídkové plošiny, pokud ale nespěcháte proměnit peníze za žetony do Las Vegas, doporučujeme vydat se na procházku po solné pláni. Po pár stech metrech je je sůl podstatně méně "ochozená" a každý, kdo sem dojde, si najde kus pláně sám pro sebe. Vezměte si ale dostatek vody a klobouk! Jste tu na přímém slunci, nechránění žádným stínem a rozhodně se nevyplatí zapomínat na pitný režim.

You can see Badwater from a viewpoint but if you're not in a hurry to gamble in Las Vegas, we suggest you go a bit further and see the salt plain from up close. After a few hundred meters you'll see the salt is a lot more preserved and everyone who gets here cand find a place just for himself. Just don't forget to wear a hat and a water bottle! You'll be walking in direct sunlight, without any shadow and it's definitely not smart to forget about staying hydrated.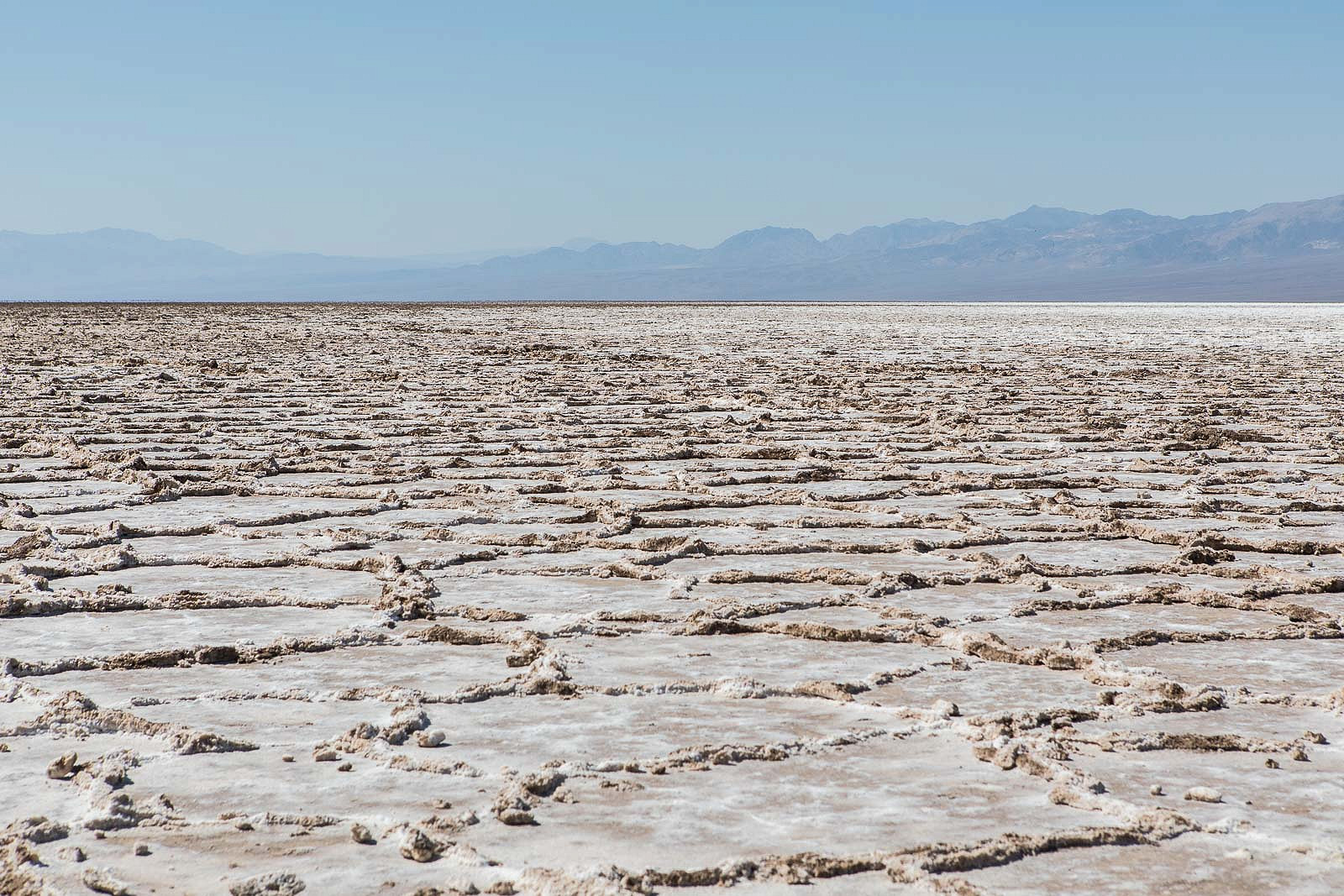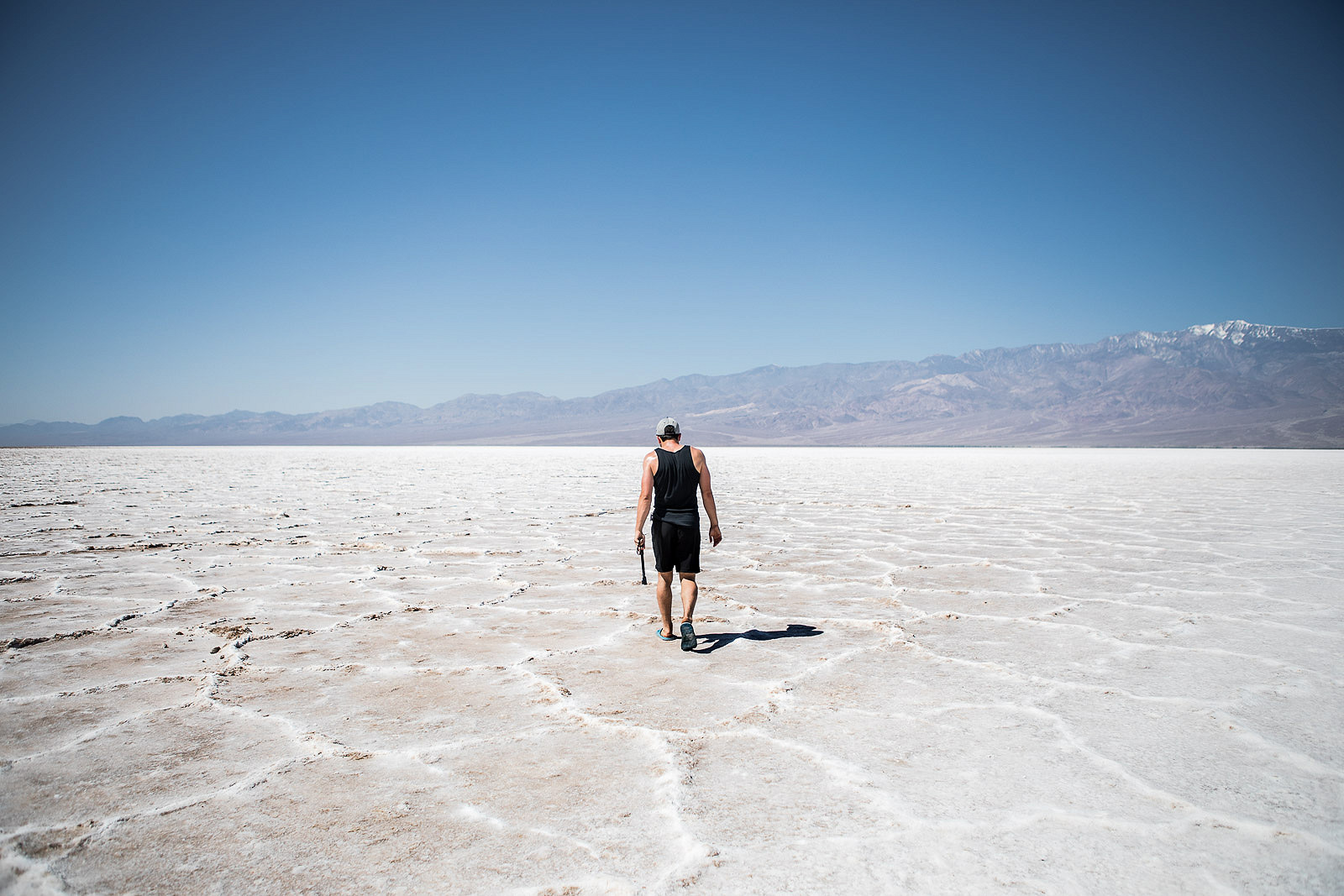 Devil's Golfcourse
Ostrá, zubatá a slaná krajina. Tak by se dalo popsat "ďáblovo hřiště" několika slovy. Ostré hrany balvanů, které tvoří vysušená sůl s bahnem nejsou místem pro příjemnou procházku, ale pár kroků se mezi ně odvážit můžete. Říká se, že když se uchem přitisknete k zemi, uslyšíte krystalky soli praskat horkem.
Sharp, jagged and salty landscape. That's probably Devil's Golfcourse in three words. The sharp edges of boulders from dried salt and mud are definitely not the most comfortable to walk on but it's worth to try and walk a few meters on the "golf course". Supposedly when you press your ear to the ground, you can hear crystals of salt expanding to the point of bursting from the heat.
Zabriskie Point
Jeden z nejznámějších výhledů na zvlněnou měsíční krajinu je jen kousek od malého parkoviště. Pokud máte čas, vydejte se sem brzy z rána, kdy si slunce hraje se stíny na kopcích a kdy sem ještě nemíří skupinky turistů. My jsme přijeli o něco později, i tak je ale krátký výstup na vyhlídku snesitelný a pokud zrovna nechytnete autobus plný turistů se stejným cílem cesty, nebude vám nikdo ve výhledu příliš zavazet.
One of the most well-known views of the lunar landscape is just a short walk away from a car park. If you have enough time, plan to stop here in the morning when the sun plays with the shadows on the hills and when you can have it all for yourself. We got here a bit later but even during the day walking in the heat is bearable and if you manage to avoid the arriving tour busses (they are usually slower to go up so just hurry up a bit), you'll enjoy the views nonetheless.
Dante's View
Z hlavní trasy je to na Dante's View trochu zajížďka, protože jsme ho ale měli v seznamu doporučení (díky Ondro!), rozhodli jsme se ještě trochu benzínu z nádrže obětovat a udělat si čtyřicet kilometrů dlouho zajížďku. A ještě že tak! Z vrcholku hory (1669m abychom byli přesní), kam se dá pohodlně dojet autem, se otevírá fascinující výhled do údolí . Najednou získáte úplně jinou perspektivu a trochu se vcítíte do kůže poutníků, kteří se přes Death Valley pokoušeli kdysi přejít. Cestička vyšlapaná u Badwater Basin, po které jsme šli, je zeshora vidět jako na dlani, a když jsme si uvědomili, jaký kousek jsme ve skutečnosti ušli, jaké bylo horko a jak nekonečná nám připadala cesta zpátky k autu, není divu, že poutníci, kteří se dočkali záchrany, dali místu jméno Údolí smrti.
It's a slight detour from the main route to Dante's View but since it was on our list of recommendations (thanks to Ondra for this tip!) we decided to sacrifice some more gas and make a forty-kilometre detour. And we were so happy we did! From the top of the mountain (1669m to be precise) where you can park your car opens a breathtaking view of the valley. It's at this moment when we got a completely different perspective of the area and felt sorry even more for the lonely pilgrims who tried to cross Death Valley a long time ago.
The path that we walked on at Badwater Basin can be seen very clearly and when we saw how small the part was we actually walked and how incredibly far it felt on the way back, we had no doubts about why the pilgrims who were eventually saved called the place Death Valley.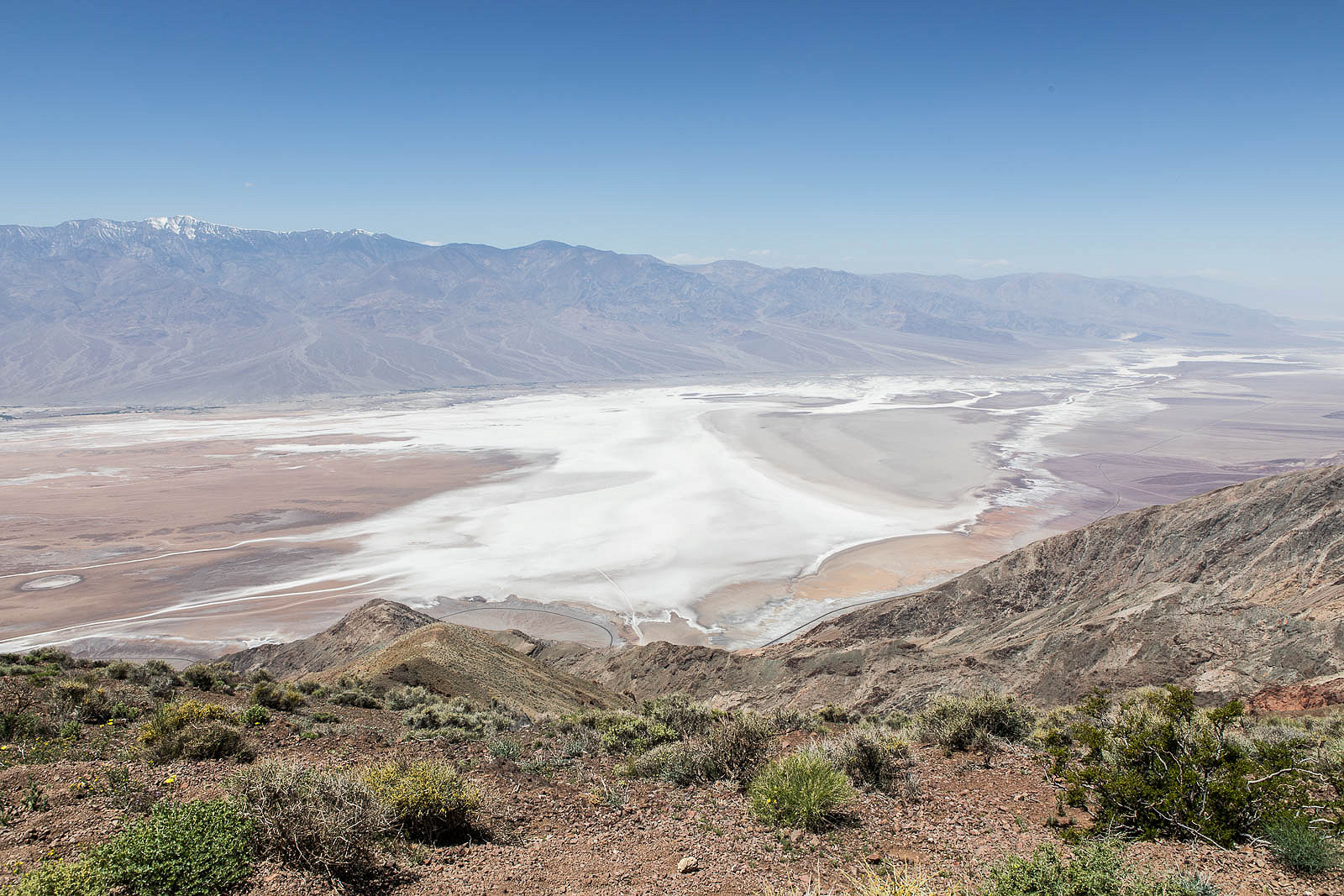 PIN IT FOR LATER