Phu Quoc je vietnamským kouskem tropického ráje, kterému se zatím vyhýbají davy turistů. Přijeďte si sem užít krásnou přírodu, nádherné pláže a klid ještě před tím, než ho objeví i cestovní kanceláře.
Při výběru ubytování si určitě zjistěte, jak daleko jsou pěkné pláže. Pokud nezvolíte hotel přímo u moře, nejlépe se k nim dostanete na motorce nebo na kole, na ostrově ale není velký provoz a tak se tu nemusí jízdu na skútru vyzkoušet ani začátečníci. Za dva týdny jsme ostrov projeli křížem krážem, takže průzkum pláží jsme provedli poctivý, a tady jsou ty nejlepší :).
Phu Quoc is a small tropical paradise which belongs to Vietnam and so far it's not too popular with tourists. So we recommend you come here to enjoy beautiful nature, amazing beaches, and laid-back vibes before it gets discovered by all the travel agencies.

When looking for accommodation, check how far the nice beaches are. If you don't choose a hotel near a beach, it's best to rent a motorbike or a bike to reach the beaches and since the traffic is not too bad here, even beginners can drive around the island without issues. We spent two weeks exploring this island and here are our favorite beaches to look for :).
Sao Beach
Nejznámější pláž ostrova s bílým pískem a palmami sklánějícími se nad vodou vypadá opravdu jako z pohlednice. Určitě stojí za návštěvu, tyrkysová voda je průzračná a nezbavíte se pocitu, že jste v tropickém ráji, nicméně právě kvůli její popularitě tu bývá docela rušno.
Let's start with the most famous beach on the island with white sand and palm trees which looks more like a postcard than a real place. It's definitely worth visiting, the turquoise water is crystal clear and you will really feel like you've just arrived in tropical paradise, however, due to its popularity, it can get a bit crowded.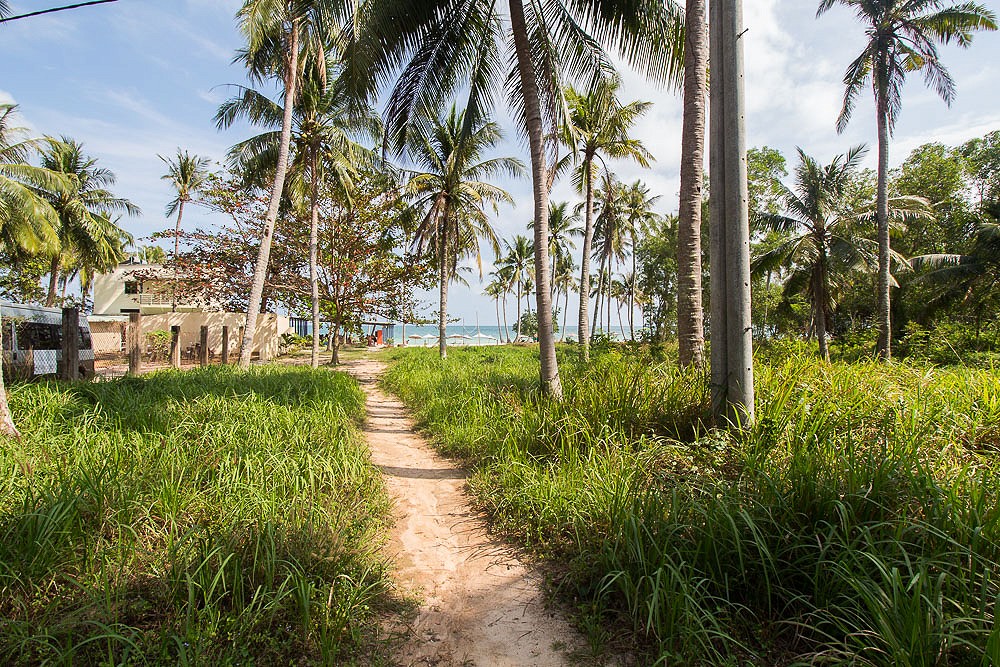 Na motorce se sem dostanete jednoduše, nejbližší parkoviště patří sice k hotelu, když ale v plážové restauraci utratíte 150k dongů, parkujete zdarma.
Problémem tu jsou, zejména po dešti, odpadky vyplavované na pobřeží, což celkový dojem trochu kazí, a tak nezbývá, než doufat v to, aby místní rychle pochopili, že odpadky sem turisty nepřilákají a začali se o své okolí víc starat.
It's very easy to get to the beach, the closest parking lot belongs to a hotel but if you spend 150k dongs in their restaurant, you don't have to pay for parking.

The only issue, especially after a rainy day, is the trash. It's a problem that most beaches in Asia have to deal with and watching the trash getting to the coast from the water is not the most pleasant experience. Well, hopefully, the local people will realize that taking care of their surroundings is a way to keep the island beautiful for future generations.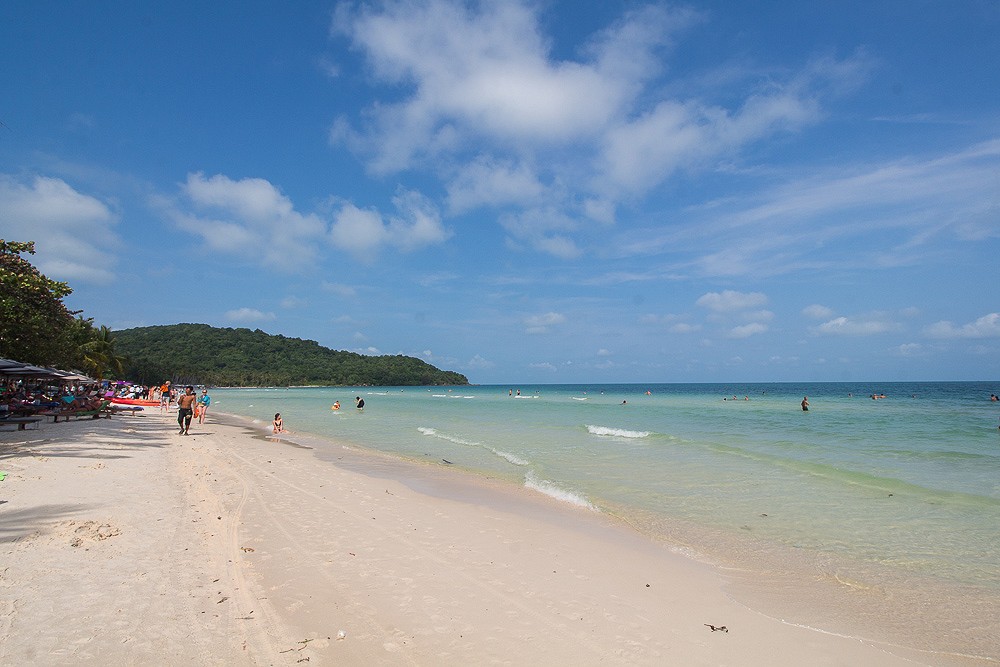 Khem Beach
Tato nádherná pláž patří z velké části k resortu JW Marriott, na recepci si ale můžete zakoupit celodenní vstup do hotelového komplexu. Minimálně jednou doporučujeme hotel navštívit, nejen pláž, ale především architektura hotelu je naprosto fascinující a zaslouží si samostatný článek.
A large part of this beautiful beach belongs to the JW Marriott hotel but it's possible to visit the hotel and the beach, all you have to do is buy a pass for one day at the reception. We really recommend visiting this hotel, not just because of the beach but because of the interiors and exteriors as well. The architecture of this hotel is absolutely stunning and deserves a blog post on its own so stay tuned :).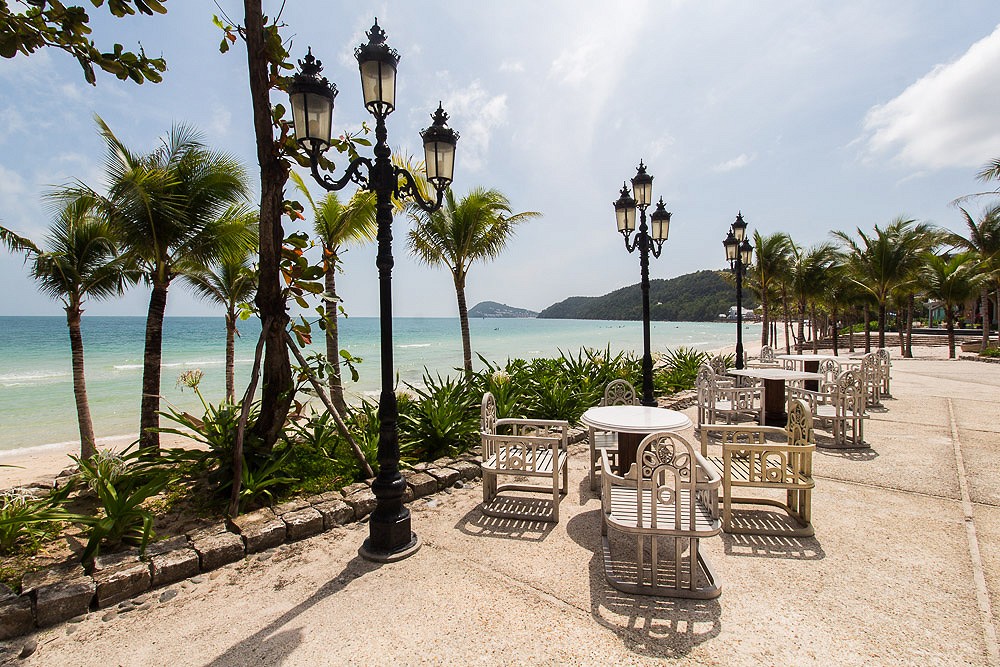 Long Beach
Jak název napovídá, pláž se táhne podél hlavního města ostrova Duong Dong a svou část si z ní ukrojilo mnoho hotelů, restaurací a barů. Relaxovat u moře můžete lépe na jiných plážích, Long Beach je ideální pro večeři při západu slunce (stačí si vybrat restauraci, ceny tu nejsou o moc vyšší, než v restauracích ve městě) a drinky u moře po setmění. Vyzkoušejte třeba skvělý beach bar Rory's.
As the name would suggest, the beach stretches along the capital of the island, Duong Dong, and many hotels, restaurants, and bars have taken a part of the beach for themselves. If you just want to relax, this is really not the place but if you want to have a dinner or drinks on a beach, Long Beach has you covered. What surprised us the most was that the prices were comparable to the prices in town which means you pay almost the same amount of money but get an epic sunset on a beach to go with your dinner. If you decide to go for drinks, we can really recommend Rory's, it's an amazing beach bar with great vibes.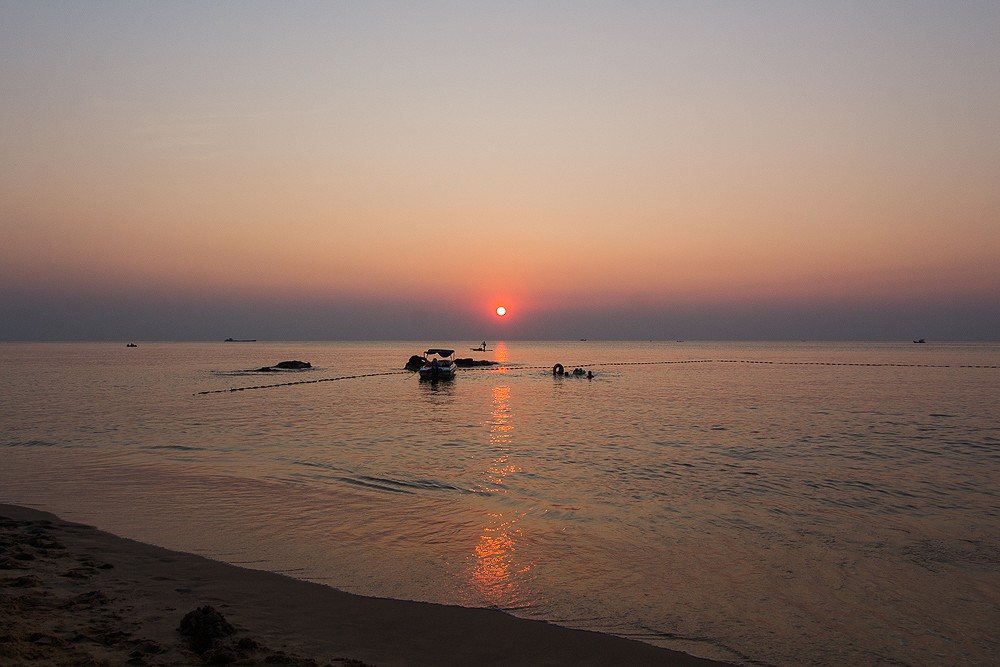 Cua Can Beach
Pokud vyrážíte na sever, můžete si naplánovat zastávku na Cua Can Beach. Část patří k hotelovému resortu Chez Carole, ostatní návštěvníci jsou ale také vítáni. Dokonce je možné si za malý peníz pronajmout lehátko u bazénu na celý den, ale když máte na dosah krásné moře, není to tak úplně potřeba.
If you decide to explore the northern part of the island, Cua Can Beach is a good place to stop. A part of it belongs to the Chez Carole Resort but they're very welcoming even if you don't have a room there. It's even possible to rent a sunbed by a pool for a day but I'd say it's not really necessary since there's the ocean just a few steps away.

Ong Lang Beach
Naše naprosto nejoblíbenější pláž. Písek je tu na rozdíl od Sao nebo Khem žlutý, voda je klidná, nádherně čistá a bez jakýchkoliv odpadků na dohled. Jsou tu v různé vzdálenosti od sebe dva plážové bary, lehátka jsou tu zdarma (patří k barům a je slušnost si něco koupit, ale nikdo vás nebude nutit) a je vidět, že se tu o svůj kousek moře opravdu starají. Navíc tu nebývá přeplněno, volné lehátko jsme si našli pokaždé a velkou výhodou je tu také sprcha a toaleta.
This was by far our favorite beach. Compared to Sao or Khem beach, the sand is not white but the water is very calm without any trash. There are two beach bars, sunbeds are for free (each bar has their own so we suggest you buy some drinks or food there but nobody will force you to do it) and you can see they really care about the beach. Plus it's never crowded and there are a toilet and a shower for you to use.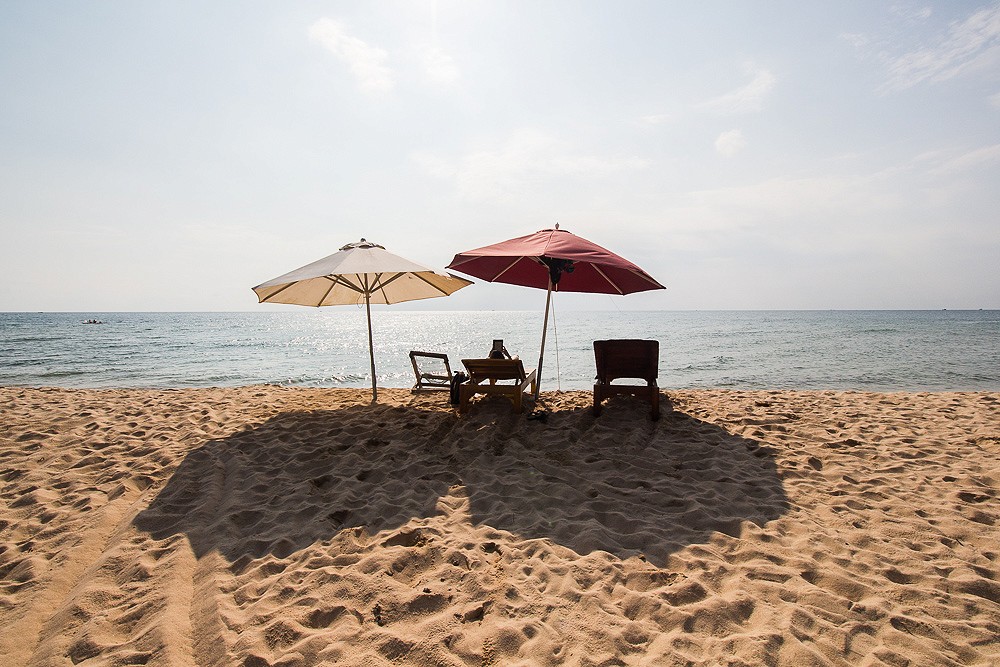 A ještě malý tip - v části pláže mezi bary jsou z nějakého důvodu zpoplatněná lehátka. Nenechte se přesvědčit k placení, jednoduše se posunujte od lehátka k lehátku, až najdete hranici, za kterou už nepatří chlapci, který vybírá peníze, ale baru :).

And just a quick bonus tip - between the two bars are a few sunbeds that are paid. We never really understood how that works but if you get there and some guy wants money for a sunbed, just keep going further away, at some point you'll get to the sunbeds owned by a bar and those are free to use :).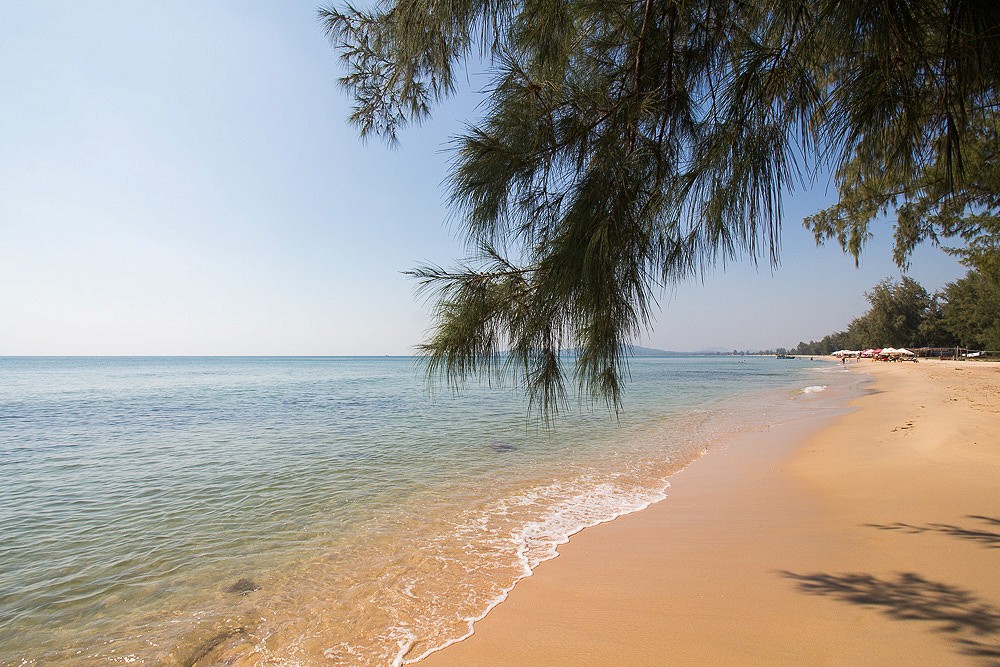 Mango Bay

Technicky vzato je Mango Bay součástí Ong Lang Beach, nejsou ale propojené a do Mango Bay vede jiná cesta. Část pláže patří k hotelovému resortu, stačí ale popojít kousek za hotelová lehátka a máte část klidné pláže sami pro sebe. Nevýhodou je, že si tu nemůžete tak jednoduše odskočit k plážovému baru, jako přímo na Ong Lang, je tu ale příjemná venkovní restaurace, do které si můžete zajít, i když nejste ubytovaní v hotelu. Západy slunce odsud také vypadají nádherně :).
Technically, Mango Bay is a part of Ong Lang Beach but they're separated by some rocks and you have to take a different route to get to Mango Bay. A part of it belongs to a hotel but if you go 30-50 meters away from the resort, you can have a part of the beach just to yourself. The only disadvantage is you can't just go to a beach bar but there's a nice restaurant opened for everyone so if we highly recommend you come back for dinner. The sunsets are beautiful here :).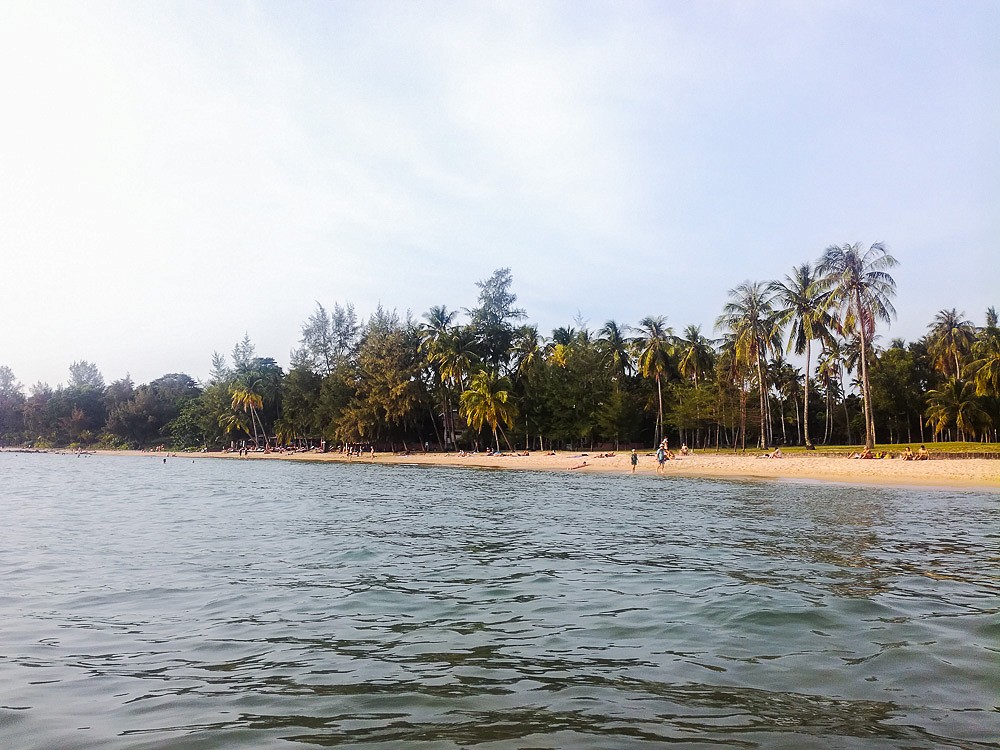 Všeobecná rada na závěr zní - nenechte se odradit, pokud se směrem k pláži asfalt změní na prašnou cestu. Phu Quoc je právě teď na začátku turistického boomu a vše se tu postupně buduje. Například na Ong Lang tak vede prašná, hrbolatá cesta, kterou občas sdílíte s krávou, ale na jejím konci je nádherná pláž.
Na ostrově je také spousta dalších pláží a plážiček, na kterých můžete být třeba i úplně sami, tak se nebojte vyzkoušet různé a najít si tu svou nejoblíbenější. A jestli jste už na Phu Quocu byli, napište mi, jaká pláž se líbila nejvíc vám :).
And one last advice - don't get discouraged if the road that's supposed to lead to a beach turns into a dusty one. Phu Quoc is just starting to get discovered by travelers and it takes time to build everything to serve the demand. Take Ong Lang, for example, the road is dusty, very uneven and sometimes you share it with a cow, but there's a beautiful beach at the end.

There are many more beaches on the island and I'm sure you can find one where you'll be alone so just take a bike and get exploring. And if you've been to Phu Quoc, let me know which beach you liked the most :).
PIN IT FOR LATER