It's been more than a few months since we came back from our West Coast road trip in the US. However, Grand Canyon is still a mystery to me. It's a place we spent a whole day exploring but I don't think we've fully grasped it. And I'm not sure it's even possible, no matter how much time you spend getting to know the place, maybe we just have to be fascinated and admire it.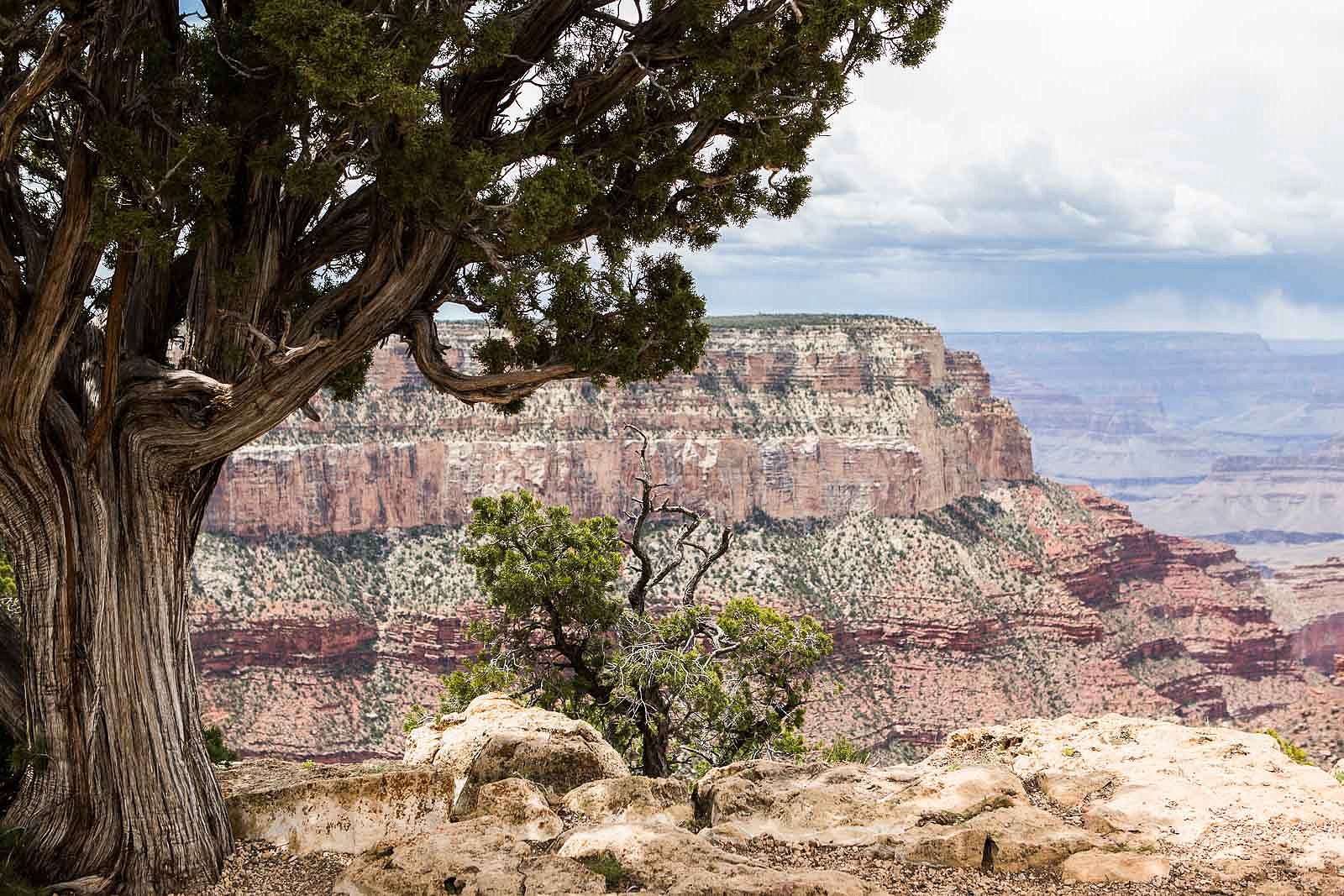 When we opened the door of yet another not at all interesting motel, my teeth chattered from the cold. We quickly closed it and started a mission to put as many layers of clothing, as possible, and checked the weather. It was supposed to rain later but judging by the temperature it looked like it's going to snow. It didn't affect our plans though, we were ready to see the Grand Canyon.
Leaving Flagstaff, where we had two nights booked in that motel (the next day we were leaving for Antelope Canyon, check it out here) we stopped at McDrive for half a litre of coffee, our saviour for the next hour and a half on the road. We enjoyed that with a (not so) nutritious breakfast consisting of a packet of biscuits and we were looking at the sky, crossing fingers and hoping we will get to see at least a small part of the canyon.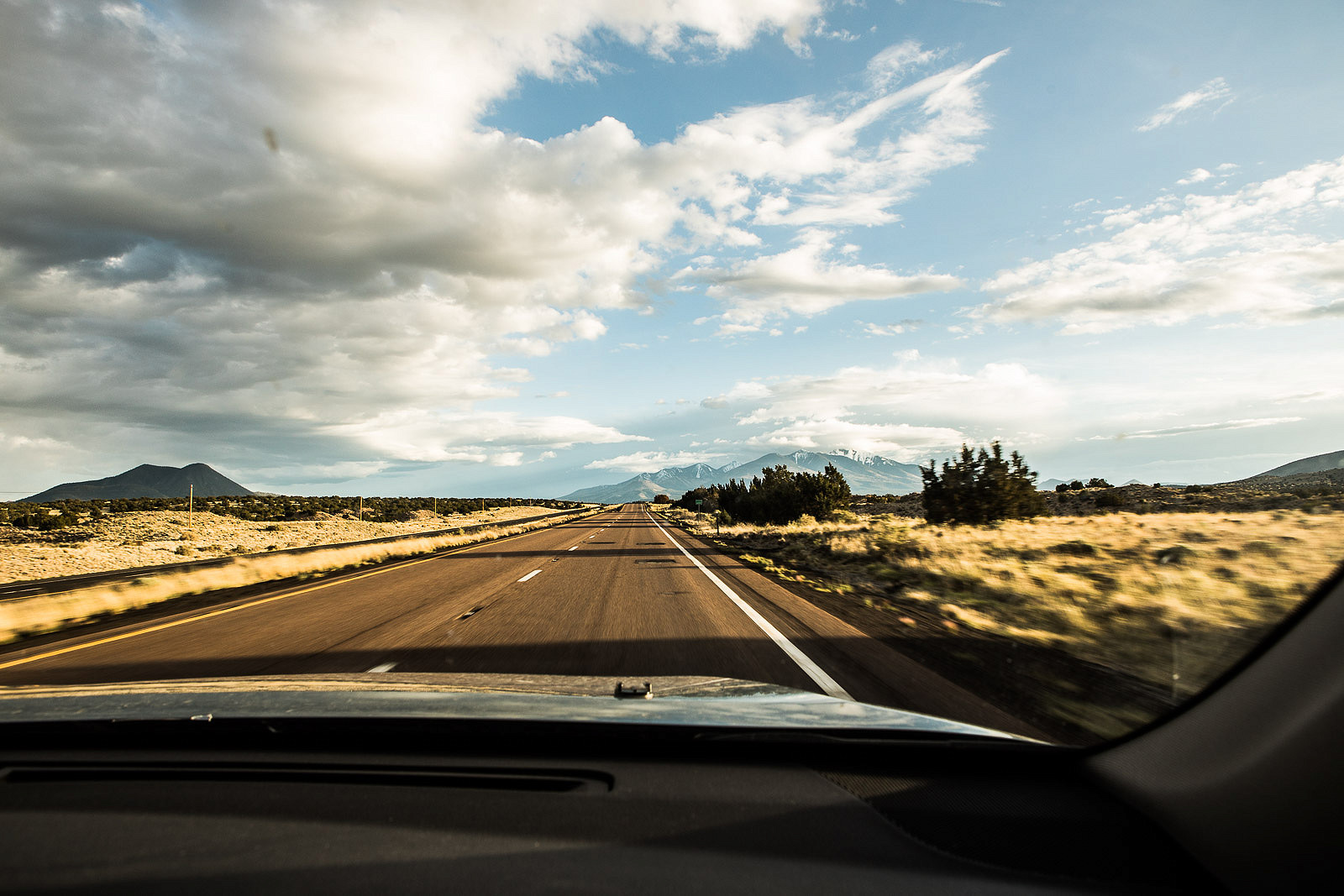 To enter we used the Annual Pass again and looked for a place to park. The plan was to walk along a part of the South Rim so we found a spot near Mater Point (it's good to note where you've left your car so that you don't have to guess like we did, the parking lots are huge), packed a snack, water bottles, cameras and headed towards the first viewpoint.
From Mather Point we continued along the rim to the museum at Yavapai Point. For a better orientation definitely get a map. We had one in the guide and you can find one here, which is great.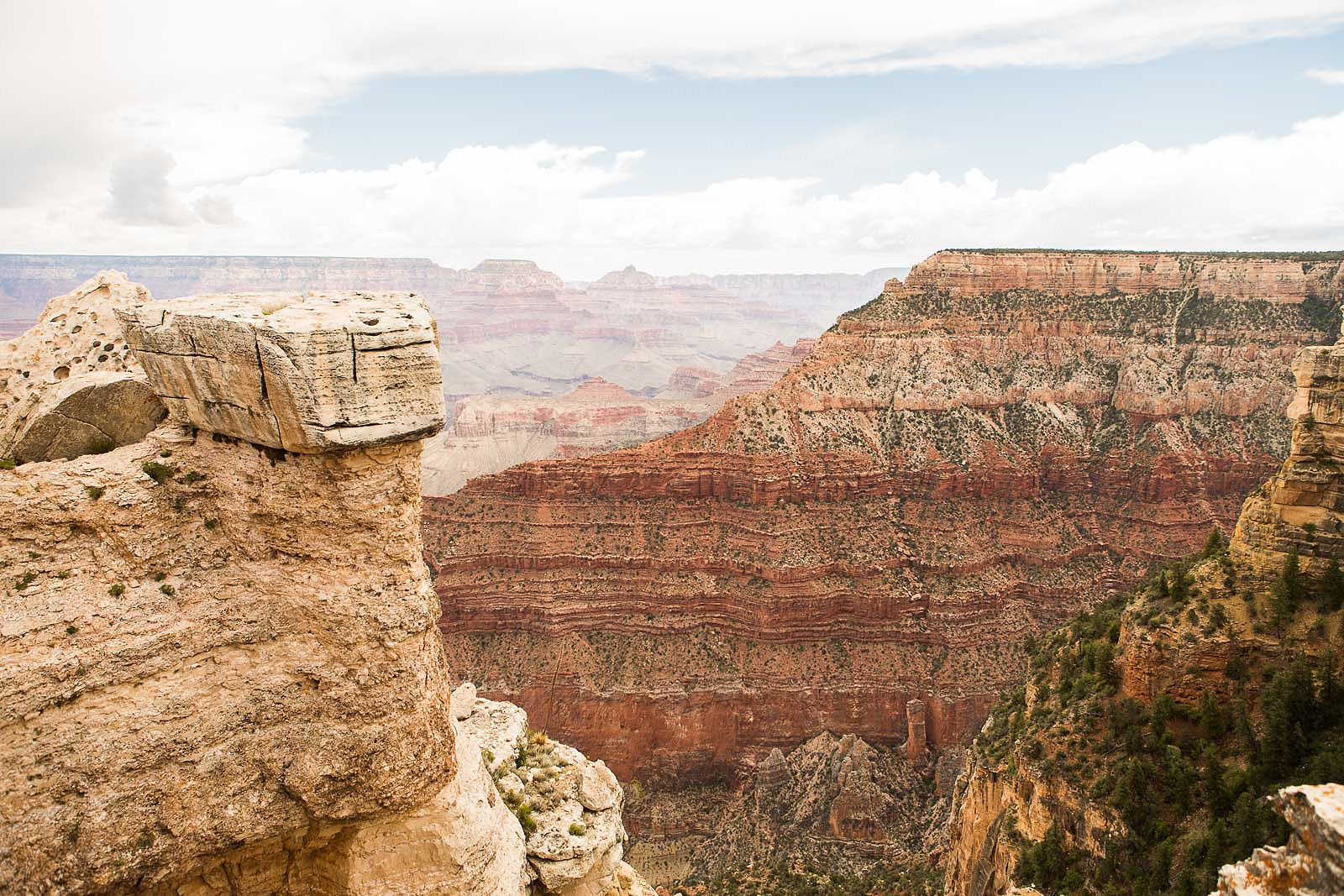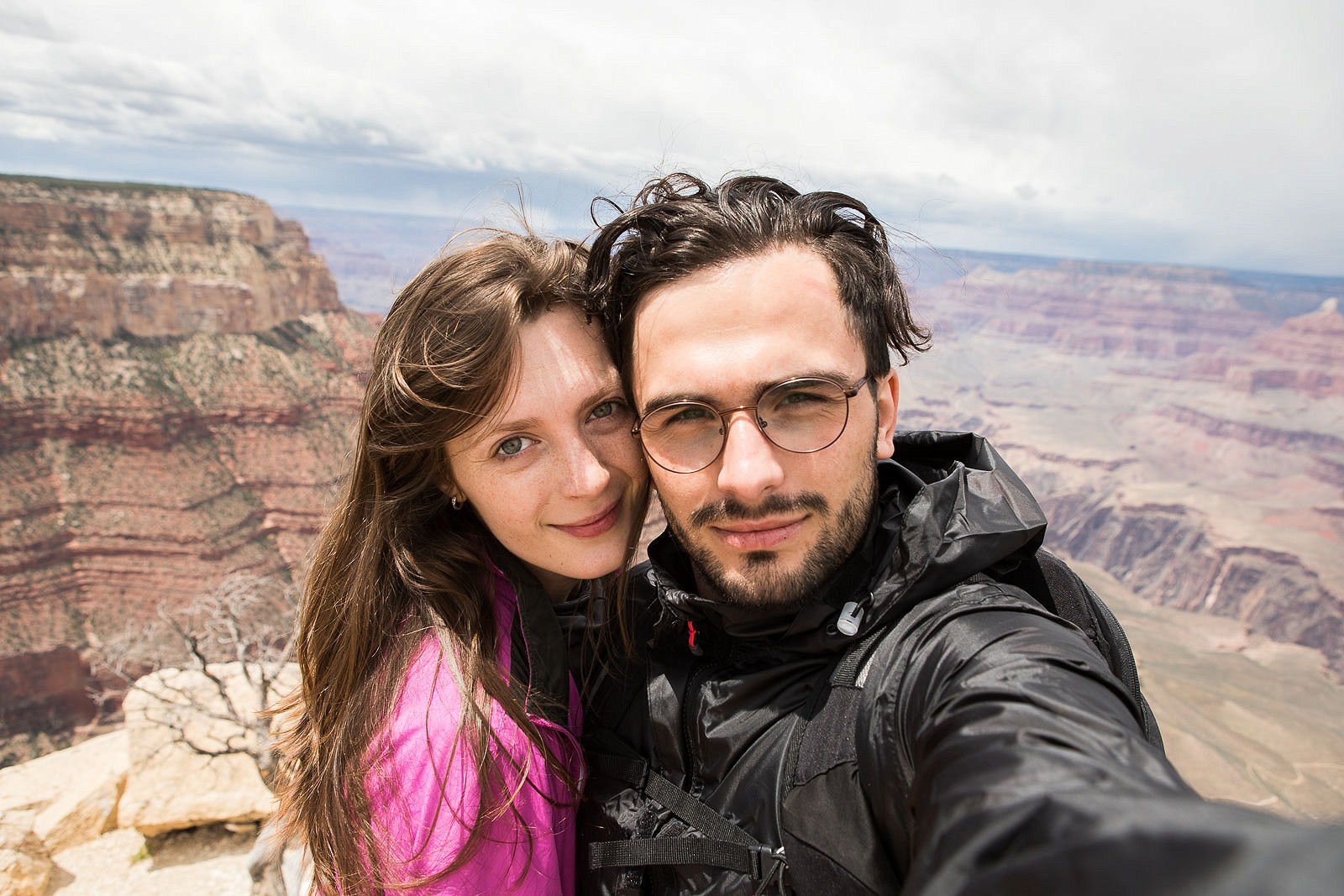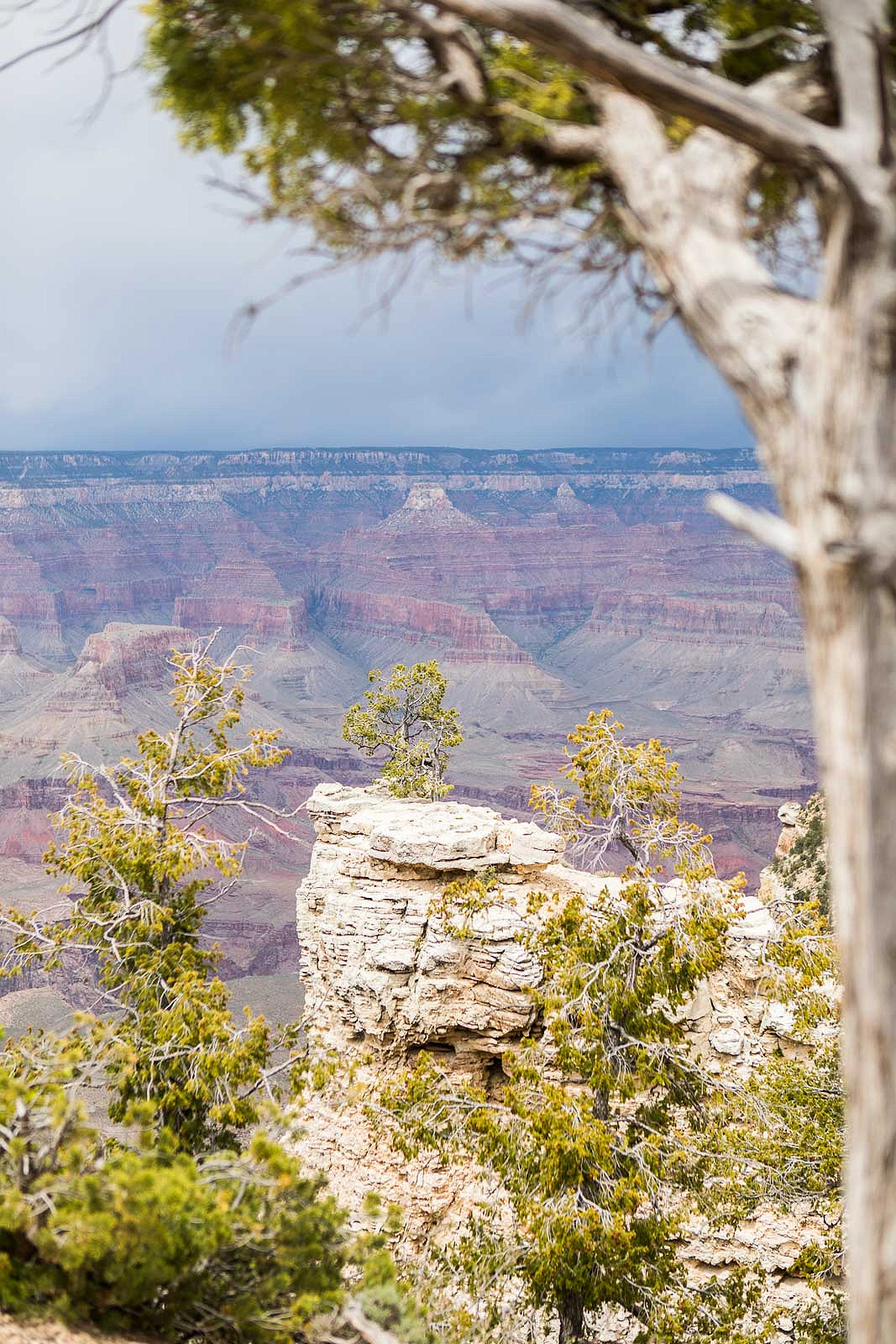 Although there are approx. 12 marked viewpoints we caught ourselves stopping all the time. Waking along something so huge is just absolutely mesmerizing and beyond comprehension, so we kept taking pictures, admiring the views, examining the layers and colours of the rocks all the way to the Verkamp's Visitor Center where we planned on taking a hop on - hop off bus.
For the second part of the trip our plan was to take a bus - the red line runs along several viewpoints, it's free and you can hop on and hop off as you wish. It's easy to navigate, the first and last stop is near Verkamp's.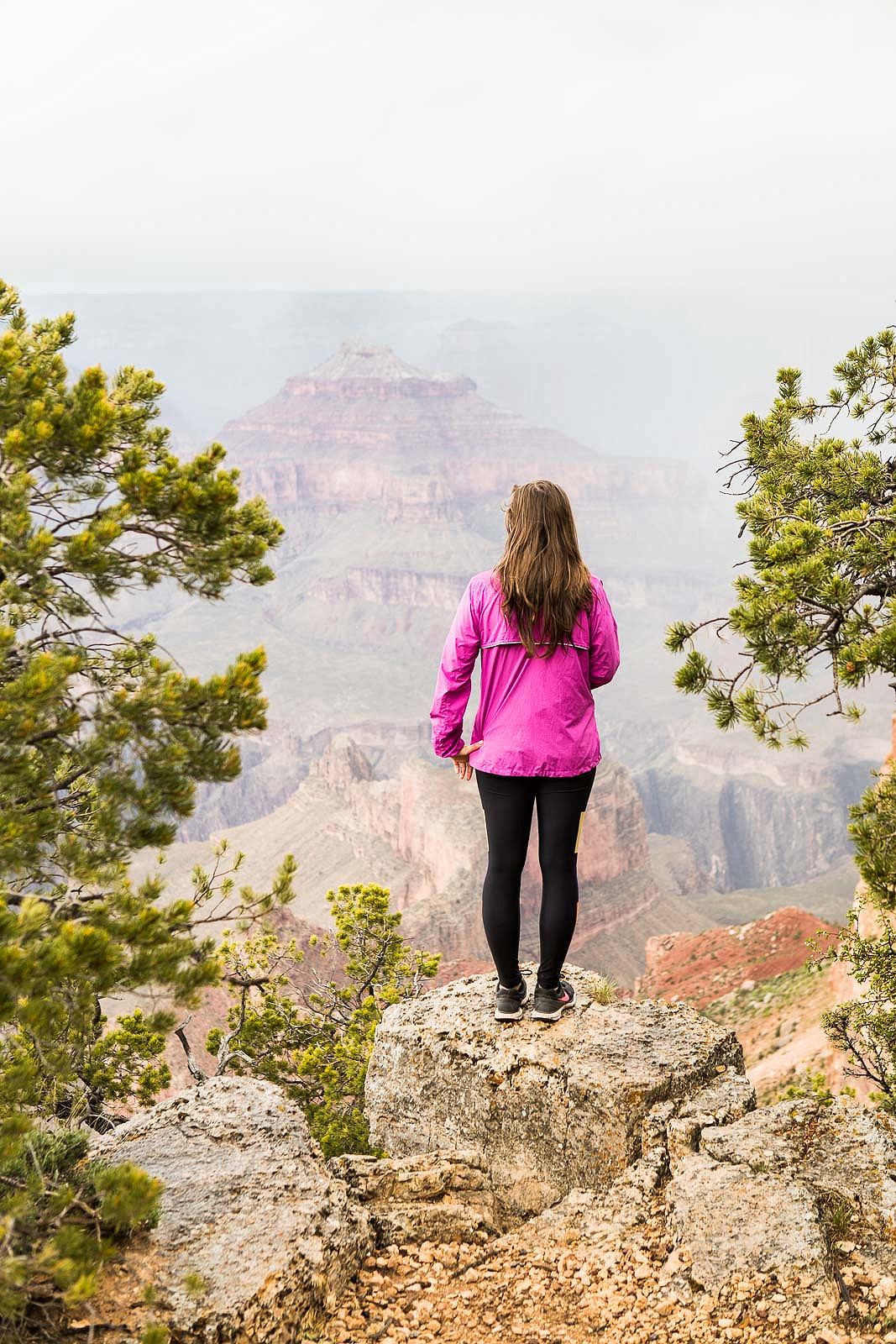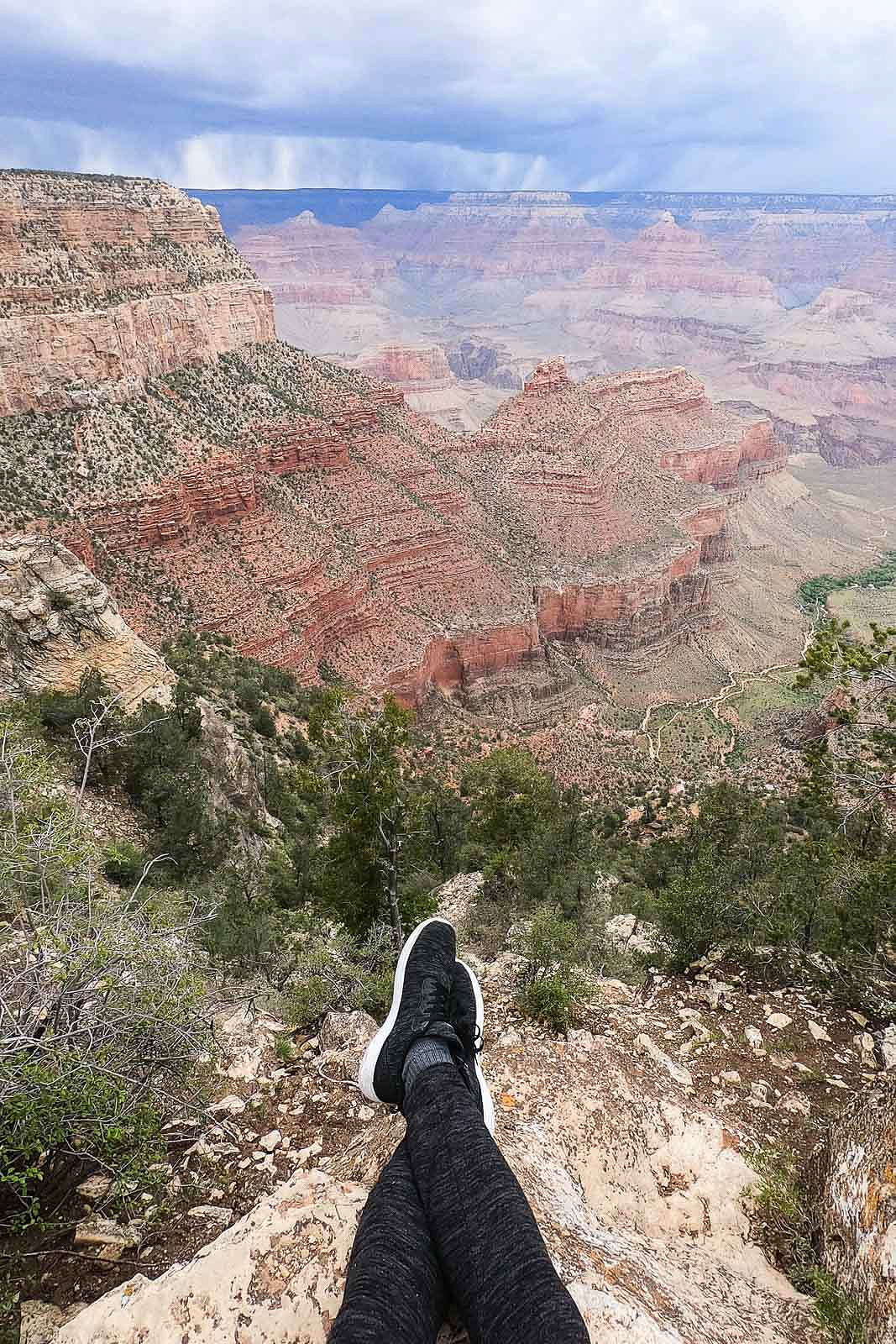 The system here is really good so you don't even need to plan that much ahead. You just get off where you fancy it and you can even walk between the stops. And when you decide to go back, just change from the red line to the blue one at Verkamp's and head towards the parking lots.
Right after we got on the bus, the clouds started getting darker. And a few minutes after we got off the bus at Powell Point, from where you can see the Colorado river quite nicely, it began to drizzle. After the first lightning cut through the sky, we quickly realised we're standing at the highest point and that it might be better to get back to the bus stop.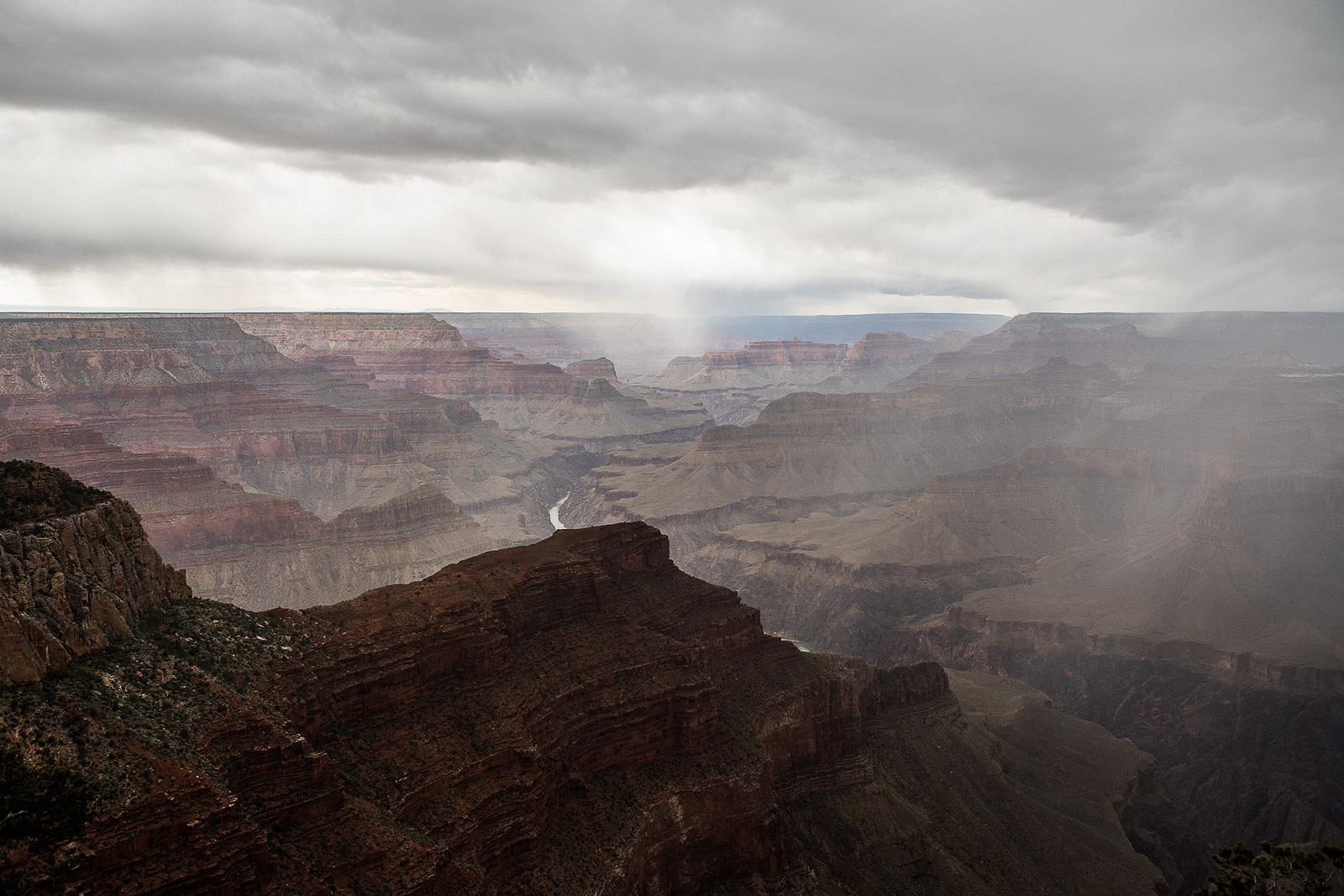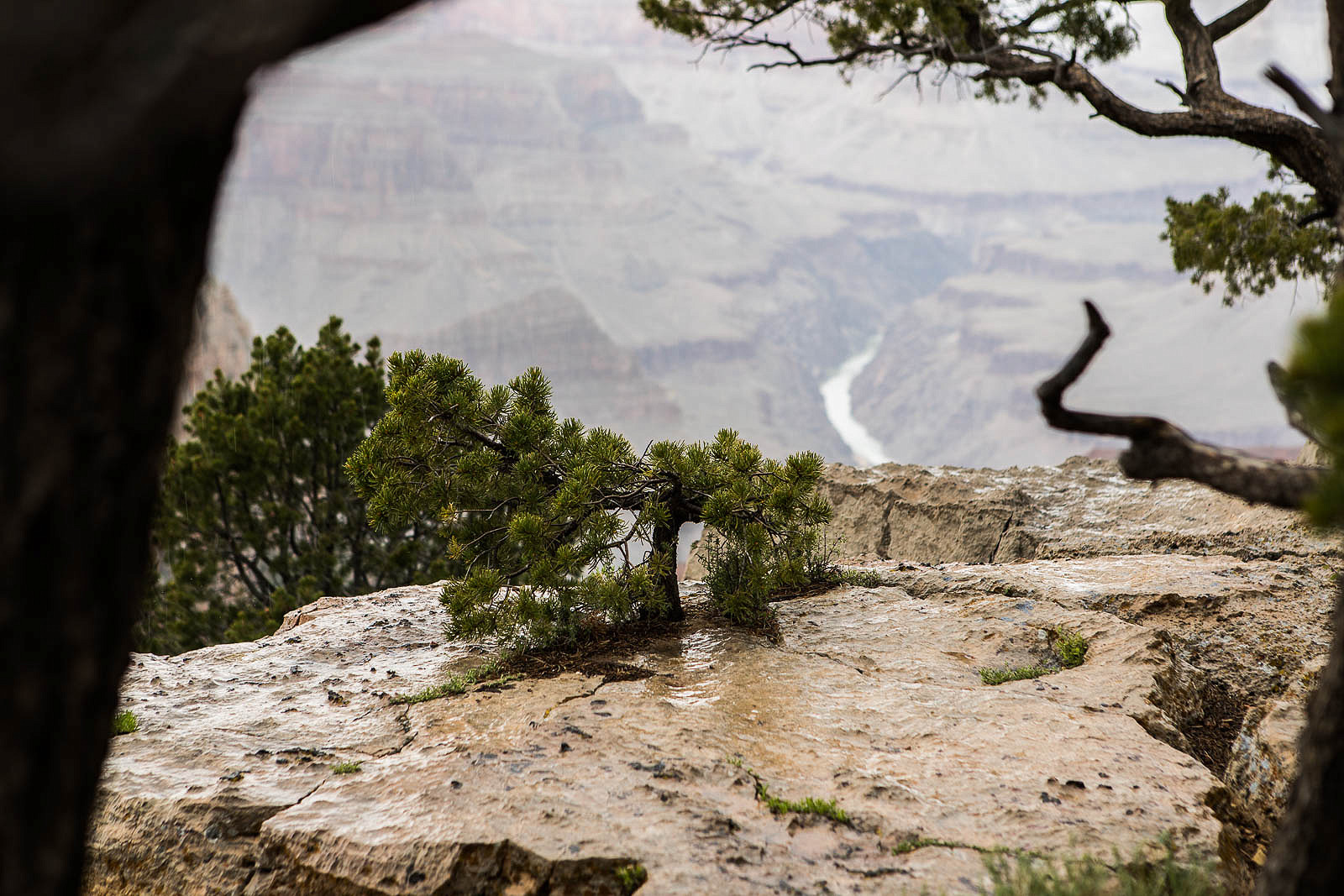 However, we were lucky the rain nearly stopped quite quickly so we got off the bus again at Mohave Point and walked along the Grand Canyon rim to Monument Creek Vista. There, at the last stop before we decided to take the bus back to our car, the view just turned absolutely incredible. A rainbow appeared between the sharply cut rocks. For a few moments, everybody including the driver just stopped and enjoyed the beautiful scenery and got on the bus even happier than before.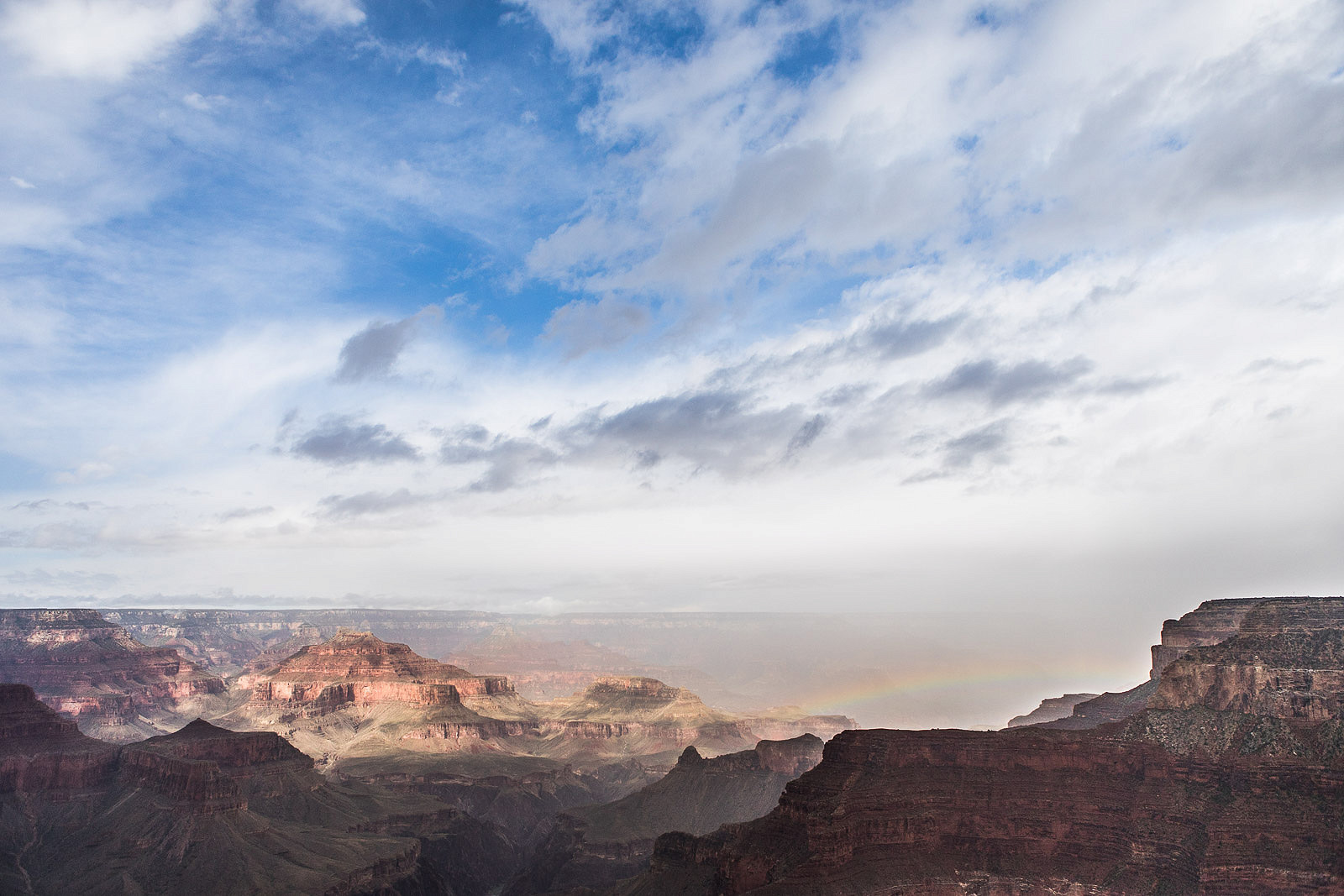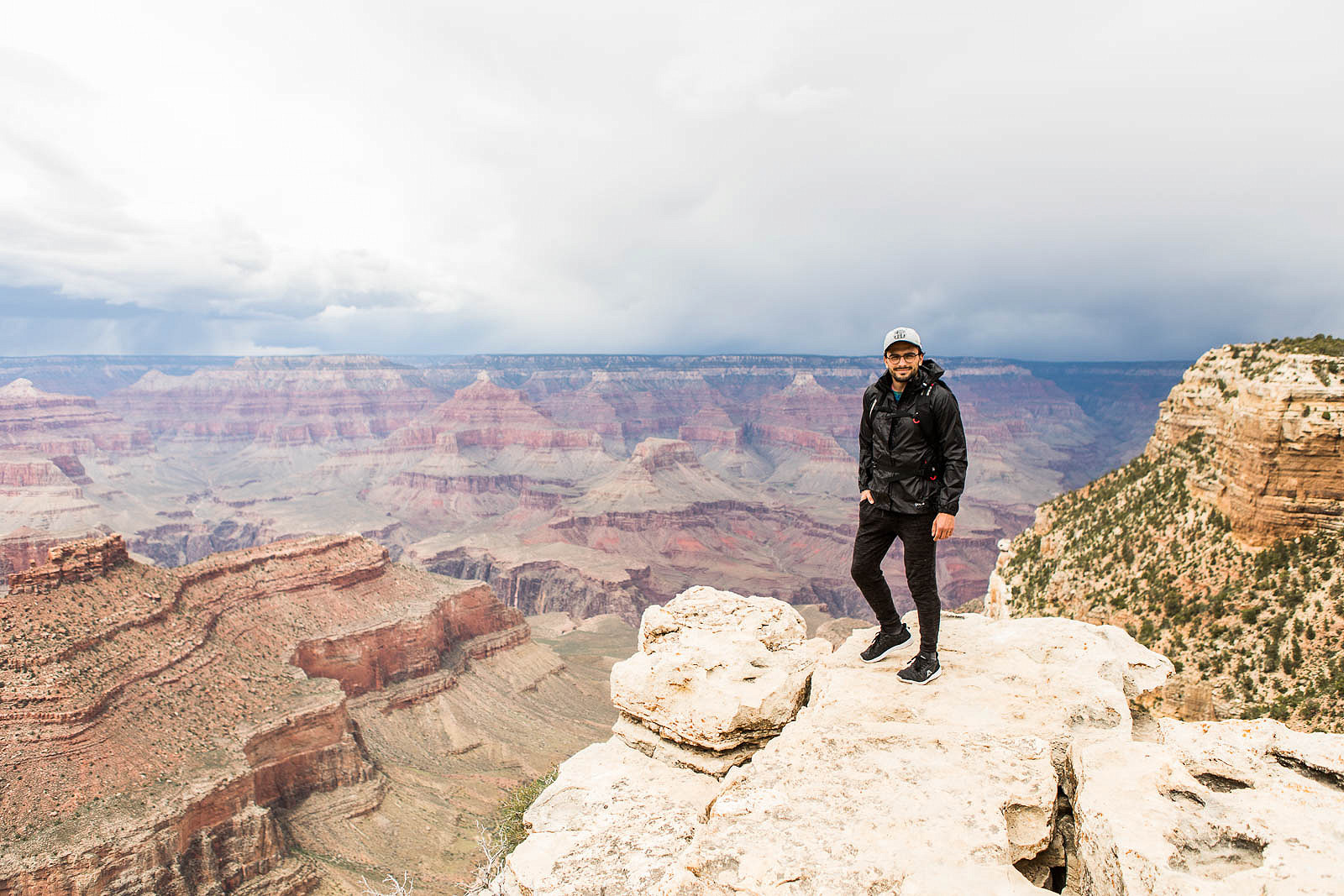 After we returned to the car, even the sun started shining so we decided to change the plan and drive to one more viewpoint. There are a few and you get to them by driving in the other direction from the visitors' centre (it's very easy to navigate once you're there). We stopped at one or two prior to the last one, but when we got to Desert View just in time for sunset, we were over the moon.
It's so beautiful here from any place you go and if you want to get an even better view, feel free to climb 85 steps up to a watchtower. It was slightly crowded when we were there so we found a spot to ourselves a little further away from the tower and I think it was equally beautiful.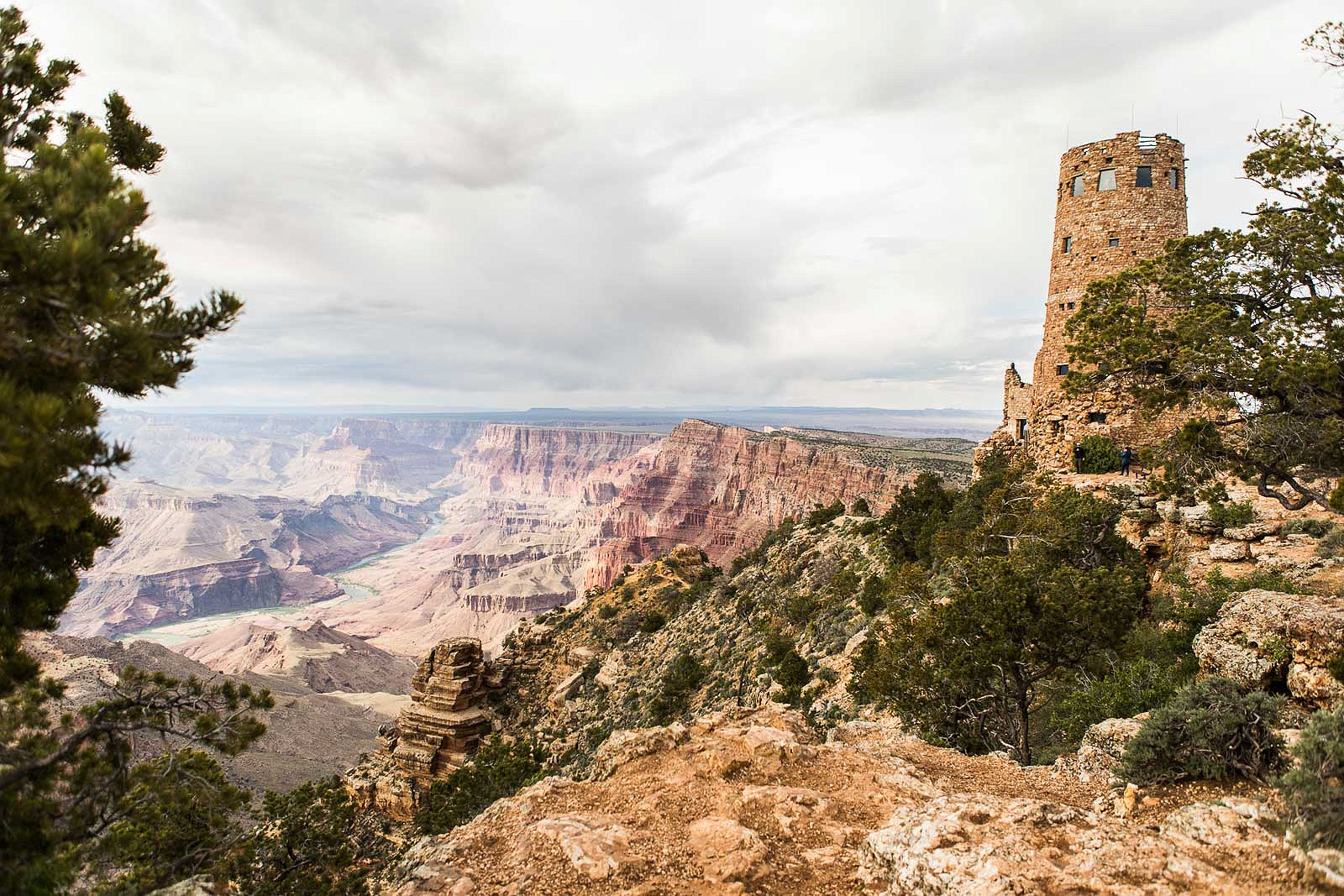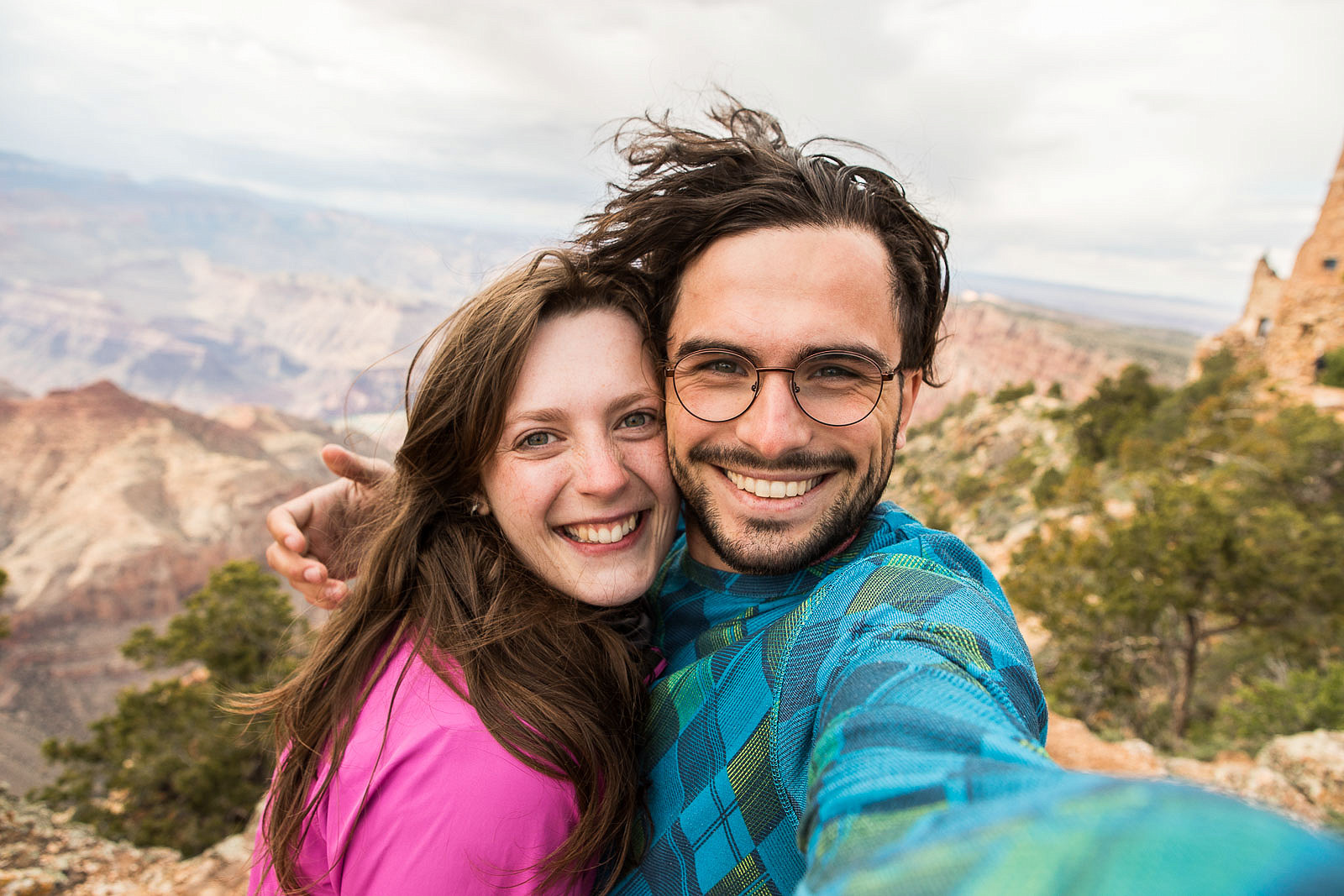 TIPS FOR FIRST TIME VISITORS

If you want to get a hiking permit to go down to the canyon, plan ahead. The permit for next year open at the end of the previous one and there is a limited number of them.
Same goes for if you want to get accommodation at (or near) the Grand Canyon. It's quite pricey and it is fully booked months in advance.
You can either use a map printed in your guide (as we did) or download a pdf from the official website.
Get yourself an Annual Pass - without it visiting national parks is much more expensive (and you can save even more if you buy it from somebody who's returned from the US or you can sell your new one when you get back).
When you see a gas station on your way to the Grand Canyon, stop and refuel when you have the chance, there are not that many of them so it's better to always get a full tank.
Head to the Grand Canyon as early as you can in the morning. Even off-season the parking lots are filling up quickly.
You can book a helicopter or other fun activities but if you only have a day, there is so much to see that it's enough if you walk, take the bus and maybe drive to the views that are a bit further away.
We recommend walking from Mohave Point to Monument Creek Vista and driving to Desert View point for sunset.
PIN IT FOR LATER