To nejlepší, co můžete na Mallorce udělat, je půjčit si auto. A co jiného podniknout s autem, než roadtrip? My jsme se najezdili dost a tak je tu první část míst, která podle nás během prodlouženého víkendu musíte stihnout, abyste objevili ostrov v celé jeho kráse.
The best thing you can do when visiting Mallorca is to rent a car. And what's the next step when you have a car? A roadtrip! So here's an epic itinerary for a weekend roadtrip to see all the top spots and enjoy the beauty of this island.
Palma de Mallorca

Určitě začněte v Palmě, za prvé na vás dýchne ta pravá španělská atmosféra (v centru dokonce najdete domy ne nepodobné těm v Barceloně) a navíc přiletíte na letiště nedaleko od centra, takže je to i logická první zastávka. Dejte si kafíčko v některé z místních kaváren, podívejte se na trh, kde dostanete nejlepší příležitost nakoupit čerstvé ovoce a sváču a ztraťte se v uličkách. Palma není nijak velká, takže cestu zpátky k parkovišti najdete odkudkoli. Na druhou stranu je tu hodně co vidět a kde si dát něco dobrého, takže se můžete určitě těšit na samostatný článek :).
I recommend you start in Palma, because that's where you'll have a chance to feel the Spanish coastal atmosphere (there's even a house quite similar to the architectural gems in Barcelona) and you'll arrive to the airport in Palma as well, so it's a logical first stop. Have a coffee in one of the small coffee shops, visit the local market to buy some fresh fruits and snacks and just get lost. The city isn't too big so you'll always find a way back to the car park. On the other hand there's a lot to see and many great restaurants, so there'll definitely be a separate post about Palma :).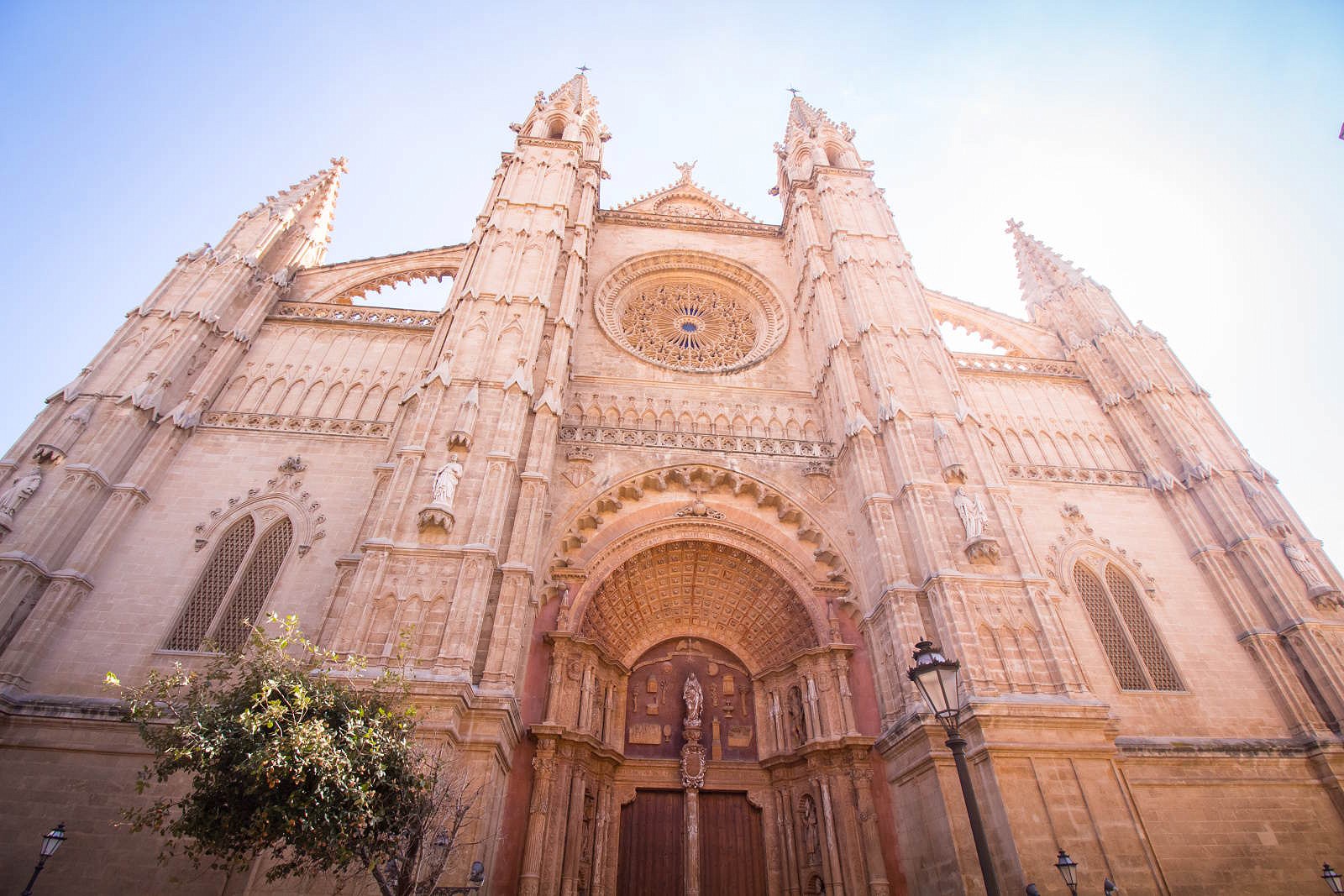 Cala Cap Falco
Když jsme se rozhodli následovat cedule k Cala Cap Falco, nevěděli jsme úplně, co čekat, takže to, že jsme objevili nádherné zákoutí s jeskyní (!!!) a tyrkysově modrou vodou, byla víc než příjemná náhoda. I když je to z Palmy trochu zajížďka, výhled rozhodně stojí za to. Dostanete se sem buď autem nebo po schodech, u kterých je nahoře na kopci miniparkoviště, ale protože nejlepší terénní auto je auto z půjčovny, my jsme samozřejmě sjeli až dolů a můžeme prohlásit Peugeot 2008 za prašnými a rozbitými cestami otestovaný (i když ho pro takové cesty asi nestavěli, ale co už).
We didn't know what to expect when we decided to follow the signs to this place, so the fact that we discovered a cave and clear blue water was an amazing coincidence. Definitely stop here to enjoy the view. You can drive to the beach but there are also steps that you can take from the hill, but since the best offroad car is the rental car, we drove there. Now Peugeot can say their car's offroad skills have been tested (although it wasn't the plan when they were making the car I guess, well, nevermind).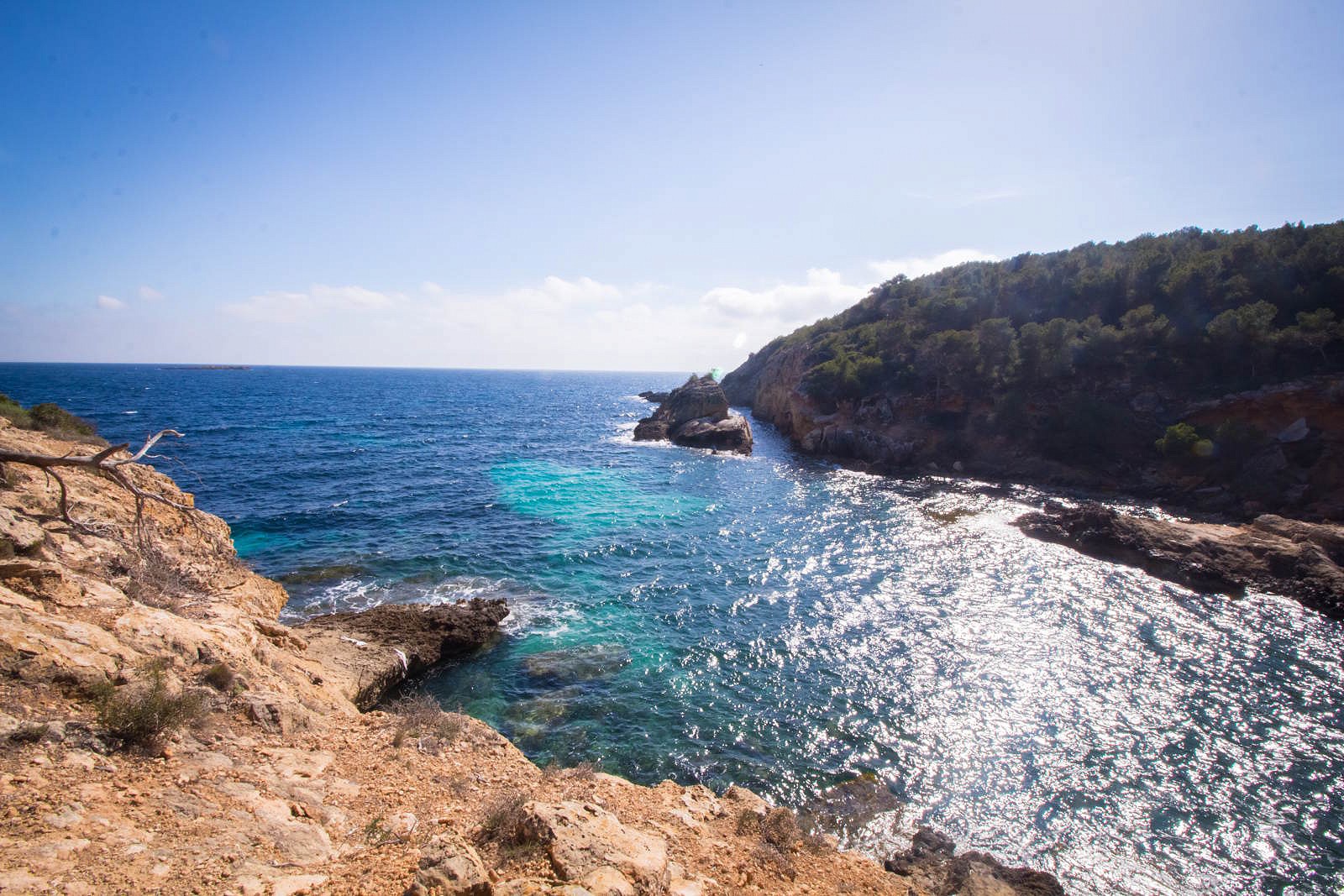 Torre del Verger
Do Valdemossy se můžete dostat buď kratší cestou přímo z Palmy, a nebo zábavnou cestou po pobřeží. Ta je sice o něco delší, ale slibuju, že nebudete litovat ani jednoho kilometru, který na M-10 ujedete. Silnice se z velké většiny vine podél pobřeží a výhledy z útesů jsou neuvěřitelné. Jednou z vyhlídek je Torre del Verger, kde můžete okolí pozorovat dokonce z věžičky! Ale v podstatě kdekoliv se na cestě zastavíte, čeká vás jiný pohled na moře a těžko vybrat ten nejlepší.
The route to Valdemossa is slightly longer if you decide to stop at Cala Cap Falco and Torre del Verger but I promise that any part of the M-10 road will blow your mind. The views are incredible so taking this route from Palma to Valdemossa is much better than the inland route. Torre del Verger is one of the view points that you'll come across on the way but you'll stop a lot more – every turn offers a different view and it's not easy to choose the best one.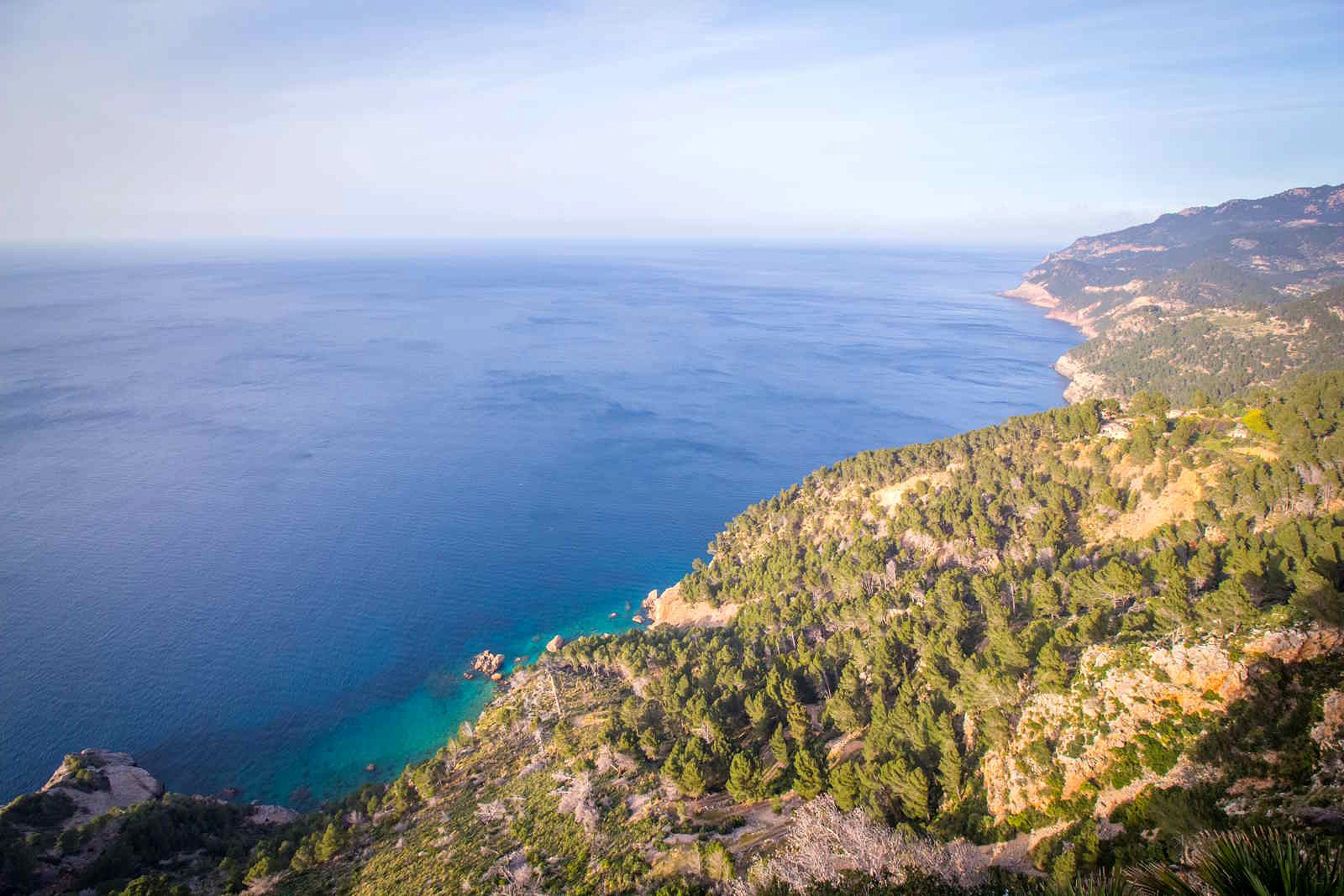 Valldemossa
Malé městečko schované mezi kopci je první zastávkou na cestě na sever. Projděte se úzkými uličkami, prohlédněte si umění v galeriích nebo si dejte rychlý oběd v jedné z restaurací. Při procházce zahradami u kostela narazíte na bustu Chopina a po chvíli strávené ve Valldemosse vám bude jasné, proč i on se rozhodl tu několik měsíců pobýt.
A little town hidden in the hills will be your first stop on your way to the north. Explore the narrow streets, galleries and cute hidden corners, grab a quick lunch in one of the restaurants, walk through the gardens and you'll soon know why even Chopin himself chose to stay here for a few months.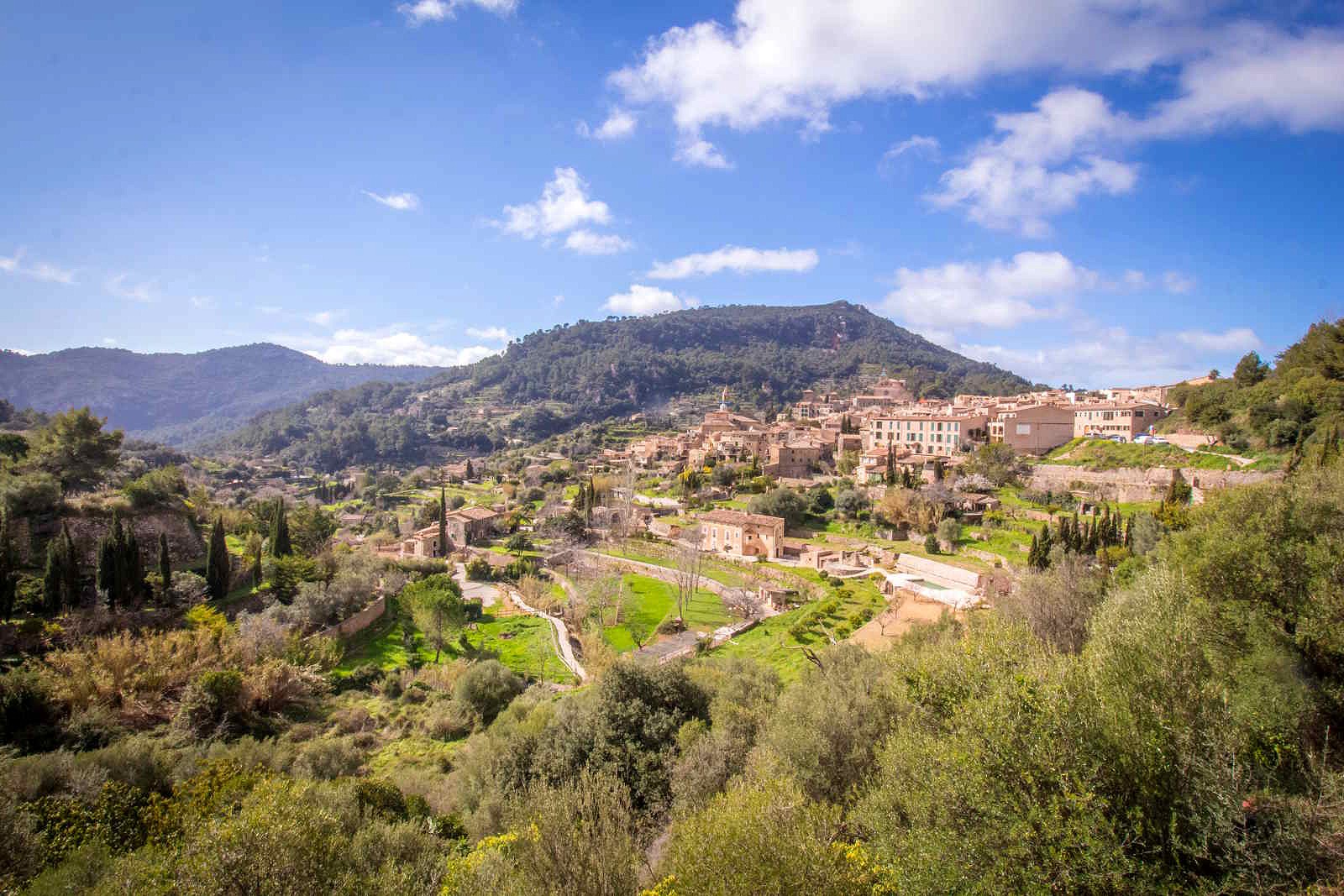 Deiá
Deiá je další v řadě historických městeček, které cestou po pobřeží není možné minout. Najdete ji v průvodcích, ve článcích, na Instagramu,… upřímně, nás zase úplně nenadchla, ale říká se, že nedaleko je krásná pláž Cala Dei, takže jestli pojedete kolem, stavte se tam a pak mi napište, jestli to fakt stojí za to :).
Deiá is another old town on your way but we didn't think it was worth the hype. Rumor has it though there's an amazing beach nearby called Cala Dei, so if you have more time, search for it and let me know if you liked it :).
Soller
Jen 10 kilometrů je vzdálená další zastávka – Soller, velmi milé malé město se slavnou historickou tramvají, která spojuje Soller s přístavem, ale kterou jedna cesta stojí malé jmění (€6 jedna cesta) a navíc je pokaždé přeplněná turisty. Naše doporučení je ušetřit peníze za tramvaj a místo projížďky si koupit výbornou zmrzlinu a pomerančový džus (v Solleru je pomerančový džus prý nejlepší z celého ostrova, takže kde jinde si ho koupit). My jsme si obojí koupili ve stánku Io Gelats Artisants a džus i zmrzlina předčily naše očekávání, tak dobrou chuť!
Continue to Soller, a really cute town with an iconic old tram that connects Soller with Port de Soller, however one ride costs a small fortune (6€ one way) and the tram is always packed, so my suggestion is to save the money and buy some delicious ice-cream and orange juice instead (people say the best orange juice on the entire island can be bought in Soller). We bought both from the Io Gelats Artisants and it definitely stood up to the expectations, so enjoy!
Pokud se rozhodnete stejně jako my pokračovat na sever podél pobřeží, chvilku po výjezdu ze Solleru budete projíždět další nádhernou vesničkou, ale o té příště, ve druhém díle :).
If you decide to continue up north along the coast, a few minutes after leaving Soller you'll come across a very cute village, but we'll talk about that in the next post :).