Ráno jsme si protáhli unavené nohy po výšlapu k Upper Yosemite Falls a vydali se do dalšího národního parku, tentokrát jsme mířili za giganty. Kings Canyon and Sequoia National Parks jsou domovem největších stromů na světě, sekvojí vždyzelených, a i když jsme si o jejich velikosti četli, je nemožné si představit, jak obrovské jsou doopravdy.
In the morning we stretched our legs after the hike to Upper Yosemite Falls we did the day before and made our way to the next national park on our agenda, this time to see some real giants. Kings Canyon and Sequoia National Parks are the home of the largest trees in the world, giant sequoias and even though we did some research and saw pictures before we got here it's impossible to imagine how huge they are in real life.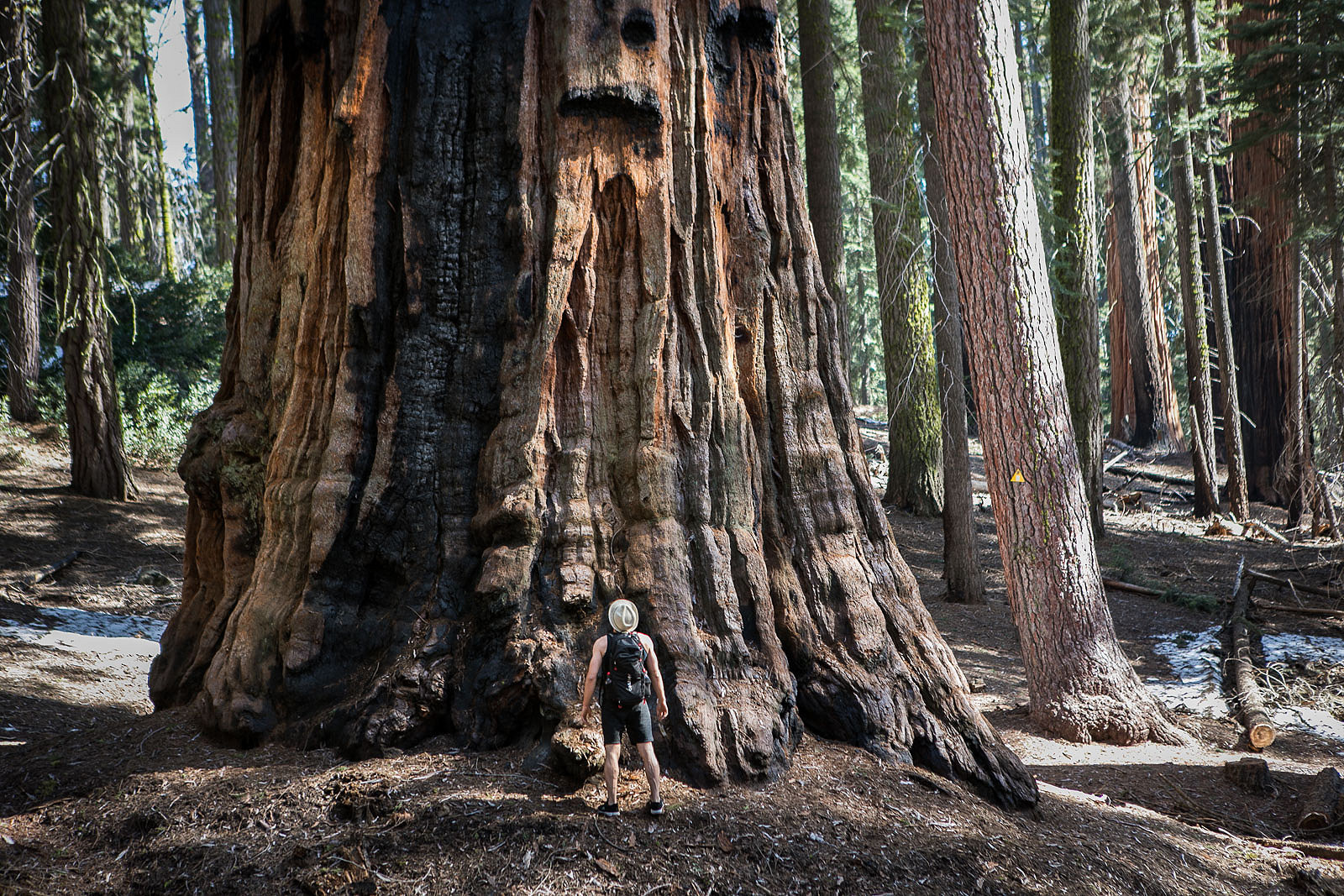 Monumentální králové lesa rostou jen v úzkém pruhu pohoří Sierra Nevada. Na 260 mil dlouhém území je pro ně ideální podloží, díky kterému se mohou vytahovat do výšky a mohutnět i 3000 let. A ještě jedna vsuvka do botanického okénka – sekvoje nejen že jsou schopné přežít požáry, ale ke svému životu je dokonce potřebují. Jejich kůra je silná desítky centimetrů, takže "dospělé" stromy ohni odolají a šišky, které pukají jen ve vysokých teplotách nebo s pomocí hmyzu, díky požárům zajistí růst nových stromů. Uzavřené mohou šišky na svoji příležitost čekat i dvacet let.
The monumental kings of the forest only grow in a narrow belt in the Sierra Nevada mountains. The 260-mile-long territory provides the ideal soil so sequoias can grow and live for as long as 3 000 years. And I can't resist sharing one more interesting fact about these amazing trees – they not only survive forest fires, but they also need them. Their bark is tens of centimetres thick so the "grown-ups" withstand fires just fine and their cones crack open during fires or thanks to insects so new trees can grow. It can even take up to 20 years until the seeds get out from the cone.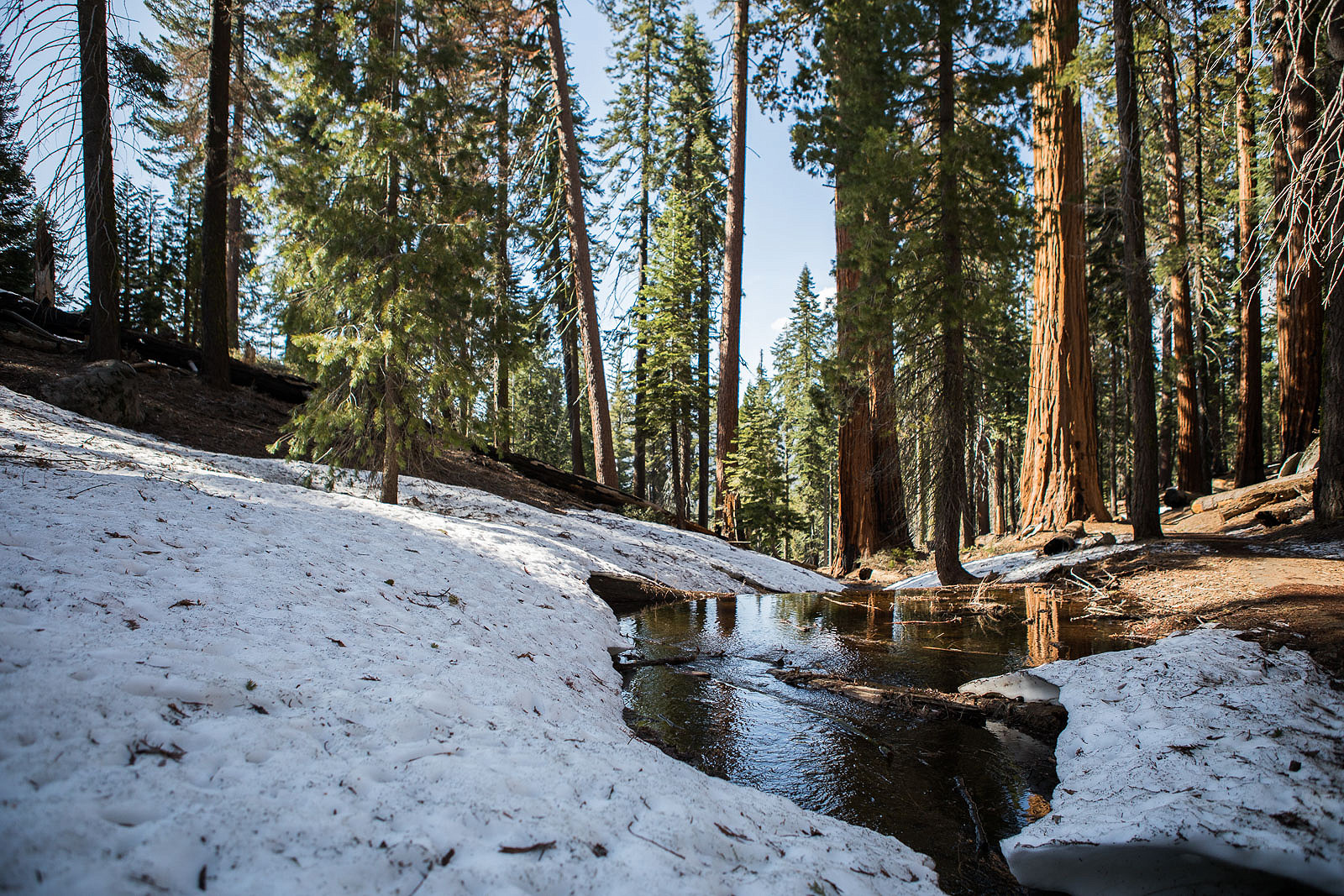 Jako první nám do cesty přišel méně navštěvovaný Kings Canyon NP, který je domovem druhé největší sekvoje na světě. General Grant je mezi ostatními "obyčejnými" stromy opravdu velikán, z jedné strany ho zdobí památka po jednom z mnoha požárů, které zažil, a z celé pěší trasy jsme byli nadšení. V národních parcích jsou vždy malá visitor centra. V tom v Kings Canyon se zastavte, pokud nespěcháte, v malém kině tu běží krátký film o sekvojích a historii celého národního parku.
The first park we entered was the less popular of the two – Kings Canyon NP, home of the second largest sequoia in the world. General Grant is truly a huge fellow compared to its smaller neighbours and on one side you can see the scar left by one of many fires he has survived. We were very excited to explore the whole area with younger sequoias as well. In every national park, there is a visitors centre and if you have some spare time we'd highly recommend you stop at the one in Kings Canyon to watch a short film about sequoias and the history of this park, it's quite interesting.
Odsud se sekvojovými lesy kroutí krásná Generals Highway až do Sequoia NP, k té vůbec největší sekvoji a do lesa, který ji obklopuje. Z parkoviště je to ke kmeni General Sherman Tree docela kopeček dolů, na kterém mají velmi povedeně vyznačené, jak "vysoko na stromě" se zrovna nacházíte. Na jednom z odpočívadel je na zemi znázorněný i průměr jeho kmene (který se ale každý rok zvětšuje přibližně o velikost jednoho kmene "klasického" stromu).
From Kings Canyon to Sequoia NP it's a rather scenic drive through the forests on Generals Highway so after we met General Grant it was time to head to its more popular neighbour, the largest sequoia in the world and the forest surrounding it. It's a short hill down from the parking lot to the General Sherman Tree. Don't forget to look for the signs that show how "high on the tree" you are and check out the diameter of its trunk at one of the viewpoints (the trunk gets larger every year by the way).

U tohoto generála se i mimo sezónu houfuje mnohem větší množství lidí, než v Kings Canyon, i tak se dá ale na fotkychtivé zástupy trochu vyzrát a místo do fronty podél zábradlí se pustit za ukazatelem Congress Trail. Trail to není dlouhý, ale vede nádhernou částí parku, takže si na něj určitě vyhraďte dostatek času, ať se můžete kochat každou sekvojí, která vám padne do oka.
Even during the low season there are groups of people surrounding the General Sherman who are waiting to take a picture with it but we have a better option for you. Instead of waiting in the line go on the Congress Trail. It's not a long trail but it will take you to beautiful parts of the park so have at least an hour or two to enjoy it.

Už po prvních desítkách metrů jsme byli nadšení – kolem sekvojí není žádné zábradlí, jejich velikost, kůru i jizvy po požárech vidíte opravdu zblízka a na začátku května jsme na celé délce trasy potkali 6 lidí, takže jsme měli sekvoje úplně sami pro sebe. Nejdůležitější je nenechat se zlákat odbočkou zpátky k parkovišti, která se objeví přibližně v třetině trailu. Pro to vůbec nejlepší pokračujte dál na "Full Congress Trail", v lese čekají ještě prezident a celý senát.
We immediately loved the trail – there are no railings around the trees and you can really see the bark and the scars after fires up close. We were visiting at the beginning of May and we met 6 people on the trail to be precise so we really had the place for ourselves.
The most important advice we got was to not be tempted by the sign "parking area" after the first third of the trail even though we might feel like we've seen many beautiful sequoias already, the best is yet to come. Head to "Full Congress Trail" because there are presidents and the senate waiting in the forest.
The Senate je skupina obrovských sekvojí, mezi kterými každý dospělý návštěvník vypadá spíš jako mravenec. S nimi sousedí monumentální The President a o něco dál na trase tuhle vládní dvojici doplňuje skupinka The House. Abyste dohlédli až do koruny stromů, budete se celý trail pořádně zaklánět, stejně tak obejmout jejich kmeny bude oříšek, potřebovali byste přibližně 10 až 15 lidí.

The Senate is a group of giant sequoias where every adult looks like an ant. The neighbouring sequoia is The President and you'll meet The House later on the trail. To see the treetops you will be turning your head up the whole trip and you would need quite approx. 10 to 15 people to hug the trunk of a sequoia.

Trail bychom nemohli doporučit víc, s přelidněnou trasou okolo General Sherman Tree se vůbec nedá srovnávat. Z lesa gigantů, kde bylo ticho a klid jsme se na hlavní okruh vraceli nadšení a nabití energií.
We honestly couldn't recommend the trail more, compared to the crowded area around General Sherman Tree it's an incredibly peaceful place. We returned to the main trail full of energy and excited about the park.

Na závěr našeho dne v parku jsme si naplánovali ještě jeden výšlap, Moro Rock Trail. Od parkoviště je to k vyhlídce něco málo přes půl hodiny příjemnou procházkou, zabrat nám trochu daly až schody na vyhlídku – Moro Rock je osamocená skála na kterou jich vede asi 200. Neměli jsme v podstatě žádná očekávání, takže když jsme byli najednou nahoře, výhled na okolní hory nám vyrazil dech. Zasněžené vrcholky pohoří Sierra Nevada na jedné straně a zelené kopce pomalu se ztrácející v zapadajícím slunci na té druhé... opravdu jeden z nejkrásnějších výhledů, které jsme kdy viděli.
To finish our day with sequoias we decided to do one more hike – the Moro Rock Trail. It takes 30 – 40 minutes from the parking lot and it's a nice walk, except the 200 steps to reach the view at the end of the trail, haha. Moro Rock is standing alone above a valley and the views are just incredible. Mountains covered with snow on one side, hills disappearing in the evening light on the other, just breathtaking. Definitely one of the most beautiful views we've ever seen.

A malé praktické okénko – cestou k Moro Rock potkáte dva ukazatele cesty. Ten první po pravé straně ukazující do lesa poslechněte, je to trochu zkratka, ten druhý, který po návratu na silnici ukazuje do kopečka neposlouchejte, má za úkol jen svádět chodce mimo asfalt, ale Moro Rock je na opačné straně silnice, takže kopeček musíte stejně seběhnout zpátky a vzhledem k různým větvím a popadaným stromům je to úplně zbytečná zacházka.
And to finish it off with a few practical tips – on your way to Moro Rock you'll see two signs for the trail. The first one on your right-hand side that leads to the forest is a shortcut so use that one. After you get back to the road there will be another sign pointing up to the forest, skip that. It isn't a shortcut and probably is there just to take hikers away from the road but when there are no cars there really is no point because you will have to go back to the road anyway at one point, it's quite a steep hill and there were some fallen trees on the trail as well so it wasn't the most enjoyable part. Just stay on the road. :)